Like in any industry, comic books and their companies listen most to one thing and that's your money! What does your money tell them? What does it tell us as fans? What series do people say they adore but can't seem to catch a break and what books to people hate that sell out? What are the trends? What looks good? What looks rough?
All these questions and more will be answered here, every month in 'By The Numbers' by comic writers, editors and fans, Glenn Matchett and Ray Goldfield.
Glenn Matchett is a comic writer and editor. He's worked in the industry for 6 years but grew up reading comics. He's had work published with Outre Press, Alterna Comics and Nemesis Studios. For his new year, Glenn is hoping to welcome a lovely little girl to his family and to watch all of Avatar and Korra.  One of these are more important than the other.
Ray Goldfield is a fan of comic books for going on 25 years, starting with the death of Superman. He is a writer and editor and has released his first novel. Ray also does a weekly roundup of DC comic reviews for website Geekdad and they're brilliantly entertaining.  In the new year, Ray will make sure that for Glenn that there is only Avatar and Korra.
We also do a podcast together with longtime buddy, Brandon James on iTunes with Rabbitt Stew or at the link here! Don't ask, I didn't pick the name. If you'd like to hear what me and Ray sound like, give it a listen!
Top 300 in full available here!
Glenn:  Welcome friends to the first By The Numbers of 2019 which is actually looking back at the last month of 2018!  How about that for wibbly, wobbly, timey, whimey?  Who had the last laugh as last year closed out and prepped themselves for a strong 2019?  Lets find out!
Ray: One of the biggest factors in this month was that only three full weeks of comics shipped, with a few special titles shipping in the last week of the month. So a lot of comics are absent, including the second issue of many popular DC titles. That drives the overall sales level down a lot.
Glenn:  Due true!  At number one, speaking of laughter is the first issue of the Batman Who Laughs mini by Scott Snyder and Jock who bring the ridiculously popular character to take center stage.  It seems in this occasion, the Batman is laughing all the way to the bank with a fantastic debut of over 220k.  This character has caught fire like no one expected and having Snyder and Jock reteam to tell a more horror orientated bat tale has people interested.  I can see this sail over six figures or very close to it for the full 6 issues (plus the Grim Knight one shot too) easily.
Ray: There's a lot of factors to this, including the fact that this is apparently the final Snyder Batman story in the present day (with the Capullo-drawn Last Knight to come at a later date). Considering it's also a sequel to Metal – and is launching at roughly the same level – there's a lot of things working in this title's favor and it's entirely possible it'll be DC's #1 title for the rest of its run. Yo, dawg, I heard you like Batman and Joker so we put Batman in your Joker.
Glenn:  At 2 is more Batman in the form of Batman Damned, the second issue of the prestige mini from Black Label sells over 138.7k.  The last issue for those that haven't been paying attention got a lot of attention for showing some bat nudity but this goes to show that there's no such thing as bad press.  All the attention the batwang got made Damned one of the most talked about books in 2018 and that's clearly carried over onto the second issue.  This one will finish out with strong sales and then deliver DC yet another ridiculously strong long term performer in their immense collection catalog.
Ray: This is a pretty big increase for Batman: Damned and shows how controversy sells! The Black Label line has had two big successes now between this and White Knight, so I would expect more to come – which makes it sort of puzzling that the line is seemingly in trouble and hasn't solicited any further books.
Glenn: I think the Black Label troubles are more to do with scheduling more than anything.  The talent they have on the books lean towards the kind that aren't ones who deliver books on a regular schedule.  We know Last Knight will happen but I think this all could have been better planned, it makes the Black Label roll out seem a bit underwhelming.
At 3 is the always stable and strongly performing Doomsday Clock which sells over 123.7 on its 8th issue.  The multiple delays seem to be having little impact as this book continues to deliver strongly for its publisher.
Ray: It locked down on its place in the charts a while back and hasn't budged, except likely to get some nice increases for the big event in the final issues.
Glenn:  4 and 5 is top ten staple and highest selling monthly in the charts, Batman which sells over 91.2k and 88.5k which makes this the lowest the title has sold since the sart of the New 52.  Its still a good bit ahead of the next strongest ongoing and will likely deliver something soon to reaffirm its position in the six figure club sooner than later.  All top 5 books are DC and all feature Batman either in a starring role or as a main character so the character is still miles ahead of everything else on the charts in terms of monthlies.
Ray: Basic attrition for Batman – it's likely to get an increase in February for a big crossover with The Flash tying in with Heroes in Crisis (which didn't ship this month due to the holiday), and then again for #75 in a few months.
Glenn:  Its a quiet month for Marvel so their top selling book of the month is their best performing monthly title, Amazing Spider-Man which has two issues in the top ten at 6 and 8 selling over 79.7k and 75.1k respectfully.  Its a slow downward trend and the title will likely be pushed down the charts in terms of ranking once War Of The Realms begins.  The title is promoting an upcoming story featuring Kraven The Hunter rather heavily but we'll see if that has any significant impact on sales.
Ray: Yeah, it feels like we're seeing ASM slowly find its level as retailers realize that the Slott era is over and interest is decreasing. The slide should increase next month when it gets big competition in the form of Friendly Neighborhood Spider-Man.
Glenn:  At 7 is the Marvel title giving Amazing a run for its money in Fantastic Four which sells over 78.3k.  This is the big wedding issue so I'm surprised it didn't do much better than this given its significance in having one of the longest running couple in comics finally tie the not and it also being the 650th issue of Fantastic Four with original numbering.  Still, its a great number for the title and Marvel will be pleased that its among their highest monthly performers.  A wedding special tie-in written by Slott and others sells over 64.4k at 13 which again indicates there was genuine interest in the wedding itself but perhaps fans were wary given the false starts around the Bat/Cat and Kitty/Colossus fake outs not too long ago.
Ray:  The main title sells pretty close to what the book has been doing since the start, so not much of an increase for the wedding itself – but then, I don't know if Ben Grimm and Alicia Masters have a huge fanbase on their own. What is clear, though, is that this is one of Marvel's biggest hits at the moment and may wind up being their #1 ongoing in a few months. 
Glenn:  At 9 is the third Batman annual which pulls in a very respectable 68.2+ sales despite not having main title writer Tom King attached.  Just shows how popular the character is regardless.
Ray: This was Tom Taylor and Otto Schmidt doing an Alfred-focused story. It's a good sign for Taylor as well that his star is rising fast. Look for his Spider-man title to be a big hit.
Glenn:  Finally at 10 is the much anticipated new Shazam title which Geoff Johns has been cooking for what feels like forever.  Given that the lead in to this was nearly 10 years ago, it finally launching at 66.9k is very good, especially since Shazam hasn't had an ongoing in forever.  Given how big a name Johns in and the fact the character is about to get some mainstream exposure in his own film in a few months, there's no better time or creator to give him his own solo title.  This one will probably land around high 50k which will be low for a Geoff Johns book perhaps but very good for a Shazam book.
Ray:  This is a direct continuation of a comic book that ended six years ago as a backup in the New 52 Justice League title. Even I, a DC superfan, had a bit of trouble remembering who a few of the characters were. So the fact that it still broke into the top ten is impressive, and likely down to the fact that Geoff Johns is back writing regular comics for DC. He's up there with King, Aaron, Lemire, Cates, and Slott as that elite group of writers who can sell comics on their name alone. 
At #12 is a very strong debut for Superior Spider-Man #1, selling 66K. This is much improved from the Superior Octopus one-shot a few months back. Part of this might be the name change, but as a whole it's a testament to just how much work Slott and Gage did to turn Otto into a headliner. This is NOT the Spider-man spin-off I expected to win the battle this month (more on that lay-tor).
Glenn: Very good start for Superior for sure.  This seems to be the book that's continuing most of Slott's sub plots and side characters carrying forward so that;s a good platform to have.  Much like the Bat line for DC, it seems most Spidey related stuff is always bound to deliver solid numbers for Marvel (which probably explains why we're not only getting a new ongoing next month but two new mini's in the months to come).
Ray:  This is the section of the charts where we see the headliner regular titles, including Justice League, Venom, Avengers, and Superman, all selling above 50K. And now it seems we have a new one joining them – The Green Lantern #2, which has a healthy hold for its second issue, selling 64K at #14. Great numbers that indicate this should be one of DC's top ongoings as long as Morrison and Sharp are on board.
We were wondering how Uncanny X-Men would hold as a weekly in its second month. We get that answer quickly, as it continues to slide. #4 is as 17, selling 59K, but by the end of the month it sells 49K at #27. That's a pretty steep drop, and indicates the general trajectory of the title as it shifts to biweekly after #10. The title's still up somewhat from the previous runs, but that may wear off eventually.
Glenn: It seems that Marvel will still come out ahead when you compare Uncanny to the previous line of x-books but its only marginally at this rate.  Once this thing goes monthly (or bi-monthly as the case may be) it'll be selling around the same…or less.
Ray:  Besides Batman, nothing is more stable than Walking Dead, and it makes the top 20 again this month, coming in at #18 selling 58K.
Given his big starring role in the movies this same month, I would have expected Miles Morales: Spider-Man #1 to do much better than the 19th slot. 57K isn't a bad number, but it just goes to show that the character's comic history – including a controversial start and a mid-stream reboot – will probably keep him from ever being as big a hit in the comics as he is in the larger world.
Glenn: Miles deserves better for sure but the characters launch was poorly handled and that will be something he never shakes.  Still, this is his first ongoing by a writer that didn't create him so that's a decent performance.
Ray:  Selling 57K at #21 is the debut of Ed Brisson's X-Force, which spun out of the mostly-ignored Extermination. Decent launch, but I expect this'll fall fast like most other X-spin-offs lately.
Detective Comics launches its new creative team as Tomasi and Mahnke take over with #994, and the title jumps about 3K to land at #26 with 51K. A very modest increase, but that's to be expected for a title as stable as this. The two previous fill-in arcs didn't really hurt the book much.
Glenn: Its all about the countdown to 1k for Detective at the moment anyway.  Look for the title to increase in sales as it gets closer to that number and then pay for itself for the foreseeable future in the anniversary issue coming up.
Ray:  Catwoman continues to be the biggest surprise of the year, as the sixth issue sells 48K at #28. That's above long-running hits like Star Wars, Thor, Captain America, Immortal Hulk, and Flash. A lot of this is down to Tom King raising her profile, of course, but it's also worth noting the character has always had some sales pull – she was one of only eight characters to take her title all the way to #52 in the New 52 era.
Glenn: The timing is never better for Catwoman to be a hit and much like Venom, it seems DC has the right creators at the right time to make the title a success.  Great to see.
Ray:  A couple of Marvel events wrap up this month, with Infinity Wars closing things out at #22 with sales of 53K, followed not far behind by Spider-Geddon at #29, selling 47K. The news isn't quite so good for Extermination, down at #38 selling 42K. That's also about the same as its spin-off, X-Men: Exterminated one spot higher. This is the one where the X-men mourn Cable, who was murdered by Cable. This is not a typo.
Glenn: Stupid time travel.  I bet there were 7 versions of Kang at his funeral too.
Ray:  The time-hopping anthology Star Wars cycles begin with Age of Republic, as Jody Houser's two one-shots to kick it off have healthy debuts. Darth Maul's one-shot is at #33 selling 46K, while Qui-Gon Jinn's special is down at #44 selling 37K. Right about the level I'd expect for mid-level Star Wars titles.
Martian Manhunter has a healthy debut at #41, selling 39K. I wouldn't expect much more than this for a MM solo series, but I also think it'll hold very well. Critical response has been great with the book even getting some comparisons to Mister Miracle, so I think Orlando and Rossmo will have a hit on their hands.
Glenn: At the end of the day, its Martian Manhunter so it'll have a set ceiling but strong reviews will help this one a lot.  Fans are looking for the next Mister Miracle and this might be just the ticket.
Ray:  Another strong debut for Millarworld, as Millar and Albuquerque's spy thriller Prodigy lands at #40 selling 38K. Single-issue sales are secondary now, as Netflix views the imprint as an IP farm, but Millar's name still has a lot of pull.
The strange little Defenders mini-event this month seems to have largely been ordered as a unit, with decent sales for all five. Silver Surfer is the highest-selling of the five, selling 38K at #43, followed by the Immortal Hulk special selling 36K at #46. The finale "Best Defense" one-shot is two spots lower selling 34K, followed immediately by Doctor Strange (32K) and Namor (31K). All in all, this little experiment did well for Marvel.
Glenn: This Defenders roll out was an odd one wasn't it?  Its a very good result given that this version of the team haven't been seen in a while and the whole thing doesn't have much importance outside of itself.
Ray:  The epilogue to Infinity Wars, Fallen Guardian, lands at #52 selling 31K. That's not bad for a title that's essentially a farewell/origin recap to one of the less popular Guardians of the Galaxy. Did I mention there's another epilogue next month? It's the event that never ends…
Glenn: This is a pattern we've seen from Marvel for several years were there is minimal (or outright very little) interest in the epilogue to a major event.  I think its because Marvel is mostly about hyping what comes next so fans are interested in the main feature but by the time the clean up comes, they're already saving their penny's for whatever the hype machine has lined up next.
Ray:  I was surprised by how low Aquaman #43 sold, given that this was the debut of Kelly Sue DeConnick's run. It lands at #53, selling just under 31K. That's a bit of a drop from last month's Drowned Earth tie-in issue, and it's similar to what we saw with G. Willow Wilson's Wonder Woman run (36K at #45 this month) – critically acclaimed writers get put on major titles to lots of positive reviews, but it doesn't translate into sales immediately. Still, DC has got to be happy to have some buzz on these titles again.
Glenn: Very underwhelming for Aquaman for sure.  The timing around this seemed to be prime for a new creative direction by a popular writer.  It's almost like something got lost in translation here.  The good news is that a low start means that it should likely stabilize soon.
Ray:  Almost zero increase for Teen Titans for its anniversary issue, as it lands at #65 and sells 27K. That's up about 100 copies. Expect it to take a hard hit next month when the only DC teen superhero team anyone cares about launches next month. This is the area where we see a lot of established titles, like Nightwing, Doctor Strange, Black Panther, Harley Quinn, and Suicide Squad.
A new miniseries starring the Winter Soldier launches at #70, selling 26K. The creative team of Kyle Higgins and Rod Reis is solid, but this got very little hype. Bucky should be an A-lister, but they don't really treat him like one.
Glenn: Ever since Brubaker went to indie land, it seems like Marvel is not exactly sure what to do with Bucky.  They've tried several things and nothing ever really seems to work.  Its a shame because he could be a breakout star for them.  It took Brubaker 60 years or so to tell the next great Bucky story, hopefully we don't have to wait around that long again for another one.
Ray:  An amazing debut for Kieron Gillen and Stephanie Hans horror-RPG Image series Die this month, selling 28K at #58. That's rare air for an Image title that isn't by Millar, Kirkman, or Vaughn, so this is looking like one of their biggest new hits in a while.
Glenn: Brilliant debut for Die which I think has the concept and creative team to get that initial interest.  With titles like Paper Girls ending and Saga on hiatus, this could be one of Image's strongest titles.
Ray:  I'm pleased to see Deathstroke has kept most of its boost from the Deathstroke vs. Batman storyline, coming in at #59 with sales of 28K. But then, this next arc has him in Arkham, so it's like the event never really ended!
Glenn: People have also perhaps caught on to how good the book is.  They come for Batman, they stay for Priest.
Ray:  Boom seems like it's going to have a permanent spot in the top 100 now thanks to Firefly, which lands its second issue at #60 with sales of 28K. Great numbers for a cult property – this probably indicates that Buffy the Vampire Slayer will do even better next month.
Glenn:  Boom had two properties with very loyal fanbases land at their feet and seem to be making the most of it, good for them.
At 74 is the X-Men holiday special which missed the memo about most of these coming out last month with sales over 25k.  Pretty much your standard sales for what an X-Men book will do when it doesn't have any great deal of importance or significance.
Ray: Marvel tried to get into the anthology game this holiday season, but none of them quite got the attention of DC's giant anthologies. This one got some good reviews, though – it had a very clever format of 25 individual stories with an overall narrative running through them.
Glenn:  At 77 is Spawn Kills Everyone Too which sells over 24.7 which I believe is a comedy mini series follow up starring the character that was at one time Image's flagship.  This is pretty good given its a mini done for the lolz and is a sequel.  Perhaps we'll even see a trilogy!
Ray: Why. Just…why.
Glenn:  At first I thought Livewire at 78 was a book about the Superman female villain but its a new Valient book that sells over 24.6k which is a LOT higher than how their books usually launch.  Writer Vita Ayala who is starting to make waves at Marvel is writing so that might help but otherwise, it just seems to be a random success!
Ray: This is spinning out of Harbinger Wars II, which turned Livewire into the Valiant Universe's most wanted woman. That event didn't get a lot of buzz, so I think this is more to do with the creative team than anything.
Glenn:  Villain of newly Oscar Nominated best film Black Panther, Killmonger gets his own mini at 82 selling over 24.2k which on its own isn't that great but you have to believe without the movies popularity and the better position of the Panther franchise overall that this would have sold far less in the past. The second issue is also here at 111 selling over 17.3k which is still very good all things considered.  A decent start for what will be a mini that delivers decent numbers for the remainder of its run I'd say.
Ray: Overall, similar to Miles, Marvel doesn't seem to have been able to translate Black Panther's blockbuster sales in the movies to a fully successful franchise in the comics. The main book sells decently, but everything else struggles.
Glenn:  A new Freedom Fighters series launches at 84 with sales over 23.8k.  Pretty good for a book about one of DC's more obscure superhero teams that doesn't have any big name members.  Don't think DC could have expected much better.
Ray: Yeah, despite a good creative team (the long-running writer of Green Lantern and the artist on Tynion's Detective Comics) these characters just have zero built in audience. The subject matter is somewhat controversial as well, similar to The Man in the High Castle.
Glenn:  Pretty steady drop for the second issue of Black Order which sells over 23.6k at 85 which again is much higher than one would have expected these characters to deliver without a billion dollar movie to raise their profile.  If this stays about here this will be a pretty good performance for the rest of the mini.
Marvel Action Adventures from IDW (so much…contradiction…) debuts at 86 with sales over 23.3k which is a great number for a IDW book, perhaps not for an Avengers book but this isn't going to be held to the main standards as the main line offerings.  These books are for a different market and will aim to do better outside comic stores but this is a good start given that.  IDW will be thrilled to be able to have this licence to help keep the lights on for the time being.
Ray: This feels like the odd book out of the Marvel Action line, without the hype of either Spider-Man (featuring the three most popular Spiders together) or Black Panther (written and drawn by Kyle Baker). Given that, this is a solid debut and these really aren't geared towards the singles market.
Glenn:  Seasons Beatings is a holiday special one shot by Jason Latour and various artists to tie in to the whole Christmas thing.  It sells over 22.3 which is pretty good all things considered.  This is maybe a shade less than what DC's recent batch of anthologies do but those cost a lot more.  There's enough sales for Marvel to throw one of these out now and then.
Ray: This one really slipped under the radar and the hype didn't really get across what kind of story it was. It was sort of a Deadpool comic, sort of an anthology, and all weird. A niche project that did niche project numbers.
Glenn:  Only about 300 odd copies difference from last month for Supergirl's 25th issue at 92.  Either there's just normal stabilization or there will be a much bigger drop than normal next month.  The sales over 21.5k are getting ever closer to what we've come to expect from a Supergirl title in years past.
Ray: Supergirl is basically back to where it was pre-Bendis, so that's likely where it'll find its level again.
Glenn:  A new Vertigo title, Goddess Mode debuts at 110 selling over 17.4k which is really good for a Vertigo launch this weather and more in line with what I'd come to expect from a relatively strong Image launch.  The artist on this, Robbi Rodriquez is coming hot off of Spider-Gwen so that maybe helped.  Selling at this level won't last but its got room to move.
Ray: This title also has Zoe Quinn, who has a pretty big mainstream profile as a gaming journalist. That definitely helped it get this high.
Glenn:  At 112 is the Hellboy Winter special selling over 16.9k which is pretty much the normal range for Hellboy related items.  Never anything overly surprising from this franchise which isn't the worst thing for Dark Horse who need all the stable franchises they can keep.
A shade over 16k for Iron Fist Typhoid fever, not too bad and it maybe helps that the character showed up in the second (and final) season of the protector of Kunlun.  Nothing too special but nothing too disastrous for a throwaway mini starring one of Daredevil's secondary foes.
Ray: This whole thing seems to have been a stealth Iron Fist series and led to the writer doing the digital-first Iron Fist series that recently released its first trade.
Glenn:  At this level, 3k is quite the gap and its about that the Champions Annual comes in under the main title selling over 15.2k at 118.  This franchise had a strong start and strong potential but most of it has eroded away.
Ray: The series is getting a relaunch with the same writer next month, so we'll see if there's any uptick in sales.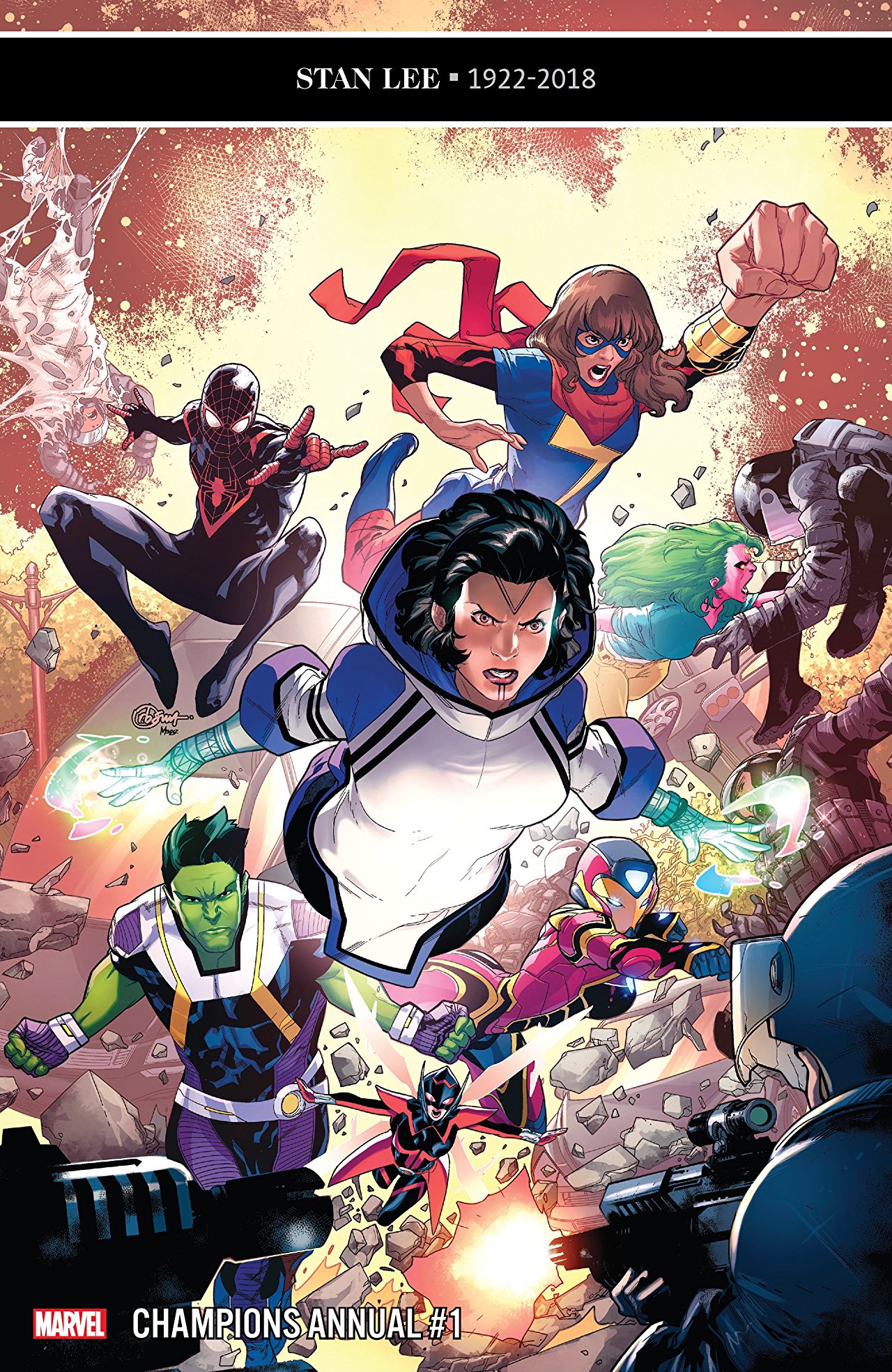 Glenn:  Probable spoilers: no
At 127 is the first of the True Believers $1 one shots this month, centering around the Fantastic Four and in this particular case, the Skrulls..  It sells over 13.3k at 127.  Skrull's are going to be hot in the months to come and you'll be liable to beat up old ladies on buses to get the chance to read about them and their nefarious shape shifting ways!
Ray:  There's relatively few truly iconic Fantastic Four single issues – nothing like the first appearance of Venom that broke the top ten – so most of these are clustered around the same spot. You have Super-Skrull six spots lower at 133, followed two spots lower by Puppet Master, and two spots lower are Ronan the Accuser and Frightful Four back to back. A little lower between 140 and 144 are Molecule Man, Mad Thinker, Klaw, and Dragon Man. All of these sell between 12K and 11K, so almost identical sales for these first appearances of lesser-known FF villains. The low entry on the totem pole, Blastaar, is down at 150 selling just under 11K. So another successful wave of these without any real breakouts. I'm curious to see how the Conan ones do next month. 
Glenn: Poor Blaastar.  All he wants is a hug.  I think Conan might do well, the launch will be pretty high profile and they'll be an easy sell for retailer as an add on.
Ray:  Marvel can get decent sales even for things that aren't comics! At #132 we have the Spider-Geddon handbook, giving us profiles of the most famous Spiders and villains. It sells 12.6K, pretty good for a $5 handbook. That Spider-guy has some fans.
Because apparently some people haven't seen Avengers: Infinity War, Marvel releases it in comic form as "Avengers: Endgame Prelude". It sells 11.9K. I wasn't fooled, Marvel!
Glenn: The question is, does half the comic turn to dust at the end?
Ray:  The New Talent Showcase for DC in 2018 sells 11.8K at #136. This is always the lowest-selling of the major anthologies because of the lack of boldface names, but this is still a decent number for an $8 anthology showing off DC's newest recruits. This is a funny one given how many of these names have already done extensive DC work like Mags Visaggio, though.
Glenn:  This seems to be the last one, I guess all those entries from myself put Snyder off…
Ray:  A trio of new Image titles debut around the #150 mark, starting with the virtual reality video game thriller Self/Made at #148 selling 11.1K, and the Andy Diggle bodyswap spy thriller Hardcore right below it selling 11K. Three spots lower is the apocalyptic thriller The Freeze, selling 10.8K at #152. It's basically what I'd expect for two of these given the lack of big names, but I'm surprised Hardcore didn't do a little higher given Diggle's name and the fact that Kirkman is credited on the story.
Glenn: Diggle's a name I think has found it rough since his Daredevil run, after that he never really bounced back and I don't think he was the one at fault in that regards.  Much like Paul Jenkin's he's having to almost start over again.
Ray:  Magic The Gathering: Chandra, a new miniseries based on the wildly popular card game series, debuts at #157 from IDW selling 10K. I know nothing about Magic: The Gathering, but it's worth noting that this is the highest-selling IDW book this month that doesn't feature Batman, Captain America, or Rick & Morty.
Glenn: Magic has an insane fanbase so I'm not too surprised.  I would wonder though if it would have sold more if it came with an exclusive card or some such (call me IDW!)
Ray:  The annual Christmas special from Grant Morrison and Dan Mora, Klaus and the Crying Snowman, lands at #161 with sales of 10.4K. For an $8 special from Boom that's pretty strong, and the title seems to have a fanbase. I wonder if they'll ever do a full collection or if Brandon James is doomed to cry forever.
Glenn: I like to think Morrison is just doing this to mess with Brandon personally. Perfectly fine for a property Morrison is going to roll out once a year.
Ray:  Top-selling reorder of the month is Spider-Geddon #1 at #167, selling 10.1K. A last surge of sales as the event concludes. Expect a LOT more reorders to come.
The most offbeat Black Hammer project yet, the one-shot Cthu-Louise drawn by Emi Lennox, lands at #169 and sells exactly 2 copies over 10K. That's right in line with Black Hammer's sales and shows that the series should continue to hold well for Dark Horse as it grows in the coming year.
Glenn: Look for Black Hammer's profile to get a good buzz with an upcoming show and a DC universe tie in coming up.  These books should be selling six figures a month.
Ray:  The Venom annual also gets some healthy reorders, selling an additional 8.9K at #176. Donny Cates continues to work his magic, and he wasn't even the main writer on this one!
The oddball Man-Eaters #4 sells 8.6K at #179. That would be 8.6K very confused readers, as this wasn't a comic but an elaborate magazine parody that didn't move the story forward off the previous issue's cliffhanger.
Glenn: We'll see if the unusual experiment from Man-eaters costs them next month, I doubt it but you never know…
Ray:  Crossing over an obscure 1990s comic book character with an obscure 1980s movie franchise, Vampirella/Reanimator debuts at #183 selling 8.3K. Dynamite's developed an odd brand out of these obscure licensed properties, but it seems to be working for them as they keep going!
8.2K more in reorders for Marvel Legacy at #186, as Aaron's Avengers and the upcoming War of the Realms continue to play out its major plot threads.
Jamie Rotante's relaunch of Betty and Veronica lands at #197 with sales of 8.2K. That's two slots below the fifth issue of Vampironica, so I guess retailers think fans want more blood and gore with their Veronica Lodge?
Glenn: Vampires sell more or have a broader fanbase perhaps?  Archie is in a bizarre place creatively right now so they'll take what they can get.
Ray:  At #190 is the one-shot Team Sonic Racing, spinning out of the main Sonic book. It sells 7.8K copies, which shows that the franchise has been a decent hit for IDW.
At #194 is the fourth and final issue of Border Town, selling 7.6K. But it wasn't cancelled for sales reasons. Anyway, moving on…
Glenn: Border Town?  What's a Border Town?
Ray:  #200 brings us the launch of Tank Girl: Action Alley from Titan, which sells 7.2K copies. This is clearly a niche book, but it's pretty impressive that this franchise has been a factor in the industry for over twenty years.
6.7K in reorders for the Ralph Macchio one-shot Spider-Man: Enter the Spider-Verse at #208. This is probably down to comic book stores wanting an evergreen title on the stands for the launch of the movie.
Glenn:  Pretty much yeah, the movie has been an insane success and is now getting a lot of reward love.  We're going to see a lot more from this concept in years to come.
At 219 is Marvel Super Heroe Adventures Captain Marvel Frost Giants (longest title this month?) selling over 5.9k.  The same with the other Marvel books that are primarily aimed at a younger audience, they do what they do in the main market but this isn't where they're destined for.  Good on Marvel getting a lot of Captain Marvel material out there for March though.
Some reorders for the launch of Uncanny X-Men at 220 selling over 5.9k.  People sure do love their X-Men number 1's.
An odd title from DC at 221 in Sasquatch Detective which is about…a Sasquatch who solves crimes…k.  It sells over 5.8k which is pretty expected for a book as odd as this, especially when its priced at 7.99.
Ray: This was the backup in the already-bizarre Snagglepuss miniseries, and they reprinted the original stories plus a new feature. It's the most niche of niche comics, especially out of DC.
Glenn:  Tim Seeley returns to his own property in Hack Slash vs Chaos at 224 although that doesn't seem to have generated much new interest in the property as it sells over 5.7k.  At this point, this property will have its own sat fan base and is unlikely to get new readers checking out a new mini at this point, even if Seeley is back.
Ray: A crossover with 90s characters like Lady Death and Purgatori isn't really going to bring in any new fans for Hack-Slash. Dynamite continues to do a lot of bizarre small crossovers like this, so I guess they're selling to someone.
Glenn:  Witcher Of Flesh and Flame sells over 5.5k at 227.  This is a video game tie-in and sells like one.  I wonder if some retailers might be stocking up in prep for a potential new audience the upcoming Netflix show might bring, hey you never know…
A new offbeat mini from Boom, Wizard Beach sells over 5.2k at 233.  This mini seems to be outside of what Boom is generally known for and doesn't have any big name creators attached so this number is pretty much what you would expect.
Ray: Wizard Beach is an odd one. Its concept on paper sounds like it could be an all-ages book, but the tone is distinctly more offbeat and off-color. Brandon referred to it as "Off-brand Curse Words" on Rabbitt Stew (Dong!) and that seems about right.
Glenn:  At 234 is the Red Sonja holiday special which likely had a bizillion covers selling over 5.1k which is probably what you would expect from a Red Sonja special with a bazillion covers.  I wonder considering her choice of clothing if she gets cold this time of year.
A new Berger book at 235 LaGuarda sells over 5k at launch.  The Berger books continue to not catch that much momentum but Dark Horse keeps doing them so one would assume they are finding an audience somewhere.
Ray: LaGuardia has the best creative team and got the most hype of any of these, but even Nnedi Okorafor's name couldn't make this sell in singles. The true success of this line will be determined later.
Glenn:  A Star Trek anthology spanning the entire history of the franchise in Star Trek: Waypoint is at 240 with sales over 4.9k.  This is just your basic 'if you're a fan of Trek' comic with no real pull in regards to a specific portion of the fanbase.  Being so widespread can be a good thing but may also make retailers hesitant to order because when you appeal to everyone, you end up pleasing no one at times.
Random reorder alert at 241 for Amazing Spider-Man: Renew Your Vows 13 with sales over 4.9k  This is not the last random Marvel reorder number this month and my jettison of excess stock sense is tingling.
Planet Of The Apes Simian Age, a 7.99 one shot sells over 4.2k at 256.  Pretty much what you would expect from an expensive Apes one shot with no particular pull behind it.
At 267 we have Grimm Fairy Tales Holiday special selling over 3.7k.  I'm going to take a wild guess and say a rather buxom woman is on the cover dressed as Santa or an elf *checks* huh I was wrong…its a rather buxom woman dressed as a sexy reindeer (????) and snowman.  Shows what I know!
Ray: Rudolpha the sexy reindeer, had a very shiny – *gets yanked off stage before we get cancelled*
Glenn:  Nothing to see here folks.
Random reorder alert for Domino 1 at 274 with sales over 3.4k.  Maybe retailers want to have some on hand just in case…
Transformers Bumblebee Go For The Gold is your random Transformers one shot for the month selling over 3.3k at 279.  One for the die hard fans only it seems.  The Transformers comics are getting a big makeover soon so everything till then is just treading water.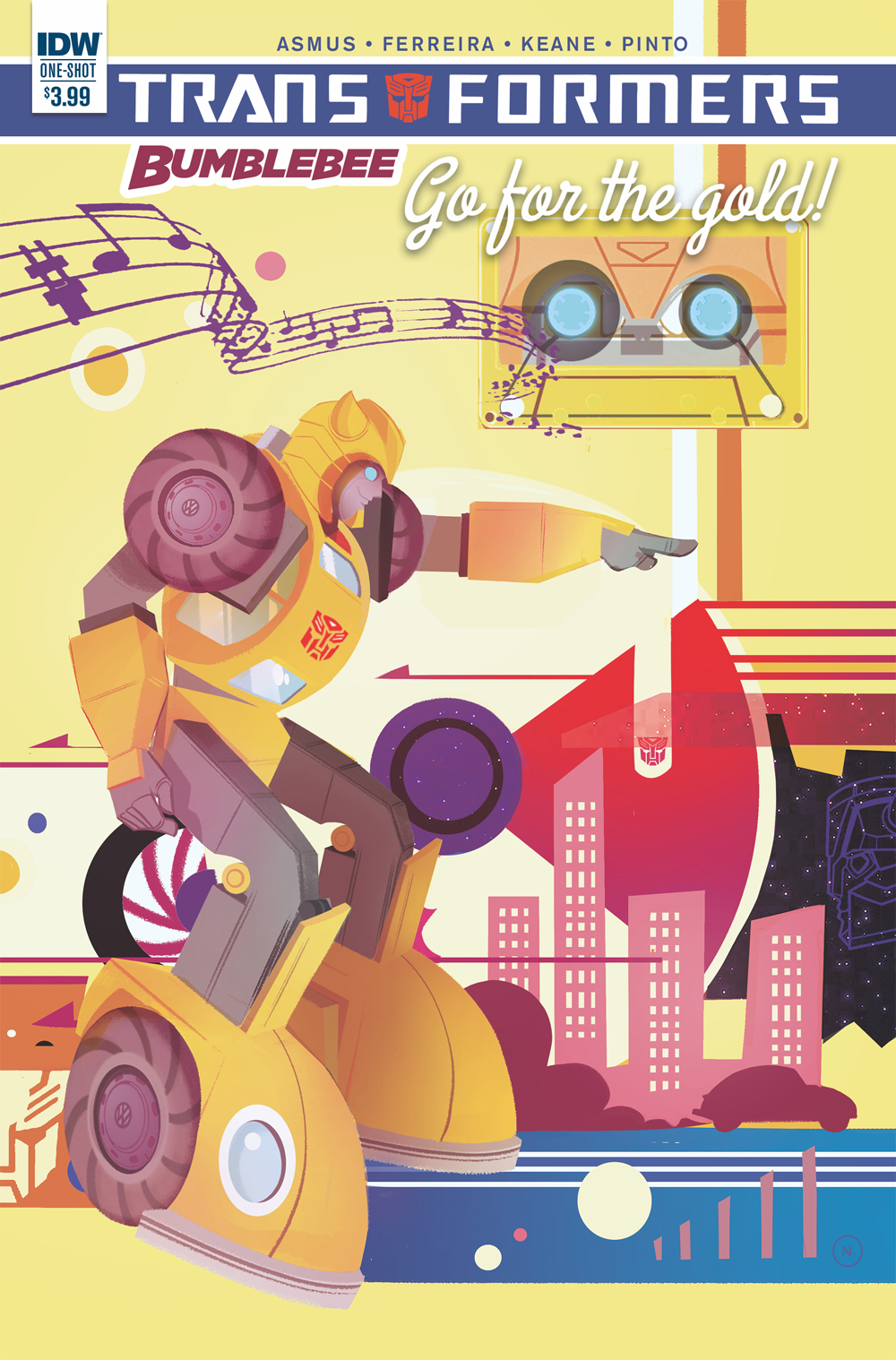 I'm not sure who Barberella is but she has a holiday special too this month!  It sells over 3.2k at 280 so some people must know who she is I guess.  You get a holiday special!  And you!  And you!
Breakneck, a new offering from Titan's Hard Crime comics debuts the first of a four issue mini at 3.2k.  I would have thought it might have done better since writer Duane Swierczynski had a moment at Marvel once upon a time but these sub lines of small publishers always have a rough time of it.
Ray: Titan in general puts out so many random comics without name creators that when they do have a bigger name on board, they tend to get lost in the shuffle.
Glenn:  A one shot, Ares IX: Darkness which ties in to the once semi well known Darkness franchise is at 284 selling over 3k.  This is very much a 'order for the last few remaining fans there are and no more' title.
Ray: I don't know whether this is a spin-off of The Darkness, a spin-off of Aphrodite, or both. That probably explains a lot about the sales.
Glenn:  There's definitely something going on with Marvel reorders as the second issue of Secret Empire is at 285 selling over 3k.  No one is ordering more copies of that, like anywhere.
At 288 is the Archies Christmas Spectacular selling over 2.8k  I guess not that many people are that interested in seasonal offerings from Archie and the gang.  This title seems more like old school Archie offerings which all would have sold about this level once upon a reboot ago.
Black Mask manages to get a comic in the top 300 with Snap Flash Hustle at 299 with sales over 2.6k  This is the start of a new mini and likely got some interest cause writer Pat Shand has a fanbase of his own.  Given this is the only Black Mask title in the top 300 I'd say this is a win for them but clearly the company has seen better times.
Ray:  
B
lack Mask is a company that hasn't had a real hit in a very long time. Even books by name creators struggle for them. 
Glenn:  Okay here goes, don't cry…don't cry…
Grumble from Albetross Funnybooks launches at 304 and I thought this might have done a lot better given it has Mike Norton on art but this is probably the best the company can do at the moment.  The sales of over 2.5k aren't great when you factor in Norton but probably fantastic for this company.
Ray:  This is a REALLY odd book, too, about a magical con man who is turned into a Pug. It's going to have a crossover with The Goon in coming months, so it might gain a little buzz. But the company overall is very small. 
American Mythology has made a little cottage industry out of public domain adventure titles, including this month's Carson of Venus: Pirates of Venus #1. It sells 2.3K at #310. Clearly a niche title bringing obscure properties to a modern audience.
Albatross Funnybooks shows up on the charts again with the all-ages Lovecraftian giant-robot comic (yes, that's right) Mega-Ghost, which sells 2.2K at #312. It actually picks up another 1.2K in sales thanks to a Powell variant down at #366, so the book is definitely a hit. Sometimes the post-300 range is good, Glenn!
The obscure Paul Dini Christmas-themed character Jingle Belle shows up for her annual engagement from IDW at #321, selling just over 2K. This is a character that's been going strong for over twenty years, so the audience here is likely small but loyal.
Glenn: Is Jingle Belle even annual?  I don't remember the last issue that came out but yeah, this one has stuck around most likely due to Paul Dini's force of will alone but at least he's getting to do a book he enjoys.
Ray:  The third miniseries in the "Black AF" series from Black Mask, subtitled Devil's Dye, launches at #322 with sales of 2K. This started out as a Kickstarter before coming to Black Mask. I believe Glenn has some feelings about this book.
Glenn: Its a great concept that I feel was handled poorly but it definitely has a loyal fan base.
Ray:  Selling just under 2K at #324 is the latest Giant Days oversized special, "Where Women Glow and Men Plunder". It's Australia-set, and sells 72 copies above the main series despite being twice the price. This long-running college series is one of Boom's best cult hits.
Speaking of cult sci-fi anthologies, Stargate Universe has one from American Mythology, selling 1.9K at #325. This is a property that hasn't been around in a significant form in decades, so we're really looking at a small base of fans here.
Glenn: Wow, Stargate who knew?  Yeah there will be the fans out there buying this and clutching it while they rock back and forth praying to the Netflix gods to bring it back
Ray:  At #329 is the Fantasmagoria Holiday Special, the second issue of a horror anthology from new publisher Starburns Industries Press. It sells 1.9K copies, but those are likely to be its last, as it's from the creator of Border Town. Moving on…
American Mythology seems to be giving Dynamite a run for its money with old pulp heroes! They launch a new Zorro series, subtitled Legendary Adventures, at #330. Its 1.8K in sales seem about right for a character who hasn't been relevant since his last movie about a decade ago.
Glenn: I was about to say 'you go Zorro' but then I think I made that joke on here before.  Where are all the Zorro comics coming from?!
Ray:  1.8K in reorders for Heroes in Crisis #3 at #333. This series may have gotten a lot of controversy, but getting people talking means more sales!
#337 brings us "Canadian Vark", selling 1.7K for the latest weird vanity project for Dave Sim. I would say God bless 'im, but that may not be appropriate anymore given recent revelations.
Glenn: The best thing is about these stories coming out is that people are finally feeling able to do so.
Ray:  Land that Time Forgot: Fear on Four Worlds launches at #340, selling 1.6K from American Mythology. This is not to be confused with The Land Before Time. Littlefoot is not in this.
Glenn: I was wondering.  I wonder if it would have sold better or worse if he was.  Loads of kids will think the only animated talking dinosaur is Rex from Toy Story and *sighs* The Good Dinosaur.
Ray:  Alterna finally has a new launch on the charts after a few months off, with the odd Einstein/Tesla adventure team-up Feast or Famine. It launches at #341 selling 1.6K, which is a little lower than what Albert Einstein: Time Mason did a few months back. Battle of the time-traveling Einsteins goes to Action Lab!
Glenn: Who would have guessed that Einstein would almost be in as many comics as Batman?  By almost I mean like 5% of course.
Ray:  American Gothic Press, a very small publisher that usually doesn't go into the singles market, makes the top 500 with a new horror book titled Nice #1, selling 1.4K at #351. The company has a big presence in the hardcover market, so the eventual collection will likely do much more.
Antarctic Press launches the sexy zombie-hunter comic Rags at #358, selling 1.3K. It's like Walking Dead, except the lead lady walks around in rags! In a world full of zombies. Who turn you into a zombie if you get bitten on exposed skin. This makes sense and is not a gross T&A comic at all.
Glenn: I've seen the cover to this.  The part of me that has a love for female strong protagonists died a little.
Ray:  Speaking of which, right below is Jungle Fantasy Secrets: Nude Cover Edition. It's scary down here, Glenn.
Glenn: So many scantily clad or naked busty women, its like we stumbled into *insert popular porn site here*
Ray:  Amid a lot of Marvel reorders, Boom gets a rare reorder with an additional 1.2K in sales for Firefly #1 at #363. Good news for Boom, which has their first real hit since Power Rangers on their hands.
Glenn: Will be interested to see if Buffy can deliver next month's charts for them.  Gaining these properties from Dark Horse may be the best thing to ever happen to them.
Ray:  Amid a sea of reorders for books including Avengers, Heroes in Crisis, Die! Die! Die!, and Guardians of the Galaxy, we find a few low-selling original books. They include Rem 8 Winter Classics #1, a mature-readers title from Rothic Comics. It sells 1K at #385. I have no idea what this book is.
Glenn: I googled it.  I wouldn't recommend the experience.
Ray:  #389 to #394 are all Marvel reorders, all selling just around the 1K mark, and they include random titles like X-Men: Blue, She-Hulk, and Jean Grey. This is definitely some sort of stock liquidation for December.
Glenn: We're onto you Marvel!  We here at By The Numbers are crazy enough to delve this deep!
Ray:  After a bunch of more reorders and low-selling comics, we come to Love Town #1 from Devil's Due, which sells 901 copies. This vampire detective thriller was previewed with a #0 issue, but it doesn't seem to have gained it any new fans.
Glenn: Vampires have kind of had their moment (except when they are Veronica Lodge for some reason), there isn't really a popular comic in amongst a pile of other similar comics like there is for Walking Dead and zombies.
Ray:  #409 brings us "How the Trump Stole Christmas" from Antarctic Press, selling 894 copies. I don't know if this is pro-Trump or anti-Trump. Man was not meant to go this deep, Glenn.
Glenn:  I know that your heart is generally the size of your fist so given the President's tiny hands, he seems perfect for the Grinch whose heart was several sizes too small.  
Some reorders for Bitter Root at 421 with sales at 812, seems like this one probably launched about the right level and will level out quick.
424's Cavewoman Rampage One Shot makes me regret the day I said to Ray 'how do you feel about doing a lighthearted article looking at comic sales' all those years ago.  It sells 804 copies…somehow.
Grumble which we mentioned above has more orders down here for some reason that's listed separately, how odd. Its a variant but still those are usually all packed with the prime sales. It picks up another 763 sales at 429.
At 432 is Lady Death Gallery Crimson Turnaround which is not a comic but an image of J. Scott Campbell's redesign of the character from 17 years ago which Coffin Comics are charging $25 with a straight face.  This is your baseline for J. Scott Campbell images one would think?
Ray: It's always strange down here. $25 art books from the 1990s?
Glenn:  Whole bunch of standard reorders and continuing series from small press that have very small audiences until we get to 468 and Source from Scout comics which sells 572 copies.  Their website literally tells me nothing about this book apart from what its called and I can get a glow in the dark edition.  Ooooo
Nothing here but minor reorders until the ever dubious 500th spot which goes to the first issue of a comic called Ancient Dreams by Aggressive Comics (?!?!?!?!) and its about two sisters stuck between the past and present with them both on the cover not wearing…anything but they have some sort of golden light covering their naughty bits (cause they have to keep their dignity you see).  So there you go, what an apt way to end the last sales chart of 2018.
Ray: You learn something new every day. I didn't even know Aggressive Comics was a thing.
Glenn:  Something tells me they'd be angry about that fact.
What's up next month Ray?
Ray:  Looking ahead, the biggest launch of the month is by far the debut of Wonder Comics from DC, starting with the guaranteed top ten debut Young Justice and the new hero debut Naomi, both from Brian Michael Bendis. We'll also see Flash and Justice League annuals that set up the next year of stories, and the latest anthology – Mysteries of Love in Space. 
Marvel's got some major debuts, including Jason Aaron's Conan the Barbarian, Tom Taylor's Friendly Neighborhood Spider-Man, Chip Zdarsky's Invaders, Kelly Thompson's Captain Marvel, and a new Black Widow title, plus the return of Marvel Comics Presents. Likely to find rougher waters are a series of one-shots reviving classic genre titles like Crypt of Shadows.
It's kind of a quiet month for indieland this month, with one BIG exception – as Boom takes a shot at the top ten with the debut of Buffy the Vampire Slayer from Jordie Bellaire and Dan Mora. There's also the return of Fight Club 3 by Chuck Palahniuk and Cameron Stewart from Dark Horse, the return of Brubaker and Phillips' Criminal, Kieron Gillen's Watchmen-inspired Peter Cannon Thunderbolt, and the return of the Avatar franchise with Tsu'Tey's Path. No, not that Avatar. Prince Zuko is not in this.
What will rise? What will fall? Find out next time on…By the Numbers!
Liked what you read?  Have a question or comment?  Let us know here or on Twitter @glenn_matchett and @raygoldfield!