By The Numbers: May 2019
Like in any industry, comic books and their companies listen most to one thing and that's your money! What does your money tell them? What does it tell us as fans? What series do people say they adore but can't seem to catch a break and what books to people hate that sell out? What are the trends? What looks good? What looks rough?
All these questions and more will be answered here, every month in 'By The Numbers' by comic writers, editors and fans, Glenn Matchett and Ray Goldfield.
Glenn Matchett is a comic writer and editor. He's worked in the industry for many years but grew up reading comics. He's had work published with various small press publishers and has is own comic now available on Comixology in Sparks: The Way I Was from Yellow Bear Comics! He used to remember a time when he wasn't tired but that seems so long ago.
Ray Goldfield is a fan of comic books for going on 25 years, starting with the death of Superman. He is a writer and editor and has released his first novel. Ray also does a weekly roundup of DC comic reviews for website Geekdad and they're brilliantly entertaining.  When asked his view on the Game Of Thrones finale, Ray simply yelled 'I like dragons!' over and over in a similar manner to Hodor saying Hodor.
We also do a podcast together with longtime buddy, Brandon James on iTunes with Rabbitt Stew or at the link here! Don't ask, I didn't pick the name. If you'd like to hear what me and Ray sound like, give it a listen!
Top 300 in full available here!
Glenn: Hello again folks and welcome to the top 500 for May 2019! This month saw a lot of surprises with some detrimental to Marvel, benefiting DC, so-so for most and depressing for the rest! Come join us once more as we crown the new Batman Blockbuster by Scott Snyder and Greg Capullo number one with a bull…
Wait…
In a surprising upset, the number one with a bullet this month is the Elseworld zombie story DCeased written by Tom Taylor which launches at 242.3k which is an astonishingly good number. A mix of zombies still having somewhat of a moment, Taylor having some serious momentum right now, a lot of hype and some lovely variants seems to have been a formula for success. This seems to have struck a surprising cord, the same way Marvel Zombies did over a decade previous. Already we're getting additional content to the previously scheduled 6 issue mini presumably due to the success. Taylor is a writer who has done some great work and elevated Injustice beyond 'just' a video game tie in to a critical and commercial success. With Tom King leaving Batman is it time for one of the big two to give him a shot at the big time? I think these sales would indicate so. Since this mini is so short, I wouldn't imagine it dropping too badly over its period but this is a brilliant start regardless.
Ray: This is probably one of the most surprising upsets in recent sales chart history – not just DCeased winning the month, but the margin by which it won. This is a monster (pun intended) debut, and I think the covers have a lot to do with it. This is the first time in a while I can remember the variant covers feeling like an actual event rather than just a money grab. We'll have to see how the future issues do, but the variants are continuing and I could see this being a dominant force for the entire run.
Glenn: Next is the all powerful Doomsday Clock which still sells a bundle at 2 with sales over 117.4, there's no surprises here. I would say that there will be reorders given the contents of the issue but at this point with regards to Doomsday Clock, that's an inevitability here.
Ray: Nothing stops this comic, not even bigger and bigger delays. The reorders continue to rack up too. DC's strategy of doing mini-events without much of a buy-in in the form of tie-ins is really paying dividends so far – although that may be about to end, a little further down.
Glenn: Finally claiming the bronze prize this month is Last Knight On Earth selling over 113.2k which is a great number don't get me wrong but with the amount of hype, the creative and this being Snyder and Capullo's last solo Batman story I expect something closer to what DCeased got this month. I think with all that in mind this is a big surprise. Now, this could be because of price point but the most likely explanation is the Black Label association. Retailers are still waiting for the conclusion of Batman: Damned and there's been a lot of messing about with the line. Given all that, the Black Label line might be more of a detriment. I have little doubt we'll see some serious reorders but quick stability. I mean this will be a success, no question as it'll be a nice collection that'll be in print that will sell till the end of time but I expected more out of the gate by two of the hottest creators in comics.
Ray: Yeah, I think the format and the controversy over Batman: Damned drove sales down a lot. I also don't think there were any variant covers here, so that's a big difference-maker between it and DCeased. But this is very similar in numbers to Damned and White Knight, so I think retailers ordered what they knew it could do. Expect lots of long-term reorders here. I believe this is a bimonthly three-issue series, so it should hold very well for the duration.
Glenn: A strong debut at Marvel with Savage Avenger's which sees a debut launching at 4 with sales over 111.7k which is an impressive debut. The Avenger's brand isn't what it once was so I think the success here is all down to A) how hot Venom is right now and B) the inclusion of Conan. I think we'll see this one settle to about the 45k range swiftly from here due to it not really being a Venom book but that'll still give it some legs.
Ray: Yeah, this is a weird comic but it feels like it's an intersection of multiple Marvel events and hot characters under one cover. This is a very good debut, but I don't think it's sustainable. It'll play out similar to the second-tier Avengers books used to, but with a Venom boost.
Glenn: Venom without Cates though can be hit and miss though as we've seen. An interesting one to watch.
At 5 is the Batman Who Laughs which continues its selling ways. This month it racks up over 108.6 which is an increase on last issue. There is nothing but winning here and the character will be around to sell other books for a good time to come.
Ray: Laughing all the way to the bank!
Glenn: At 6 is the continually baffling Amazing Spider-Man which sees one of its random sales boosts with sales on issue 21 selling over 92.5 but issue 22 charting at 10 selling over 78.1. Why is this happening every month? Whose to say and its hard to really judge where the title is at the moment with that in mind. On paper it is still one of Marvel's strongest sellers but the vast swing in shifts every month is an oddity.
Ray: Marvel's scheduling games aside, this book has been in flux for a while with an event and then an anniversary coming up. But after that, it sinks into a Superior Foes sequel arc and we should see the truth of the numbers a little more. The last .HU issue is down at #22 selling 52K, so there's definitely an interest gap here.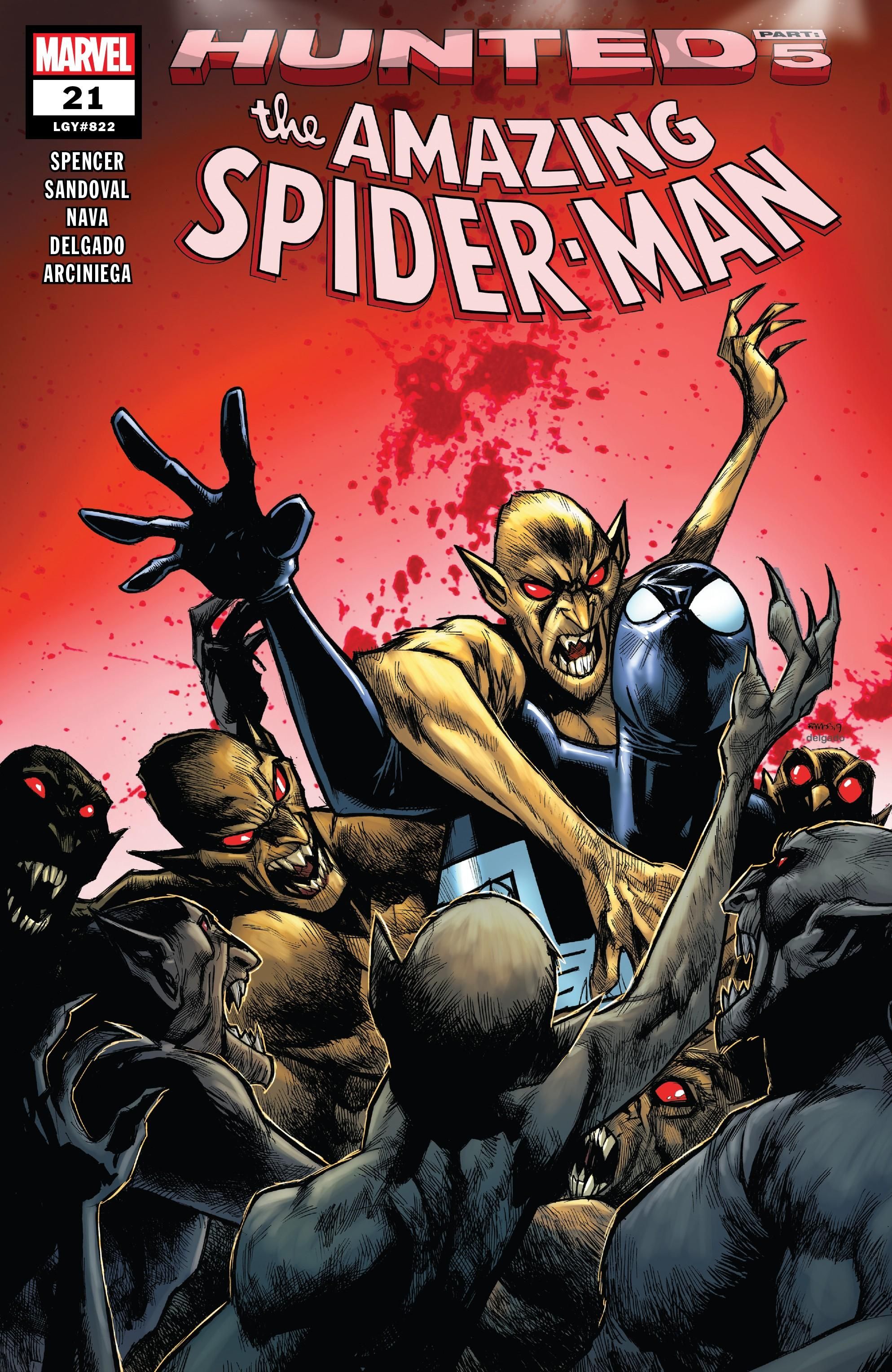 Glenn: After Hulking up last month in sales, Immortal Hulk places at 7 this month with 87.4k as one of Marvel's best regarded books sees some sales boost off that quality. At 13 the following issue sells over 75.9k which is a decline but still an amazing achievement by the title since at those numbers its barely being outsold by Marvel's mega hyped War Of The Realms. Quality and critical acclaim does sell occasionally, who knew?
Ray: Whatever numbers are the actual interest level, I think it's clear that Immortal Hulk has caught fire with Marvel fans in a way no book since Venom did. Like Venom, it has a horror twist on a popular character. But unlike that book, it doesn't have a powerhouse name writer like Cates. Ewing has been a workmanlike writer for Marvel for a long time and many of his books struggled sales-wise, so I'm really happy to see this book catch fire.
Glenn: At 8 and 9 is top ten tenant Batman were Tom King's run continues is slowwwwwww decline in sales. We see sales here of over 83.5k and 82.7k. We're just spinning wheels until the big jump for 75 but then 10 issues later, King's run is wrapping up to make way for a new 12 issue Batman/Catwoman mini and a new creative team. This is an interesting gamble by DC comics in an attempt to seemingly have their cake and eat it too. Will this gamble pay off? We'll find out here early next year.
Ray: Batman is bulletproof in sales, with largely forgotten runs like David Lapham's City of Crime or Tony Daniel's pre-New 52 arcs staying rock-solid despite mixed reception. The core book should maintain that without King, and I'd be shocked if Batman/Catwoman ever dipped below 50K – probably 70K – especially with the reveal of the villain's identity. 
Glenn: ANDREAAAAAAAAAAAAAAAAAAAAAAAAAAAA
Ray: More bad news for Marvel mega-event War of the Realms, as it lands its third and fourth issues at #11 and #14, selling 77K and 73K respectively. Those are acceptable numbers for any comic, but not a much-hyped line-wide crossover with years of buildup. Given that this is only a three-month event, there's no chance for leveling out or boosting sales. This is largely turning out to be a mess for Marvel, and they'll need that sweet, sweet Carnage money soon.
Glenn: The much more out of nowhere non event DCeased has already slaughtered this and this one had a lot more hype and expectation behind it. Marvel is still recovering from a mix of too many large middling to poor events.
Ray: War of the Realms sandwiches Heroes in Crisis #9 this month, which ends its run at #12 with sales of 77K. This controversial stand-alone event leveled out quickly after a disappointing start, holding well for almost a year. This is another example of how these limited-scope events are paying off for DC.
Glenn: This one was an oddity. I'm still not sure if it was a sales success or not. If you go by what it originally was presented on then yes, it did very well. Hyped as a very important point in the DCU, then not so much. Still, it sold solidly and we'll see if fans who read this will check out the stuff rolling out of it in a few months.
Ray: Venom #14 lands at #15 this month, selling 66K. This is the second part of the Cullen Bunn tie-in event, and is up 14K from last month. Retailers are obviously correcting because Venom will sell no matter who's writing it.
Some good news for War of the Realms, as it has a top-selling tie-in at #17. War of the Realms: New Agents of Atlas sells just under 65K, but this is subject to Marvel math. They doubled orders for retailers to give this book – which is making a strong push into the Asian market with guest-starring superheroes from China and Japan – a chance and already greenlit a follow-up miniseries.
Glenn: Agents Of Atlas is one of those properties Marvel digs up to give another go now and then. They're not as abrasive with it as they were with say the Inhumans but they obviously see a lot here in getting them a new market of readers potentially.
Ray: The new Star Wars miniseries tying in with the Disney theme park attraction, Galaxy's Edge, debuts with 60K at #19. This is above average for generic tie-in minis for the franchise, so I'm guessing the Disney hook boosted sales. Marvel might have also upped orders for handing out at the park.
Glenn: People actually excited to actually have a hardcore Star Wars experience might have helped too. There may have been crates of this stuff delivered to the park for free handouts to guests too.
Ray: This is where we see top-selling regular titles including Detective Comics (which is selling about 65K now and seems to have a permanent boost from the 1K issue), Justice League, Fantastic Four, and Avengers. There's 25 comics selling above 50K this month, which seems above average.
Symbiote Spider-Man, after its excellent debut last month, finds a normal level at #23 selling 52K. That's well above every Spider-Man book beyond the flagship, so I think we can safely say this is a real hit.
Glenn: This is a good 20k above the rest of the secondary Spidey books. We'll call this 'the Venom effect'.
Ray: Batman and the Outsiders, from Bryan Hill and Dexter Soy, launches at #24 with sales of 51K. This is a pretty good debut for a comic that spins out of a Detective arc from almost a year ago. It's definitely more of a good debut for an Outsiders book than a Batman book, though, and we'll see how it sustains itself in the coming months.
Glenn: This one lost momentum cause of the delay I think and retailers aren't seemingly treating it like a proper Batman book. Given who is actually in it though you are right, this is a solid start. It'll need to land fast though.
Walking Dead #191 is down at #27, selling 48K. Without getting spoilery, retailers massively under-ordered here and expect huge reorders for it next month alongside massive orders for #192.
Glenn: Indeed, it just shows how confident and steady the franchise is though that they don't have to make a big deal of these things. They know it'll come around back to them.
Ray: The next tier down, selling in the 47K to 40K range, includes hits like Superman, Thor, The Green Lantern, Guardians of the Galaxy, Uncanny X-Men, Action Comics, Flash, and Star Wars, along with the Boba Fett issue of Star Wars: Age of Rebellion. That sells about 6K higher than the Han Solo issue, interestingly – that's down at 35K. Jabba the Hutt's solo issue is at 32K, and Lando's at 28K.
Glenn: This is Fett's first comic he's starred in since Marvel got the licence whereas Han has had a mini starring his older and younger selves. Maybe the novelty of seeing the mega popular bounty hunter in his own comic made the difference?
Ray: At #31 is the Detective Comics Annual, which brings back iconic Batman: Year Two villain The Reaper. It sells 44K, which is a pretty big gap from the main series but still a strong number. That makes me think that the numbering is playing a big role in the sales of the main book.
An odd entry is Star Wars #108 at # 40, selling 40K. This is a final oversized issue of the original Star Wars series from decades ago, written by Matt Rosenberg. For a retro curiosity at $5.99, this is a very good number and in line with the regular debuts for Star Wars titles. This confirms that you could probably sell a Star Wars: Rancor's Day Out miniseries and it would crack 40K.
Glenn: A big win considering what this is and the pricing of it, I totally want to see that mini now too. Make it happen Marvel!
Ray: At #42 is Batman/TMNT III #1, as James Tynion IV returns to close out his trilogy and TMNT creator Kevin Eastman jumps on for a surprise art assist. The sales of 38K are much lower than I would have expected, so I put that up to the disappointing second arc that Tynion didn't fully write.
Glenn: The novelty has worn off for sure but its still decent enough. The collections must be doing well enough to warrant a third plus the original has an animated movie adaption now.
Ray: Life Story basically stays rock-solid for its third issue, selling 37K at #46, which is less than a 1K decrease from the second issue. I think we can safely say this is a prestige comic that's going to hold very well.
Glenn: Well deserved too.
Ray: Unexpected good news for another comic as Naomi leaps up the charts, landing at #47 this month for its penultimate issue with sales of 36K. It barely cracked the top 100 when it debuted, but it's been picking up reorders ever since. Now it's even outselling flagship title Young Justice, down at #65 with sales just under 30K.
Glenn: The character is catching on as promises about her past being revealed are being made. We'll definitely see more of her without question with this renewed momentum.
Ray: The sales charts giveth to Bendis, and they taketh away. At #56 is the oversized 9.99 one-shot Superman: Leviathan Rising, which sells only 32K. For a $10 anthology, this wouldn't be terrible – but it's a prelude issue to next month's big event with Bendis and Maleev. Even if it doubles the sales of this comic for that debut, that's only 65K – not at all what we want to see out of an event comic.
Glenn: Very tepid response for sure. This could be a result of how zero issues are sometimes treated (big win or meh results) or Bendis bringing his past of recent dubious Marvel events with him. We'll see how this thing does for real next month.
Ray: We're finally starting to see some traction for the best Spider-Man book, Friendly Neighborhood Spider-Man. It gains 4K this month to chart at #63, selling 30K. This book is quickly gaining strong critical reviews, so I expect the upward trend to continue.
Glenn: This issue got a lot of critical acclaim particularly so might get some reorders too.
Ray: Amid a sea of normal-selling Marvel and DC titles, we have a big hit for Valiant. The latest future-set mini-event, Fallen World, charts at #70 with sales of 27K. Valiant's decision to keep their line small and only put out strong titles has paid dividends.
More proof that Immortal Hulk is the hottest book at the moment – the second issue shows up again at #73, selling a massive 27K in reorders. This kind of reorder is unprecedented unless we're talking an event comic or a huge anniversary. Whatever's going on with this book, Marvel's got to be thrilled here.
Glenn: This is not even a recent issue and its doing better than most new books. This has caught some serious momentum for sure. I just hope Marvel don't push their luck with it.
Ray: The final cycle of Ed Piskor's experimental X-Men comic, Grand Design, lands at #74 with sales of 26.9K. This is a pretty good number for a $6 book, but this title is only a month away from being an evergreen collection that will likely sell millions as it distills fifty years of continuity into six issues.
At #78 is another disappointing War of the Realms tie-in, as Spider-Man and the League of Realms #1 sells 26K. Just a very muted number for an underperforming event and a tie-in that didn't get much hype.
Glenn: Very low for a book with Spider-Man's name in the title. I guess this just shows how indifferent War Of The Realms is being treated, not even a Spider-Man tie in can get a win.
Ray: Dark Horse's top book on the charts this month is Stranger Things: Six, the second Jody Houser miniseries expanding the world of the megahit Netflix series. This one sells 25K at #82, less than half of what the previous miniseries did. That's probably owing to the fact that this one doesn't feature any of the show characters.
Glenn: Still decent for a TV show tie in and a good result for Dark Horse but after some initial hype this is probably one for the hardcore audience only that want to devour every scrap of Stranger Things lore they can.
Ray: War of the Realms had a trio of "Strikeforce" one-shots, showing where the various heroes went after they split up into squads. The top-selling one is Dennis Hopeless' War Avengers at #83, selling 25K, followed by Bryan Hill's Dark Elf Realm at #92, selling 23K, and Tom Taylor's Land of Giants selling 22K at #94. So many of these tie-ins were mostly ignored by retailers, despite some strong work from top creators.
Glenn :A series of one shots will always be treated like a throwaway in some sense.
Ray: A tie-in that was barely marketed as a tie-in, Giant Man #1 debuts at #97 selling 22K. This team-up showing Scott Lang and three other giant-sized heroes infiltrating the Frost Giants didn't have the "War of the Realms" branding in front of it, but it barely differed in sales from those that did.
Glenn: I wonder if it would have been better if it was more obvious that this is the same character that starred in a multi-billion dollar movie not too long ago. A lot of 'well it would have done better if…' in this case it seems.
Ray: At #102 is the Catwoman Annual, selling just under 22K. That's just over half of the sales of the parent title, which is at #43 this month. So clearly retailers didn't get the memo on this one.
Glenn: The title has lost some momentum and Joelle Jones isn't writing it full time, I wouldn't expect to see it last too much longer after the surefire hit that will be Batman/Catwoman launches in January.
Some War Of The Realms tie-ins out of the top 100 already with Journey Into Mystery selling over 20.9k and Atlas dropping release month to 108 selling over 20.3k for its second issue. When Marvel did Secret Wars (the Hickman one) they replaced a lot of their line with tie-ins as opposed to asking people to buy the regular books plus the tie-ins, it seems the latter strategy they've employed in the last few events are really hurting them.
At 107 is Red Sonja/Vampirella/Betty and Veronica and no you've not entered the Twilight Zone. The sales of over 20.3k are good considering this is such a bananas concept. The publishers must be happy as we're getting a Sonja/Vampironica ongoing coming in August so there you go…
Ray: Dynamite has the weirdest business model, largely seeming to be driven by novelty crossovers and variant covers – with a few books of shockingly high quality mixed in. Whatever keeps the doors open, but this is definitely their most bizarre entry yet. Should we be looking for Vampironica vs. Vampirella next?
Glenn: Another War Of The Realms tie-in out of the top 100 with the Punisher offering selling over 19.9k at 110. It only loses about 7k on the first issue which isn't too shabby all things considered. Punisher has never been a character that has been able to support much in terms of multiple books/tie-ins so this is probably what we would see regardless of what the larger story was.
A prompt stabilization for Ascender which only loses about 4 for its second issue selling over 19.8k at 111. I think this is a significant increase over where the previous series Descender finished so the relaunch/new direction has worked a treat. Once again Lemire delivers a solid hit for Image .
Ray: We'll have to see where it settles down in, say, six months but the parent book was shockingly steady over its long run. Royal City aside, Lemire's books seem to have a very high floor above 10K.
Glenn: Another soft drop for another War Of The Realms tie-in at 115 for War Scrolls selling over 19,2. This is a pretty solid drop on the surface but as we said this month, this tie-in has series architect and Marvel superstar Jason Aaron writing a story and was pushed heavily as a 'must read'. Nobody took notice to either of these things.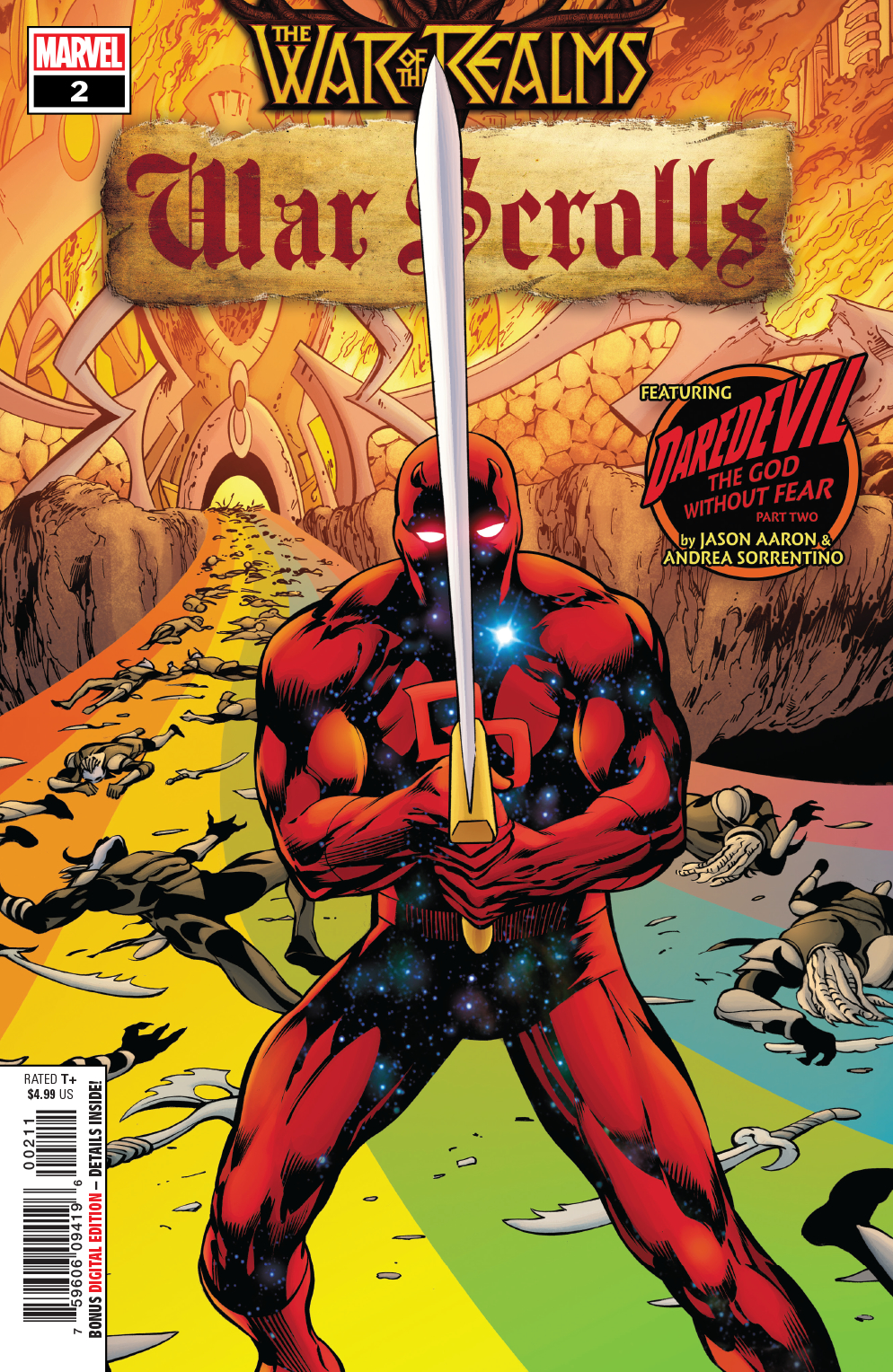 Shipping two issues this month, Giant Man's second issue is at 122 selling over 18.1k. I wouldn't bet on a new book 
pal Scott following this.
Ray: This wasn't technically a Scott book – it stars the new Indian-American Giant Man as the title character, but he's part of an ensemble with Scott and two other giant dudes. Either way, this one barely marketed itself as a tie-in, not that it would have helped much.
Glenn: Ah, that makes more sense…Why did they do this one again?
Huge drop for Marvel Team Up which sells over 17.5k for its second issue landing it at 128 on the charts. It seems retailers are treating this as a secondary Ms. Marvel book which it pretty much is. Given that Kamala's main book does uber business outside the direct market, this book might find life there also. The rotating creative teams will give this book a hard time creating an anchor though so we'll have to see if it can stick around, all things considered if it stays around here then things could be worse.
Ray: Anthologies, especially those with rotating creative teams, are a very hard sell. I think this might be a Black Panther situation, where a hit character can't necessarily command a spin-off.
Glenn: Right below that is Rob Liefield vehicle, Major X which is bottling up mid 90's comics and selling it with a new character. It sells over 17.3k at 129 which isn't great considering that Liefield used to be one 'the' guys in the industry. This character is not the second coming of Deadpool and will likely show up in an event in a few years to be killed off.
Ray: These are reorders! God help us all, this book is a hit. Look forward to Corporal X next year, starring Deadpool and Stryfe's clone baby or something.
Glenn: So they are, you only get the real pro analysis here at By The Numbers you know.
Really strong launch for Excellence, a new magic focused book from Image. Writer Kharey Rhandolf has some name recognition but I still think the launch of over 17.3k in sales at 130 is really impressive. We'll see how it settles out next month but this could be another strong addition to Image's line.
Ray: Brandon Thomas is a creator whose star has been rising quickly, definitely more so than when he released his last Image book, Horizon. This got a lot of advance hype, too. 
Glenn: A launch for Buffy spin off Angel this month with sales of over 16.1k at 132. This is a good bit below where sales of Buffy usually are but still a strong number for Boom. The series is currently finding an identity in its pages but if it can do that and stabelize around here that would be a great number, the character at Dark Horse was doing barely 10k when his series was tailing off over there.
Ray: 
There's a crossover with Buffy (which skipped a month) in September, so that should definitely help to sync that title up with this one. Either way, well above where this franchise was. 
Glenn: At 147 is a very respectable 14.7+k for a True Believers offering featuring Spider-Girl 1 which is a reprint of the What If issue debuting May 'Mayday' Parker. With Spider-Verse being a critical and commercial hit, this could be the perfect time for a character that has always had a cult following to really get some momentum.
Ray: I'm kind of surprised Mayday hasn't gotten a revival yet, honestly. She's Spider-Woman now, and there's no title with that brand at the moment. "The Amazing Spider-Woman #1" could be a good idea.
Glenn: At 149 is another True Believers which is a part of the classic Kraven's Last Hunt which sells over 14.1k. Not surprising since the story is so well regarded and Amazing is doing a pastiche to it at the moment. A very poor pastiche but one none the less.
Another True Believers at 155 in Silver Surfer: Rude Awakening selling over 13.1k. Pretty good considering its harder to define classic Surfer stories outside his original appearances.
Ray: I think retailers ordered heavily on this one in advance of extra interest in Silver Surfer next month. Expect a top ten debut for Silver Surfer: Black.
Glenn: Two more True Believers at 160 and 162 focusing on Darth Maul and the…Ewoks selling over 12.2k and 12k respectively. The Maul sales are impressive since his mini isn't that old, the Ewoks is for fans of curt little furry things I guess. It should be noted that everything from here got outsold by cheap furry muppets, make of that what you will.
Ray: I still can't believe the Ewoks cartoon was a thing.
Glenn: Lots of True Believers here, it seems retailers order these cheap comics in and around the same level unless they're something significant. Iron Fist/Misty Knight sells over 11.9k for their offering at 164
Another new Image offering at 165 selling over 11.9k in the form of Gogor. Pretty average debut from someone who has a rep like Ken Garing but isn't a huge superstar. I think Ray was a big fan of his previous series Planetoid so this one will likely be a critical darling that does well in collections and such.
Ray: This is a massive improvement over how Planetoid did, I believe, and the writer/artist making his return seems to have made a splash. A creator without a big name landing above 10K for a debut is pretty good, and I think the excellent critical response will keep this one building momentum.
Glenn: At 167 is another True Believers in Invaders 1 selling over 11.7k. Which Invaders 1 you ask? Who knows.
Another one of the True Believers, Origin Of Mantis sells over 11.5k at 170. I think at this point, they ran out of ideas for this odd month of Spider-Man, cosmic, Star Wars and The Invaders for some reason.
Second issue of Kelly Thompson and Veronica Fish's Sabrina sells over 11.4k at 173 which is pretty good for Archie stuff and a mini which takes a different tone to the tv show to boot. This one might have had legs.
Ray: This is Archie's top book by almost a 2-1 margin this month, which shows real interest in either Sabrina, KT, or both. Her sales pull is growing, and Marvel would be wise to make the most of it – before someone else does.
Glenn: TMNT creator, Kevin Eastmen releases a full version of his comic within a comic Radically Ronin Ragdolls which places 175 with sales over 11.2k which I thinks great considering that its a gag comic that is an off shoot of another book.
Ray: A gag tying into a new comic he's doing – which this outsold by a two-to-one margin. Are we going to get a media empire for the Ragdolls now?
Glenn: Pretty standard second issue drop for the super naughty Faithless if you're not counting the nudy covers. It lands at 178 selling over 11.1k, pretty strong number a Boom book, especially one that is diving head first into material they don't usually put out.
Ray: This is probably down to Azzarello's draw as a creator. He's one of the biggest creators they've had in their stable in a while.
Glenn: Standard franchise fare for this month's Hellboy offering, the one shot Hellboy vs Lobster Johnston: Ring Of Death sells over 10.9k at 183.
A good bit lower than the rest of the True Believers, the one looking at the Wedding Of Rick Jones selling over 10.4k at 185 likely is placed here because Rick hasn't played a massive part in comics in a while and is completely absent in the MCU…or any Hulk movie or TV show for that matter.
Dog Days Of Summer, the latest in DC's regular anthologies sells over 10.k at 186 which is solid enough since its priced at 9.99 and has an odd 'core hook' to the anthology. These seem to perform well enough for DC to keep them rolling.
Ray: This is among the lower-selling of the recent anthologies, above the New Talent Showcases but below most of the seasonal ones. The animals didn't have as much pull as the main heroes, I guess, even though the talent is top-tier.
Glenn: It does seem that retailers are ordering based on theme rather than names which is interesting. I suppose with antholigies since there's so many teams, big names sometimes aren't enough to make a sale where a simple 'this is a horror book' or whatnot would be easier to convey to a potential consumer.
I'm surprised True Believers Iron Fist/Coleen Wing didn't do better since they're the main characters in the Iron Fist Netflix show of yesteryear…or maybe that's why it didn't do well? It sells over 10.1k at 188 either way.
A facsimile edition of Defenders Marvel Edition 1 sells over 9.9k at 191. Not great but its 4.99 for old material in a new format and its a B or C list property so its all relative.
I don't even know what Luke Cage Power Man: Pirana could be but its another True Believer offering this month. It sells over 9.5k at 197 which indicates I'm not the only one who doesn't know what it is.
Right below it is more expensive reprints at 198, the facsimile edition of Incredible Hulk 181, I would have thought this one might have done better due to its importance (first appearance of Wolverine) but again its a comic Marvel have earned their money back on 100 times over already so the sales of over 9.4k is bonus funds.
There are more True Believers below 200 but most of them are reprints of recent comics or minor properties. Its crazy how many of these Marvel actually puts out.
Ray: Marvel is REALLY good at selling us new versions of old comics
Glenn: Selling about 2k less than the main book, the Sonic The Hedgehog annual sells over 9k at 204. Given that it's priced at 9.99, I'd say that's a better result than the usual annuals in comparison to what the main title sells.
Ray: IDW's slowly building a line of Sonic books, and it seems to be going pretty well. Definitely better than their creator-owned business at the moment (More on that, Lay-tor).
Next up is another pair of True Believers issues at #205/206 – the first issue of the recent Rebel Jail issue in Star Wars, and the first issue of the classic Power Pack series. Both sell about 9K, towards the lower end.
The $7.99 reprint Marvel Tales: Avengers sells 8.7K at #212, making the third format this month by which Marvel sells us old comics.
Glenn: Not counting collections where there's essentials, trades, classics, epics, omnis, hardcovers…
Ray: At #213 is the most bizarre entry of the month, "Alexandria Ocasio-Cortez and the Freshman Force" – an anthology special from Devil's Due focusing on fictionalized versions of some controversial new politicians as superheroes. Devil's Due promoted this heavily, and they managed an incredibly strong debut for the company with 8.6K – which they'll likely spend in court, since they were hit with a cease-and-desist from DC over a cover using the Wonder Woman costume, and proceeded to double down by issuing a second DC-themed cover.
Glenn: There's so much stupidity here my brain hurts.
Ray: 8.3K in reorders for Naomi #4 as Bendis, Walker, and Campbell's original superhero continues to pick up momentum. It won't stop here as it looks like she's going to play a role in Bendis' next big project.
Glenn: If that is the case then these original issues will have even more reorders as a result.
Ray: 7.8K in additional copies of Faithless #2 for the "Erotica" variant, further emphasizing that this is definitely a major hit for Boom and Azz.
Terry Moore's first big crossover comic, Five Years (bringing together characters from multiple creator-owned works) has a strong debut at #230, selling 7.6K. This is much higher than we normally see for his work.
Glenn: Retailers treated this like Moore's own Avenger's, I know his fans will be happy to see it.
Ray: The new Vault fantasy comic She Said Destroy has a strong debut for the company at #233, but this is a returnable first issue which likely inflated the numbers to an impressive 7.3K.
Glenn: DC and Marvel are doing a few returnable's in the coming months, we'll have to see if its a worthwhile gamble if it means retailers invest more in the books when they have that security in place.
Ray: 7.2K in sales for the facsimile edition of Alpha Flight #1 at #235, so Marvel's reprint month keeps on going. There's a facsimile edition of the 50th issue of the original Marvel Star Wars nine spots below.
Thew new miniseries My Little Pony: Spirit of the Forest sells just under 7K at #236, pretty consistent for a side book for one of IDW's frequent flyer franchises.
IDW and Dynamite both release $4.99 specials for two of their ongoing series at #249/240. Elvira Mistress of Darkness Spring Special sells 6.7K, followed immediately by Star Wars Adventures: Flight of the Falcon selling 6.6K. Elvira > Star Wars? Okay then.
Glenn:I think these Star Wars Adventures make their money elsewhere, Elvira makes her money…somewhere?
Ray: At #245 is the debut of the new Kevin Eastman miniseries Drawing Blood: Spilled Ink from his self-titled comic book company. This is the book that Radically Rearranged Ronin Ragdolls spun out of, but this oddball comic noir about a character based on Eastman only manages 6.3K. Hope he wasn't expecting this to bail him out with some loansharks, or we should look for a Ragdolls cartoon series.
Glenn: Loansharks: The latest series from Kevin Eastman, you heard it here first.
Ray: Another $7.99 reprint, Marvel Tales: Iron Man sells 6.3K at #247.
#250 brings us this month's issue of Zombie Tramp, selling 6.2K. Zombie Tramp, official mascot of By the Numbers!
Glenn: Our little Tramp has done well for herself, when we started this, she was lucky to crack top 300.
Ray: IDW releases a pair of classic Marvel all-ages Spider-man stories under their new Marvel Action banner, with the two-shot selling 6.2K at #251. Even other companies are getting in the business of selling us old Marvel books in new formats!
A pair of new Aftershock titles – 70s set music crime thriller Killer Groove at #255, selling 6.1K, and conspiracy thriller Descendent at #259 selling 6K – are in this area, basically business as usual for a company that struggles to build momentum even as they increase their content and attract top talent.
Selling just under 6K at #261 is the new horror comic from Paul Maybury, Last Stop on the Red Line. This was an odd, surreal comic that didn't get much advance hype, which probably led to it getting lost in the shuffle.
At #269 is a spinoff of the popular cartoon Samurai Jack from IDW. Samurai Jack: Lost World sells 5.6K, about typical for a cult cartoon spin-off.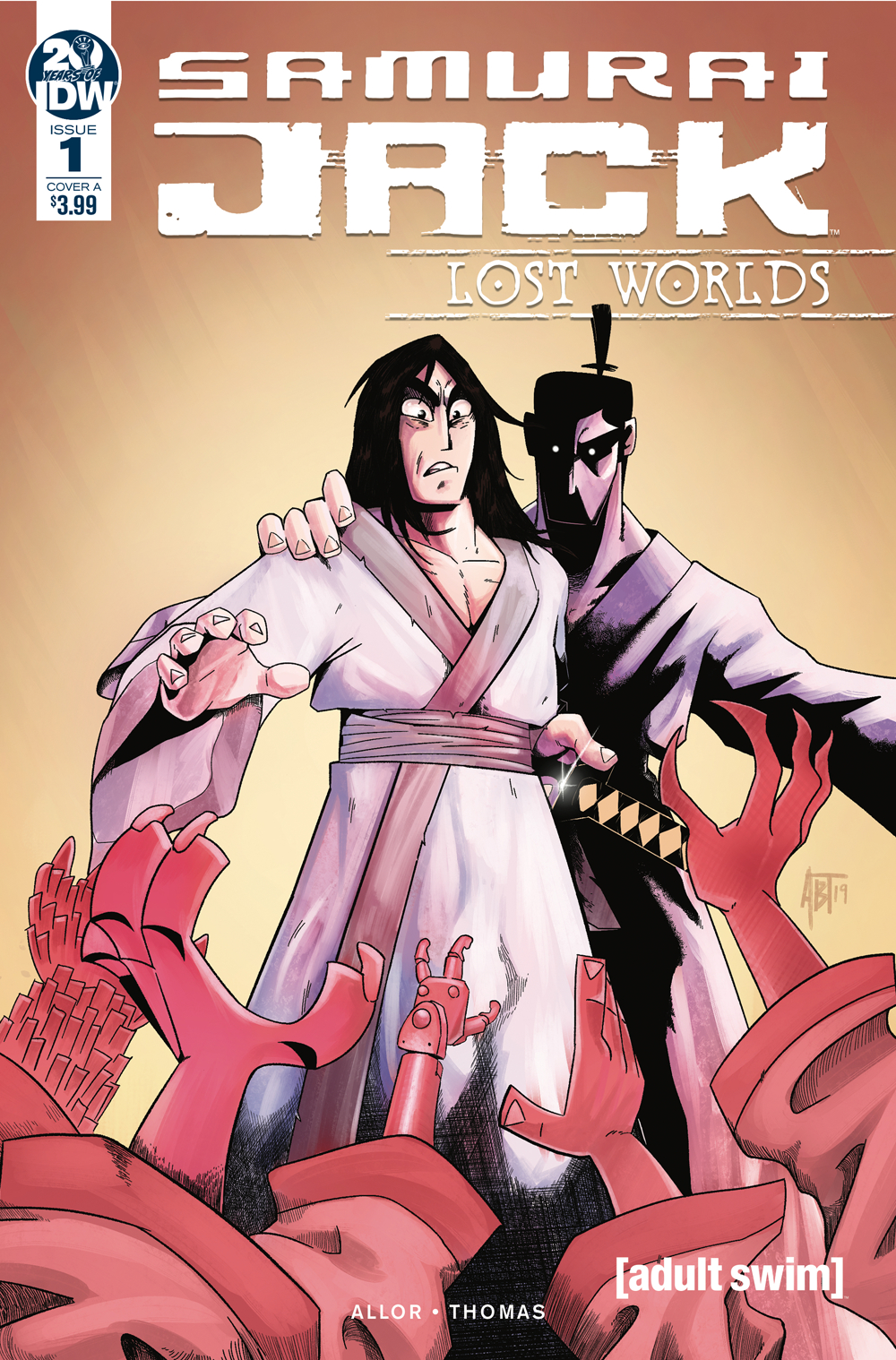 The Soviet Union-set horror story Road of Bones from IDW sells 5.4K at #273. That's a big stronger than most of IDW's creator-owned efforts, especially in the Black Crown line. This one seems to be picking up a bit of buzz for writer Rich Douek.
Another Beasts of Burden one-shot, The Presence of Others, sells 5.3K from Dark Horse at #278. This is one of those consistent properties where retailers know exactly how much to order.
Some slight good news for War of the Realms as the second issue picks up 5.2K in reorders at #280 – just under the second issue of Major X. Marvel's decision to make this a tight three-month event may stop any serious bleeding, but it'll also keep it from building any real momentum.
Glenn: Steady but unremarkable from here on out and doubtful to keep popping up months and years later like Metal did and Doomsday Clock does.
Ray: A new variant cover of Immortal Hulk #1 sells 4.9K for the fifth printing at #287, as this monster of a book keeps on charging forward.
Glenn: Heh, monster. I see what you did there.
Ray: As we get to the end of the top 300, we start seeing some seriously bizarre books. Tarot: Witch of the Black Rose makes an appearance with 4.6K in copies for its "Mourning After" variant at #293.
Then there's the Street Fighter 2019 Pinup Special at #294, selling 4.5K. Stupid sexy Blanka?
Glenn: You leave my green honey alone!
Ray: A special variant cover of Rick and Morty #1 to celebrate their 50th issue sells 4.4K at #296, a this reprint-heavy month charges on – it's two spots above a facsimile edition of Amazing Spider-Man #252.
#303 brings us a new miniseries for one of Dark Horse's mainstay cult heroes, Joe Golem: Occult Detective – Conjurers. It sells 4K, which is about where past miniseries were doing.
#309 has a new series from Antarctic Comics, the originally titled "Horror Comics", which sells 3.8K. It's no doubt the first in a franchise featuring original titles like "Superhero Comic" and "Book about Things".
Glenn: I love Book About Things, now lets get back to counting with numbers.
A new Goosebumps series, Horrors Of The Witch House sells over 3.6k at 316. Given how massive and enduring the franchise is, I doubt it needs the business in the direct market. It'll be interesting to see how Stine's upcoming original non weird Man Thing project delivers in the coming months.
Ray: Like all of IDW's all-ages books, Goosebumps makes its money elsewhere.
Glenn: Another Sonic book at 318 selling over 3.5k priced at 5.99. It seems IDW are making the most of this franchise.
New Lumberjanes at 325 selling over 3.4k priced at 7.99, I would say most of the core audience have moved on to read the books another way and aren't picking them at their LCS.
Ray: Boom seems to do these $7.99 one-shots for all their popular books at least once a year. This one had Seanan McGuire on board, but it didn't really help – at least in the single issue market.
Glenn: Gears Of War: Hivebusters is a typical video game tie in performer selling over 3.4k at 327
New Zenescope book, Dragonsblood sells over 3.4k at 330. Probably about what you would expect from the company when they offer books outside of their 'Grimm' line. I wonder if its about a sexy dragon lady and/or a lame Game Of Thrones? *google* looks to be both!
Odd sounding but seemingly well reviewed Black Crown offering, Eve Stranger sells over 3.3k at 333, that's a lot of 3's! Black Crown is a very specific brand and there's no big names here with the book having a very quirky feel so…yeah this is what you get.
Ray: Black Crown actually seems to do worse than other IDW creator-owned books for some reason. I think we'll see the line folded soon.
Glenn: Vampblade Season 4 (????) gets an issue 1 at 334 selling over 3.3k. No clue what this is but if its 4 seasons in, then it must have a loyal fanbase and retailers probably know what to expect from it.
Low sales for Clue: Candlestick which might suffer from the poor quality of the last mini IDW offered using the franchise even though this is a new take. It sells over 3.3k at 337
This is also by the VERY niche cartoonist Dash Shaw, known for his surreal stylings. Unlike the previous Clue book, this wasn't aimed for mainstream audiences.
Glenn: At 343 is the beginning of the second volume of Spencer and Locke, a gritty crime drama from Action Labs which basically asks the question of 'what if peak Frank Miller wrote Calvin and Hobbes?' I read the first trade and greatly enjoyed it. It sells over 3.2k which isn't too shabby for an unknown creative team from a small press publisher.  This is an example of a diamond out there that needs more attention. It also has a second issue at 395 selling over 2.3k which is a lot to lose down here but pretty standard for an Action Lab book most people have likely never heard of.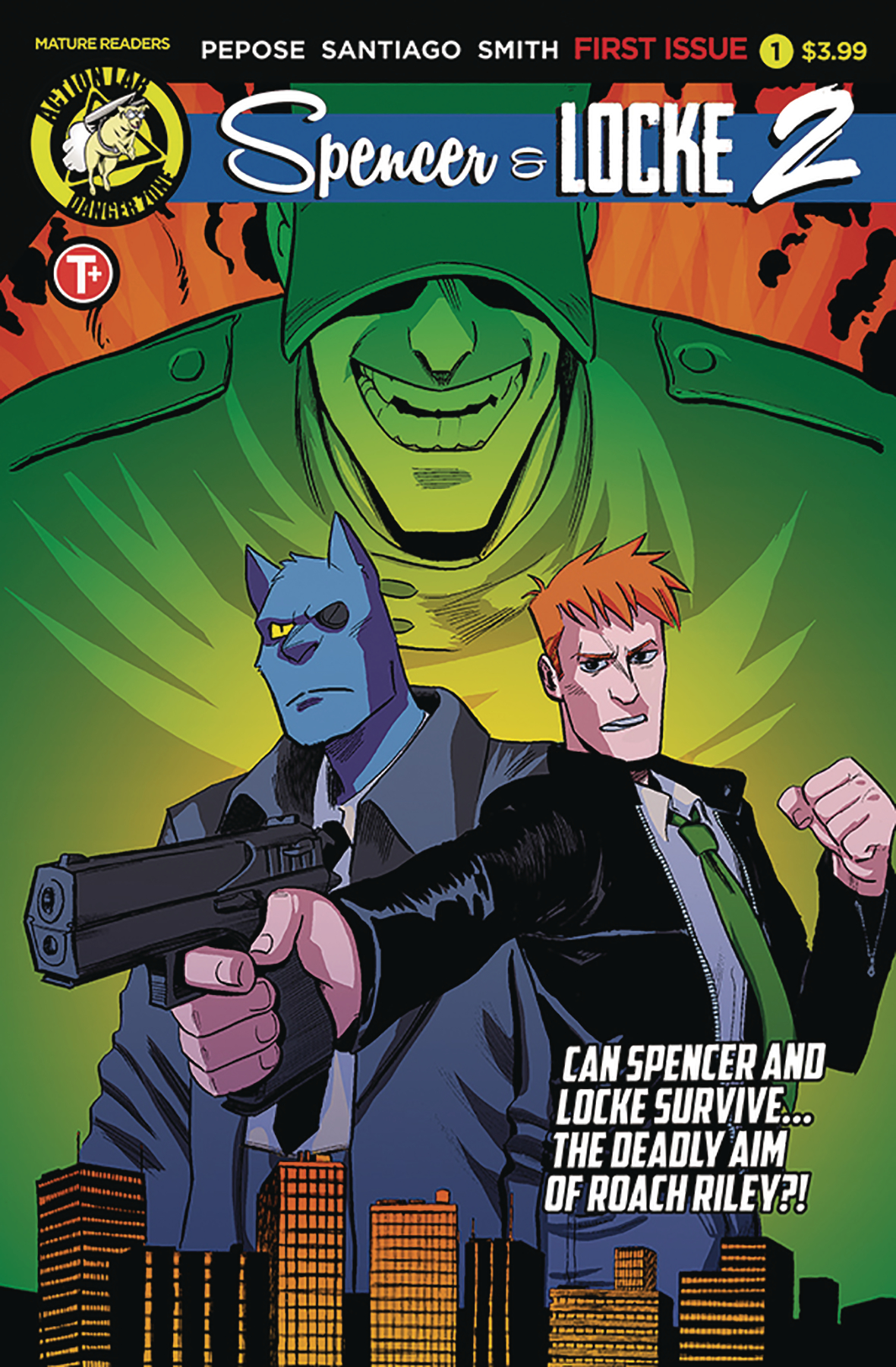 Ray:
The first volume seemed to get real traction in collections, so this is a franchise with room for growth.
Glenn: Right below that 344 is part of the nonsense that quality books like Spencer and Locke have to deal with, The Donald Who Laughs a parody that somehow sells over 3.2k because haha we're laughing at how awful this whole thing is! I can't wait for Captain Brexit (no you can't have that idea Keenspot)
Ray: I would say to look out for War of the Donalds in several months, but I don't know if War of the Realms even gets a Keenspot parody.
Glenn: Another new offering at 345 which is Wailing Blade from Comixtribe (?!?!?!) which sells over 3.1k. This is some sort of fantasy tale that was a Kickstarter success so much like those books, these sales are just a bonus. Its a pretty good result considering this is extra money from the direct market from a small press company with unknown creators.
Ray: This was by the writer of Road of Bones, Rich Douek, so it looks like he's having a good month in indieland.
Glenn: A new volume of Fathom debuts at 349 selling over 3.1k to those that are die hard fans of the franchise and the rest of the Aspen universe. This will never get bigger or likely smaller, it just is.
A spin off of the Zombie Tramp universe book, Danger Dolls in Danger Dolls Presents Amalgama lives selling over 3.1k at 350 along with a second issue at 387 selling over 2.5k  If Zombie Tramp is the companies Batman then this is the Robin title only some of the main books fans will check out. A loss of 500 sales at this level could mean life or death.
The completely bananas sounding Metalshark Bro debuts at 354 selling over 3.1k. Its an odd world down here, there's even rock star sharks here.
Ray: Metalshark Bro is one of the first of Scout's new "Binge!" line, where they release a first issue and then a $12 trade of the whole series, so sales are mostly irrelevant to this single issue.
Glenn: The Rejected Unwilling One Shot is a comic written by my friend Stan Konpka, this is the second book about a creepy figure known only as Mr. Teeth. I don't think the first one got a diamond release so glad he managed to pull it off here with sales over 3k at 357. As Joe Hill once told me, you got to start somewhere…unless you're the son of JJ Abrams of course.
Ray: This is much improved from the sales of the first one, I believe, so this indie horror franchise seems to be picking up steam. The art was different this time and the controversial subject matter might get people talking.
Glenn: At 364 is Trump Space Force selling over 2.8k. This head movie makes my eyes rain.
Some reorders for the first issue of Symbiote Spider-Man at 369 which gets over 2.7 additional sales. Nothing wild but it shows some momentum. Marvel is already doing a one shot spin off tying into Absolute Carnage in September.
A new mini from Black Mask at 372 which sells over 2.7k is Nobody Is In Control which is where the company basically lives when it has no one of real note involved.
Ray: I wonder if there are any couriers in this one.
Glenn: Hellwitch Hellbourne is yes you guessed it…a sexy demon lady with gigantic bosoms. This is another Kickstarter project. It sells over 2.6k at 375 if anyone is bothered.
Ray: This was previously a backup in Ahoy's less-popular launch comic High Heaven. It doesn't seem to have helped the first-issue sales.
Glenn: Hashtag: Danger is a new comedy book from Ahoy Comics that seems to be partially a comic parody of the Fantastic Four. It sells 2.6k at 376 so people seem to have missed out on this clearly hilarious joke.
Jungle Comics from Antartic Press at 384 sells over 2.5k. This seems to be a clear rip of Ka-Zar and Shanna with the main characters even having a sabretooth tiger at hand. Nobody is particularly bothered about the real Ka-Zar so I doubt many will be interested in the new Coke version.
Ray: Antarctic's whole brand seems to be sexier versions of other companies' properties.
Glenn: At 391 is the Secret Life Of Pets getting its own comic tie in. I'm surprised this didn't do better than over  2.4k since its a popular enough kids franchise. This is clearly meant for elsewhere.
Ray: Titan's odd business model extends here, as this is only a two-issue miniseries for the pets and the trade is already out.
Glenn: Many a reorder or continuations of low selling books from small publishers until we get to Underdog & Pals at 416 selling over 2k. Poor Underdog, someone needs to take him to see a vet stat.
Ray:  Valiant picks up almost 2K more in sales for the first issue of Ninja-K as part of their dollar debuts line, at #418. Good sales, but odd as the comic its showing off is already over and is about to be relaunched by a new creative team.
At #422 selling 1.9K is the debut of the new Alterna series Mighty Mascots, about cereal mascots brought to life by a mad scientist. I guess this is what happens after you blow up your relationships with much of your talent.
Selling 1.8K from Source Point Press is Twiztid: Haunted High-Ons – Darkness Rises at #428. A supernatural horror comedy about ghost-fighting rappers, it's about what you'd expect. It's really weird down here.
Glenn: Super weird, even Scooby Doo never fought a rapping ghost…I think.
Ray: The new supernatural Zorro series Zorro: Sacrilege debuts with just under 1.8K from American Mythology at #431, which is about in line from this publisher's eclectic output.
1.7K in reorders for Stranger Things #1 at #433, just in time for the launch of the sequel series.
An odd entry for Source Point Press at #437 as Sham! sells 1.7K. This is a comic that takes old golden-age art pages and redubs them with bizarre off-color dialogue. Clearly a niche book, and I don't know how I feel about it using Jack Kirby art…
Glenn: #Awkward
Ray: Naomi #1 and #3 both pick up 1.7K in reorders at #438/439. This comic keeps picking up steam – just in time to end?
Glenn: She'll be back, just a matter of where and when.
Ray: 1.7K in orders for something called Cerebus Woman at #440. I'm sure this is a totally tasteful comic with no offensive content.
Glenn: Ugh, look at my eye twitching.
Ray: It's almost all reorders down here, but apparently that Vampblade comic sold an additional 1.5K at #454 for a sexy variant cover. Vampblade, taking over the industry.
The dark fantasy series Battlecats returns after a long hiatus from Mad Cave Studios at #474, selling a muted 1.3K. This is the definition of a niche book and the publisher is just beginning to release titles that get buzz, so this is probably fine for the creative team.
Some bizarre comics making their debut here, including the oddly titled "All-Time Comics Zerosis Deathscape", which sells 1,280 copies from Floating World Comics at #479.
Glenn: Floating who now?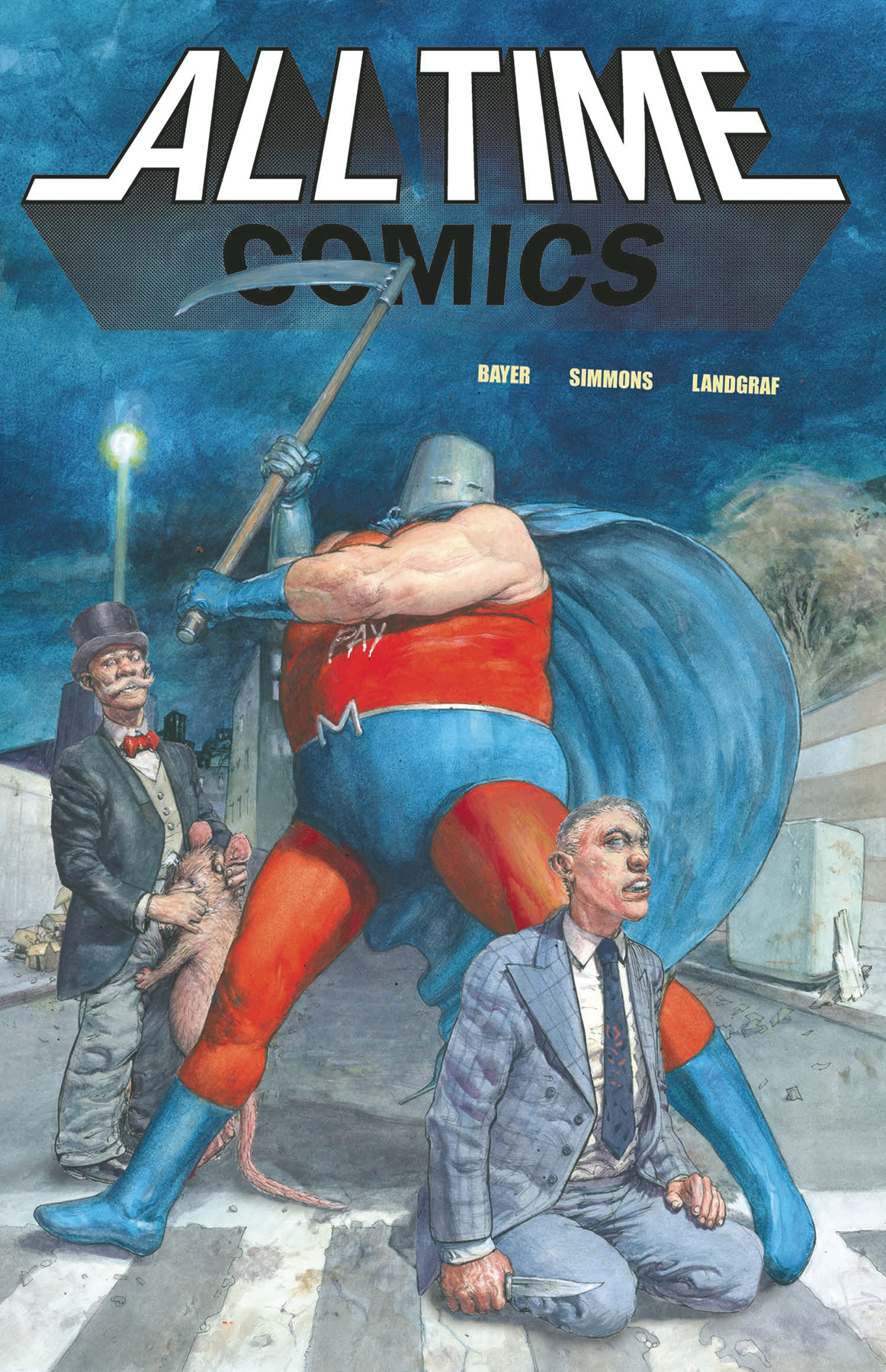 Ray: At #480 and selling 1,276 copies is Floppy Cop from Source Point Press. It's a cop drama about a cop without a spine. This is a real comic released in the year of our Avengers Endgame 2019.
I don't even know what Afterburn: Crossfire is, but it sells 1,272 copies at #482.
As part of their strange brand of comics based on old comics, American Mythology releases Laurel and Hardy #1 to sales of 1,206 copies at #492.
Action Lab relaunches one of their more niche comics, Voracious: Appetite for Destruction at #495, selling 1,194 copies.
Wrapping things up at #500 is reorders of True Believers: Thanos Rising, selling 1,129 copies. It's worth noting this is actually far higher than the bottom of most recent sales charts. Probably due to the number of reorders.
Glenn: A reason to end on a nice note for a change! Let us thank Tom Taylor and his DC zombies for no reason apart from 'cause we can'.
Ray: Looking ahead to June, DC has two heavy-duty launches as Event Leviathan from Bendis and Maleev keeps them in the event game. However, it'll likely be dwarfed in sales by Frank Miller and John Romita Jr's Superman: Year One, if the sales of his last work for DC is any indication. We'll also be seeing the sales on Batman ramp up as the main storyline builds towards #75. Justice League also hits #25 and begins the Year of the Villain storyline.
Marvel hits us with the final five dozen or so War of the Realms tie-ins as that event wraps up, but the biggest launch of the month will likely be Donny Cates and Tradd Moore's Silver Surfer: Black. We've also got a new Black Cat "ongoing", a Hulk one-shot from the creative team of Peter David and Dale Keown, and a Spider-Ham annual from Jason Latour and David LaFuente.
Image brings us the return of the cult series The Ride, and the launch of David Hine and Brian Haberlin's new fantasy series Sonata.
What will rise? What will fall? Find out next month on…By the Numbers! Liked what you read? Let us know here or on Twitter @glenn_matchett & @raygoldfield