Like in any industry, comic books and their companies listen most to one thing and that's your money! What does your money tell them? What does it tell us as fans? What series do people say they adore but can't seem to catch a break and what books to people hate that sell out? What are the trends? What looks good? What looks rough?
All these questions and more will be answered here, every month in 'By The Numbers' by comic writers, editors and fans, Glenn Matchett and Ray Goldfield.
Glenn Matchett is a comic writer and editor. He's worked in the industry for 6 years but grew up reading comics. He's had work published with Outre Press, Alterna Comics and Nemesis Studios. Trying to attend the Royal Wedding, Glenn accidentally instead showed up Wakanda several years late for the Black Panther/Storm wedding.  Awkward.
Ray Goldfield is a fan of comic books for going on 25 years, starting with the death of Superman. He is a writer and editor and has released his first novel. Ray also does a weekly roundup of DC comic reviews for website Geekdad and they're brilliantly entertaining. For the last month, Ray has sat in front of a board with notes, little bits of ropes signifying connections and mutterings about patterns that only he can see.  Yes, its sweeps season.
We also do a podcast together with longtime buddy, Brandon James on iTunes with Rabbitt Stew or at the link here! Don't ask, I didn't pick the name. If you'd like to hear what me and Ray sound like, give it a listen!
Top 500 in full available here!
Glenn:  Welcome to (a delayed due to holidays) April sales 2018!  Once again I look forward to breaking down the top 300…wait…there are 500 here.
Ugh, FINE
Ray:  The sales charts are trying to break us!
Glenn:  Its a conspiracy Ray!  Despite the delays, the spirit of Rorschach is with us!
So to absolutely no surprise, Action Comics 1000 from DC comics was at the top of the charts with sales over 449.7k which is a hell of a lot for a 7.99 comic but this had literally everything going for it.  The legacy, the talent, the variants, everything was a 'how to' lesson in how to celebrate a huge landmark like this so kudos to DC for pulling it off.  Both Superman titles are now going on a break to make room for the Bendis led run that starts in the Man Of Steel mini.  Of course, we're not going to get sales like this there but the name of Bendis alone should give the books a boost from their previous numbers.  A brilliant achievement all in all.
Ray:  Absolutely no surprise that Action Comics #1000 dominates so thoroughly. People use the term "once in a lifetime event" a lot, but this is something that actually fits the bill. The first comic ever to legitimately reach a thousand issues. (Looking at you, Deadpool with the gimmick numbers) It shows that there is a lot of genuine interest still in Superman, and that might bode well for Bendis as he takes over. What will be fun to watch – does Detective Comics #1000 beat these numbers in less than a year's time? And also, does Amazing Spider-Man #800 challenge this mark?
Glenn:  Detective could match, maybe exceed depending on who is at the helm but Amazing?  Not as sure.  It'll be interesting to see though!
Back in the land of normality, two issues of Amazing Spider-Man (798 and 799 respectfully) take the number 2 and 3 slots with sales over 233.2k and 192.6k a piece.  Its an odd drop off between the two issues but both are great numbers as the title builds momentum towards the conclusion of the Red Goblin story and the end of Dan Slott's run.  Slott is going out on a high and after delivering a solid run and Marvel's most consistent superhero title for a decade, no one deserves it more.
Ray:  If the sales on 798/799 are any indication, Action #1000 might have a fight on its hands. I knew it would keep climbing, but I never imagined it would be anything on this level. This is more than triple its usual sales for this final arc. Which begs the question…just how high can #800 go? Either way, Marvel will likely very much miss this run in a few months. I'd say it's 50-50 that ASM #798 outsells ASM #1.
Glenn:  The first of the many 'Where's Wolverine?' books hits at 4 with Hunt For Wolverine 1 selling over 138.5k.  This is higher than I would have thought since Wolverine's never really been gone in a sense but hey, whatever works!  If this continues onto the multiple hunt for Wolverine mini's and leads on to a similar success that Return Of Jean Gray has had then Marvel's cycle of killing and bringing their heroes back may have some life yet!
Ray:  Yeah, this is a strong debut number for a one-shot, but the unusual set-up for the rest of the event means the actual story is yet to be told. Next month this spins out into four four-issue miniseries written by Charles Soule, Tom Taylor, Mariko Tamaki, and Jim Zub. If they can sell half of what this one-shot did, Marvel will be very happy. But we still don't know where Wolverine is! I bet he's drunk and passed out in the Danger Room and no one looked there. 
Glenn:  At 5 and 7 is Batman doing what Batman does and that's selling comics!  Issues kicking off the arc guest starring Booster Gold (fresh off his appearance in Action Comics!) sell over 125.8k and 96.4k.  This is a boost from Batman's previous slow melt of sales and I personally completely credit Booster for this.  Time to give him a book DC!
Ray:  #44 of Batman is the near-silent wedding prelude issue where Catwoman goes to steal her wedding dress, and the fact that it got such a huge bump over the last and next issue shows that most likely, the wedding issue is going to be absolutely huge. This is another rare event that will get people talking – for now, as dark rumors are circulating. As for Booster, if DC did want to give him a solo spotlight soon, this would be the way to set it up. 
Glenn:  The meat in the Batman sandwich is Venomized 1 at 6 selling over 103.7k.  This is the last mini of Cullen Bunns various 'Venom' themed mini's and once again, this character has come back to monthly comics and to the sales chart with a bang.  Issues 2, 3 and all sell this month respectively at 30 with sales over 44.5k, at 35 with 42.4k and 36 just over 42.1k which is very good for a one month mini event.  I'm expecting big things from the new Venom series by rising star Donny Cates and fan fave artist Ryan Stegman next month.
Ray:  Venomized is the third in this series of mini-events, and the conclusion to Cullen Bunn's long-running Venom run before Cates completely upends the status quo. Venom always seems to be a solid seller, and I fully expect to see Cates' Venom be here in the top ten again next month.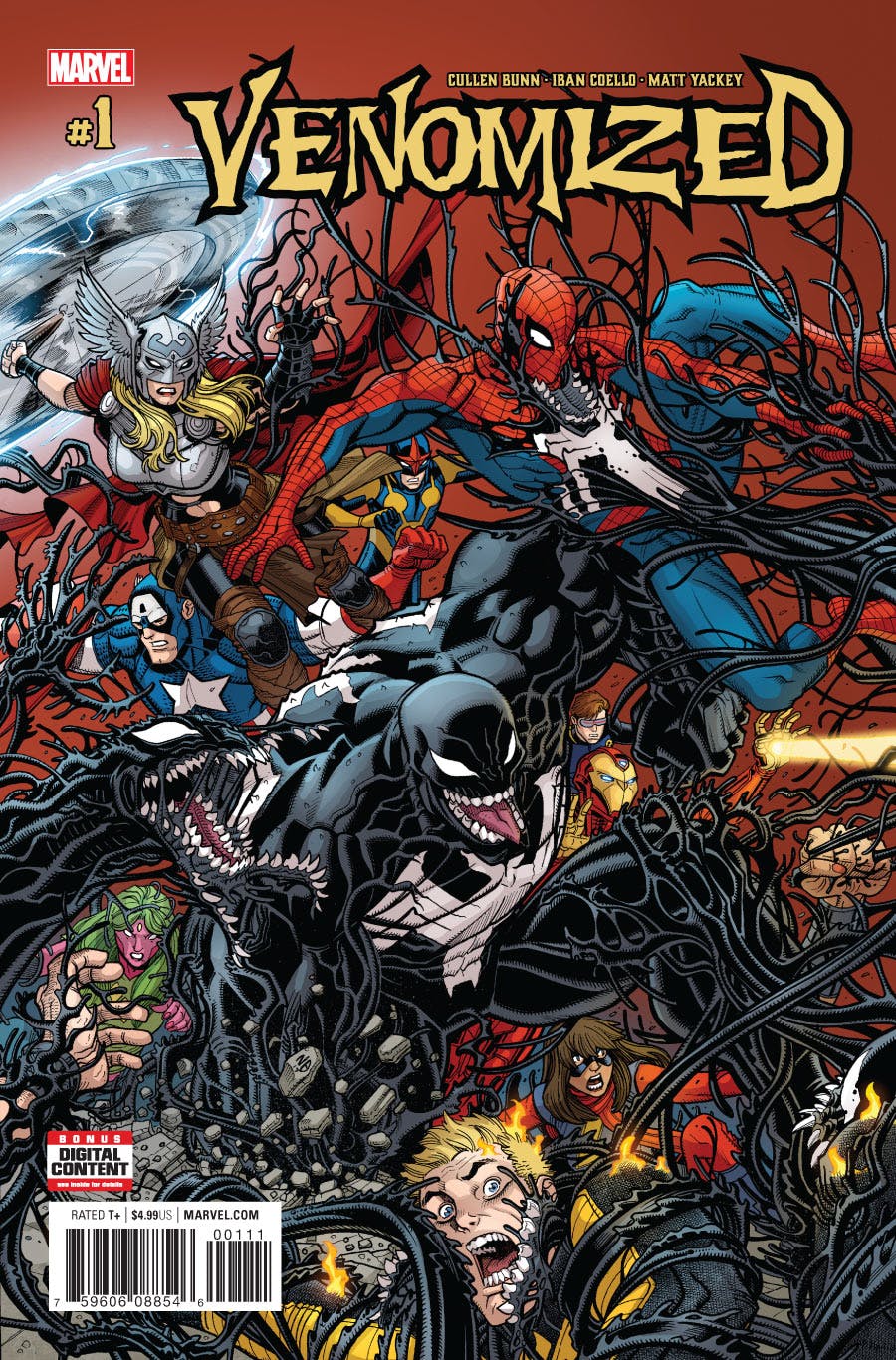 Glenn:  Another big surprise at 8 is the first issue of Domino which sells over 89.1k.  This could be because its Gail's return to Marvel or the upcoming movie the character will be in or perhaps, a combination of both.  Domino is a third tier character so debut sales like these are incredible.  If it can even keep around 30k of them, that would be a brilliant achievement a big win for Marvel and the creative team.
Ray:
That's a genuinely amazing debut for Domino, which is likely down to the two factors you mentioned. Still, I thought this would be a hit, but compared to the other major Marvel debut of the month (more on that lay-tor), it's a world of difference. Companies would be well-advised to take notice – Gail Simone's following is a game-changer. It'll be interesting to see if her other upcoming projects also blow the doors off like this. 
Glenn:  Another big anniversary issue for a character from the golden age at 9, this time its Captain America!  Issue 700 sells over 77.7k which is respectable.  Releasing an anniversary issue when you're always going to play second fiddle to Action 1000 is a big ask but Captain America is a title still very much recovering from its previous run. Creators Mark Waid and Chris Samnee have made a herculean effort to make the title credible again and I doubt many others at Marvel could have done much better given the long hill they've had to climb.
Ray:  Marvel and the crack creative team of Waid and Samnee did as well as they could with the horrible circumstances the character found himself in, and these are solid numbers. Overall, the book seems to have stabilized a bit – which it'll need to, before Ta-Nehisi Coates proceeds to upend everything again with a controversial, politically driven run that will likely get people yelling again. Quality-wise, it should be an improvement over the run that got us all into this fix, though. Pray for Spider-Man. 
Glenn:  Finally at 10 is Walking Dead, doing what it does best (along with Batman) and that's sell comics. It sells just under 74k.  It literally can't be stopped.
Ray:  Almost as consistent as Walking Dead is Batman: White Knight, which is at #11 at 73K. It's kept climbing over its entire run, and should likely get one more surge for its final issue. 
An interesting switch-up is that Marvel seems to have dominated the top twenty this time, thanks to hit titles both old (Mighty Thor, #15, 56K) and new (X-Men: Red, #16, 56K). Mighty Thor, of course, is wrapping its acclaimed Jane Foster storyarc, and X-Men Red seems to have gained a lot of buzz for its unique take on the returned Jean Grey. Look! Female characters sell!
Glenn:  Will wonders never cease?  We just talked about these sales on the Rabbitt Stew podcast (go listen!  all the cool kids do!) and it looks like X-Men: Red could hold its own as the premier X-Men title with its success.  Lets hope Marvel doesn't rock the boat with this one with fresh start but all seems oddly quiet on that front
Ray:  The Avengers weekly experiment seems to have been a win for Marvel, as the four issues this month land at #14, #17, #23, and #26. Selling between 59K and #46K, that's a pretty wide range but all more than double what Avengers was selling with the previous run. Of course, this run was more about dismantling the previous status quos to set up what comes next – and these numbers will likely look downright puny when it comes to Avengers next month.
Glenn:  
The new Avengers title will be in its own league but as a short run (output wise if not issue wise) this one did very well.  I wonder if Marvel will be looking to repeat the experiment elsewhere.
Ray:  With its final issue, Thanos somersaults up the charts once again, selling 51K at #18. That's an insane climb for a title that was selling about 20K at the end of Lemire's run, and Marvel will undoubtedly be selling countless collections. Not much further down at #32, selling 43K, is the Thanos annual which features a story by Cates and bridges the gap between the Thanos series and the upcoming Cosmic Ghost Rider spin-off. Amazing run.
Glenn:
Cates has climbed up the ranks quickly in the market but the sales here will undoubtedly be also attributable to people coming in from Avengers: Infinity War hungry for more Thanos.  These sales do give Cosmic Ghost Rider a good platform to start though and indicated that mini might be a hit.
Ray:  At #22, we see the debut of Immortal Men, which sells 48K. This is the second highest debut for The New Age of DC Heroes, only lagging behind Lemire's The Terrifics. Of course, James Tynion IV's name and the presence of The Batman Who Laughs in a cameo likely helped, but there's one big x-factor here – this was supposed to be drawn by Jim Lee, who didn't manage to finish the first issue and will be replaced by Ryan Benjamin on future ones. That means this title could be in for a much harsher slide than normal for this line.
Glenn:
This title had a lot going for it on paper but now seems to be a representation of all that has gone awry with the DC new era of heroes titles.  With Tynion involved and the Batman Who Laughs as a key player this will probably still place this book ahead of the other titles that proceeded it (apart from the Terrifics) but how it could have done if it had managed to pull off what it was presented as originally is anyone's guess.
Ray:  #25 brings us a puzzle, as Spawn #284 sells over 46K. That's almost a 300% jump from the previous issue in February. This appears to have been the return of his arch-nemesis, the Violator, to which I say…what? I didn't even know people remembered Violator! I have a toy of him buried somewhere at my mom's house, I think, but I didn't think 30K other people did! Can Venom vs. Violator be far behind?
Glenn:  If IT and the popularity of the Joker has taught us nothing else its that everyone loves an evil clown.  Once upon a time, Spawn was Image's mvp title so its kind of nice in that sense to see it back up at this level but this is definitely a rarity, back to the lower end of the chart it goes next month.
Ray:  Flash is rock-solid this month, with two issues selling 45K at #27/28, but look for it to make a major jump next month when Flash War begins to ramp up.
Holding over 50% of its first issue sales and ensconcing itself as the #3 Image book of the month – even beating Saga by 6K – is Robert Kirkman's new series Oblivion Song at #29. 44K is rare air for creator-owned titles, and it shows exactly how powerful Kirkman's name is now, even without a TV series. Helps that it's excellent so far.
Glenn:  No one wants to miss the boat on Kirkman's new book this time around and it shows, great sales for his newest offering.
Ray:  It may have been lapped by Thanos, but Mister Miracle continues to rock the sales charts, landing at #39 with sales of 39K. That's barely down 1K from last month, and it seems to have locked down a place in DC's top tier of books right now. Tom King's titles tended to sell low in single issues, high in trades, but this has finally broken that pattern. He's conquering both singles and trades now!
Taking a huge jump for the start of Batman vs. Deathstroke, Deathstroke jumps over 100% to land at #40 with sales of just under 39K. DC has promoted this "custody battle" storyline like a mini-event and it's paid off. What'll be interesting to see is if we see any long-term sales boost for the series once the storyline wraps. It certainly deserves it.
Glenn:  Just shows you how much benefit adding Batman can be!  The story also in of itself seems interesting and seems to have caught the attention of fans and retailers so good on Christopher Priest on continuing to keep Deathstroke one of the high points of DC's current line.
Ray:  Weapon H loses almost 2/3rds of its sales with its second issue, landing at #45 with 36K in sales. That's closer to what I would expect, and still healthy. Greg Pak's fanbase probably has a lot to do with its success here, because the character has no pre-existing fanbase and it's selling in line with Old Man Logan and well above the current Hulk series.
No performance like last month's Venom issues, but we get another wave of True Believers specials, this one focusing on Thanos. The top entry is a reprint of Infinity Gauntlet #1, which sells 36K at #46.
Glenn:  It helps in the case here when you have a billion dollar grossing movie serving as an unoffical advertisement, I suppose.
Ray:  The debut numbers on Exiles are shockingly low, given the hype this series got pre-release. #52 with sales of just under 34K is not good for a series by the writer of the acclaimed Black Bolt and starring the movie version of Valkyrie. Marvel's been having some big sales successes recently, but this is a disappointment.
Glenn:
Exiles has never been a big franchise but Marvel pushed this series hard and had an interesting line up on the team but it didn't seem that many people cared.  It shows up again at 99 meaning its going to be out of the top 100 next month already with sales over 23.7k.  These are sales I would be advising to not get attached to after a year but this is the first month so…yeah.
Ray:  Not good news at all for The Curse of Brimstone, one of the less-hyped New Age of DC Heroes titles. It sells 33K at #53, which isn't sustainable at all long-term. Depressing, but not unexpected given what we saw from titles like Silencer and Damage.
Glenn:  I've honestly not even heard of this one so I don't think it was nearly as hyped as well as the others.  The large majority of these are going to be gone soon.
Ray:  The latest Ralph Macchio one-shot, Avengers: Shards of Infinity, lands at #56 with sales of 32K. That's better than most of these cash-ins, which I probably put down to just how much hype there was for anything Infinity-related in recent months.
Glenn:
I'm still curious when these one shots were all written given that Macchio hasn't worked for Marvel for years.  Still, its probably been lying gathering dust in a drawer somewhere until someone could find a use for it so that considered, these sales are very good.
At 59 is the slightly delayed final issue to the Batman and the Signal mini series which sells just over 31k.  Not bad for a mini starring such a new character with such a unique role in the bat family, more than enough to justify an ongoing if DC sees fit.
Ray:  Batman and the Signal had some pretty significant delays along the way, but it doesn't seem to have affected it. Snyder's name on the cover definitely helped, but it does show that there's some genuine interest in Duke Thomas and the mysteries about him spinning out of Metal. Duke is headed for Detective Comics next, and likely a new Outsiders title afterwards, if rumors are correct.
Supergirl wraps its run at #61 with sales of 30K, overall strong sales that would have easily kept the series going long-term if all was equal. But it's not, and circumstances ended the series for now. Hopefully Bendis will loosen his grip soon enough and let her be the solo hero she deserves.
Glenn:  Such a shame for Supergirl's time to be cut short but hopefully as you said, a relaunch will be here before we know it.
Note:  It has since been announced that Supergirl is being brought back with a new creative team, huzzah!
At #64 we have another True Believers special, Thanos the First, which sells 30K. All essentially free sales for Marvel.
Ray:  Another extremely strong hold for The Terrifics, which lands at #68 with sales of 30K. That's down less than 4K from its second-issue sales. Much like most of Lemire's books, it seems to be extremely sustainable and will be around as long as Lemire wants to write it.
Glenn:  I'm going to be fascinated how this compared to Fantastic Four by Slott in a few months, anyone want to take bets?
Ray:  Oh, I'd be surprised if Slott's FF wasn't a regular top twenty book. The FF have been gone for a while, and Slott is coming off an all-timer run. People will follow him to his next books.
Glenn:  As we predicted last month, the New Mutants mini that was supposed to tie in to the movie we may never get crashes with sales at 79 with over 26,7k units sold.  If it stabilized here that will be decent enough for what will ultimately be a throwaway X-Men mini.
The second Titans annual sells close to the main title pulling in sales of over 25,5k at 87.  I've heard middling things about this run but the sales seem to be verly stable so that's always a good thing in todays market.
Highest Image debut this month is Isola at 91 with sales over 24,7k.  This is the former creative team of Gotham Academy taking on a sci-fi book that sounds very bizarre.  I think this a great win for the creators involved and should land the book well in Image's safe zone.
Ray:  This is very impressive for Isola, given that Gotham Academy didn't light up the sales charts. Aside from a few megawatt creators like Lemire, Millar, Vaughan, and Kirkman, 20K and above is pretty elite air for an Image book. I'd expect they can now write their own ticket on this title for as long as they want, especially as the floor on Image titles seems to be pretty low (more on that lay-tor!)
Glenn:  At 95 is the sequel to 300, Xerses: Fall Of The House Of Darius with sales over 24.4k which is a lot lower than I expected.  In all truth I expected this to be a top ten hit but then I'm not sure how many people read 300 in singles (or even it was released in singles) so the majority of fans of the story will be wanting a hardcover collection that matches.  This is still the highest Dark Horse book of the month by quite a fair margin.
Ray:  I expected much more from Xerxes, thinking we could see a performance like a Dark Horse version of DKIII. Not the case, and I think a big part of this is that the majority of readers never saw 300 in single issues. There's a huge audience here, but it's heavily a bookstore market, and that'll show in future collections sales. Dark Horse is still very happy with this, I imagine.
Glenn:  Mega reorders for the True Believers one shot from last month, Spider-Man vs Venom which sells over an additional 22.1k at 107 which is pretty crazy.  Issue 300 of Amazing Spider-Man and Venom in particular is still a big asset to Marvel, clearly.
Ray:  That puts this $1 reprint at close to 100K in sales. Crazy.
Glenn:  At 111 is the all new Sonic The Hedgehog comic from IDW with sales over 21.3k.  This title has been at Archie for decades and it seems that these are good sales post move.  This was of course only the first issue of a 4 issue weekly that IDW put out to pull fans in with 2 selling at 144 with over 14.6k, 3 at 148 with sales over 13.7k and 4 at 152 with sales over 13.2k  This is pretty good for a video game tie in comic actually.  It'll not be a mega hit but it'll be a decent asset to IDW it seems.
Ray:  This is a world apart from what Sonic did during its many years at Archie – although those sales were heavily bolstered by newsstand sales, of course. The weekly launch gave us the chance to see how it would perform with attrition and it seems there's a solid audience here. These are the top four IDW books of the month by a pretty decent margin, too. 
Glenn:  More Thanos for those wanting more of that sort of thing at 117 with sales over 19.6k for Rebirth Of Thanos.  I wonder how many people are reading these Thanos stories for the first time given that apart from Infinity Gauntlet, his stories haven't had as many reprints as say the likes of Venom until recent years.
Losing a few sales in its second issue is Jeff Lemire's new horror comic, Gideon Falls which sells over 20.2k at 114.  Still within the upper tier of Image books and this one doesn't have quite the same mass appeal as some of his other works but there's no doubt that this one will have no issues during the course of its run.
Ray:  That's the #7 Image book of the month, so yeah, Lemire and Sorrentino are likely very happy with these numbers. This is a strange, intense book, but it's found its audience. 
Glenn:  There's more of the Mad Titan at 117 (Avengers vs Thanos sales of over 19.6k) and 119 (Infinity War with sales over 19.3k) and 129 (Thanos Rising with sales over 17.4k) again free sales for Marvel that they're getting due to the insane success of the newest Avenger's which sees…
THANOS DEMANDS YOUR SILENCE
Never mind
Another True Believers simply titled 'Carol Danvers' which I'm assuming also features Thanos in some way or is to take advantage of her upcoming movie (so early?) sells over 16.4k at 132.  Lets hope her upcoming Year One type series does better but when it comes to Carol its really hard to tell.
Ray:  At #139, we've got the new Gerry Duggan techno-crime thriller Analog, which sells 15.1K. I might have expected a little more given Duggan's pull at Marvel, but this is still a relatively healthy level for an Image debut. The series has had a bit of a mixed reception, so we'll see how it holds from here. 
Glenn:  I would have thought more for Analog too, it'll be interesting to see how it compares against Duggan's other upcoming creator owned offerings coming up
Ray:  Black Hammer: Age of Doom lands at #145, selling 14.6K. That's about a 3K jump from where the series left off at the end of the first year. This continues to be Dark Horse's most successful franchise at the moment – and we see it make a second appearance with the second issue of Doctor Star and the Kingdom of Lost Tomorrows, which lands at #169, selling 10.5K. Power of Lemire!
Glenn:  It seems Dark Horse is investing more and more in this universe which I'm all for cause its brilliant.  They could be eyeing this as their next (or current) big original franchise
Ray:  Tying in to the current Shattered Grid event in Power Rangers, the annual sells just under 13K at #153. Pretty strong numbers for a $7.99 one-shot that was a pretty deep dive into Power Rangers continuity.
At #156, we've got the Marvel Super Hero Adventures one-shot teaming up Spider-Man and Black Panther by Jim McCann, selling 12.8K. This comic obviously wasn't intended for the direct market, as chibi superheroes aren't exactly a big draw, so these numbers are to be expected.
One of the top Dark Horse debuts of the month is Aliens: Dust to Dust, by Gabriel Hardman. This sells 12.6K at #160, which is well above the level that the Aliens and Predator franchises usually do for the company. Hardman seems to be coming up in the industry at the moment, as he was also involved in the hit Green Lantern: Earth One with his wife, Corrina Bechko.
Glenn:  This is much better than the average than what the two classic FOX (as of this typing) space monster franchises can pull in comics.  This creative team definitely have some juice and considering that they're already doing work for DC, its hard to imagine the company won't capitalize on that and get them on something else soon.
Ray:  Lucifer showrunner and former Bendis Boarder Joe Henderson has a solid debut for his new humanity-vs-gravity series Skyward, which sells 12K at #162. Although Henderson is a big wheel in Hollywood now, he doesn't have all that much of a comics presence yet – but the series is gaining buzz and has already gone to a second printing, so look for reorders and a very strong hold.
Iron Maiden: Legacy of the Beast still holding strong! It's at #172 with sales of 10.5K. There's Marvel and DC books that would kill for these kind of sales and stability.
Glenn:  Maybe both companies need to have heroes set up death metal bands?  I bet Ghost Rider plays a killer guitar.
Ray:  Two new Image debuts, Kyle Higgins' Dead Hand and Steve Orlando's Crude sell nearly identical numbers, selling 10.4 and 10.3K at #173/175. It's been a while since we heard from Higgins, so it's a bit surprising that he manages to outsell Orlando, who's a pretty big name at the moment. Orlando's creator-owned titles have struggled a bit, but these debuts are acceptable in the Image range.
Glenn:  Orlando doesn't seem to be able to sell himself as his own brand which as you say, is odd considering how big a voice he's been in DC in recent history.  I would say that it might be more down to the concept here that the names on the book.
Ray:  There's a lot of reorders in this area, including Amazing Spider-Man #796 (10.3K, 174), ASM #795 (9.5K, #183), and Thanos #16 (9.5K, 184). And even more lower down on the list. This is something we haven't seen in a long time, with multiple storylines building so much buzz that they keep on getting reorders months later.
Glenn:
Again its nice to have Slott's Amazing run end on a sales high and both companies managing to get some long term investment beyond what happens to be hot at that particular moment.
Ray:  One title that's actually doing amazingly well is the oddball anthology horror title Ice Cream Man, which actually gains 21 copies from last month to land at #179 with sales of 10,090. It started low, but has built momentum from there and will likely be freaking us out for a long time to come.
Glenn:  My little boy has an aversion to ice cream, maybe this horror title is why!
Ray:  At #190, we've got the Star Wars Adventures Annual selling 9.2K. This had stories by both John Jackson Miller and Cavan Scott and was sold in the form of a mini-trade, and this series as a whole is geared more towards the bookstore market. IDW's jump into the Star Wars market continues to pay dividends for them. Besides Sonic, TMNT, and an issue of Star Wars Adventures, this is their top book.
Glenn:  IDW really are living it up in the licencing department.  They and Titan seem to have replaced Dark Horse in that regards while no one was looking.
Ray:  Hey! Remember when DC decided to randomly revive Cyborg with Marv Wolfman writing, after cancelling it three months earlier? And not renumbering it or promoting it heavily? I 'member! The result – just under 8.3K at #200 – is both shocking for a main-line DC title, and utterly predictable. Cyborg just isn't a headliner and DC can't make fetch happen.
Glenn:Poor Cyborg, he's had a rough few years in his own title sales wise.  Maybe King and Gerards will give him a homicidal cyborg family next year.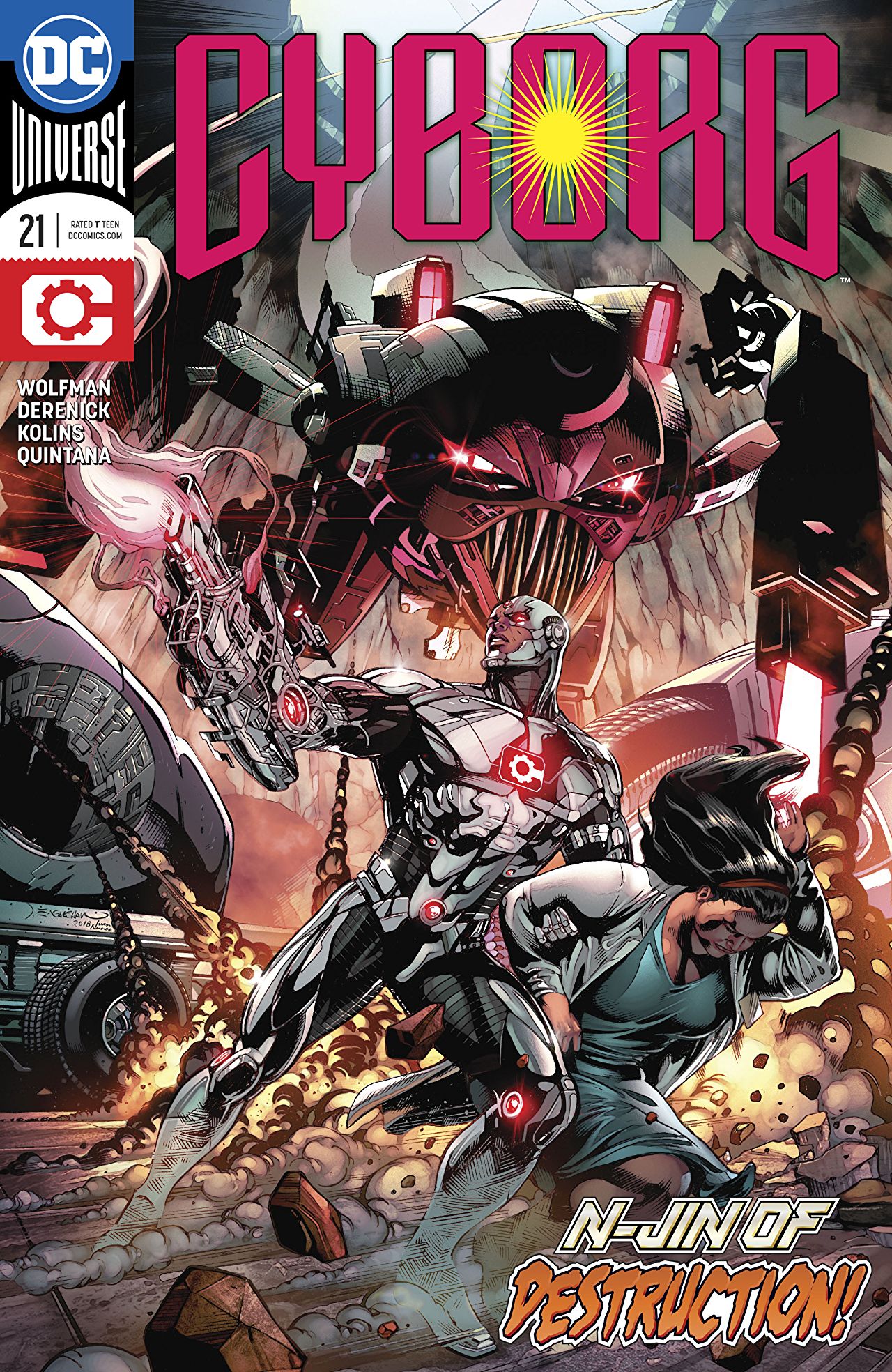 Losing roughly half its sales is Eternity Girl which has its second issue sell over 8.2k at 201.  The Young Animal line has just days ago been announced to have been killed off apart from Doom Patrol and Gerard Way says that was always the plan.  Seems like a whole lot of fuss for little back.  The Young Animal line was an interesting experiment but probably too 'out there' to ever really work long term.
Ray:  Yeah, Young Animal is folding except for a potential second season of Doom Patrol (likely to come along the same time as the next season of Umbrella Academy). This line tried a lot of new things, but it didn't find a big mainstream audience.
Glenn:  Image horror mini Infidel has a slightly better drop to sales over 8k at 204.  Not too bad for a book like this from an unknown creator, I'm sure we'll be seeing more of the writer Pornsak Pichetshoe (you're right, it is a fun name!)  in years to come.
Ray:  Infidel is only a miniseries, so it'll definitely go down as a modest hit for Image, and Pornsak Pichetshote will be able to write his own ticket for future books. (Hee hee)
Glenn:  Two more rebranded young animal books Mother Panic: Gotham A.D and Shade The Changing Woman land at 205 and 208 on their second issues with respective sales of over 8k and 7.8k.  See what we said for Eternity Girl.
Boom publishes a new Robocop comic from writer Brian Wood at 216 with sales over 7.5k.  Despite some past controversies, Woods name still holds some sales weight and I guess some people might have some nostalgia for Robocop despite the property being dead for over 30 years (remake?  what remake?)
Ray:  This is about as well as could be expected for a book like this, with so long since the property was relevant. (Remake? What remake? I don't know what you're talking about.)
Glenn:  At 217 is Cave Carson, the second issue of the new volume sells over 7.5k.  Milk Wars really didn't have the desired effect here.
At 219 is a new mini spinning out of Star Trek Discovery which sells over 7.2k.  This show hasn't had a lot of time to build up the massive fan base the other Trek shows have and its not really a Star Trek show so this is probably as best as could be expected.
Right below it at 220 is a new Prisoner comic from Peter Milligan who is probably largely responsible for the sales over 7.2k  The property is about as cult as you can get so it'll be his fans likely checking out this one.
Ray:  That's about as high as we usually see a Titan comic, save the much-hyped Robotech launch, so it seems The Prisoner still has a notable fanbase. 
Glenn:  Brothers Dracul from Aftershock sells over 6.4k which is pretty standard for their launches despite the insane talent level they can seemingly attract.
Ray:  Aftershock books tend to struggle, at least when it comes to debut sales. It's interesting that there's only about 1K in sales between Cullen Bunn's book, when he has a big established fanbase already, and Her Infernal Descent with an unfamiliar creative team just making their mainstream comic debut a little while back on Cable. 
Glenn:  A new Dungeons and Dragons comic is at 237 selling 6.1k.  Its a hard sell to do something spinning out of a game where you largely tell or at least contribute to your own story.  This is like having a video game tie in comic but an extra level of interaction taken away.
The Black Mirror take on the Jetsons wraps up with sales over 6.1k at 238.  Still pretty good for these odd takes on classic cartoons and will probably do well in collections once people catch up to how good it was and look past the fact that its 'just the Jetsons'.
Ray:  Jetsons was so good. Sooooooooo good. We'll be hearing that refrain a lot as we get lower on the charts. But I hope it gets some awards buzz and picks up steam in collections.
Glenn:  There's Star Trek Discovery with an Annual at 242 at 5,6k.  There's a reason why we never see Enterprise comics you know.
Second issue of Cyber Force sells about half of the first issue at 247 with sales over 5.4k.  Like we said last month, there's no place in the market for books like this anymore, at least not from Image.
Her Infernal Descent
is a new take on
Dante's Inferno
from Aftershock.  This is one where I don't recognize the creators attached and it sells appropriately at over
5.4k.at
248
It might be delayed but Doomsday Clock issue 4 picks up reorders of just under 5.4k sales at 249.  It just keeps going up and up.
A 9.99 one shot celebrating the 20th Anniversery of J. Scott Campbells Danger Girl sells over 5.3k at 251.  Campbell basically does retailer variants these days and his name has serious pull still.  Given the price and the property I'd say this is very good.
Ray:  
Remember Danger Girl? She's back, in overpriced form! I'm surprised the property still has that much sales heft, especially at that price.
Glenn:  My Little Pony Annual at 253 selling over 5.3k because it doesn't matter how colourful (or creepy in some ways) your licenced property is if you can make money out of it then its all good.
The second issue of the Crow comic has a verly short fall to 254 with sales over 5.3k.  It wasn't selling that great to begin with so it didn't have much room to fall.  Decent enough for a property well past its prime.
At 255 is Jeeper Creepers 1 with sales over 5.2k.  Yup.  Moving on.
Ray:  My mama always said, if you don't have anything nice to say, move on to #256.
From obscure publisher Coffin Comics, there's a new Lady Death comic subtitled Unholy Ruin, selling 5.1K at #257. First Danger Girl, now Lady Death? It's 90's nostalgia month at By the Numbers!
Glenn:  Also dangerously sexy ladies month!  I'm sad I used up all my good Rebecca Bunch gif's on ruddy Zenescope.
Ray:  #260 has the return of Sacred Creatures, with the ambitious Image title selling 5,075 copies for the delayed end of its first arc. This book has always shipped in oversized issues, and the higher price point and delay before the end of its first arc may have hurt its sales momentum.
As always, we find some real oddballs in this section of the chart, so let's wave hello to Vampblade Season 3 #1 (#263, 5K), The X-Files: Florida Man (#264, 5K), and Danger Doll Squad: Galactic Gladiators #1 (#268, 4.7K). God bless 'em, every one.
Glenn:  Not Danger Doll Squad!  Take me instead!!!!!
Ray:  I did not expect to see God Country on the charts again, but that Donny Cates is going places! #5 lands at #270 with sales of 4.7K, almost a year after the series ended. He also has a $1 reprint of the first issue of Redneck at #291, selling 4.1K.
Glenn:  That's really odd in respect to God Country, maybe some unofficial fan petition for a follow up series?  That's blind and unfounded speculation though.  Cates has really come out of nowhere but we're having one of those decades where every year we're getting a Scott Snyder or Jeff Lemire or Tom King or Donny Cates or…
Ray:  And speaking of reorders, the Shattered Grid storyline in Power Rangers seems to have had a lasting impact on the title, and we see the game-changing #25 issue re-chart again with sales of just under 4.7K at #271.
Tim Seeley's Vertigo horror miniseries Imaginary Fiends wraps with sales of 4.3K at #285. Compared to the sales on other horror titles at other companies (Harrow County is nine spots above at 4.5K, and that's issue 30), it shows why Vertigo is wrapping up business.
Glenn:Fair well Vertigo, may you go to the collected hall in the sky where your archive sales of Sandman, Y, Fables and whatnot will keep your legacy alive forever.
Ray:  They can't all be winners, and Ron Marz' attempt at an IDW original superhero universe falls flat at #300, as Demi-God only sells 3.8K. It barely edges out reorders of Gideon Falls #1, and as we'll see later, this isn't even the lowest-selling IDW original launch of the month.
Glenn:  There's plenty of options out there for people wanting super heroes and creators with more current buzz than Marz are going to be getting the few people that look elsewhere than Marvel and DC for them, it doesn't need much to go around.
Let's blow this joint Ray!  Enough of these losers, lets go spend Graphic Policy's business card and…ah crap there's still more.
Ray:  As we exit the top 300, we can see for the first time how some of the smaller publishers are faring. It's rare to see Scout or Vault in the top 300 (unless they have a Donny Cates book), but Scout got closer than I expected. Their cult horror title Stabbity Bunny manages to land at #302, selling 3.8K for its first issue. The power of an appealing title, I suppose? I want to see the bunny stab things.
Glenn:  We all do.
Ray:  The Dynamite relaunch Swashbucklers: The Saga Continues has a rough launch at #304, selling only 3.7K. Dynamite can usually command a lot more than that for a launch, but this is not your usual licensed property – it picks up from an obscure Bill Mantlo comic that ended on a cliffhanger over twenty years ago, and starts directly from that cliffhanger. So this is obviously going to be a niche comic, and it sold like one.
Glenn:  Come backs are all the rage on television but in comics its hard.  The market and what it wants can change so much.  This will be for those people wanting a resolution and that's about it.
Ray:  Hey, there's Grimm Fairy Tales from Zenoscope at #306, selling just under 3.7K. Glenn, strike up the Rachel Bloom video!
Glenn:  I suppose I have to now, not that they deserve it.
Ray:  The latest Black Mask comic about a courier in a poltically charged post-apocalypse, Survival Fetish, lands out of the top 300 at #308, selling 3.6K. The company has been doing a lot of launches lately, but few of them besides Calexit have really garnered any buzz.
Glenn:
I think we talked on the Stew (dong!) about them slowing down things.  Maybe launches like these is why.
Ray:  A $7.99 Wrestlemania special for Boom at #312. Sales of 3.6K aren't terrible given that this is less than 1K below where the parent title usually sells. This line clearly has a small, devoted comic audience.
Glenn:  I would have expected a bit more cause Wrestlemania is the companies big 'mainstream appeal' show but not many wrestling fans will want to see more of their faves in comic form regardless.
Ray:  American Mythology launches a new comic featuring some of the Harvey Comics classics at #320, as Casper and Wendy sells 3.4K. Is it just me, or did they launch another Casper series not long ago that just stopped?
Glenn
:  
It became a ghost.  Oooooo.
Ray:  An alternate universe Star Trek title, "New Visions: Enemy of My Enemy", lands at #323 with sales of 3.3K. IDW puts out a lot of Star Trek material, and this seems to have been one of the more niche offerings.
Glenn:  This is a weird comic where they take pictures from the old original show and make a new story with them.  Its an odd idea and it seems only to appeal to the most hardcore of original series fans.  The most curious thing is that its from John Byrne, at least he's keeping busy.
Ray:  Now, for a portion of this column we're going to call "Come on, people!" where I get angry at great books selling way too little.
The Highest House #3 at #322? Under 3.4K? Come on, people! This is one of the best books on the stands and you all need to buy the collection. This is by the team behind The Unwritten!
Glenn:  The way you hype Highest House, it sounds like something that should be given as compulsory reading in schools.  I guess the odd format is something that IDW can't make work as Image did with something like A.D.
Ray:  It should be required reading in school!
Sleepless #5 at #324 (3.3K)? Elsewhere #6 at #327 (3.2K)? Come on, people! Two of Image's most underrated gems.
Black Mask has another launch of sorts in "Black AF: Widows and Orphans", which spins out of the successful "Black" Kickstarter. It sells just under 3.2K at #330. This book was criticized for not at all working as an entry point if you hadn't read the original, so that probably led to retailers ordering cautiously, even if the original was a hit.
Glenn:  The Kickstarter roll out post funding seemed to get Black some bad press with some people still not having got their rewards.  I think there could be some ill feeling there too.
Ray:  A new Zenoscope horror series, GFT Tales of Terror, lands at #333 with sales of 3.1K. There's a sexy grim reaper on the cover. Yep. There's a lot of Zenoscope down here, including things like Van Helsing vs. Robyn Hood a little below at #343, and Robyn Hood: The Curse down at #350. These were the secrets the top 300 was keeping from us. How innocent we were…
Glenn:
I think I'd rather go inside the red barn from Gideon Falls.
Ray:  The most surprisingly low debut of the month has got to be Antar #1, from IDW. Retelling the story of the famous "Black Knight" and written by hit novelist Nnedi Okorafor, I would not expect it to sell only 3K at #338. A historical comic may be a bit of a hard sell, and IDW has not had much success in the creator-owned market yet, but this is still much lower than I would have expected.
Mech Cadet Yu only sells 2.9K at #344? Come on, people! It's Grek Pak doing the Iron Giant meets Independence Day!
A solid debut for Vault Comics at #345, as Wasted Space by Michael Moreci sells 2.9K. Moreci is slowly building a brand with his indie work and his DC work, and this complex space/religion drama is one of Vault's higher debuts that wasn't by Donny Cates, I imagine.
Scales and Scoundrels and Fence only selling 2.8K at #353/354, respectively? Come on, people! TWICE! Give these books a try! Teen dragons! Fencing drama!
I'm actually a bit offended that Death of Love only sells 2.7K at #358. Not only is it a great book by the always reliable Justin Jordan, but artist Donal DeLay (a personal friend making his big three debut) is turning out some all-time great work. Come on, people! Give an underdog book about a jerkass killing cupids a try!
Glenn:  The chart doesn't like Donal?  Well we say the charts is wrong!  ITS ALL WRONG!
At 366 is Deep Roots, a disaster movie type comic where roots over take the planet.  It actually looks decent but Vault has a small presence in the market and the creators names don't ring a bell.  It sells over 2.6k.
From Dark Horse at 368 is the start of a new mini in a current series of them (???) Resident Alien: An Alien In New York which sells over 2.6k.  There must be a fan base if there's more of these but I've never heard of it.  Its WEIRD down here.
At 374 and 376 are two one shots starring the Tremendous Trump which is like if the President became the Hulk from Antartic Press who make a living making comics like this. They both sell over 2.3k.  I bet there's one bigly fan of the series who resides in the West Wing.
Ray:  "Antarctic makes bigly comics! Jared! Ivanka! Get me Gamma-flavored gummy bears!"
Glenn:  Its like he's in the room…
Season of the snake is a new title at 377 selling over 2.2k.  Its a a weird looking sci-fi/fantasy comic from someone I've never heard of publishing with Titan so this is what you get.
Ray:  Season of the Snake is a translation of a classic French comic, and each issue is the size of a small OGN. It's also VERY weird. So these sales are to be expected.
Glenn:  ROM gets a new book which debuts at 378 with sales over 2,2k.  Not much nostalgia for poor ROM.  They should just let him back at Marvel, let the Guardians have him, he can be Rockets new obsession.
Supermansion is a spin off of some sort of super hero parody by the makers of Robot Chicken selling over 2.2k at 385 on its first issue.  The laughter never ends with this one I bet.
Man I miss the top 300, at 396 is Rugrats: R is for Raptor selling over 2.1k.  I guess someone out there might want these if Rugrats ever comes back again…
Forever Free is a comic follow up to a sci-fi novel from the 80's and sells over 2k at 404.  The book I've not heard of but it seems to be well thought of, I would say people interested aren't visiting their LCS regularly for this sort of thing.  Will probably do decently in collections.
From Alterna Comics (they sometimes print my work!) is Tinseltown, a murder mystery set during Hollywoods golden age.  It sells over just under 2k.  Alterna is making great progress outside the direct market but with only the most minute presence in the market, I'd say this is very good.
Ray:  Tinsel Town was one of the best-reviewed Alterna debuts yet, so it's not a surprise it gets these numbers. The company is still new, but it's also getting more buzz by the month. We may be seeing them creep their way into the top three hundred soon enough. Especially if they hire that Matchett fellow to do more!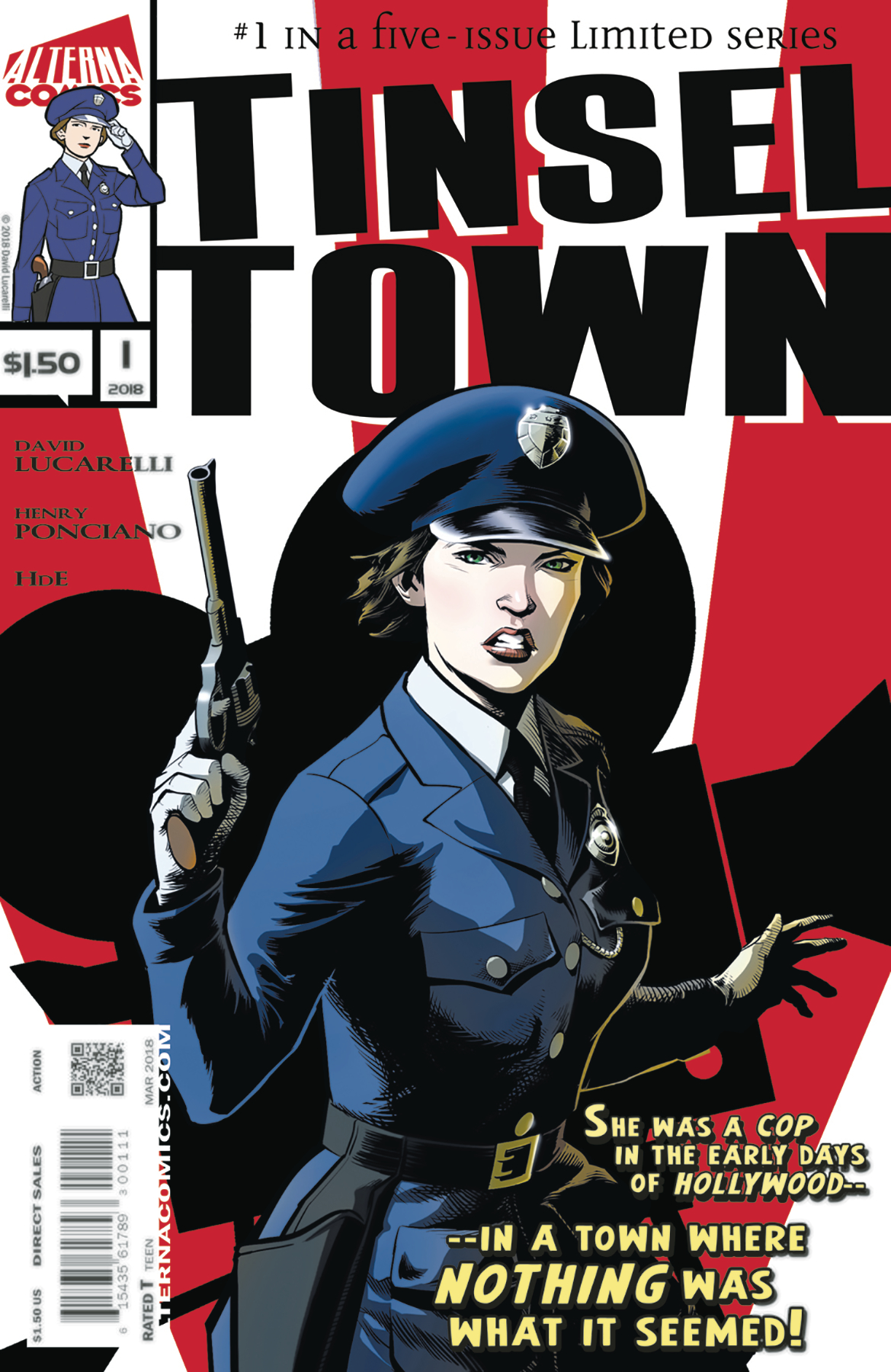 Glenn:  From the genius who brought you Spider-Man vs Kittens and Batman vs Goblins…
Portal Bound is an odd looking Fantasy Book from Aspen which sells over 1.7k at 414.  The company had a moment maybe 20 years ago but no longer.  This is probably the best they can hope for these days.
Ray:  Aspen seems to be broadening their output, trying to get away from the 90s reputation they have. It's not working just yet, but persistence is rewarded and this is actually a pretty enjoyable book.
Glenn:  From Hero Tomorrow Comics (huh?!) is Tap Dance Killer which sells over 1.7k at 416.  This also sounds like a decent book but most likely is down here cause the company I have literally never heard of and probably couldn't do much promotion on this or whatever else their line may consist of.
Ray:  
I…I got nothing. Is it about a killer of tap dancers? Or a tap dancer who kills people? It is weird down here. I'm scared, Glenn. But seriously, I've never heard of this comic company, and they seem to put some very odd books out. This is actually pretty decent for this kind of material. 
Glenn:  A Dredd One Shot (The Furies) sells over 1.6k at 417.  We've said before on the charts that the mainstream chart is not where Dredd earns his keep, the amount of of copies he sells in the pages of 2000AD in the UK alone is insane so anything else is just window dressing.
At 420 is Pink Panther vs Inspector which sells over 1.6k.  I want to go home.
Ray:  There, there, Glenn. It'll be over soon. 
 At #421 is another new Alterna miniseries, Zero Jumper by Patrick Mulholland. It sells 1.6K, but seems to have sold briskly and the writer/artist has already picked up bigger work at Boom. Expect to see a lot from this guy at Alterna and elsewhere.
Glenn:  I met him today!  Super nice, humble guy.
Ray:  Dodge City falls HARD, landing at #427 with sales of 1.5K. Boom no longer really gears itself for the direct market when it comes to their teen books, of course, but this is rough even by those standards. I guess competitive dodgeball doesn't have the same appeal as fencing or scouting.
A bit surprised by how far Donny Cates' Reactor has fallen after becoming the first Vault book to break into the top 300. It sells 1.4K at #431, and I put a lot of that drop down to the long delays between issues.
Glenn:  He's a busy fellow!
Ray:  Another Alterna debut, this is the oversized all-ages Fear Diaries one-shot, which was 56 pages of story for only $1.99. It sells 1.3K at 439, which isn't their best debut but a decent one for an oddball concept.
It sells six more copies than the book right below it, the Zenoscope original sci-fi concept Mainframe, so yay Alterna!
Glenn:  I'm building Peter Simiti a statue as we speak
Ray:  Red 5 Comics, one of the new and smaller publishers, gets onto the top 500 at #442, with their new horror series A Fractured Mind selling 1.2K. This book didn't get good critical reviews at all, and is likely going to be one and done on these charts.
Speaking of debuts slipping under the radar, the Scout Comics post-apocalyptic cyclist book Welcome to Paradise is only able to command 1.1K at #450. No well-known creators and no real buzz means this is no Stabbity Bunny.
IDW had high hopes for Black Crown Quarterly, their prestige anthology, but it's down here at #452, selling only 1.1K. IDW's creator-owned books continue to struggle, as the rest of the Black Crown lineup isn't all that much higher. The price tag is probably an issue here as well.
Hey, it's Weed Magic Vol. 2, costing the unique sum of $4.20! It sells 1.1K at #453. What a shame it didn't sell 1420 copies instead.
Glenn:  The charts has no respect for synergy
Ray:  At #455, it's another oddball entry. Apama the Undiscovered Animal, apparently adapted from a classic comic, sells 1.1K from Hero Tomorrow Comics. It's like the table of misfit kids down here. I hope no Marvel books take their lunch money.
A Trio of Alterna books in the middle of their runs – Sonitus, The XII, and Doppelganger – all stay above the 1K mark in the #456-458 range. Slow but steady wins the race, and Alterna's limited output and solid promotion is building them a brand.
I always wondered just how low an Image book could get, and we might have our answer here – Throwaways, the military conspiracy thriller by Caitlin Kittridge and Steven Sanders, is still going despite only selling 996 copies at #463. That's shockingly low, but neither the creative team nor Image have pulled the plug. Maybe the collected editions are carrying its weight?
Glenn:  Isn't it largely up to the creators if it keeps going?  Image will take what they take and then its up to the creators so if they're happy enough..
Ray:  This is the range where we see a lot of ongoing series from small-press companies mixed in with some reorders. Things like Songs for the Dead, Cult Classic, Call of the Suicide Forest, and Long Lost all sell in the 900-copy range once the first-issue boost wears off. Long Lost, though, is on issue #5, so that might show some staying power for Matt Erman and Lisa Sterle's black-and-white horror story at #477.
I want to meet the person who decided to combine Donald Trump with manga and stare at them. My Hero MAGAdamia lands at #478 selling 871 confounding copies. I got nothing.
Glenn:  'Its Donald Trump…but manga!' is a pitch that has to be seen.
Ray:  The original Action Lab fantasy series Helm only sells 784 copies at #490, just below the fifth issue of Alterna's only ongoing series Scrimshaw. One last plug, because I was surprised by how much I liked Helm – give this book a try!
At #494 is Catalyst Prime: Superb selling 755 copies. This has Marvel writer David Walker co-writing, which probably explains why it's the highest-selling of the line (although flagship series Noble is on hiatus). What's surprising is that the other five series currently running do not make the top 500. Lion Forge is committed to this diverse superhero franchise, but it hasn't translated into sales at all.
#497 brings us the Bitcoin Comic Handbook, selling 730 comics. I don't want to go into the barn, Glenn.
Glenn:  That creepy little red thing is smiling at us again, don't look.
Ray:  And at lucky #500, selling 711 copies is…Archie Jumbo Comics Digest. Archie very much does not care about these 711 copies, since they remain one of the few comic companies with a legitimate newsstand presence. Digests aren't aimed towards comic book stores at all.
*exhales* Victory!
Looking ahead, if this month was crazy, next month is Thunderdome. Both Marvel and DC are bringing their biggest guns out to play. In addition to the next issue of Doomsday Clock, DC is bringing us the weekly comic event No Justice, spinning directly out of Dark Nights: Metal. In addition, the Brian Michael Bendis reinvention of Superman will be launching on the last week of the month with Man of Steel #1. Plus, there's the latest lineup of DC/Hanna-Barbera one-shots. In a just world, Aquaman/Jabberjaw would be selling a million copies.
However, DC's got their work cut out for them, because Marvel is coming to play this month. Undoubtedly taking the #1 slot of the month will be the blockbuster Amazing Spider-Man #800, the penultimate issue of Dan Slott's run. That's in addition to two issues of both Jason Aaron's Avengers and Donny Cates' Venom, the relaunch of Black Panther, plus four new miniseries kicking off The Hunt for Wolverine. Plus…You Are Deadpool! For those tabletop gaming fans out there.
With the Big Two playing pistols at dawn, it's kind of a quiet month for the indies. Image has a few key launches, though, including Top-Chef-Meets-Hunger-Games adventure Flavor, and the weekly Brian K. Vaughan series Barrier.
What will rise? What will fall? Find out next month on…By the Numbers!
Glenn:  Back to top 300 as well next month only.  Its scary past there.