Like in any industry, comic books and their companies listen most to one thing and that's your money! What does your money tell them? What does it tell us as fans? What series do people say they adore but can't seem to catch a break and what books to people hate that sell out? What are the trends? What looks good? What looks rough?
All these questions and more will be answered here, every month in 'By The Numbers' by comic writers, editors and fans, Glenn Matchett and Ray Goldfield.
Glenn Matchett is a comic writer and editor. He's worked in the industry for 6 years but grew up reading comics. He's had work published with Outre Press, Alterna Comics and Nemesis Studios. Missed out on going to SDCC yet again but was there in spirit, ooooo I'm a ghost.
Ray Goldfield is a fan of comic books for going on 25 years, starting with the death of Superman. He is a writer and editor and has released his first novel. Ray also does a weekly roundup of DC comic reviews for website Geekdad and they're brilliantly entertaining.  When he heard of the delay of Young Justice until next year, Ray went into a destructive rampage a Sharknado would be proud of.
We also do a podcast together with longtime buddy, Brandon James on iTunes with Rabbitt Stew or at the link here! Don't ask, I didn't pick the name. If you'd like to hear what me and Ray sound like, give it a listen!
Top 500 in full available here!
Glenn:  Its hotting up for sure this Summer with heat in my small country rising to record highs and Ray in constant threat of turning into a puddle.  Its also hotting up in the comic charts as we see the end of some long runs, the start of some new ones and Marvel's latest relaunch (fresh start) start to really get rolling.
To no one's surprise, Scott Snyder's new Justice League title hits the number 1 spot with sales over 200k.  I thought this might be higher to 250 or even 300 but still a great number.  Since Geoff Johns left the title at the end of the new 52 its been slowly bleeding sales so DC has fixed this by giving the entire property to three of their biggest writers.  Having recent pinch from Marvel, Jim Cheung on art for this first issue likely helped also.  A great start that shows a lot of sales promise for DC as it also has a second issue in the top ten at 10 which sells just a smidge over 86k.  114k is a sharp fall but that's the market we're in folks but this is a ridiculously strong hold when you compare it to say, Avenger's which was around 60k last month and below that this month.  The title sold in the 75-85k range under Johns (with some boosts for various particular tie ins and stories) so I could see this equaling that and of course we'll have the sales of Odyssey and Dark too which will make the League franchise the strongest its been in years.  In quieter months this will be a top ten staple I would say.
Ray:  Yeah, early rumors were pointing to 250K, but as a whole the numbers are a bit lower than expected this month. This definitely fell less harshly than Avengers did last month, so it feels like it's likely to lock down as one of DC's top ongoings, well above the level that the Hitch and Priest runs were selling. It's not Batman (what is?) but DC's elite writers are still able to easily launch hit books.
Glenn:  I was really shocked to see Image's The Magic Order by Millar and Coipel at 2 and even more shocked when I saw the numbers which were over 157.7k until Ray said that the numbers might not be what they seem.  Long time fans of the article will remember that Loot Crate got the first issue of IDW's Orphan Black the number one slot a few years ago and something similar has happened here where the sales are inflated by some sort of promotion.  How much they're inflated by is unclear so its hard to judge this title at present.  The story will become clear next month but somewhere in the 55-70k range is probably what I would suggest which is exceptional for an Image launch and in the usual range of other Millar properties.
Ray:
 Y
eah, the reports were that ReedPop bought six figures of this book for promotional purposes. That would put the actual launch numbers at around 50K, which is not spectacular. Still, Millarworld books tend to launch higher than almost any other Image books, and that'll likely continue in the new Netflix age. 
Glenn:  After ten years on Spider-Man, it seems that writer Dan Slott is bringing some people with him to Iron Man as the characters latest book launches at 3 with over 135.7k.  When Bendis first relaunched this the title sold around 250k but its a very different landscape for Marvel these days and the property hasn't nearly been that healthy since then for various reasons.  I could see a decent hold of 55-60k which would put it at the current upper tier of Marvel's books.
Ray:  Yeah, Slott's one of the few writers – along with Aaron – at Marvel nowadays who seems to be a brand unto himself. He drives sales, and even on B-list properties like Silver Surfer he's able to keep them above water. On flagships like Iron Man, he delivers a legit hit. The early rumors are that Fantastic Four will be much higher.
Glenn:  At 4 and not too far behind Iron Man is Dan Slott's final issue of Amazing Spider-Man which sells over 122.2k.  Given how insane the sales were on 800 last month and this is the return of Marcos Martin to mainstream comics, I would have thought this would be higher but I'm sure it'll sell very well in reorders.  Bringing Slott's final issue of Amazing and his first issue of Iron Man was a stroke of genius on Marvel's part and it shows, both issues sell very close together.  Amazing Spider-Man will be back with a fresh new number 1 and a great steal from Image as an artist.  The new writer and his impact on the book is the hardest to predict so for now we'll salute you Dan Slott and we'll miss you.
Ray:  I'm wondering how much of this is the issue slipping under retailers' radar? 800 would have seemed like a perfect finale, and they may have assumed it was his swan song. So a lot of them underordered. I wouldn't be surprised to see major orders on 801 in coming months.
Glenn: For a few months, we thought the return of the Joker and his quest to be Batman's best man for the upcoming wedding might boost the sales of the characters title.  Turns out we were right as Batman 49 and 48 sell over 121.8 and 112.1k at 5 and 6 respectively. This title seemingly can't be stopped and I have no doubt issue 50 and its dump truck full of talent and varients will take the top spot next month, controversy or not.
Ray:  A 20% increase is nothing to sneeze at, but it's probably only a tease of what's to come next month. Of course, the #50 issue has turned out to be highly controversial, so who knows how this is going to affect things in months to come.
Glenn:  At 7 is another fresh start with Deadpool with superstar artist Scottie Young on writing duties.  It sells over 105.5k which I think is also less than the last number 1 but again, Marvel was over there, then some stuff happened now its over here.  Its Deadpool, its a good number cause of that.  I would say it'll return to its standard numbering next month or month after.
Ray:  I would have definitely expected a higher debut for Deadpool, given that the movie was just out and Skottie Young has a big fanbase. This is yet another example of Marvel's frequent relaunches taking a toll, although Deadpool's had a consistent creative team for years and doesn't feel as in flux as some.
Glenn:  At 8 is the next chapter in Jason Aaron's epic Thor run which sells over 102.5k.  This book has been the second most regularly best selling thing Marvel has put out and has been for years.  People are likely using this as a new jumping on point but I doubt the sales will be any more than the standard 50-60k this run has been doing for years.  That's fine though.
Ray:  Likewise, Thor has been Marvel's most consistent title next to Spider-Man for years. This is a big increase, but it's also not quite what I would have expected for the return of the original Thor. Maybe because it's a continuing run, not a fresh start, we'll see a smaller debut and better holds? Thor #2 charts this month at #17 with 63K, which is well above where it was before the final arc of the previous run, so this is likely to continue to be a long-term hit for Marvel.
Glenn:  At 9 is the wedding issue of X-Men Gold 30 where Marvel yells out 'we have a wedding shaped thing going on too!' which manages to get sales over 88.3k.  The previous non wedding shaped issue also comes out this month landing at 39 with sales over 36.3k.  The title is ending regardless despite being a steady seller for Marvel.  The happy couple who get married here are getting their own title, I'm not too optimistic on the chances of that one but hey ya never know!
Ray:  That's a very impressive sales bump, and the sales of this and the non-wedding wedding special shows that that there was a surprising amount of interest in this storyline. They did a bait-and-switch on this one as well, but I kind of think the couple that did get married has a slightly bigger fanbase than the one that didn't. 
Thor wasn't the only longtime Marvel character to return to their mantle this month, as Bruce Banner took back the Hulk title in The Immortal Hulk #1. That charts at #11, selling a healthy 84K. Hulk's been struggling in sales for a while, and the Amadeus Cho version was one of the replacement heroes to struggle the most in sales despite the presence of fan-favorite writer Greg Pak. This back-to-basics horror-influenced version seems to have gotten some interest, but we'll see if it can hold it down the line.
Glenn:  I remember the numbers for Totally Awesome Hulk being really underwhelming but this new direction and its sales leave me optimistic.  If it can land in the 30k range, it'll do fine so anything over that will be a huge bonus.
Ray:  One book that is having zero problem holding sales is Donny Cates' Venom, which charts two issues this month. #2 sells 73K at #12, followed by #3 selling a healthy 57K at #21. We speculated that this was going to be one of the biggest hits of the new wave, and it seems to be confirmed. Months before Venom outsells the new ASM run?
Glenn:  Venom could possibly take its place as the second or third healthiest ongoing in Marvel's staple.  This seems to have been just the right blend of creative team to go along with a new direction.  Marvel must be happy since we already have tie-ins by Cates linked to his main story on the way in a few months.
Ray:  Even in an insanely competitive month like this, Walking Dead is hanging in there, selling 71K at #13. Unstoppable!
DC gets an edge in the top thirty this month thanks to eight issues of strong-selling miniseries. Man of Steel charts four of its six issues from #13-18, selling between 69K and 62K. This is pretty well above what the Superman titles were selling prior, so at least on that point Bendis seems to have a win on his hands. We'll see how it does when the actual titles launch next month.
Glenn:  I might have expected more due to the hype machine and the caliber of artists but Man Of Steel is a healthy start for Bendis at DC.  If Superman and Action can sell around this long term, DC will be thrilled.
Ray:  The Batman: Prelude to the Wedding specials also deliver a solid performance, with the remaining four issues landing from #19-26 with sales of 60K to 53K. Harley vs. Joker sells the highest to no surprise, followed by Nightwing vs. Hush, Batgirl vs. Riddler, and Red Hood vs. Anarky bringing up the rear.
Glenn:  The wedding specials absolutely sold on the characters involved.  Given recent events, how much they matter long term is dubious at best so this was a pure cash in by DC but in this case, it worked.
Ray:  Avengers #3 levels out nicely to land at #20 with sales of 59K, a minor drop from the second issue last month. Jason Aaron does have a lot of sales pull, and he's going to make the Avengers a healthy franchise again despite some ominous signs last month.
Glenn:
I really thought Avenger's would be doing way better with this new team and direction.  I'm sure Marvel wanted more out of it too but apart from Slott's Amazing, they rarely get ongoings crack over 65k any more.
Ray:  Flash continues to increase, landing its two issues this month at #24-25, with #49 increasing over the previous issue to sell 54K. This plotline has really hit a chord with audiences, and the reveals in the final issue will likely keep this book hot.
Glenn:  Issue 50 will see a big jump too and we'll see if some people maybe stick around.  Even if it settles back to its previous level, Flash is the healthiest its been in years.
Ray:  An interesting little subplot this month is in the Star Wars titles. They land at #30 and #31, both selling at about the 50K mark, but for the first time Darth Vader outsells the parent Star Wars title. Given that Vader is a post-prequel-set story as opposed to the post-ANH main title, this is extra surprising, but I suppose it's the power of Vader!
Glenn:  I'm really surprised at this.  I'm glad Star Wars is still a solid performer nearly 50 issues later but I'm shocked one of the other books have surpassed it. Great news for the Vader book of course.
Ray:  A title that didn't get the relaunch bounce it was hoping for was Doctor Strange, which manages 47K at #32 for the new creative team of Mark Waid and Jesus Saiz. I don't think the concept, featuring Doctor Strange losing his powers for the third time in three runs, helped much. The second issue also ships this month, and loses roughly a third of its sales at #46, selling 33K.
Glenn:  Its still better than the Doc would have managed to sell a few years back but the character has had three very quick creative turnovers in a short space of time which probably confuses some fans.  It'll probably sail around its normal level before so long with maybe a bit extra due to Waid being able to maintain interest from readers.
Ray:  Hawkman's new series by Robert Venditti and Bryan Hitch lands at #33, selling 42K. This title got swallowed up a little bit by the hype over bigger books, but this is a healthy number for a Hawkman title.
Glenn:  Very healthy for Hawkman, maybe not if you consider this is a lead on from the characters appearance in Metal and Bryan Hitch on art.  Still, the numbers might have been a lot less had those two factors not been in play.  We'll see how this one does next month, if it levels out quickly then it'll be fine.
Ray:  Two DC titles that just keep gaining buzz can be found at #34-35. First is Mister Miracle, which returns after a month off and sells 39K as it heads towards the finish line. Right below it is Deathstroke selling 38K as it keeps most of its bounce for the Batman vs. Deathstroke storyline. I'm just glad more people are reading these exceptional books!
I don't know what's going on with Spawn, but it seems to have found a new permanent place in the top part of the charts. This month it sells 38K at #37. If it's the 90s again, I can't wait for the new Jurassic Park movie…wait.
Glenn:  Evil clowns sell, I can't wait for Pennywise to turn up in all Marvel books October (I jest but…)
Ray:  Black Panther does seem to have gotten a bit of a bump from the relaunch, landing at #41 with sales of 34K, but that's not as good a hold as some of the other relaunches. I'm wondering if Marvel buried the lead a bit with this one – most people probably assumed it's just a continuation from the previous run, but it's actually an essential read for fans of the movie in a lot of ways.
Glenn:  If Panther can maintain a mid 30k performance that would be solid enough and I'm sure that once word spreads about who is showing up in this new run then reorders will surely follow and people will gravitate to the book slowly.
Ray:  DC set up their relaunches (sort of) of both books in the Titans line this month with special one-shots, and to say both got a mixed reception would be putting it lightly. They were both ordered roughly around the level of the previous runs, with the Teen Titans Special selling 32K at #49, while the Titans Special is at #54 with sales of just under 32K. Given the poor response, though, I think those sales will flatline quickly.
Glenn:  The Titans franchise has been on a roller coaster for nearly two decades now.  Watching DC trying to make it work with mixed results (at best) is something to behold.
Ray:  At #50 is the launch of Deadpool: Assassin, a generic Deadpool miniseries by Cullen Bunn and Mark Bagley. This is a back-to-basics story with Deadpool taking contracts, and given how similar that is to the main Deadpool comic this month, that probably explains why it only sold 32K. Maybe the wrong month to launch alongside the big relaunch.
Glenn:  Still pretty decent I think for a throwaway Deadpool mini.  Bunn has written a lot of these hasn't he?  The amount of Deadpool mini's he's had is almost like having a shadow second Deadpool book.  I wonder if this would have done better like you say if it had been relaunced month before last or month after next.  The second issue also charts at 74 selling over 27.1k.  It could be worse but the diminishing returns won't get any less diminishing.
Ray:  Gail Simone and Adriana Melo's Plastic Man lands at #52, selling just under 32K. Definitely not the success that her other B-list character relaunch was at Marvel two months ago, but then Plastic Man doesn't have a movie. For an out-of-continuity miniseries that had to compete with the launch of Justice League and two weekly miniseries, this is a decent debut that will probably level out quickly.
Glenn:  I think we can call this a win.  Gail's been talking about doing this title FOREVER so she's likely happy to see it in the flesh (or the paper as it were).  Its amazing how much of a solid fanbase Gail has, I think she doesn't get the praise she deserves in that regards.
Ray:  A rough debut for the Fresh Start miniseries Ant-Man and the Wasp, which lands at #56 with sales of 31K. Given the movie, Marvel had to be hoping for a lot more, but I'm wondering if part of this is just how little interest the traditional comic market has in Nadia Pym. Her series is getting relaunched with a look towards the bookstore market, but this isn't that, and I don't think it really had an audience.
Glenn:  I wonder if sales would have been better if it had been Hope in one shape or form?  Ant-Man has always struggled in sales, movie or no movie so this is probably the best Marvel could expect.
Ray:  The debut of Jeff Lemire's Sentry at #63 is pretty grim. I suppose even Lemire can't drive sales for one of the most reviled characters in recent Marvel history. However, knowing Lemire's history with acclaimed 12-18 issue runs on smaller Marvel properties, this is likely to level out very quickly and might even finish its run higher than it launched, a la Mister Miracle.
Glenn:  Yeah, the Sentry really is the Roman Reigns of comics.  Once reviews pick up and people are like 'Ohhhh this is a Lemire book riiiiiight' then things might get better but yeah you're right, I don't see this one lasting a long time.
Right below Sentry is the
Marvel Two In One Annual a
t 64 which sells over 28.7k.  This title is essentially being retired in the wake of Fantastic Four proper coming back so the sales here are kind of mute.  Still promising it sells 1k more than the main book.  Seems li
ke this one got a loyal fanbase quick.
Ray:  
Marvel Two-in-One has been a solid mid-level hit for Marvel, showing just how much interest there w
as in a Fantastic Four relaunch. The FF proper relaunch is predicted to top the charts when it launches in August, but I hope Marvel keeps giving
Zdarsky
bigger gigs – he's earned it.
Glenn:  Second Wonder Woman annual sells over 28.4k at 66.  Diana's had a rough time creatively and the sales reflect that.  We've just learned that G. Willow Wilson will be riding in to save the day though so we'll see how things stand with the character next year.
Ray:  I think Wilson will definitely bring in some of the fans who left, but she's never been a big draw in the direct market – the primary market for Ms. Marvel is trades and digital. It's a great pick creatively.
Glenn:  At 67 is another Infinity War Countdown tie-in, this time focusing on Black Widow and it sells over 28.2k.  Pretty standard for this event that probably isn't getting as much love from the movie that Marvel hoped it would when it was given the green light.
Ray:  The main Infinity Countdown mini is doing decently, but the tie-ins are being ignored. Of course, when you remember that this isn't actually the event, but the prelude to the event, it makes a lot more sense.
Glenn:  I'm losing track of where we get with events.  They all just blend together in a non stop blend of blerg.
At 69 is the latest and probably last of the new wave of DC titles, the Unexpected by writer Steve Orlando selling over 28k.  Apart from the Terrifics, these have been all been pretty much a disaster and are likely soon never to be mentioned again.
At 73 is Peter Parker: The Spectacular Spider-Man Annual selling over 27.5k which makes it 1.5 ahead of the main book.  Pretty solid and I would say that's partly because of Mike Allred on art and partly cause of the great stuff Zdarksey is doing with Spider-Man and Jonah.  Another book with a loyal following it seems.
The second issue of Lando Double Or Nothing ends up with more than half of its first issue sales of over 26.9k at 76.  Not too bad for a Star Wars spin off that ties into a film that underperformed.  This likely benefits from having the one thing in the movie everyone had and will do well in trades, especially if rumours about Lando being back in episode 9 are true.  The Star Wars line isn't what it used to be for Marvel but still performs decently and will bring them big money in collections for a long, long time.  Even in a galaxy far, far away.
The first of a batch of 'Wakanda Forever' one shots which features some characters from the movie teaming up with various Marvel heroes starting with Spider-Man begins at 80 with over 26.1k.  Its a throwaway tie in to cash in on the success of the movie so for that type of thing, this is fine.  The other tie ins that don't feature Marvel's most popular character might be a bit more 'eh' in the coming months.
Ray:  Next up is the X-Men, so Wakanda Forever should keep a lot of these sales. The writer is a popular novelist, but none of her comic work has caught fire in the direct market yet. I imagine this is being geared towards Black Panther movie fans in the bookstores, anyway.
Glenn:  Another Infinity Countdown at 92 with the Champions taking the center stage, it sells just over 23k.  This property sure started with a lot of promise but due to various reasons has fizzled out in a big way.
Some reorders for the insanely successful Amazing 800 at 93 with over 22.8k additional sales.  This and Action 1000 are two massive recent successes for both companies, it'll be interesting to see how Batman 50 compares next month.
Ray:  Not on the level of the insane reorders we saw for Action last month, but still incredibly impressive. Like I said above, watch for big reorders for #801.
Glenn:  Multiple Man gets a new mini at 22.3k at 94.  If Marvel had pretended this was an ongoing (as they are often wont to do) then I'd be concerned but for a mini about a character that hasn't been in the limelight for years and was never a big sales draw in of himself this is perfectly fine.
Ray:  It's another new project for Matt Rosenberg, who Marvel seems to have a lot of faith in. He's more of a cult creator, though. This is decent for a long-dead second-tier X-man whose most popular run ended years ago.
Glenn:  Not even the might of Scott Snyder can stop the new Challengers mini to drop sales in its second issue to over 22k at 95.  I wonder if Snyder maybe saw the writing on the wall before showing up at a Justice League writing meeting and totally pretending he should be there to get away from this one asap.
At 100 is a Dazzler one shot selling over 21.8.  Its Dazzler and this is apparently based off a script that's sat in a drawer for years so I'd call this a win because even before you finish reading this article you'll forget it existed at all in the first place.
Ray:  This is probably the base audience for an X-character title, so retailers ordered accordingly. Although Mags Visaggio is building buzz as a writer – we'll see her again later on in the charts with a new launch.
Glenn:  At 102 is Marvel Super Hero Girls aka Marvel Rising which sells over 21.2k which is very good for something aimed at younger readers.
Ray:  This would be Marvel Super Hero Girls, if it wasn't for the presence of the reviled Inferno and Patriot 2.0. Still puzzled by the casting decision. This is a decent number that I largely put down to the presence of Kamala Khan.
Glenn:  Kamala is pretty awesome.  Do you mean Patriot 2.0 as in the weird one from Gillon's Young Avengers or has there been another?  So many replacement heroes!
Ray:  No, I suppose this would be Patriot 3.0, introduced in Secret Empire. He has no ties to the Bradleys and no one likes him.
Glenn:  No one likes something to do with Secret Empire?  Say it ain't so!
I didn't realize last month that Infinity Countdown: Darkhawk was more than one issue but here we are.  The second issue remains very stable selling over 20k at 106.  Not as many people are buying into this story as maybe Marvel hoped but they are maybe investing in it to create key stability.
The second issue of Rick Remender's new Image offering, Death Or Glory lands at 108 with sales over 19.2k.  This is within Remender books usual range and all his titles perform very well in collections so this will see its run to the end.  Well within the usual Image safe zone.
Ray:  Remender, like BKV, Brubaker, and Lemire, has found a niche where all his creator-owned books show amazing stability. Well-deserved, and this is likely going to raise the profile of Bengal a lot as well.
And speaking of Gideon Falls, it actually gains about 1K this month to land at #105 with sales of 20K. I think we can safely say this is another long-term hit for Lemire, if retailers are upping orders. I don't want to go in the barn, Glenn.
Glenn:  Stupid barn.  I'd burn it if I wasn't so terrified.
I didn't know what 'The Weeknd presents Star Boy' was and how it somehow got sales over 19.2k at 109 and then I googled it.  My brain now hurts so much I just have to tag Ray in.  I need to lie down.
Ray:
Apparently it's based on a song on the artist's album? Okay? It didn't translate particularly well to comic book form, but I imagine that the artist's name was responsible for a lot of the sales. 
Glenn:  Good for the singer.  Is he classically trained at all?  *lifts plastic/empty champagne glass, takes sip*
Ray:  Rick and Morty continues to be Oni's bread and butter, with two issues in this range. The main series sells 19K at #110, while a new special titled "Krombopulous Michael" sells 18K at #115. I don't know what a Rick and Morty is.
Glenn:  I know!  I know!  I watched an episode where a clear parody of Doc Brown told a kid to shove something up his butt!  Its apparently hilarious but I must have missed that part.  Still, whatever keeps the lights on.
Ray:  The second issue of Ant-Man and the Wasp has another big slide the same month, landing at #119 with sales of 17.5K. Woof. I think we know why this was only a miniseries.
Glenn:  Also its a mini because of the heroes involved.  Eh?  Eh?
Ray:  As Spider-Gwen gets closer to wrapping up her run at #124 with sales of 17K, I think that's still sort of impressive given how long this series has been going without a relaunch. It's a long way from its heyday, but most Marvel books would kill to have a run like this. She'll likely get a relaunch with a new creative team soon enough, probably in time for her film debut.
Glenn:  Spider-Gwen, victim of the renumbering game.  Still she's kind of everywhere now isn't she?  This is another reason why I don't think we'll ever see the end of comics.  Disney needs their idea farm alive to keep giving them new very profitable characters that no one knew they wanted.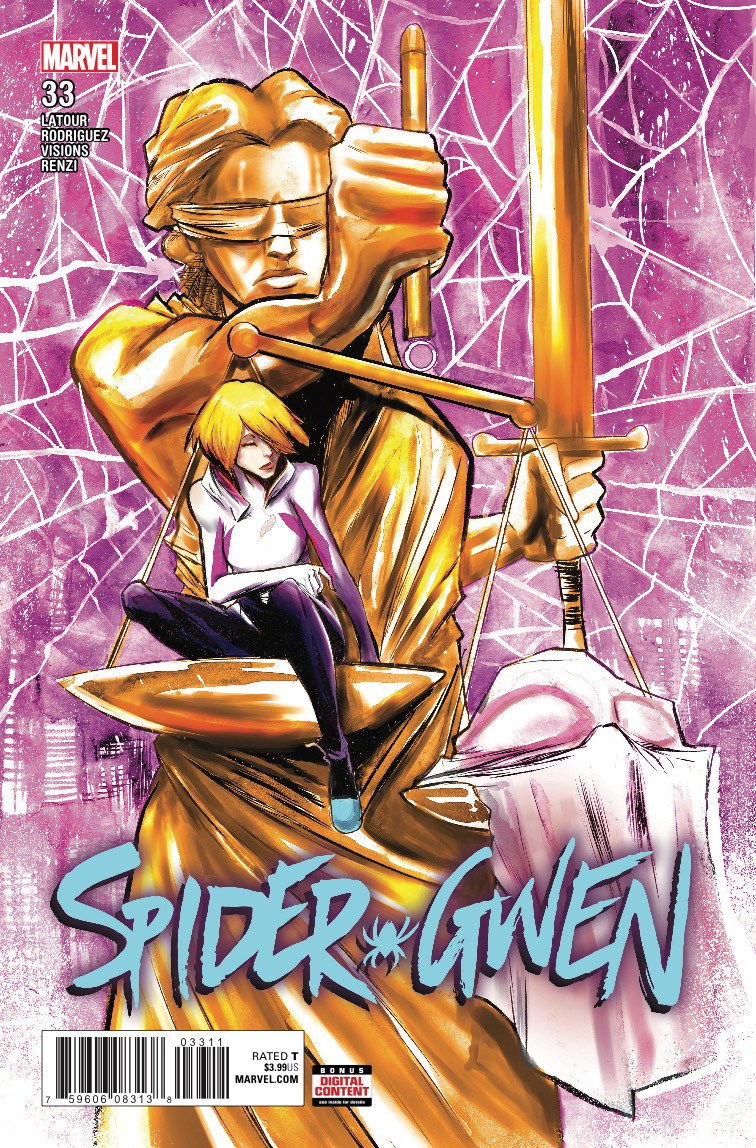 Ray:  There were a lot of smaller Image debuts this month, and the top-selling one was post-apocalyptic futuristic murder mystery The Weatherman, selling 16K at #130. While none of the creators had sales pull on their own, the concept of an unassuming man who may have killed half the world sold itself.
Glenn: That is a good concept.  I've likened Image to a TV network at times where people pick and choose on concept when they don't know the names.  This one sounds like it would definitely be a hit show.
Ray:  Completely random, and the first of many random reorders this month, is the 16K in reorders for Secret Empire #3 at #131. Why? Did people want to remind themselves that however Marvel is struggling now, it could be much worse?
Secret Empire #1 gets just under 15K in reorders at #138, and Civil War II #5 is a few hundred copies less right below. These are old events, so I'm struggling to make sense of it. Civil War II #4 is at #147 with 13.7K as well.
Glenn:  Secret Empire might be something to do with the new Spidey direction?  Civil War II is anyone's guess…maybe one shop got reallllly drunk one night while ordering.
Ray:  The latest Ralph Macchio one-shot, Ant-Man and the Wasp: Living Legends, charts at #145 with sales of 14K. What's surprising here is just how close this is to the second issue of the main book. This is likely just to cover the bases in case of fans coming in after the movie.
Glenn:  Macchio is returning to Marvel is some advisory capacity so maybe these one shots were written more recently than we assumed?  In any case, these one shots sell pretty well for the throwaway material they are.
Ray:  Speaking of Ant-Man, we get a new wave of True Believers one-shots for him. To no surprise, they don't do nearly as well. The top seller is the first appearance of Scott Lang, selling 14K at #145, followed by The Birth of Giant Man at #149 with 13.7K. There's more down below at #155 (Trail of Spider-Man), #159 (Til Death Do Us Part), #167 (Incredible Shrinking Doom), #171 (Ant-Man and Hawkeye: Avengers Assemble), and an Iron Man book packaged with them as a Ghost spotlight (#177). They all sell between 12K and 10K, so retailers likely ordered a lot of them as a bundle. None of these are particularly well-known stories, so the comparatively lower sales aren't a big surprise.
Another Image launch, Stellar, lands at #153 with sales of 13.3K. This is a deep-space superhero adventure from Joseph Keatinge, the creator of Shutter. He's always been a bit of a cult creator, but he's launched two books in the last few month, so Image clearly likes what he's putting out.
Glenn:  A cult following is better than no following, it works for Valient so if Image knows what they're going to get from this guys books, they'll keep investing in him if they're happy with that result.
Ray:  Solid numbers for the Mighty Morphin' Power Rangers anniversary special, which sells 13K at #157. Given that this is a $7.99 book, it sells pretty close to the main series. It features stories from some top creators and a follow-up to one of the series' most popular plotlines, so Boom seems to have put a lot into making sure it felt like a necessary part of the franchise.
The final Buffy the Vampire Slayer comic from Dark Horse for now, The Reckoning, debuts at #160 with 12.2K. Clearly the series is a long way from its heyday, and even the addition of the characters from Fray didn't boost it much.
Glenn:  The days of Whedon making a difference in sales seems to have gone too.  I'll be curious what the franchises future is now that it'll likely be owned by Disney after the FOX merger wraps up.  I could see Boom or IDW doing comics or graphic novels set during the high school era for book store markets or a reboot of the whole thing.  I doubt this is truely the end either way.
Ray:  An oddball entry at #163 is the miniature graphic novel Batman: The Dark Prince Charming Book 2, which sells 12K at a $12.99 price point. I'm surprised it's here instead of on the OGN charts. This is another book that I wouldn't be surprised to see reclassified as a Black Label title one day.
Glenn:  Seems likely, everything is a black label now.  Even this article is black label.  Lets get some nudity whooooo
Ray:  Another new Image debut, the female-led Pirate revenge thriller Shanghai Red, lands at #173 with sales just under 11K. Chris Sebela's been working in indie comics for a while, without any real breakout hits. However, he's consistently a solid creator, and this title is essentially just debuting in the safe zone for an Image title. I was pleasantly surprised by the first issue, so it may hold well.
At #179 is Brian Wood's latest Viking-era adventure, Sword Daughter. Featuring a mysterious mute girl and her formerly catatonic father, it sells in the usual range for his books at Dark Horse – 9.7K.
#183 brings us the Dynamite launch of Charlie's Angels, selling 9.4K under the pen of John Layman. This was a book that got a lot of advance hype due to Layman's reputation from Image, so I might have expected it to do a little higher. The retro tone probably appeals more to older fans.
Glenn:  There will always be a ceiling for things like Charlie's Angels, a creator like Layman can only do so much.  Fans of the original show aren't likely to show up for the comic, the movie fans won't care and Disney has made us all forget the reboot so sales could be worse.  This will be one of those Dynamite franchises that is just lucky to be here.
Ray:  A new Vampirella miniseries, Roses for the Dead at #186, selling 9.2K. Dynamite gonna Dynamite.
Astro City heads off to collection and OGN heaven with its final appearance on By the Numbers, with its final issue selling 8.9K at #188. We're definitely a while away from the title's heyday in sales, but it's held incredibly well over the years, especially compared to its mostly departed fellow Vertigo books.
Glenn:  We salute you Astro City.  This is one that has a small but very dedicated audience that will follow it no matter where it goes.  I expect new audiences will come to appreciate it in collected form for decades to come.
A new Tank Girl book from Titan sells over 8.6k at 191.  Pretty standard stuff for a franchise that was a thing once.
Red Sonja/Tarzan loses about half its sales this month pulling in over 8.6k at 194 putting it just about 300 units above the main Sonja book at 195.  I think given its a mini and co-stars a character with no sales pull, that's not too bad.  Most mini's would love to sell this close to the parent title.
I think TMNT: Urban Legend stabilizes pretty well in its second issue selling over 8.3k at 195.  Given the bizarre nature of the book and how my own pal Ray says its quality is dubious at best, I think this is a great number.  I can literally hear IDW digging through the discard pile now for more Turtles stuff to publish.
Ray:  I hope they get to continuing TMNT Adventures from Archie soon, then!
Glenn:  At 200 is poor Cyborg selling over 8.1k, sheesh no wonder this book got recancelled.
Huuuuuuuge drop in sales for Valients Harbinger Wars 2 which loses about 14k in sales pulling in only over 7.8k at 204.  This is within the usual Valient range for a second issue but that is a massive drop from one issue to another at this level.
Ray:
Yeah, this is performing much more like a standard Valiant book than a big event. I guess when Valiant's line is small and manageable like this, people tend to buy almost all the core books anyway. Plus, Valiant is working on making inroads into the bookstore market and this will likely sell more there. 
Glenn:  A new Image mini, Proxima Centauri launches at 208 with sales over 7.4k.  This one seems a bit more on the indy side of the usual Image offerings so I'd say this number is about right.
Bloodstrike 0 which I think is a redo of an old Image property by cult comic legend, Michel Fife launches at 209 with sales over 7.3k which is probably the hardcore Fife/EXTREME comics fanbase meshed together.  Maybe the 90's aren't back after all.
Ray:  Farel Dalrymple and Michael Fiffe are both cult indie creators, and neither of these concepts is really friendly to new readers. Books like Prophet did these numbers regularly, but tended to hold very well in coming months. 
Glenn:  At 210 is the new version of Nancy Drew selling over 7.3k and I would have thought this one would do a lot better.  It was a well known creative team with an interesting update for a classic character.  I suppose no matter what, Nancy Drew will have that same ceiling problem that we mentioned above from Charlie's Angels.  I think it'll stabilize fast and do well in collections, its a great book.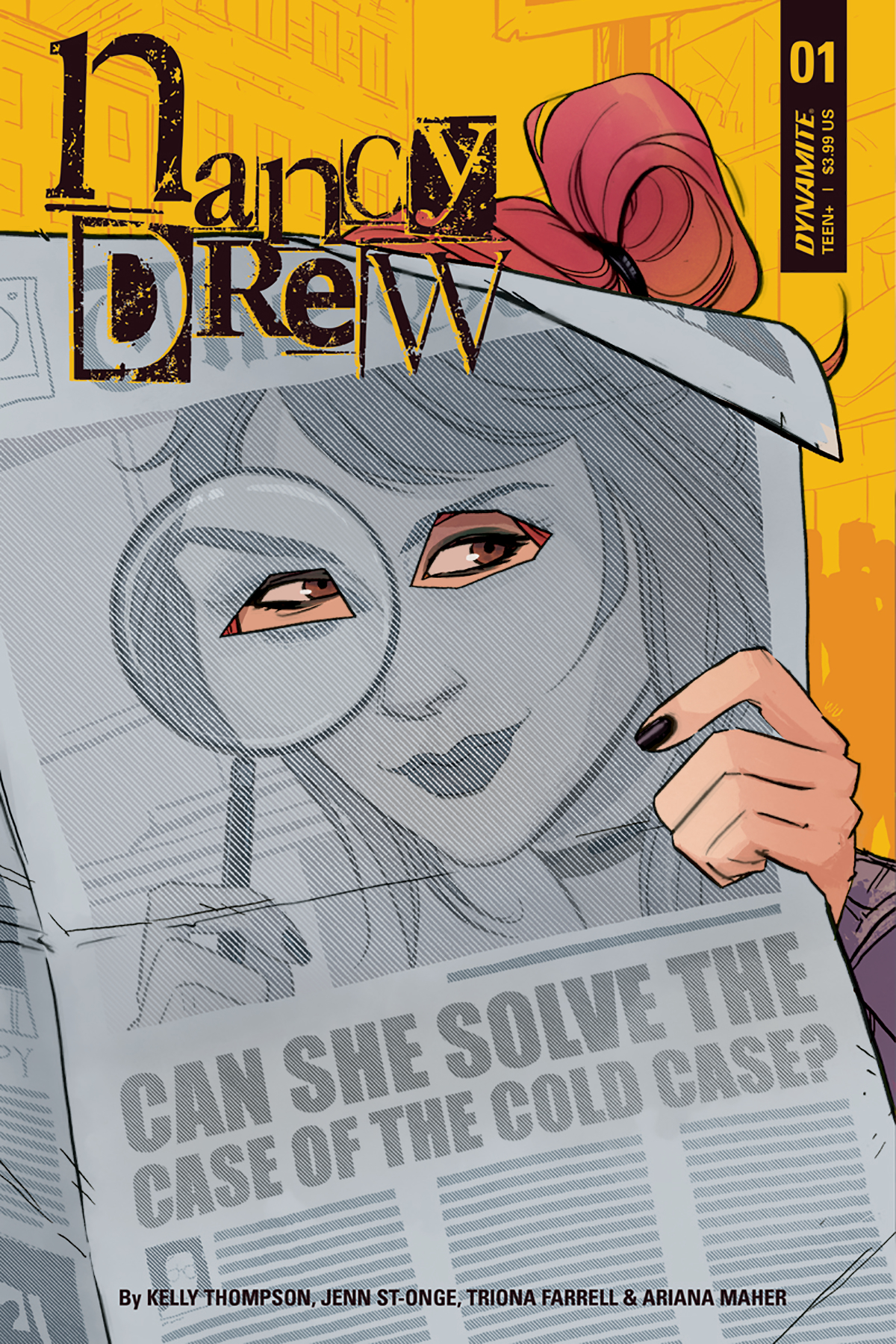 Ray:  More so than Charlie's Angels, Nancy Drew is a book that was made for the bookstore market. This all-ages, manga-inspired take on the property (that takes her back to her roots as a plucky girl detective) isn't going to find its core audience in the monthly market, but if they're smart they'll package it in a small, affordable graphic novel format for the middle-grade reader.
Glenn:  For a throwaway kiddie book, MSH Adventures: Webs, Ants, Arrows, Oh my sells pretty decently at 211 selling over 7.3k.  This one isnt meant to sell here in this chart so its pretty moot.
At 215 is the second issue of Coda selling over 7.1k which isn't too steep a drop from its first issue.  This is kind of in the usual pattern of BOOM comics not based on an existing property so its standard stuff.
There's Secret Empire again at 216, the second issue sells another 7k.  I'm wondering if doing the top 500 now is messing with our sanity.
A new maxi-series, By Night from BOOM sells over 6.7k at 220 which again is just what the creator owned books from this publisher do.  Its good in one way it doesn't deliver any surprises but that is also a bad thing in another.
Ray:  By Night is by John Allison, the popular cartoonist behind Giant Days. He doesn't draw this one, but he's one of Boom's most reliable creators and this twelve-issue maxiseries will likely hold very well long-term. 
Glenn:  At 221 is Black Panther 1 which picks up reorders over 6.7k.  Word of who showed up might be getting around.  They're not mind blowing reorders like Action 1000 or Amazing 800 got but more interest in a book to make it reappear in the top 300 is always good.
More Marvel reorders at 226, this time for Avengers 1 which sells another 6.5+ sales.  See above but it seems this title is likely to be behind Snyder's Justice League by a good 20k surprisingly.  It'll be curious how it fares against Dark and Odyssey when they launch.
THERE'S CIVIL WAR II AGAIN AT 236 FOR ITS THIRD ISSUE SELLING ANOTHER 6.1+ ADDITIONAL SALES?!?!?!?!?!  WHAT IS HAPPENINGGGGGGGGGGGG.
More reorders that make sense with retailers keep going back to Slott's final arc wanting more, this time its Amazing 797 at 239 selling over 6.1k additional units.  This has to be one of the best selling stories outside of events Marvel's had in decades.
New Dark Horse horror book Blackwood's second issue sells over 5.6k at 248.  It'll likely take place of Harrow County in terms of Dark Horse offerings and sellings which isn't a bad place to be.
Yet MORE reorders for Marvel with Venom at 250 which sells over 5.5k more this month.  This is definitely going to be one of Marvel's newest hits it seems.
Ray: Unlike so many of the others, Venom's reorders make sense. This issue was the return of Eddie Brock to the role, so the horde of new fans jumping on board with Donny Cates may want to catch up. Costa is also doing a stand-alone mini to close out his run starting in August.
Glenn:  That DOES make sense.  I like things that make sense, they comfort me.
Image and DC also get on the reorder party with Oblivian Song's second issue selling over 5.3k at 252 which is much higher than its reorders last month and the final part of No Justice picking up over 5k at 259.  It seems the books at the upper end of the charts are the ones people are coming back to time and time again while everything else fights for the remaining scraps.
Ray:  Aspen Comics has been doing a big wave of relaunches in recent months, and their flagship book Fathom returns at #260 with sales of 5K. This is the most famous creation of the late Michael Turner, so it's likely got a lot of nostalgia fanbase that helps lift it above the rest of the company's books. 
Just below 5K at #262 is the latest Aftershock title, Lost City Explorers. This adventure series dealing with a brother and sister looking for their father in the lost city of Atlantis (hey! That's my turf!) seems to be going for the Stranger Things audience in tone, and may hold well if buzz builds. Overall, Aftershock continues to have trouble launching new titles.
Man of Steel #1 picks up a quick 4.6K in reorders at #268, proving that there may be some long-term interest in this new direction. I expect the Superman books to launch much higher than this miniseries did next month.
Just below at #269 is the second issue of Flavor, which loses about 40% of its first issue sales to sell 4.6K. Come on, people! This book is great!
Glenn:  Maybe a bit too oddball for the main comic market?  It'll do well in collections, I'm looking forward to reading it myself.
Ray:  It's a double-dose of Cullen Bunn in this area, as his long-running Harrow County from Dark Horse closes out its run with a slight bump at #272, selling 4.5K. Two spots below selling 4.5K as well is the launch of Shadow Roads, Bunn and Brian Hurtt's spinoff to their epic The 6th Gun from Oni. I would have expected a bit more for this one, but The 6th Gun has been gone for a while and likely picked up most of its audience in collections.
Glenn:  Now that Harrow County is over, it can head over to collection heaven.  I would say that there's enough interest in it in collected form for Dark Horse to grant it the Library Edition treatment.  Plus it seems prime for a TV adaption so the collections will be there when that happens.
Sixth Gun like you say is another one were people read in collected format so the single issue sales are almost redundant.
Ray:  In more random reorders, Donny Cates' breakout comic God Country charts another 4.4K in reorders at #277. At least this one is a comic that I'm glad more people are reading!
Glenn:
 I
'm going to assume this ones down to Cates rising star power.  Retailers want to have more of his stuff available to meet demand.
A disappointing debut at #280 for Archie's Superteens vs. Crusaders, crossing over their two long-running super-teams. Selling only 4.3K can't be what they were hoping for, and I think it shows how much buzz has faded for the new Archieverse. They're revamping everything massively in the coming months, and it may not be for the best…
Glenn:  Archie never really recovered from that controversial story a year or so back and they've been trying to decide what to do next.  Its amazing these days what one bad story decision can do to a company.
Ray:  The new Garfield miniseries Garfield: Homecoming, which features indie cartoonists putting their own spin on the traditional Garfield style as the fat cat runs away from home and tries out new homes, sells just under 4.3K at #283. This book will likely sell more to kids in bookstores, so this is a case where single issues are likely irrelevant.
There's reorders allllllllll around the charts this month. Some in this range include about 4K more in sales for Peter Parker: Spectacular Spider-Man #5, Doomsday Clock #2, last month's Robin vs. Ra's Al Ghul wedding prelude, the third issue of No Justice, and the second issue of Avengers. I'm not sure what's been going on with the rush in reorders this month, but it's one of the oddest things we've seen in a while on By The Numbers.
At #287 is the offbeat new Dark Horse series Modern Family, selling 4.2K. This oddball comic about the everyday lives of fantasy creatures in the big city seems to be getting good reviews, so it may hold well once word gets out.
#293 brings us the debut of Mike Hammer, a Titan comics revival of the obscure 1930s pulp detective hero, selling 4.1K. I've never heard of the character, so this is clearly going for a specific but small audience.
Glenn:  This will likely be for fans of pulp rather than fans of this character (whom I don't know either).  There are other comics out there higher profile scratching this itch so this one will be living off scraps.
Ray:  Just below, selling just under 4.1K, is the new miniseries Tomb Raider: Inferno. As Dark Horse loses more properties, this has become one of their bread and butter licenses. I wonder if these might sell better in video game stores?
Glenn:  Maybe, they have a new game coming next year which will help.  I doubt the movie drove people to seek out the comic so the game stores are the better bet.
Ray:  At #296, selling 4K, is a new series titled Regular Show: 25 Years Later from Boom. I am an old man and I don't know what a Regular Show is.
Glenn:  I can't hear you, I've lost my hearing aid.  I also wish for more jello.
Ray:  As we exit the top 300 and head into the scary territory, BSG vs. BSG from Dynamite is the last book to crack the top 300. This was a bold experiment crossing over the two versions of the property, but it was always a cult property and never quite found a bigger audience.
Glenn:  YOU LEAVE BATTLESTAR GALLACTICA ALONE!!!!!  I mean…yes, the two series have their fans but I doubt many of them overlap or had a strong desire to see this crossover.  They'd probably rather have a new high quality TV show.
Ray:  Lots of licensed properties down here, and we have new miniseries for the 7th Doctor (#302) and Halo (#303), both selling 3.9K. I think the 7th Doctor is not one of the most popular, and Halo has never translated that well outside the video game world, so missing the top 300 isn't a big surprise.
Glenn: Seven is popular enough but the older doctor's will have a much more old school dedicated audience.  I think most people just want their Doctor's in the female form at the moment (that sounds wrong).
Remember when Halo was at Marvel and was by Bendis and Maleev?  Glenn remembers!
Ray:  More oddball reorders in the 310-320 range, selling around 3.7K include the first issue of the recent Captain Phasma miniseries, Invincible Iron Man #12, and the first issue of Duggan's Guardians of the Galaxy. I confus.
Glenn:  Our fellow podcaster and pet rabbitt, Brandon James speculated the mass of unusual amount of Marvel 'reorders' was random distribution of excess stock.  I'd be inclined to agree.
Ray:  Keenspot Entertainment gets into the Trump parody comic market with Trump's Titans vs.Dark Donalds Mental, which parodies Dark Knights: Metal and shows us the Trumps of the Dark Multiverse. It lands at #320 with sales of 3.6K. I don't want to go in the barn, Glenn.
Glenn:  So many jokes.  So many.  I don't want to get in trouble though…or do I…
Ray:  The weakest of the month's new Dark Horse debuts is the horror comic Bedtime Games, which lands at #332 with sales of 3.1K. This It-inspired book didn't have any name creators attached, but it did have an incredibly creepy cover that may help with casual audiences. I'm hoping it picks up some interest, because it was a good, creepy read.
The second issues of No Justice, All-New Guardians of the Galaxy, and Domino are all hanging around here as well, all selling about 3K. The first issue of Peter Parker: Spectacular Spider-Man is just a bit lower. I have no idea what's going on, but I would say that close to 1/5th of the charts this month is reorders.
A little lower, selling in the 2.6K range, are reorders of GOTG #146 (the launch of the short Legacy run), the recent failed Secret Warriors comic, and the prelude issue to Hunt for Wolverine. The former and latter make sense given the events going on right now, but Secret Warriors? Maybe interest in Inferno due to Marvel Rising?
Now we're getting into some really weird reorders. Teen Jean Grey's solo series debut charts again at #361, followed by International Iron Man #5 at #364 and the Hulk funeral comic from Civil War II, Fallen at #365. All sell about 2.4K. What is relevant about any of these comics right now? At least the first issue of Adamantium Agenda, at #367, is an ongoing miniseries.
Justice League: No Justice #1 completes the set at #371, selling 2.3K. I suppose this makes sense for people who feel like they missed something with the debut of Justice League.
Another new Aspen launch, the flight-based teen adventure Awaken Skies, had a $1.50 prelude issue this month that landed at #372 with sales of 2.3K. This one didn't really have much to lure new fans in, and it'll probably lose most of these sales when it debuts for real next month.
Monsters Unleashed #1 at #374 with 2.2K sales. I got nothing, Glenn. Who is ordering these? Who thought "You know what my customers want? The first issue of a cancelled book from last year."? Gonna go lie down now. Over to you.
Glenn:  
But I wanted to lie down…
A new launch from Action Labs, Aberrant sells over 2.2k at 376.  I read this description and I don't know what this book is about but is from some Hollywood screen writer apparently.  I hate it down here…
Death Of Love ends at 383 with sales over 2.1k.  Seeing this title on the charts selling low made me sad initially, now the whole thought of it makes me sad for personal reasons.  Comics is a weird place and does weird things to people.
Ray:  Death of Love seemed to be getting a good amount of buzz, so the sales being this low is a puzzle. Sadly, it seems VERY unlikely there'll be a sequel for a number of reasons.
Glenn:  Zinnober, a post apocolyptic comic featuring dragons from Scout Comics sells over 2k at 390.  They reasons why dragons are successful in Game Of Thrones is that they also have zombies you see.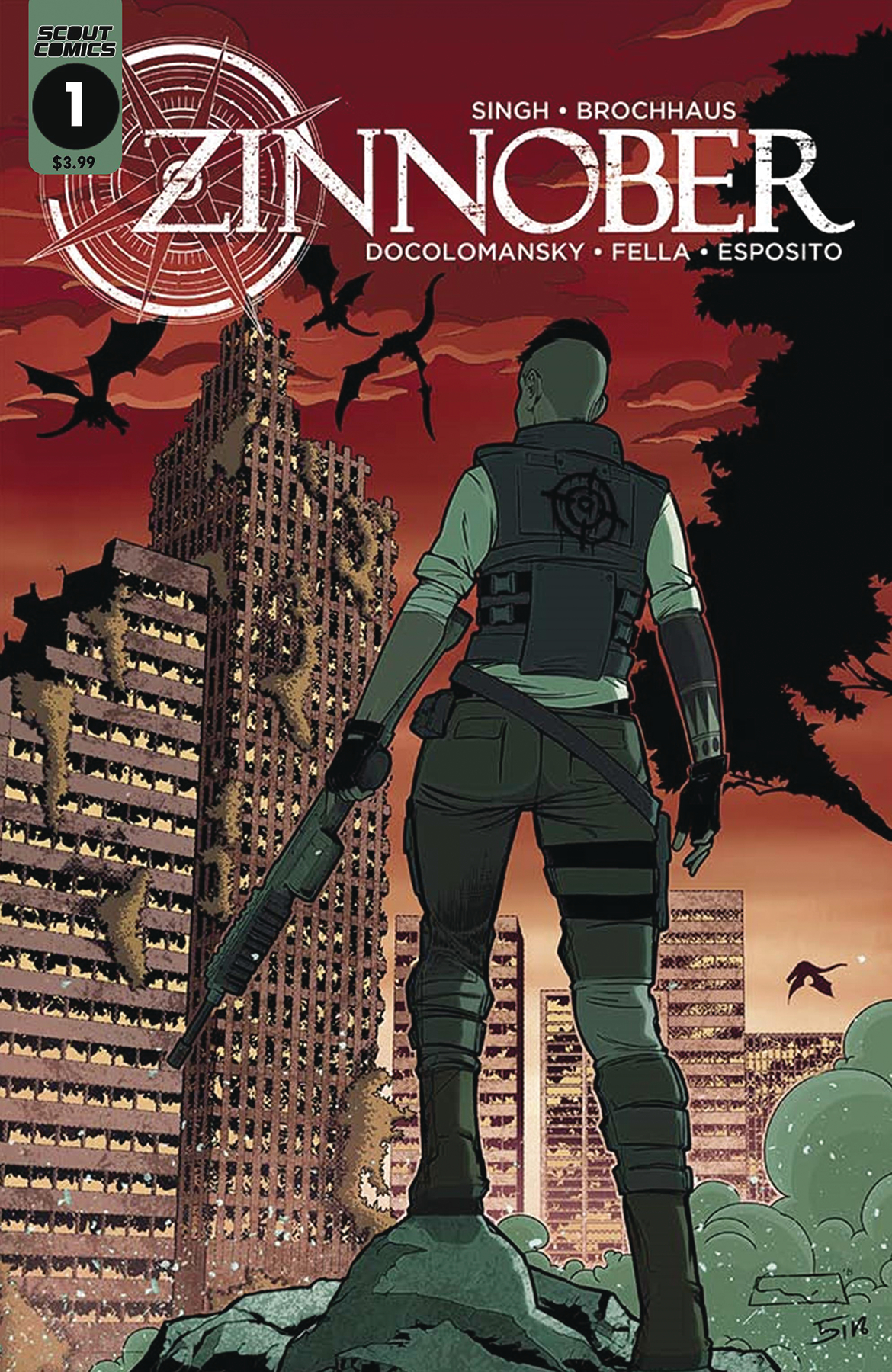 At 391 is some reorders for Image's Isola selling over 2k more additional copies.  Seems to be this one will be a sleeper hit for sure.
At 392 in more random stock clearen…er reorders is Accused 1 from Marvel selling over 2k too.  This was Hawkeye standing trial for the murder of the Hulk.  He should have clearly plead the Jean Grey defense.
Ray:  This was the comic that had Matt Murdock trying to get Hawkeye the death penalty. I suppose they're friends again now. After all, if Hawkeye got the needle he'd just be back in a month anyway. 
Glenn:  In the Marvel universe, death is easier than community service.
From Vault comics we have Vagrant Queen which sells over 2k at 393.  This actually sounds quite good and is written by Madeline Vissagio who is making a name for herself rapidly in the industry so not sure what happened here.  I guess Vault have a ceiling that's hard to get through.
Ray:  The only Vault comic to get consistently higher than this was Reactor, by an up and coming guy by the name of Donny Cates. Mags is still growing her brand, but this is decently above Vault's usual launches.
Glenn:  At 395 we have Dave Sim being himself with Un-Bedable Vark selling over 1.9k.  He's having fun at least.
At 396 there's a comic called Jungle Fantasy Secrets 0-Ivory Nude which sells over 1.9k.  You know I once met Scott Snyder at New York comic con a few years ago.  I got a picture taken with him (which I somehow lost) and in the process totally didn't notice and thus ignored Jim Lee.  It was one of my best and most embarking moments as a fan and someone who one day wants to work in this lovely industry.  This has nothing to do with this comic, I just like telling this story and needed to go to my happy place.
Ray:  That 1.9K is less impressive when you remember that the company gives every issue 25 covers. Gotta make sure everyone has their personal choice of sexy jungle lady comics.
Glenn:  Vol. 2 of a Gene Ha vehicle Mae launches from Lion Forge at 402 selling over 1.8k.  Not sure why this is Lion Forge but this is the result despite Ha being very well known in the industry.
Ray:  This was a Dark Horse miniseries that also did pretty low numbers, and it moved to a much smaller company years later. Not a big surprise.
Glenn:  Brother Nash, a new title from Titan which apparently is a mix of American Gods, Preacher and Hellboy doesn't seem to drum up any of the interest of those properties and sells over 1.8k at 406.  Titan is not a company placed to sell original properties.
If you haven't guessed by now, I'm ignoring the crazy reorders to keep my sanity.  Now excuse me while I talk to my dentist who is also an elephant.
Ray:  Good old Dr. Trunkington. He fixed my teeth…for peanuts. Eh? Eh? Eh?
Glenn:  You're fired, even though you don't work for me.
Statix Press (?!?!?!??!) delivers a new medieval fantasy type comic selling over 1.7k at 414 that is priced at 5.99 for some reason.  To be honest, considering I don't recognize the creators or the publisher and its priced that its a Superman anniversary or something, that's probably really good.
Ray:  I think Statix is an imprint of Titan, printing European comics translated for a US audience. They tend to put out oversized issues.
Glenn:  At 415 we have Michael Turner's Legacy from Aspen selling over 1.7k.  This is likely for his remaining hardcore fanbase only.  This reminds me of my time at Prufrock Prep School…
Its pretty much all insane reorders until 467 where we have John Carpenter's Tales Of Sci-Fi stand off, the first in a new mini by Storm King Productions (?!?!?!?!?!).  We're in the Barn, its the only explanation!  Get out, save yourself!
More random reorders until we mercifully end with…a  reorder at 500.  This one makes a tiny bit of sense, its the first issue of New Challengers which launched last month.  An additional 980 sales for a new Scott Snyder book.  This new age of DC is really something.
Ray:  Yeah, this line as a whole has gotten zero buzz. Shame. The creators involved will larely be onto bigger and better things soon.
Glenn:  What's next month Ray?  If you say reorders, I will have to kill you.
Ray:  Don't worry, Glenn. I'm sure we'll get random reorders of Solo and Foolkiller burning up the charts next month. 
Looking ahead to July's sales, we've essentially got a four-way run for the top of the charts. The overwhelming favorite, of course, is Batman #50, the Bat-wedding issue – or is it? There's been a lot of controversy here, but that didn't affect orders and this could easily hit 250K. Nipping on its heels is the debut of Bendis and Reis on Superman, their proper launch. After the disappointing debut of Man of Steel, this could do much higher.
Marvel is answering with a pair of major launches of top titles. Amazing Spider-Man has a new #1, which usually signifies top numbers. However, without Dan Slott and with a divisive new writer, can it equal that? I don't think it can touch Batman. It'll be interesting to see if it can beat Captain America #1 by Ta-Nehisi Coates, who led his first Marvel book to one of the best debuts of 2016. There's also two new titles from Donny Cates – Death of the Inhumans and Cosmic Ghost Rider.
None of the indies can touch these big guns, of course, but there's a few interesting Image launches. We'll see how oddball Kirkman/Burnham launch Die!Die!Die! shows up on the charts with its unusual release. Plus, the return of Sean McKeever and the debut of Rob Guillory as a writer artist should make an impression.
What will rise? What will fall? Find out next time on By the Numbers!
Like what you read?  Have thoughts, questions or comments?  Let us know below or hit us up on Twitter @glenn_matchett or @raygoldfield