Like in any industry, comic books and their companies listen most to one thing and that's your money! What does your money tell them? What does it tell us as fans? What series do people say they adore but can't seem to catch a break and what books to people hate that sell out? What are the trends? What looks good? What looks rough?
All these questions and more will be answered here, every month in 'By The Numbers' by comic writers, editors and fans, Glenn Matchett and Ray Goldfield.
Glenn Matchett is a comic writer and editor. He's worked in the industry for several years but grew up reading comics. He's had work published with various small press publishers and has is own comic now available on Comixology in Sparks: The Way I Was from Yellow Bear Comics! When asked what he thinks about Disney+, Glenn politely reminded those that ask that it doesn't hit the UK till the end of March. He then sobbed and played with a ball in a cop.
Ray Goldfield is a fan of comic books for going on 25 years, starting with the death of Superman. He is a writer and editor and has released his first novel. Ray also does a weekly roundup of DC comic reviews for website Geekdad and they're brilliantly entertaining. When asked what he thinks about Disney+, Ray was unreachable for comment. For with the streaming service he has achieved a new level of consciousness.
We also do a podcast together with longtime buddy, Brandon James on iTunes with Rabbitt Stew or at the link here! Don't ask, I didn't pick the name. If you'd like to hear what me and Ray sound like, give it a listen!
Check out the top 500 in full here!
Glenn: Its time for the spooky month where the scariest thing is how little time between sales numbers there were since last time. Once again there's a lot of confusion with DC but we'll just address it when and if it comes out. Take note early in that case that the numbers aren't quite what they seem and therefore some things may have sold better than it appears.
I'm starting to think DC does this to make us cry.
Ray: They won't scare us off, Glenn!
Glenn: As anyone with any sense could have predicted, the top selling comic of the month is X-Men 1 the start of the proper Hickman run with art by Lenil Yu which sells over a huge 255.7k! This is a massive immediate hit and Hickman has brought the X-Men back to prominance in a huge way…at least where his name is on it in any case. Nothing but celebrations abound here I'd say. This could be a solid top ten performer that Marvel's been lacking in an ongoing since Slott left Amazing Spider-Man. I'd say it'll settle to around 85-120k. Hard to predict exactly more than that given how distrustful retailers are of Marvel in recent times but it may be that Hickman's name overwrites that.
Ray: This feels like one of those rare runs where the hype is genuine. Sure, the numbers are inflated by the sheer number of covers, but given how the miniseries performed issue to issue it feels like this is the most buzz around a Marvel run since Donny Cates' Venom first broke the doors down. I expect it to lock down its place as the top ongoing for a while, but we'll see if it can consistently head above 100K. This could be the line that breaks Marvel's bad luck streak.
Glenn: Next is issue 301 of Spawn which sells over 186k at 2 this month after the monster number for the big anniversary issue last month. There's a few things at work here because since Walking Dead has ended, Image is missing a top franchise and the one before that one was Spawn so it could be that. It could be residual hype over 300 or the astonishing Marvel level of variants or the return of the titles most iconic villain in the Violator who may be a sales driver like Venom, Joker or the Batman Who Laughs is. It seems like for whatever the reason, Spawn has risen back to prominence and will likely spend the next year getting back to its previous level.
Ray: Violator does have a big fanbase, but it's still odd – I haven't heard anyone talking about Spawn in years. Image did an amazing job of hyping this up as an event rather than a simple anniversary, so they're reaping the rewards. I think it'll continue to drop, but if it can eventually settle down around the top fifty, that's a big win. 
Glenn: The final issues of the X-Men mini's leading into the new number 1 this month finish off with really great numbers with the final issue of Powers Of X charting at 3 with sales over 160.8k and House Of X selling over 158.3k at 4. This is insane numbers and shows a lot of interest in this new shot in the arm the X-Men have been needing for some time. Since the Fox purchase, Marvel has now prepared the X-Men franchise as their big money earner once more which is a prospect that seemed crazy only 2 or 3 years ago.
Ray: They kept going up through the run, which is unheard of. This is a monster and well-deserved. Hickman used these books to build hype for his regular run, and it paid off.
Glenn: Speaking of Joker, his year of the villain one shot brings big numbers at 5 selling over 128.6k. This could very much be attributed to the much publicized involvement of legendary director John Carpenter or it could be just because its the Joker. Either way this is the biggest year of the villain one shot by quite a fair margin which is funny since the link between this and the main story that Snyder/Tynion are telling is loose at best. Still, DC has made the Joker an event to be seen all in on himself through clever seldom use. Could an attempt at a Joker ongoing of some sort be far behind?
Ray: It's not even in the same category, selling almost four times as much as the average one of these one-shots. It's a perfect storm of factors to create a hit book, but as for a Joker ongoing, I think they're trying to have their cake and eat it too. If there's always a Joker miniseries of some kind with a top creative team, don't we essentially have a Joker ongoing?
Glenn: Excellent point, ongoings can go down in sales but a new high profile mini through Black Label or the like can keep hype alive and not have to worry about the characters sketchy characterization on a consistent basis. He can be whatever the creative team needs him to be.
So in a new record in recent times, it takes us a whole 6 spots to get to the nonsense that is Amazing Mary Jane that sells over 116.1k. Uh-huh. Right. This is a spin off of the middling Amazing Spider-Man run by two creators who are very talented but not bankable on a mini series starring a character who's never had her own title outside of the exceptionally underrated all ages Spider-Man Loves Mary Jane which had Spidey still in the title too. I'd say figures were doubled here as sales of 58k makes a lot more sense. Its all noise, just like Black Cat was.
Ray:...Look. I'm all in favor of more books for popular female characters in comics. The Lois Lane book by Rucka and Perkins, her first solo title in decades, is fantastic. But there is not this much demand for a title starring 616 Mary Jane. Especially not spinning out of a run that ranges from mediocre to terrible. This is one of the biggest non-X-men debuts in recent months, so to believe this number is genuine, you're asking me to believe that Mary Jane and Black Cat are a-list sales powerhouses alongside Batman and the X-Men. Nope. Marvel probably doubled sales alongside a host of variants.
Glenn: What isn't noise is the continued success of Absolute Carnage at 7 which sells over 99.7k for its penultimate issue. This main mini has been rock solid and will no doubt benefit the main title hugely whenever Stegman returns in a few months. Marvel continues to be betting high on Cates and so far, its working.
Ray:
It's locked down at this place in the charts and will be wrapping shortly, so I think we can safely say this was a hit. Far from the level of hit it could have been if it wasn't for years of Marvel driving down faith in their events, but I think they'll be calling Cates again for crossovers in the future. 
Glenn: I'm sure they have him on speed dial now.
What might be nonsense is the sales of 95.2k for the relaunch of Ghost Rider by Ed Brisson at 8. The character has never been a sales hit but he's been gone for a long time, has had an Absolute Carnage lead in and the character is getting a Marvel movie and has been used pretty prominently in Jason Aaron's Avengers. All these factors go some way towards explaining the number but I'd still say its a little high. Could be genuine interest, could be some fluffing on Marvel's part, its hard to say. Expect it to drop to around 30-40k shortly.
Ray: This reminds me a lot of the Iron Fist ongoing that mysteriously jumped into the top ten and then promptly lost 75% the next month. It's due to a combination of event tie-ins, a long time since a traditional Ghost Rider series, and a ton of covers. I don't think is sustainable, but this might do well enough to be a mid-level title for a while.
Glenn: The runaway hit that is Immortal Hulk gets a bump for that all important sales friendly 25th issue at 9 delivering over 87.5k. One of Marvel's best reviewed titles at the moment this is a great case of word of mouth and critical success actually leading to sales. It'll be back to normal or maybe a bit higher next month but Al Ewing is clearly building a success story all future Hulk runs will be measured by.
Ray: Much like Venom, this is a completely new take on a Marvel favorite by a breakout creator, and they're being rewarded. The previous issue, also this month, is down at #34 with sales of 53K, so this anniversary issue actually showed some juice.
Glenn: Final spot on the top ten with these face value numbers is Marauders 1, the first Hickman X-Menverse spin off which sells over 86.8k. Even without Hickman on board, this is a great launch that shows there's some buzz here for these era even without Hickman's name on the cover. We'll see how things go in a few months but right now, it all seems very promising.
Ray: This one has Gerry Duggan on board and a popular lead heroine in Kitty Pryde, so I'd say this is a good number. We'll see how the spin-offs do long term, but I think we're seeing that anything Dawn of X-related is going to have a strong debut. 
Glenn: I think anything non Hickman will score about 50-60k rather solidly. A vast improvement on the line overall, especially since there's a huge amount of X books coming and some of the titles have been defunct for decades.
Ray: And we get more proof of this right after an Absolute Carnage-tie-in issue of Venom, as we get the debut of Excalibur at #12, selling 83K. This is a Tini Howard series focusing on Betsy Braddock as she inherits the mantle of Captain Britain – so not exactly a huge sales draw, and yet it falls just short of the top ten. Power of Hickman! This bodes well for the other three launching next month.
At #13 is Joker/Harley: Criminal Sanity, the noir-inspired alternate reality that pits criminal profiler Harley against a serial killer Joker. It sells 81K, another strong landing and the second of three excellent Joker comic debuts this month. The addition of Harley probably made the difference here.
Glenn: I'm surprised this outsold Harleen since the writer isn't well known in comics but since this is a 9 part series at a normal price as opposed to a 3 part pricey pestige format. They may have ordered with room to drop over 9 months.
Ray: After two issues of Amazing Spider-Man that were likely buoyed a bit by the 2099 guest stars, we get the return of Marvel Zombies with the "Resurrection" one-shot at #16, written by Philip Kennedy Johnson. It sells 70K, likely off the strength of DCeased – which it completely ripped off in tone, style, and story. However, these sales are likely enough to get it a sequel miniseries.
Glenn: DCeased has made super hero zombies cool again and there's a hunger (heh, hunger) for zombies now Walking Dead is gone. I doubt any inevitable follow up will perform as well as the recently announced 4 part DCeased follow up.
Ray: At #17 is the debut of Joker: Killer Smile by Jeff Lemire and Andrea Sorrentino, selling 70K. I wonder if the slightly lower sales are because this is only a three-issue miniseries compared to nine issues for Criminal Sanity. Retailers might have thought customers would be more interested in the eventual collection.
Glenn: That's what I'd wager plus this is a proven creative team that retailers have more familiarity with. Given how good (terrifying) this was, I'd say this is more likely for reorders than Criminal Sanity.
Ray: A VERY strong debut for Spider-Verse, a new miniseries featuring Miles and adding some new realities from the multiverse, as it lands at #18 selling 66K. The creative team isn't the driving force here (it's even switching mid-way through) and this isn't an event, so it's got to be that there's just so much heat for this because of the movie.
Glenn: Given the movie was last year I think it shows how good it was that the brand is strong enough to still get a debut like this. It won't stick but we'll doubtlessly see more ideas akin to this in the future. People love their alt Spideys.
Ray: This is where we once again get wonky sales due to the special covers, as the two issues of Batman sell about 60K – but get about 25K extra sales from their cardstock covers. Business as usual as they'd be just outside of the top ten instead of out of the top twenty.
Glenn: Things have settled out about 80-85k for Batman. Likely to stay here until the relaunch after 100.
Ray: Harsh fall for the Abrams and Abrams Spider-Man as it loses the majority of its sales and lands at #22 with sales of 61K. This might also be the final issue, as the third issue has been heavily delayed – let's hope it doesn't go the same way as Daredevil: Target.
Glenn: Or Iron Man: When In Vegas or many others. This is decent for what is bare bones, an alt Spidey throwaway story but I would imagine that Marvel were expecting an X-Men level hit out of this given the hype it got.
Ray: #23 brings us the debut of Doctor Doom, selling 59K. This is Doom's first solo series in a very long time and the character is one of Marvel's most consistently popular villains, so I think it might find its footing. The first two issues feel more like a single long-form story, so they might be aiming for twelve issues anyway.
Glenn: Villain titles are a hard sell and this is roughly where Doom was selling when he was the star of Iron Man not too long ago. I think Marvel is hoping to produce more character focused critical darlings ala Vision with things like this. It'll settle to a number that will earn its keep for 12 issues.
Ray: The Batman Annual sells 59K at #25, which is a pretty big drop from the main series. This issue is massively acclaimed, so look for some reorders on this one, especially given the POV character.
Glenn: I wonder if retailers missed that King wrote this or considered it irrelevant since it didn't tie into the larger story. It'll definitely see some reorders, one of the best single issues of the year.
Ray: Also a bit of a surprising drop is Absolute Carnage: Immortal Hulk, selling 58K at #26. Given that this is by the regular creative team and was a tie-in to a hit event, I would expect it to do more than the regular series. Instead, it's just above the non-anniversary issue a little bit below.
Glenn: Not sure what happened here, it seemed a recipe for a much better outcome. This was one of the more last minute tie-ins so maybe retailers didn't catch it as standout.
Ray: At #27 is a new weekly Star Wars tie-in, Allegiance, serving as a prequel to The Rise of Skywalker. The first issue sells 57K – but surprisingly, the next three are down at 90, 105, and 108 selling in the 20K range. So this is clearly a case of the first issue being hyped heavily, but the overall mini not being promoted enough. If this actually does wind up a tie-in to the movie, it could get some reorders.
#28 brings us the first of the Tales from the Dark Multiverse one-shots, a series of mini-graphic novels retelling dark endings to the most famous DC events of all time. First up is Knightfall, in an issue co-written by Scott Snyder where Azrael became a mad Bat-dictator. It sells 57K, a very impressive showing for what's essentially a gothic What If.
Glenn: I definitely think this will pick up more orders as all of these seem to be playing into a larger story, likely whatever Snyder is cooking with Capullo for their Metal sequel.
Ray: At #30 is Red Goblin: Red Death, a one-shot selling 55K and tying into the brief period where Norman Osborn controlled the Carnage symbiote. I'm guessing retailers thought this would tie in with Absolute Carnage, but instead it's a mini-anthology from a year-old storyline. Not going to have great legs, this one.
Glenn: A recently popular reinvention of a iconic villain and symbiote hype being at a peak since the early 90's sold this to all us Spidey-suckers out there. Pity the output didn't match the potential.
Ray: The third issue of Batman/Superman doesn't have a special cover, so we can see it's settled down at #31 with sales of 55K. Very healthy for now, in DC's top tier.
And here's where we see the most dramatic shift because of the covers, as DCeased has two issues this month. #5 charts at both #32 and #36 with a combined 107K in sales, and #6 is at #42 and #45 for a combined 93K. Clearly this is a monster, and both of these issues would have been in the top ten. No surprise a sequel's already been announced.
At #33 is the follow-up to the massively hyped Marvel Comics #1000, titled Marvel Comics #1001 – selling 54K. I don't think we should be expecting Marvel Comics #1002 any time soon.
Glenn: Well this is awkward. Clearly Marvel tried a 'fool me once' situation and it didn't work. Pity since this is the one shot that realized that female talent worked at Marvel too.
Ray: As we head into the area containing established hits like Fantastic Four, Detective, Avengers, and Silver Surfer: Black, we get the Amazing Spider-Man Facsimile Edition at #38, selling 52K. Amazing for a full-priced reprint. The power of original ads, I guess?
Glenn: People love Marvel's old content and anything with Stan's name will have an extra nostalgia factor following his passing.
Ray: The crack creative team of Warren Ellis and Bryan Hitch has a new year-long miniseries launching, The Batman's Grave, and it sells 46K at #43. I feel like the sales pull of both isn't quite what it used to be, but this is a healthy debut for a side comic.
Glenn: 
This sold better than it appears because there's a card stock variant at 141 which brings in another 16.8+ meaning this sold over 64k in total which makes a lot more sense. Probably still a little low considering Hitch used to draw in six figures as standard but that was a whole ten market shapes ago. This is pretty standard for a standard Batman maxi series and will likely level out quickly.
Ray: The second Tales from the Dark Multiverse book, remixing The Death of Superman so Lois becomes the big bad, sells 46K at #44. This didn't have either the character or creative wattage of the Knightfall one, so I think the sales here are mostly due to just how much people want anything associated with the realm of the Batman who Laughs right now. Imagine what these would be selling if it was him as the Cryptkeeper rather than Tempus Fuginaut as the Watcher.
The weirdness with Black Cat continues, as the fifth issue jumps back up and sells 43K at #49, a major jump from the fourth issue. Who knows what's going on with this book anymore.
Glenn: 
At this point with Black Cat, I'd suspect orders are being doubled so the title's sudden 'mysterious' crash doesn't look as out of place as it should. Sales of 20k make a lot more sense.
Ray: Dynamite is the top publisher not from the big three this month, with the debut of Vengeance of Vampirella at #50, selling 43K. This didn't have the creative team of the main title, nor did it get much buzz for its story, but it did have dozens of variant covers and a very aggressive promotional campaign.
Glenn: Who would have thought Vimperella would be such a dominant sales figure in 2019? Of course as you said, for now its all smoke and mirrors but still miles ahead of where the character used to live.
Ray: After a lot of strong ongoings and tie-ins, including some books that normally sell higher but have split covers (like Justice League), we get one of the final Absolute Carnage tie-ins, Absolute Carnage: Avengers, which sells 38K at #57. Despite the top properties, this was really treated like a throwaway comic that took place during the early days of the event and had the Avengers fighting Carnage zombies.
Glenn: The tie-in was announced very late in the game after the main hype for the event had been done and they had began hyping the next big thing. Avenger's can't sell itself anymore.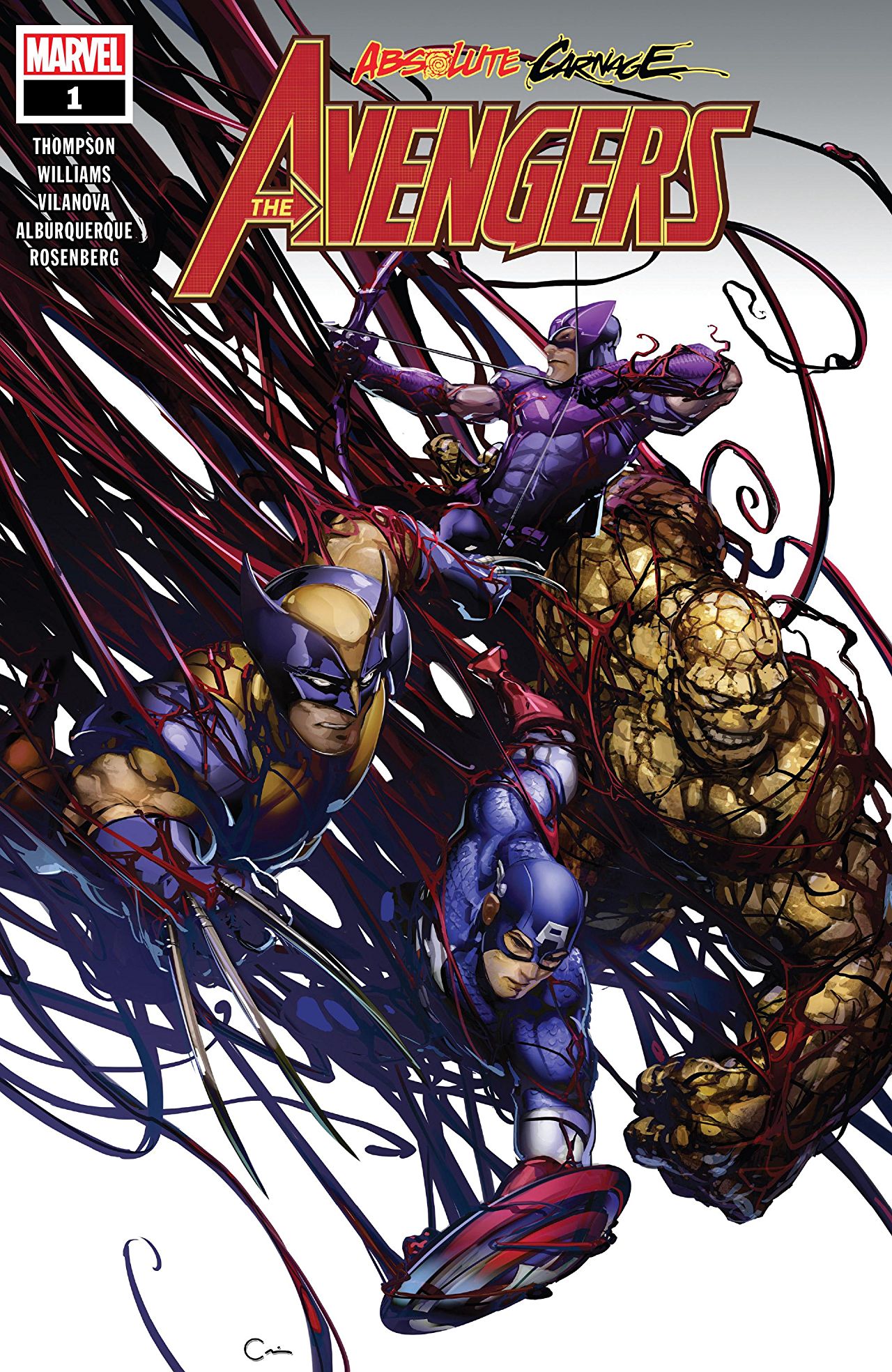 Ray: After more ongoings, we get the oddball project Amazing Spider-Man: Full Circle at #65. This was an experimental $9.99 one-shot bringing in almost every top creator at Marvel plus the writer of Amazing Spider-Man, with each doing a chapter of a Kamandi-like story featuring Spider-Man. If you consider it a Spider-Man book, the sales of 35K aren't very impressive, but if you consider it an oversized anthology it blows most of its competition out of the water.
Glenn: Given the price and the content I'd say this is very good. Considering the names attached it could have maybe done better but I don't know if many people really knew what this was. Retailers might be holding out for the hardcover version which was solicited not soon after also.
Ray: More sales for old comics as the Facsimile edition of The Incredible Hulk #1 charts at #69 with 34K. Marvel is the master of selling us old comics.
A surprisingly low performance for Savage Avengers Annual #1, which is at #72 selling 33K. This is a full 20K lower than the parent title, but this is essentially just an oversized issue of that book with the same writer. The $1 additional cost for an additional 18 pages of story doesn't seem like it should be such a deterrent.
Glenn: Annuals seem to be being treated as unimportant again no matter what (see also: Batman). I think the issue is a lot of throwaway stories by the non regular creative teams have devalued them, they had a moment again for a time.
Ray: The numbers for the second issue of Harley Quinn and Poison Ivy are deceptive as well, as the special cover charts at #74 with sales of 30K, but the standard cover is down at #133 selling just under 20K. That takes it to about 50K, a very respectable performance that would put it in the top forty.
After a few more existing books, we get to one of a few original properties out of DC this month, starting with Philip Kennedy Johnson and Ricardo Federici's The Last God. This ultra-violent fantasy epic from Black Label lands at #80 with sales of 27K. As this is essentially the top-selling creator-owned book on the stands this month, I think that's a good performance.
Glenn: Considering its an original property and outsells all of Image's catalogue bar Spawn, this is a good win for the Black Label brand. This would have sold a lot lower under Vertigo so the brand change seems to have paid off for now.
Ray: #82 brings us the weekly series Contagion, a fungal-plague thriller starring the Marvel heroes that was obviously styled as another bite of the DCeased apple. This didn't catch on, as the first issue sells 27K and the others crash out of the top 100, ending at around 19K the same month.
Glenn: This was a whole lot of nothing and was treated as such. Marvel keeps trying to make everything seem like the next big thing that people are getting wise.
Ray: At #91 is the second DC creator-owned debut, Basketful of Heads from Joe Hill and Leomacs, selling 25K. Given Hill's name, I might have expected a little more, but this is a world apart from what Vertigo was doing and above every non-Spawn Image book this month. These are all short-form series, so DC should keep steady sales on them.
Glenn: Again this is better than we give it credit for as there's another just south of 14k sales down at 179 for the card stock variant. This means sales around 38k which is like a higher tier Image launch these days which is exceptional.
Ray: And in the same rang just below, selling 25K at #93, is the Sandman Universe: Hellblazer special. Constantine's return to the Vertigo-esque line where he began is getting some buzz, so that puts this well above the rest of the Sandman Universe line.
Glenn: I'd have expected more but after a year or so, retailers likely know what the Sandman universe books pull in and who would be interested in a Hellblazer relaunch back to its more gritty roots. Back in the day, Hellblazer was a solid lower middle performer that sold all the collections in the world so I would say this'll be more of the same.
Ray: The only non-Spawn, non-DC creator-owned book in the top 100 this month is Something is Killing the Children #2, selling 24K at #96. Glenn: A fantastic success for BOOM, good for them.
Ray: #99 brings us Fantastic Four: Grand Design, Tom Scioli's passion project retelling the first few years of Lee/Kirby FF. It sells 24K, well below what Ed Piskor's X-Men version did. This is only two issues, so I think more retailers might be assuming people will wait for collections.
Glenn: Also Fantastic Four isn't as popular as X-Men, it could be as simple as that.
Ray: At #100 is Gene Luen Yang and Gurihiu's Superman Smashes the Klan, the first in three mini-graphic novels set in the 1940s. It sells 24K, but this was originally intended as a DC Zoom OGN and I think it'll be doing most of its business in the bookstore market.
Glenn: This is a golden age set creator passion project so this is very good for this type of thing.
Ray: The Once and Future continues to hold its own, selling 24K at #101 as another massive creator-owned success for Boom.
Now it's DC's turn for reorders, as the Batman #251 facsimile edition (the first appearance of Poison Ivy) sells 24K at #103, followed immediately by 23K in orders for a $1 reprint of Azzarello and Risso's Joker #1.
After a few months where it held incredibly steady, Valkyrie: Jane Foster drops hard for its fourth issue to land at #106 with sales of 23K. It's a great book, but it doesn't feel like it got the promotion it needs. I wonder if Aaron will stick on this after leaving Thor for good.
Glenn: If it can stay here it should be okay. If you consider this strictly a Valkyrie book rather than the character that used to be Thor, its still a very good number.
Ray:The first Batman Giant released in stores sells 22K at #110, a great debut for a line that will do most of its sales in Walmart and other casual outlets. This is a $4.99 comic with about 25 pages of original comics and 60+ pages of reprints, so it's a great deal.
Glenn: These things aren't made to succeed in the direct market so this is all bonus money (for DC for a change) I'm sure they'll be very pleased. No surprise that the Batman one of these is the best performing.
Ray: Dan Didio and Shane Davis debut a year-long Metal Men maxiseries at #112, selling 22K. It's been ages since they had their own series, so I think these numbers are to be expected.
Glenn: Pretty much, Didio tends to stick to older more niche characters to so retailers and long time fans probably know what type of book this will be and ordered appropriately. It'll be interested to see if a Nth metal member of the team will make any long term difference.
Highest selling Image launch this month is Nomen Omen at 113 which sells over 22.5k, a horror orientated title from a creative team I don't really know but this is a great start from them. More proof that horror is the way to go outside of superheroes these days.
Ray: Given that neither of these books have creators who command sales on their own (although Sonata is getting some buzz), this is pretty impressive. Image as a whole still has a decent brand to sell its books with.
Glenn: An exceptional launch from Charlie Adlard's new publishing company with Vampire State building selling over 22.3k at 114. It loses about half the same month with the second issue also coming out at 207 with sales over 11.7k which is still very impressive for a new publisher out of the gate. Obviously after decades drawing the Walking Dead, Adlard is able to command a respectful audience in of itself. Look for this to be a dark horse (the concept not the company) hit.
Ray: That's an incredible debut for a new company's new book, and it shows that Kirkman and Adlard can probably write their own tickets from here on out. When you create a monster of a hit like they did with Walking Dead, the audience is going to be there for anything you do.
Glenn: One of the many things it impressively outsells is Black Adam: Year Of The Villain which sells over 22.3k at 115. Adam has been a prominent background character for a few years now (if that makes sense) but look for his stock to rise with the Rock led film coming out year after next.
Another huge boon for BOOM in the launch of their first Buffy event since getting their hands on the franchise with the first issue of Hellmouth launching at 117 selling over 21.9k. This makeover has done both the franchise and the new publisher that puts it out wonders.
Ray: Boom's done well with Buffy books since the start, and even though this is pretty early for a crossover, this is a good sign. It is interesting, though, that the sales here are dwarfed by two recent creator-owned hits for the company.
Glenn: In the past few months, we've talked about the rise of sales on TNMT on the lead up to the 100th issue but this month sees a downtrend with issue 99 selling over 21.8k at 118. It's a bit odd until you take note of the price tag of 7.99. Retailers likely ordered a bit more warily on that alone but its still a great number for that price on this property. We'll see how issue 100 goes, I think top 20 is a real possibility.
Next new Image launch at 123 is Marked which debuts with sales of over 21.1k. This comic is co-written by David Hine who had some big two work a few years ago and is double the size at 3.99 which likely encouraged retailers to invest in it. It seems most decent Image concepts by non big creators seem to manage around the 20k mark by default which is nothing to sneeze at.
At 124 is the third Wonder Woman annual, this one written by Steve Orlando who will be taking over the book in a few months. Once again, its treated as an afterthought with sales over 21k.
Enforcing why these annuals are doing so-so is Doctor Strange Annual 1 at 129 which isn't by the regular writer or any significance to anything. It sells over 20.6k and it's to be expected.
Ray: Retailers don't seem to trust annuals. The Wonder Woman one might get reorders, since it launches the new run and introduces a major new villain.
Glenn: A dollar comics reprint of Watchmen's first issue pulls in ales over 19.1k at 137 which is likely to tie in with the new HBO show. Considering this has been reprinted in every variation you could think of (coming next year, Watchmen the upside down edition) this is excellent but its Watchmen what else is it going to do but sell?
Future Fights Firsts Luna Snow and Future Fights First White Fox may jointly win the prize for oddest title name this month. They are new Marvel books tying into a mobile game I've just learned about so a debut of over 18.7k at 140 for Snow and over 18.1k at 147 for Fox  eems to be exceptional in my book. It almost seems a little too high so I'm wondering if the sales are genuine. All seems well at first glance.
Ray: I think this is just basically the basement for what a Marvel book will do with a first issue now. I imagine a lot of these will get sold in video game stores.
Glenn: Another classic gets a good result for a dollar priced reprint for Swamp Thing 1 which I assume is for the original number 1 written by the late, great Len Wein. It sells over 17.8k at 150, DC has learned from Marvel that old material can be profitable as heck.
The quarterly anthology DC puts out continues to deliver solid numbers for its price tag at 153 for Secrets Of Sinister House which sells over 17.3k. These are always great reads and they offer a chance to see a lot of different creators tackling a similar subject, DC has no reason to end these anytime soon.
Ray: This is a little above the average anthology, probably because horror always has an audience. DC does a really good job of getting great talent for these, so they sell even though the price is so high.
Glenn: Right below it at 154 is very impressive reorders for Abrams and Abrams Spider-Man which brings in another 17.2k+. That would be encouraging if the book hadn't gone walkies schedule wise.
This months True Believers theme (the cheap Marvel comics) is X-Men starting with Pyro at 155 selling over 17.7k. If you're to do anything X-Men related, this is the month to do it but most of the major X-Men stories from years past have already had this treatment so these are the leftovers, still good results for old material regardless.
Ray: Free sales of old comics are free sales of old comics, so Marvel's got to be happy with these either way. Some of the single issues are really odd choices for this treatment, though.
Glenn: Speaking of old material doing well is two dollar comics, Batman issue 497 (the back breaking issue) and Superman 75 (the Death Of Superman issue) which sell over 17.1k for Supes at 157 and 16.5k for Bats at 158. These were released to coincide with the Dark Multiverse tie-ins and both have been reprinted to death so these are easy money.
In what is an interesting experiment but seems to have not been a worthwhile one is Mark Millar's second Chrononaughts mini which launches all four issues in the same month. I'd say issue 1 is on the low side at 159 selling over 16.5k but then it gets worse with issue 2 at 231 with sales over 10.2k, 3 at 240 with sales over 9.8k and 4 at 245 with over 9.7k in sales (the last issue to be noted is priced at 5.99 as it is slightly longer). I admire the ingenuity but clearly retailers didn't want to invest in four issues of one mini all in the same day and likely expected their customers instead wanting to wait for the trade which will work out cheaper. Millar's sales oomph has seemingly waned since his Netflix deal and it'll be interesting if his next gamble, a mystery comic with no details apart from the fact he's writing it and its a return of one of his most popular properties in December will pay off or crash and burn like this did.
Ray: Honestly, this is a disaster and one we're never going to see repeated. Millar has a brand of his own and thought he could do something clever, but asking people to pay $18 on a single day for four comics is a bit much, and retailers were likely worried about the buy-in. The next Millarworld experiment in December will be a secret comic that won't be revealed until release date.
Glenn: At 160 is Dead Eyes, on the surface its a low start from two well known creators on an Image book selling over 16.5k but this is simply a brand change and republication from the very recent Dead Rabbit. There were some legalities to clear up and now the comic is back so these are essentially reorders which are great, we'll see how the book fares once it actually catches up with itself in a few months.
Ray: The whole story here is so bizarre. Whatever the copyright issue was, it was so serious they had to scrub the comic of any reference to his old name. I worry it's really blunted the book's momentum.
Glenn: More annuals getting lost in the shuffle with Nightwing selling over 16.3k at 162, Batman and the Outsiders selling over 15.9k at 165 and Aquaman selling over 15.7k at 168 but again this is a result of  slew of unimportant annuals hurting everyone.
Ray: Ironically, the Nightwing annual was the most important issue of this run and made the last year of stories fall into place. No one really noticed.
Glenn: Gotham City monsters drops quite a bit with the second issue selling over 15.3k at 169. This is a quirky book so is likely selling this on the fact that Gotham is on the cover alone. An acceptable number for Orlando to do whatever he wants with it.
Speaking of odd titles, Bizarre Adventures launches from Marvel at 15.4k at 170 which is really a 'what else could it have been expected to do?' case.
Ray: Lots of oddball anthologies this month, with most being $4.99 instead of the larger DC ones. I don't think you can expect these to sell unless you have a really strong concept or a fantastic list of creators.
Glenn: Right below it is another DC Giant, this time focusing on Villains who if you haven't been paying attention are having a moment at the company. It sells over 15.3k at 171 which again is very good for a mix of reprint and new material that is meant to tell in truckloads in other markets.
Crazy, Marvel's answer to MAD sells over 15.1k at 173. Seems a bit high for such an oddball title but here we are.
Another giant at 175 for the Flash this time selling over 14.6k. Again this is just bonus money for DC.
RWBY from DC comics is some sort of tie in to an anime which sells over 13.6k at 186 which I think is quite good given how odd a concept this is for the company. This is likely targeted at a non direct market audience and if it can a slice of the manga market it could do insane numbers.
Ray: RWBY actually gets another 10K in orders for a special cover down at #239, so I'd say this is a pretty big hit for DC's expansion into licensed properties.
Glenn: Another BOOM launch at 187 for Strange Skies Over East Berlin which sells over 13.6k which is more in line with the companies previous levels. Its not the freight train success of Once and Future or Killing The Children but its still a very good launch, I would say that BOOM has done considerable work in the last year to raise their profile as a publisher.
Ray: Jeff Loveness is a cult creator who's slowly been building his reputation, so I'd say this is pretty good for him. His previous work was mostly at Aftershock.
Glenn: Two more giants this time for Wonder Woman at 188 with sales over 13,2k and Swamp Thing at 195 with sales over 12.9k. Same deal here with all the others.
Another impressive launch for Vault who have seemingly worked their ass off like BOOM to try to gain some traction. This month its Money Shot at 210 which sells over 11.6k. This has Tim Seeley co-writing and has such an over the top concept it has to be seen to be believed. This is another win for them along with the Plot and the Mall recently.
Ray: Money Shot has an additional 5K in sales from a Black Bag cover down at #342, and that officially makes it the top-selling Vault debut ever. Tim Seeley has been promoting this book non-stop, and the hilarious concept has gotten it a lot of press. It feels like Vault is stepping up and will probably be the next company to jump into the B-tier of publishers from the scrum of small ones.
There's another weekly Star Wars miniseries for Halloween, Return to Vader's Castle, from IDW. It starts at #209 with sales of 11K, and the other four issues are selling between 10K and 9K as they slip down to #252 to round out the month. A little lower than I'd expect, but this is the Star Wars Adventures line and mostly sells in trades.
Both selling 11K, we have a pair of cult properties returning from limbo to land at #211 and #212. First is Matt Wagner's Dark Horse thriller Grendel, followed by Michel Fiffe's bizarre action thriller Copra moving from independent publishing to Image. Both of these are likely impenetrable to new readers who aren't up on the backmatter, so retailers ordered carefully.
Glenn: Both of these have been going for years and have their own set audiences. It'll be interesting if Copra sees an uptick in sales once Image starts rereleasing the early trades, the older content will be more available than ever and could attract some new readers.
Ray: Two of the lower-selling DC Giants, Aquaman and Ghosts (a Halloween one-shot) are at #219 and #221 selling 10.8K. DC really rolled out a lot of these in the first month, but apparently they're pulling back to four a month in November.
Two of the lower-selling True Believers one-shots are down here, selling 10.3K at #227 and #228. They focus on Kwannon and Rictor, not exactly boldfaces of the franchise. An issue focusing on Omega Sentinel is six spots lower.
Just under 10K in reorders for House of X #4 at #238, further proving that this franchise is an absolute monster.
A new Hellboy/BPRD one-shot, Long Night at Goloski Station, sells 9.8K at #243. This is where the franchise lives, and it continues to be one of Dark Horse's most consistent sellers.
After a very long time off – the only recent content was an all-ages mini by Baltazar and Franco – The Mask returns with a new political miniseries titled "I Pledge Allegiance to the Mask", selling 9.6K at #248. It's a decent debut for an obscure cult property that's been out of focus for a while, but the days of the Jim Carrey movie are well behind us.
Glenn: I can't remember when the last proper Mask comic came out and the franchise never recovered from the dreadful 'Son Of The Mask' sequel. This will be the remaining hardcore fans and those looking for their nostalgia fix.
Ray: 9.3K in reorders for the new Marvel series Strikeforce at #250, proving there is an audience for teams that contain Winter Soldier, Angela, and Blade.
Glenn: Not much but its there! I wonder if there was some renewed interest due to the upcoming Disney+ show starring Bucky and the forthcoming MCU Blade movie.
Ray: More reorders for Powers of X, with the fourth issue selling 8.7K extra at #258.
A comic book spin-off of a TV-spin-off of a movie, Cobra Kai: The Karate Kid Saga Continues sells 8.6K at #265. This is essentially a retelling of the first movie through Johnny's eyes, so it may be a few decades past its peak audience.
Glenn: Very much a niche audience for this one. I wonder if all these copies were bought by Barney Stinson.
Ray: The Millarworld brand has really suffered over the last few months, with the final issue of Sharkey the Bounty Hunter and the penultimate issue of Space Bandits both selling 8.4K at #272/273. Not great, but a crossover between them has been revealed so I'd expect a sequel.
Titan attempts to reboot one of their oldest licensed properties with Robotech: Remix at #275. This reinvention by Brendan Fletcher of Gotham Academy and Isola sells 8.1K, which is above the standard level for this franchise. But the first issue was really dense and hard to follow for people clueless about the franchise.
Obscure and strange Dark Horse titles live around this level, and that's where we find Count Crowley: Reluctant Midnight Monster Hunter, selling 7.6K at #283. This odd fusion of monster thriller and media satire isn't a natural fit for any market, but it's gotten some decent reviews and may become a cult hit.
The Once and Future continues selling, as the first issue picks up 7.5K in reorders at #284.
Right under more House of X reorders, we get the oversized reprint Marvel Tales: Ghost Rider selling 7.3K to coincide with the new series at #290. Not bad for a $7.99 collection of silver age titles.
It's mostly reorders and low-selling ongoings at this point, but we get a new Valiant launch at #299. Roku, a spin-off featuring a Ninjak villain with prehensile hair, sells 6.7K despite the best efforts of Cullen Bunn. I don't know that anyone was really clamoring for a spin-off for this character, given that she feels more like a holdover from the 1990s version of the universe.
Glenn: Most of these sales may have been on Bunn's name alone. It just shows that he will give anything a go!
Ray: The director's cut of Immortal Hulk #5 sells just under 6.7K at #300, proving that this franchise will sell in any form.
A new Berger Book from Ann Nocenti, the small-town noir Ruby Falls, lands just outside the top 300 at #303, selling 6.5K. This brand has put out some strong books, but it doesn't seem to have translated to single-issue sales yet. It might not have helped that Nocenti's previous book for the line has gone AWOL after two issues, but that's on artist David Aja.
Glenn: Berger books have never found their way in the direct market but may do better in trades but inside and outside the trilogy. Hopefully it won't go the same way as other Vertigoesque publishing line Black Crown did.
Ray: Cullen Bunn's Aftershock Biblical horror series returns with a new miniseries titled Dark Ark: After the Flood at #304, selling 6.5K. Low for a Bunn debut, but I don't think retailers ordered this as a new series given that it continues from the last series with the same creative team.
Glenn: 
Even more reorders for the first issues of Powers Of X at 306 picking up additional sales of over 6.4k. ITS A MONSTERRRRRR.
The second issue of the long awaited continuation of Pretty Deadly suffers quite a fall to 307 selling over 6.4k. Its likely only the most dedicated picking up the singles after the title going awol for so long and the rest of the audience moving to trades.
Dymanite rejuvenates yet another long dormant franchise in Black Terror from noted writer Max Bemis which debuts at 313 selling over 6.1k. Nothing to write home about but this is a very obscure property and Bemis name value will only do so much.
Ray: Dynamite has made many attempts to make these characters happen, but even Gail Simone and Max Bemis can only do so much.
Glenn: At 315 we have a Bettie Page Halloween One Shot selling over 6k. The original pin up goes all spooky and stuff! Not much else can be said here, it is what it is.
Reorders for first issues of uber successful titles House Of X selling over another 5.8k at 320 and Something Is Killing The Children selling over another 5.7k at 322. Both are like printing money for their respective publishers it seems.
A new Lady Death title sells over 5.7k at 324 so there's likely only the dedicated audience left for one of comics more cheesecake orientated characters.
Ray: Lady Death's status as the only Chaos Comics character still at an independent publisher is puzzling.
Glenn: It seemed to have an amusing premise but Aftershock still struggles to gain momentum as their latest title Shoplifters Will Be Liquidated sells over 5.5k at 326. This is just where the publisher lives at the moment.
Ray: They tend to do a little better when they have a name creator attached, but I believe this was by a first-time Aftershock creator.
Glenn: There's reorders for last month's top book Spawn 300 at 334 as it picks up an additional 5.3+ sales. It seems that retailers got this one pretty much on the money and probably went a little overboard.
Disney=money in most cases but Dark Horse's adaption of the Little Mermaid does little in the first issue debuting with over 5.3k in sales at 336 but this is not really the place for it. Once it is collected and released to Disney stores and other book retailers around the world, it won't be a problem, especially when the live action remake swims along.
Ray: Unlike the recent Snow White remake by the same creative team, I don't think this story needed to be retold with a remake already coming. But these three-issue miniseries are aimed at the bookstore market anyway.
Glenn: At 339 is a zero issue of an…anthlogy? Okay then. This is Savage Tales Halloween Special from Dynamite that has Red Sonja on the cover but likely stars a variety of the characters they licence. It sells over 5.2k, I don't think fans of each of the Dynamite characters would be fans of the other ones necessarily so mixing them together likely kept only the die hards around.
Ray: This is actually a Mark Russell-penned oversized Red Sonja issue, flashing back to before his run began. The title may have confused retailers a bit.
Glenn: It certainty confused me.
Vault comics releases another new title in Cult Classic Creature Feature which sells over 5k at 344 so while the company has had some promising hits recently, they can't all be winners. This is a generic sounding horror concept by names I don't recognize so this will be likely the bottom line for Vault while they continue to build their current reach.
Ray: This is oddly the second installment in a series of genre tales by writer Eliot Rahal – same creator, different genres and characters. The previous installment, Return to Whisper, had massive delays and was eventually released in oversized issues combining the last four issues over a month
Glenn: Another horror book from Zenescope at 349 selling over 4.7k as they seem to move away from their more bawdy work to horror but it doesn't seem many people are buying in. Of course this still has a variant with a sexy…dragon lady? I think? They have a similar offering at 355 with their Halloween special selling over 4.4k which features many sexy lady covers!
This months first 'why, oh lord why' is at 358 with Superior AOC which sells over 4.3k. Its no Trump That Laughs, that's for sure.
Ray: But did this issue commit copyright infringement and then dare a multi-billion dollar company to sue them for lols?
Glenn: I'm not reading this tripe to find out.
Action Lab brings together its various supernatural female characters including By The Numbers sponsor, Zombie Tramp for Amalgama Space Zombie at 363 selling over 4.2k. I don't think the Avenger's have to worry about their jobs at this rate but next year, you never know.
Ray: But when are we getting our Amalgama Space Zombie/Zombie Tramp crossover?
Glenn: Not soon enough! IDW's adaption for Island Of Dr. Moreau seems to have been a bit of a dud with sales over 4.2k at 363 despite having Locke and Key artist, Gabriel Rodriquez delivering some damn fine art. This will likely sell better when collected but you have to imagine IDW wanted more.
Ray: I think all short-run miniseries, especially those by prestige creators, have retailers already looking towards the trade.
Glenn: Albatross Comics has their own Halloween special with Spook House at 370 with sale over 3.9k. This seems more aimed at younger readers so might sell better elsewhere but it did have the involvement of Eric Powell which I thought might have gotten a bit more direct market attention.
Gail Simone's captainship of Lion Forge continues with a new mini in Catalyst Prime: Seven Days which sells over 3.6k at 379. If memory serves me, this universe is on its way out and when even Gail Simone can only get you sales like this, its not surprising.
Ray: This is close to four times what an average issue of a Catalyst Prime issue sold before the event, so I think this is actually a win for the struggling shared universe. The question is whether Gail will stick around after this miniseries.
Glenn: Despite several months later, the first issue of Absolute Carnage continues to pick up reorders with over 3.5k at 384. That sound you hear is Disney wrapping its arms around Donny Cates leg begging him to never leave.
Many reorders and low selling small press around here until we get to the first issue of Unbound from Zenescope selling over 3.2k at 394. This one sounds pretty dull and likely sold accordingly, oh Zenescope, don't try to be more than you are.
Wolvenhart, a time travel supernatural thingey from Mad Cave studios debuts at 399 selling over 3.1k. Probably happy they scraped into the top 400.
A relaunch from Avatar for Warrior Nun Dora which apparently is getting a Netflix series soon (??!!??!?!) sells over 3k at 401. If a relaunch happens when no one notices, does it happen?
Ray: I still can't believe Warrior Nun Dora is a real comic, but hey, there are like 20 variant covers while I'm trying to order comics.
Glenn: Right under it is a Archie Comic reprint anthology focusing on Halloween which sells over 3k at 402. As we say every month, these are not the place these books are meant for.
Ray: These single-issue sized digests are Archie's latest line, and they seem to be making a minimal impact in the direct market. Business as usual for their older comics.
Glenn: I'm surprised WWE Smackdown didn't do better than 405 and sales over 2.8k. The brands mega money deal move to FOX was heavily publicised and I thought might get some buzz. I guess they only have a certain ceiling no matter what.
Another horror orientated book in Edgar Allen Poe's Snifter Of Terror at 406 selling over 2.8k. Too many horror books so this one got lost in the shuffle. I doubt many comic fans are visiting their LCS for namesakes of classic literature.
Low sales for this years Thought Bubble Anthology at 415 selling over 2.7k but I would assume people at the namesake con got given these as handouts and or had the opportunity to buy them en mass there so the sales here are largely irrelevant.
Ray: Yeah, a lot of people – myself included – didn't know what to make of Thought Bubble. A jam issue from established and indie creators, it didn't have any real through-line. But it did have Kimjoy!
Glenn: All hail Kimjoy!
An odd sounding semi biographical comic from writer/artist Craig Thompson at 419 selling over 2.6k is Gasling Roots. I think this is a very personal story from a small press publisher so likely just got lost in the shuffle.
Ray: Craig Thompson is a legendary name, but he's never worked in single issues before and Ginseng Roots is definitely a niche project from a tiny start-up company. I think his name alone got it into the top five hundreds.
Glenn: Another writer/artist offering at 420 is Pink Lemonade by Nick Cagetti selling over 2.6k. Everything I said about Gasling Roots applies here…apart from the semi biographical content…I mean maybe.
Ray: This was definitely a month with a lot of odd projects reminiscent of underground comics. This has to be a hit for the creator's unusual output.
Glenn: Scout Comics releases a 5.99 Snow White zombie one shot at 421 selling over 2.6k. She's undead and eating more than apples kids!
Ray: This was like reading Fables as published by Joel Schumacher. What an odd comic.
Glenn: Schumacher gave us Lost Boys, he could do better.
Among many low selling small press and reorders is…is…*looks at 430 at what sells over 2.3k* is….*gets up, packs bag, leaves house, leaves planet*
Ray: Oh, Glenn, I'm sure it can't be that…Tremendous Trump: She-Trump. Okay then. Anyway, a comic publisher that has repeatedly pandered to comicgate is putting this comic featuring sexy lady Trump out, and that's all we'll say about that,
At #433 is Giant Days: As Time Goes By, the conclusion to the long-running Boom series by John Alison. It sells 2.3K, not what you'd expect for a grand finale. But the series has always done better in collections and the $7.99 price tag wasn't likely to lure in new readers. This will be one of Boom's many evergreen hits in collections.
Glenn: I look forward to checking it out in the new year!
Ray: Another Archie mini-digest for Betty and Veronica Friends Forever: Supernatural, as the company puts out a small Halloween-themed collection of recent stories at #439, selling 2.1K. It's mostly reorders around here, but a few originals like this sneak in.
Remember GWAR? The rock band that dressed up as monsters and had weird special effects on stage? Well, 2K do, as their Rock & Roll Biography charts at #445.
Glenn: Whahuh?
Ray: 2K in reorders for Dead End Kids #1 at #446, as that short Source Point Press miniseries picks up some more buzz. As we wait for the final issue of the acclaimed series, the first issue of Batman: Last Knight on Earth gets 1.9K in reorders at #453.
There's a lot of reorders for Absolute Carnage tie-ins down here, as Absolute Carnage vs. Deadpool, Symbiote of Vengeance, the ASM tie-ins, and Symbiote Spider-Man all get close to 2K in additional sales.
A pair of small-press action titles, the future-set conspiracy thriller Killswitch and the insane-asylum horror comic D Ward, both sell 1.7K for their first issues from Action Lab and Keenspot, taking up spots #465/466.
From A Wave Blue World, one of the newest publishers, their debut comic Mezo sells 1.6K at #469. This is a Mesoamerican-set fantasy adventure that hasn't really attracted much buzz yet. With so many publishers trying to get a small slice of the market, some are going to get lost in the shuffle.
Another entry from Source Point, as the third installment of the Rejected series, Dead Girl, sells 1.6K. This is the first installment not written by the creator, so they continue to build some momentum for the series.
1.6K in reorders for The Plot #1 at #474, so this continues to be one of the biggest hits Vault has had yet.
Gutter Magic #1 sells 1.6K at #476 for Source Point, but this is apparently the reprint of a Kickstarter project getting a much bigger release. This is another project by Rich Douek, who has had some recent hits with Road of Bones and Wailing Blade.
Secret Life of Pets, which has been publishing anthology comics through Titan, launches a new edition at #481 with sales of 1.5K. This is definitely not a book aimed at the direct market, so those pets will find their kibble money elsewhere. Or not, after the second movie tanked.
Beyond the Demon the Sea, a nautical horror one-shot from Source Point, finally gets distributed through Diamond after being sold on their website and at cons for a while. It lands at #482 with sales of 1.5K.
Glenn: You gotta guess that most people that wanted to read this already have.
Ray: A new Casper one-shot, Casper's Haunted Halloween, sells 1.3K at #488 from American Mythology, pretty typical for a property that last had a moment in 1994.
I don't know what Squarriors is, but it's from Devil's Due and sells 1.3K at #490. I hope it's about Squirrel Warriors and is Doreen Green's favorite comic.
Glenn: Make it so Marvel!
Ray: After two different covers of the Grimm Fairy Tales Horror Pinup Special at #497 and #499 (strike up the Rachel Bloom!), we wrap up this month with Zorro: Rise of the Old Gods #2 at #500, selling 1,208 copies. That's one of the highest bottom marks we've seen in a while.
Glenn: This year seems to be ending in a decent way for the industry overall, may it continue.
Ray: Looking ahead, November for DC brings a lot of interesting books including a Von Freeze-focused spin-off of Batman: White Knight, the second Hill House launch in Carey and Gross' The Dollhouse Family, NK Jesimin's DC debut with the Green Lantern thriller Far Sector, a new Grant Morrison Green Lantern mini, the fifth Sandman Universe title in John Constantine: Hellblazer, and the first two Infected one-shots focusing on Shazam and Blue Beetle. Plus two more Dark Multiverse one-shots – and a little book called Legion of Superheroes #1 from Bendis and Sook.
Marvel is bringing us the rest of the new X-line, headlined by the Hickman-cowritten New Mutants, along with X-Force and Fallen Angels. As one event, Absolute Carnage, comes to an end, aother one launches in Annihilation: Scourge. This is also where a wave of 2099 one-shots launches, and we get new #1s for Deadpool, Scream. Morbius, and Yondu. One of these will sell much better than the others. And if that's not enough, this is where Garth Ennis makes his return to Punisher.
Normally DC and Marvel dominate the top ten, but Image has a shot at breaking in there again this month with the launch of Undiscovered Country by Snyder, Soule, and Camuncoli. We're also getting a new Jeff Lemire book in Family Tree, a very personal fantasy adventure from Curt Pires in Olympia, and a pair of books from new Image creators in Killadelphia and Heart Attack.
What will rise? What will fall? Find out next month on By the Numbers!
Liked What You Read Or Have Any Questions? Let Us Know Here Or On Twitter @glenn_matchett and @raygoldfield