By The Numbers: April 2019
Like in any industry, comic books and their companies listen most to one thing and that's your money! What does your money tell them? What does it tell us as fans? What series do people say they adore but can't seem to catch a break and what books to people hate that sell out? What are the trends? What looks good? What looks rough?
All these questions and more will be answered here, every month in 'By The Numbers' by comic writers, editors and fans, Glenn Matchett and Ray Goldfield.
Glenn Matchett is a comic writer and editor. He's worked in the industry for several years but grew up reading comics. He's had work published with various small press publishers and has is own comic now available on Comixology in Sparks: The Way I Was from Yellow Bear Comics! After only getting a 2 day break in between By The Numbers articles, Glenn has gone mad and started attacking random doors with an axe.
Ray Goldfield is a fan of comic books for going on 25 years, starting with the death of Superman. He is a writer and editor and has released his first novel. Ray also does a weekly roundup of DC comic reviews for website Geekdad and they're brilliantly entertaining. After only getting a 2 day break in between By The Numbers articles, Ray has gone mad and delayed getting his weekly comics by one hour.
We also do a podcast together with longtime buddy, Brandon James on iTunes with Rabbitt Stew or at the link here! Don't ask, I didn't pick the name. If you'd like to hear what me and Ray sound like, give it a listen!
Top 300 in full available here!
Glenn: Well Ray that's another article in the bag. Now we can retreat to our private island where we can…what? They're out already? What madness is this?!!?!?!
Fine! I'm about to become a father of 2, who needs sleep?
Ray: The comic companies are trying to drive us insane! Us and only us! Well, it's not like you have anything going on right now, right? Nice, calm times.
Glenn: So its April's turn for sales and while Marvel got a huge market share (double over the next biggest company, DC comics) they had also double the about of comics (Marvel released 106 while DC released 52). The amount of comics coming from Marvel is bridging on insanity and something may have to give though and here it might just be happening…
Ray: Yeah, the market share thing doesn't even feel like a competition at this point with the amount of content Marvel is putting out. It just makes DC's win last month more impressive.
Glenn: So predictably the newest Marvel big line wide event War Of The Realms took the top spot at 1 with sales over 187,8k which is the big main event of Jason Aaron's long running and critically/commercially successful Thor run. This is of course a very impressive number, while I might have thought it would be good for over 200k its not a million miles off. Its a great start BUT the second issue also charted this month 12 (yes 12) selling over 70.7k which is well over half. I had thought that this event after a series of big mis fires on behalf of Marvel in the last few years would have legs and a lot of potential. 70k is very good in this market but not for a comic like this that has a lot of hype, a lot of focus and Marvel's biggest name writer at the helm. It seems the company has still to fully recover from the Secret Empire debacle. I think Marvel is fortunate this event is only lasting a brief time because of the rapid fire schedule. This is a serious problem that needs addressed yesterday.
Ray: This is about where I would have expected War of the Realms to debut, spinning out of a popular long-term run. I've said on Rabbitt Stew (dong!) that this event reminded me the most of Blackest Night, in that it's one character's status quo going global. The first issue numbers are good. The second, disastrous. Secret Empire did an enormous amount of damage, but I think it goes deeper than that. Marvel burned retailers badly on every event following Secret Wars, and the larger the event the more skeptical retailers are. This is far from the only bad news this event brings Marvel this month.
Glenn: A big surprise at 2 is Symbiote Spider-Man, the mini series that goes back to the 80's where Peter had the alien costume. It seems that Venom popularity is even benefiting Marvel's most iconic character so we can assume that Absolute Carnage in a few months will put War Of The Realms to shame. Sales over 165.8k are amazing for a retro series by a respectable creative team that deliver but don't usually attract these numbers. I can definitely foresee Marvel trying to capitalize on the success of this series. Even if by issue 6 this thing is selling like 30k that'll still be a big win.
Ray: Spider-Man + Venom = $$$$. At this point, Venom is giving Spider-Man a run for his money as Marvel's most bankable hero, and yeah, Absolute Carnage should be a juggernaut. This mini would have been better if it had the Symbiote trying to convince Spider-Man to eat brains, though.
Glenn: At 3 is the Batman Who Laughs who continues his selling ways with over 103.6k worth of chuckles. What else can be said? 3 issues in a character not even 2 years old is beating a heavily hyped Marvel story that's been 8 years in the making. No wonder he's going to be showing up in Batman/Superman and everywhere DC can probably stuff him.
At 4 we have the usual highest selling ongoing in the market with Batm….wait what? *refresh* Erm…*refresh* its….its Immortal Hulk? Shooting up the charts in shocking and near unprecedented fashion, Immortal Hulk sells over 90.3k for…now real reason. The series has been a critical darling and apparently value of early issues are through the roof. Is this finally leading to a spike in sales due to *gasps* quality alone?! It may be a blip but its certainty an odd wrinkle this morning.
Ray: That's a 37K jump from last month. I do think this comic has real buzz – it's finally the hit Al Ewing's deserved for some time – but this isn't natural growth. Something went on here, and I expect we'll see it in the 60-65K range next month. Never trust Marvel sales bumps.
Glenn: We return to the nice comforting land of familiarity with 5 and 6 with Batman with issues 69 selling higher than 68 at over 88.6k and 87.1k respectfully. The series continues to very slowly lose steam but it seems that most were wanting to see the conclusion to the Knightmare arc. I think the latest arc was an interesting experiment that wasn't to everyone's taste and with the interruption for the Price felt it went on longer than it did. The series will doubtfully rebound soon, especially with King hyping issue 75 like no tomorrow.
Ray: I think we're likely to see a slow climb per issue as we get to the next big anniversary issue, especially with the way King is hyping the massive status quo change there.
Glenn: At 7 we have the first issue of a new Thanos mini series to capitalize on a certain record breaking movie you may have heard of. Capitilize it does with sales over 81.3k. Its not surprise as Thanos is red hot right now and this series will like perform very well during its duration, this is a big get for newcomer Tini Howard who Marvel seem to be putting a lot of faith in very quickly.
Ray: Obviously, sales on Marvel #1s are suspect when it comes to staying power, but I think Thanos is hot enough right now that it should hold well in the 40K range by the end of the mini. Tini Howard is rising fast and this should get her an ongoing gig sooner rather than later, especially since she just signed an exclusive.
Glenn: Amazing Spider-Man needs a writer, wait, what?
At 8 is the latest issue of Heroes In Crisis which continues to sell despite upsetting everyone and their mother. This issue sells over 79.5k which is an increase on previous issues likely to the fact that it promised answers (which it did give). I'm expecting a boost next month and then nobody to speak of this ever again.
Ray: The most impressive thing about DC's lineup right now is how many of their books – especially event comics – lock down at a place in the charts and don't budge. Marvel would kill for this sort of stability.
Glenn: Ninth spot in the top ten is another Web Of Venom one shot Cult Of Carnage which sells over 77.7k and this is interesting for a few reasons. Neither Donny Cates or Ryan Stegman are anywhere near this one and its actually a kinda sequel to a Carnage mini from YEARS ago. The Venom brand is so strong at the moment though that it still performed brilliantly. Further evidence that Absolute Carnage be the event Marvel may actually get a big return on.
Ray: Venom's name on a book alone seems to guarantee massive sales right now, because this is much higher than the title it spins out of could dream of.
Glenn: Final spot is the 20th issue of Amazing Spider-Man which sells over 76.9k which outpaces the previous issue which is just outside the top 10 at 11 with sales over 74k. The Hunted storyline has brought some stability to what is usually Marvel's top book even though it is objectively eye bleedingly awful.
Ray:
It feels like the "event" has stabilized this title's numbers just a bit, and it's going from this event to the 25th issue reveal. I suspect it'll hold or increase for a bit – and then crash hard when the multiple events end. 
Glenn: Unless it just goes on like that with faux events never stopping. Tis the Marvel way.
Ray: A nice bump for Detective Comics, coming off the #1000 issue, as it lands two issues selling 66K and 61K at #13 and #14. The anniversary and the Arkham Knight mystery are enough to make it DC's #2 ongoing, kicking it above Justice League.
Most of the top 25 is taken up by favorite standards including Justice League, Avengers, Venom, Fantastic Four, The Green Lantern, Superman, and Uncanny X-Men. We also get two issues of the Amazing Spider-Man .HU issues, which sell around 52K at #19/20. Clearly retailers don't see these as part of the main book, just middling tie-ins.
Glenn: Not bad for Spidey spin offs, pretty standard but yeah its very much one of those 'they're saying its part of the story but the retailers don't care none' cases.
Ray: Venom #13 at #18 sells 51K, which is down 10K from the previous month. This is a War of the Realms tie-in – but it also doesn't have Donny Cates on board. Cates > giant event comics. It is known.
At #26 comes a whopping 45K in reorders for Detective Comics #1000. The biggest hit in recent memory gets even bigger, and I wouldn't expect it to disappear from the charts any time soon.
Glenn: No wonder the competition is putting out a 1000th unearned comic of their own. Cause its the number that sells you see, not the legacy.
Ray: Rob Liefeld's return to Marvel Comics in Major X comes in at #28, selling 43K. This oh-so-90s comic sells a second issue sans Liefeld art at #63 with 28K, about what I'd expect for a second-tier X-spinoff.
Glenn: Liefield isn't the draw he used to be but its steady enough. I don't think Major X will be giving Deadpool a sleepless night anytime soon.
Ray: In their second month, the 18K gap between Spider-Man: City at War and Spider-Man: Life Story narrows to only 5K as Life Story continues to pick up momentum. With them selling 43K and 38K at #29 and #36 respectively, I think we can say these are both hits.
Glenn: Agreed, life story could continue to pick up sales with the acclaim its getting, like a shorter Mr. Miracle.
Ray: Thor basically stays flat from last month, selling 40K at #34 despite being a Loki-centric War of the Realms tie-in. More evidence that this event just isn't lifting any boats.
Glenn: Yeah, you'd think if any book would be lifted up it would be this one…but no. Oddness.
Ray: At #35 we have the debut of Marvel Team-Up starring Ms. Marvel and Spider-Man, selling just under 40K. This is a decent debut given how Kamala's regular title sells, but with this comic being an anthology and switching its co-lead and creative team after three issues, I can see this one struggling.
Glenn: I don't think this will last too long. Without a regular creative team it won't find its footing. We'll see if it gets past 12 issues…or even that.
Ray: Now comes a sea of ongoing hit titles, including Flash, Captain America, Wonder Woman, Conan the Barbarian, Daredevil, Deadpool, Justice League Dark, and some Star Wars titles, all settling in the 40K to 32K range. This is the solid middle of the list, but that solid middle gets higher on the list every month. We're not even at the top 50 and we're looking at 30K.
Glenn: I really thought War Of The Realms would mess up how the chart broke down…turns out not so much.
Ray: No real bump for the start of Greg Pak's Age of Rebellion anthology in the Star Wars line, as Princess Leia's one-shot sells 33K at #45, followed by an Age of Rebellion special selling 29K at #58 and the Grand Moff Tarkin one shot at #65 selling 27K. Carrie Fisher > Peter Cushing.
Glenn: Carrie Fisher>EVERYTHING
Ray: There's two more Star Wars miniseries launching around this place, with Jody Houser's Tie Fighter series launching at #54 with sales of 30K, and Galaxy's Edge by Ethan Sacks selling about 800 copies fewer at #57. We might be reaching Star Wars comic glut. Too much of a good thing from Marvel? Nooooooo, never.
Glenn: The tie fighter one is an odd one. I mean, so many great iconic characters to make comics about and they give one to a nameless tie fighter. It is honestly like they're testing how far they can push the line.
Ray: We start seeing more War of the Realms tie-ins at this level, with the highest-selling miniseries being War of the Realms: Uncanny X-Men at #51, selling just under 32K. This is by the same writer as the main Uncanny title – but sells about 16K less. That's not good at all.
At #55 selling 30K is the War of the Realms: Journey into Mystery miniseries written by podcast superstars the McElroy brothers. This offbeat road trip comedy seems to be getting the best reviews of any tie-in, so watch for some reorders here. 
#66 brings us War of the Realms: Punisher, which sells 26K. That's about 4K above the sales of the main Punisher title, so this new direction might have some promise. Duggan's spin-off Punisher Kill Krew in a few months might improve the character's fortunes – especially since he seems to be playing a big role in the event.
Glenn: Oh here they are, I wondered. Not great, not dire and certainty just more kaffufle that means Marvel puts out more comics. People are going to be in this for Aaron's penultimate story I'd say, there's not going to be much interest in what people only loosely associated to the main story will be getting up to.
Ray: This is where the three newest Spider-spin-offs land, with Miles Morales selling 28K at #61, followed by Superior at #71 and Friendly Neighborhood at #72 both selling 26K. Sustainable numbers, but expect those reorders to come rolling in for Friendly as the buzz continues to grow.
The Magnificent Ms. Marvel basically stays flat from last month's launch, selling 26K at #73. That's unheard of for a Marvel book, but I think retailers were just treating it like a continuation of the Wilson run. Whether that was smart, we'll see in coming months.
For a third straight month, Buffy the Vampire Slayer basically stays flat, selling 24K at #78. That's less than a 1K drop from the previous issue, so I think we can safely say this is a long-term hit.
At #79 is a very poor debut for War of the Realms: War Scrolls, the anthology miniseries. Clearly these anthologies have been tainted ever since Sally Floyd yelled at Captain America about MySpace, but this has a new Jason Aaron story. The fact that it can't get above 24K in its first month is shocking.
Glenn: This is downright baffling since it has Aaron's name on it. It seems that Marvel just can't get interest in anthologies no matter what. What was that 1000 issue they're doing going to be again? I forget.
Ray: 
Don't worry about Marvel #1000 being an anthology. It'll sell one copy each of its million covers. 
A great debut at #83 for Ascender, the top Image debut of the month. This spin-off of Jeff Lemire and Dustin Nguyen's Descender came into its launch with great reviews and a loyal fanbase from the previous volume, so its sales of 23K are likely to be very solid long-term.
Glenn: This is a genius move, its a relaunch but a new series at the same time. This will continue to be one of Image's top performers.
Ray: Marvel continues selling us comics we already own at #87, as a reprint of Amazing Spider-Man #252 – the debut of the black costume – sells 23K. Clearly, anything Venom is red-hot right now.
The ridiculous yo-yoing of some titles continues as Supergirl loses almost half its sales, going from 32K last month to 19K this month and landing at #94. Puzzling, but order patterns are getting weirder every month.
Glenn: That's weird for Supergirl, I don't get it at all. Perhaps retailers don't like odd numbers as much?
Ray: A nice jump in sales for Naomi, as the Bendis/Walker/Campbell original superhero tale gains over 5K in sales to sell 19K at #97. Picking up steam before its hiatus, maybe?
Glenn: I think the issue was hyped as having answers so probably additional interest due to that.
Ray: #100 brings us a new Valiant debut, as long-standing cult heroine Punk Mambo – the closest thing the universe has to a John Constantine – gets her first solo series under the pen of horror master Cullen Bunn. It sells 18.7K, a fine debut for aValiant spin-off.
Glenn: 
That is very good, Bunn might not be a top sales draw but he seems to be high in demand, he's working at a lot of different places at the moment
Avengers: Edge Of Infinity is the latest movie cash in written by Ralph Macchio selling over 18.k which is slightly better for these things. Retailers were hoping to get a small piece of all that money floating through cinemas worldwide.
Ray: The fact that Marvel keeps Ralph Macchio on hand specifically to write these and only these will never fail to amuse me.
Glenn: Another example of that is the first of this months True Believers, Avengers: Thanos vs Marvel Universe which is at 105 selling over 18.2k This is a very good number for a reprint and retailers will definitely want a cheap option for anyone looking for more Thanos following Endgame.
Ray: This is a little higher than most of the True Believers specials get, so the Endgame tie-in probably did help. Overall, I think people knew these wouldn't have any real implication for the movie so retailers ordered moderately.
Glenn: New IDW offering, Marvel Adventures Black Panther which sells over 16.3k at 115 which is really good for the company, especially since this is a comic not really aimed for direct market. However, the comic has already hit some delays and there definitely seems to be some scheduling problems with the Marvel Adventures line IDW was putting out. Not sure what's happening here but they'll need to get whatever it is under control because these comics are for more casual fans who aren't willing to wait months and months for their favorite comic unlike lunatics like us.
Ray: Kyle Baker was supposed to be the writer and artist on this, and he was only the writer by the time it came out, and he's off as writer after one arc. The creative flux on all these titles has been really bad, but I don't think kids will care.
Glenn: The naughty nude book from BOOM, Faithless is capitalizing on all the Batman Damned controversy by giving writer Brian Azzarello a new adult orientated comic which sells over 16.3k at 117 on its first issue. This is a great number for BOOM, especially since this is not their usual market. Retailers probably ordered on the leftover hype from the watercooler talk Batwang generated, we'll see if it lasts.
Ray: About 28K is unprecedented for a non-Whedonverse/Power Rangers book at Boom. I put a lot of this down to Brian Azzarello's name, given how bizarre the book was and how little people knew about it coming in. It's definitely an experiment that paid off for them. 
Glenn: 2 more True Believers at 121 and 124 selling over 15.6k and 14.6k. I'm surprised the one actually titled 'Endgame' didn't sell more but the ones that actually have Thanos name in them seem to be more desirable. Its not surprising since this is the hottest the character has likely ever been.
A True Believers Star Wars which reprints the final issue of the last Marvel run at 126 sells over 14.5k. There's an issue coming out soon which is a continuation of this original run so retailers probably wanted to have this in stock in case there was anyone that wanted to catch up. Very good sales for something that really now has no real relevancy apart from that.
More True Believers at 129 and 134, Avengers related things selling over 14k and 13.2k respectively. The second one of these is Avengers Forever which deals with time travel so I thought that might have got more attention for…spoilery reasons but then when retailers had to order these they didn't know.
At 135 is another Star Wars True Believers reprinting the first issue of Kieran Gillans run I think which is good for sales over 13.1k which is pretty good considering this is not that old of a comic.
About a 9k fall for the second issue of Dial H For Hero which sells over 12.8k at 138, not great at all but given the property I don't expect DC could have expected much more.
Ray: All the Wonder Comics books besides Young Justice are miniseries, so I don't think the attrition on any of them will be too bad by the end of the run. They'll rotate concepts in and out to see what works.
Glenn: Fairlady a new fantasy related comic from Image has a decent debut at 139 selling over 12.7k which is a strong start for an Image book with no named creators.
Ray: This is essentially a hybrid between Fables, Saga, and Sherlock Holmes, so I think the genre mashup was enough to get a lot of people interested in Fairlady.
Glenn: Another decent debut for Star Trek Year Five, which tells the tale of the original casts final year of their five year mission. Its a niche one but still an intereresting one for Trek fans which is good for sales over 12.6k at 140. I hope it explains how they got those awful uniforms in the original movie.
Ray: That's a pretty big jump from standard IDW Star Trek comics, probably due to the "in continuity" vibe of this series. Happy for Lanzing, Kelly, and Houser, who are all involved.
Glenn: Faithless shows up again at 142 selling over 12.5k for a nude varient cover. This is usually much better than these things usually do. All together Faithless sold about 28k which is brilliant for a new BOOM title. More nudity for all?
More True Believer at 144 and 146 selling over 12.4 and 12.2k a piece. When they're this close at this number we're starting to get into the territory where retailers didn't want to pass up having cheap comics on stock but didn't know how many to order.
A new mini for the Dark Horse American Gods adaption selling over 12k which is around where it was before so retailers are just treating this as a direct continuation. This is something built for the bookstore market.
A new Marvel Tales starring the man of the month Thanos which sells over 11.8 at 154 but unlike the True Believers this is 7.99. Even when its uber expensive old comics, people want more Thanos in their lives.
At 157 is Jughead Hunger vs Vampironica, kay. It sells over 11.6 which I'd say is good for something this ludicrous. Its certainty in line with the majority of where Archie's random 'out there' books have been lately.
Ray: Apparently the first issue was a Vampironica issue that retconned everything about the original series, which…seems about right.
Glenn: Section Zero at 169 is a reprint of a successful Kickstarter project from Karl Kesel in monthly form selling over 10.2k. Given that it already had a successful funding campaign and lots of people got it that way this is a pretty good number for those that maybe missed it the first time round.
Ray: Kieron Gillen said that unless you're a "name" author, 10K is the launch most Image books are shooting for. Given that this burned some of its demand already, that seems like a pretty damn good debut for Kesel and Grummett.
Glenn: At 172 is continuing reorders for the first issue of that Batman Who Laughs who sells over 10.1k additional copies. This book just won't quit.
A fall to sales over 9.7k for Assassination Nation which places at 174 this month. Still pretty good for a niche creative team for a niche concept. I'd still call this a win.
I could have sworn we had a Xena number one not too long ago but apparently there's another one at 180 selling over 9.3k. Pretty decent for a property that's the definition of cult.
Ray: This time it's Vita Ayala replacing Meredith Finch on the title, and I think this take on Xena has a little more buzz. The property's been defunct a really long time, though.
Glenn: Just realized we're below the 10k range and not even out of the top 200. Sad times.
Fancy 3D Mighty Thor sells over 8.k at 191. Yet more ways for Marvel to sell us old comics (7.99 for one issue!!!!!!). This is very much a gimmick and has been treated as a such. Marvel will try to probably do more of these because its a high mark up on old material and hey, its one more comic for them to put out.
At 198 is Bronze Age Boogie which sells over 7.8k from Ahoy Comics. Why does it feel like we're below 300 already? What's going on? Is that a bird?
Ray: This is a pretty strong debut for Ahoy with a weird book about time travelers vs. martians. Much like last wave, one of their premieres does much better than the other – and more on that lay-tor.
Glenn: The weird way this month is going at a rapid race continues at 200 with White Widow which sells over 7,7k. Red Giants Comics will be thrilled but I assume most retailers thought this was some sort of Black Widow related thing? The cover which has a sexy spider lady (?!?!?!??!!) doing a pose that Regan from the Exorcist would be proud of usually doesn't sell this high so yeah…either we're all going mad or they thought it was a Silk/Spider-Man/Black Widow hybrid or something I guess
Ray: 
Yeah, my guess is the latest manifestation of Sexy Lady Comics benefited a lot from the name. What will happen first, White Widow vs. Zombie Tramp or a phone call from Disney legal?
The ongoing anthology "Jim Henson's Storyteller" launches a new volume focused on Sirens at #201, selling 7.5K. This has been one of Boom's longest-running cult projects, each volume focusing on a different mythological creature.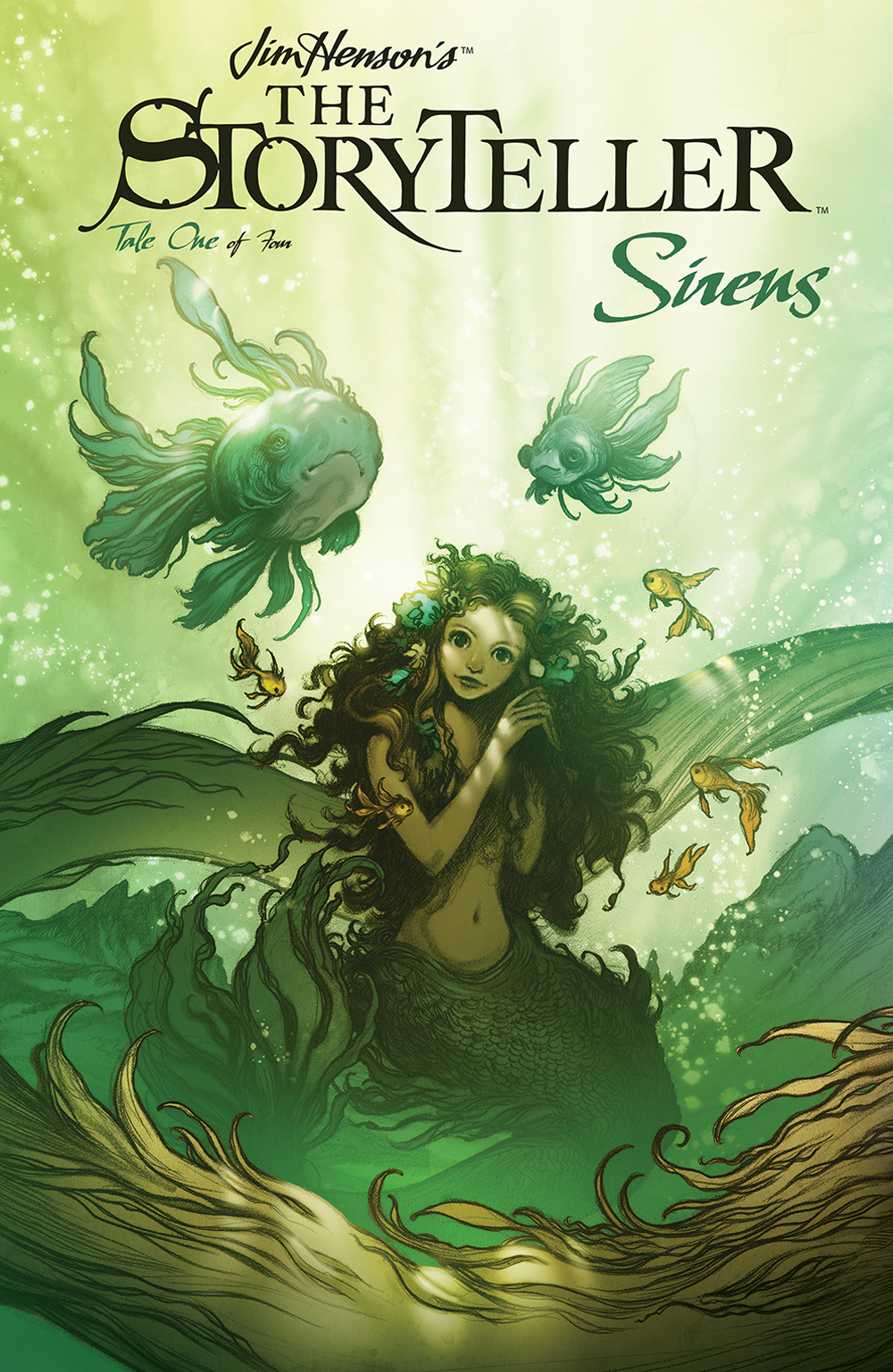 At #203 is Mary Shelley: Monster Hunter, the latest supernatural thriller from Aftershock, selling 7.2K. That's roughly what we see from most mid-level Aftershock books – I think this one benefited from having familiar public domain characters attached.
Glenn: It has a certain League Of Extraordinary Gentlemen appeal in that case for sure.
Ray: Down at #214 is the Rat Queen Swamp Romp special, selling 6.3K. This is mostly notable for being new writer Ryan Ferrier's debut on the troubled cult title, a rare case of a creator-owned book switching writers.
At #214 is Dick Tracy Forever, the Michael Avon Oeming relaunch of the classic private eye series selling 6.3K. I think this one might have been hurt a bit by coming so soon after the fantastic Dick Tracy: Dead or Alive.
Glenn: For sure because even though Oeming has been out of Marvel for nearly two decades, his recent spotlight at DC should have caught more attention. Will likely do fine in collections and plus…its Dick Tracy so it'll always have a certain limit of how well it can do.
Ray: 6.1K in reorders for Naomi #1 at #220, as Bendis and Walker's original series begins to pick up steam.
Glenn: The big reveals are hitting now so there will  be some interest from people that have been hooked as more is known about the character.
Ray: KISS: The End, the latest supernatural take on the classic rock band, sells 6K at #221, proving this will probably not be the end of bizarre KISS comics.
Glenn: It'll nevah be ovah Ahn Ahnderson!
Ray: A pair of oddball indie books, the horror pawn-shop thriller Electric Black from Scout and the supernatural dream-police adventure Queen of Bad Dreams, sell basically identically at 227/228, selling eight copies apart at 5.7K.
Glenn: Likely just ordered on their concept alone and the similarity in sales is coincidence.
Ray: Lots more reorders, as the second issue of Immortal Hulk gets just under 5.7K at #230 and the second issue of Naomi gets 5.3K at #236.
Oh my God! They killed Rocko! You bastards! At least, I assume so, because Rocko's Modern Afterlife sells 5.4K at #235. This is a weird cult comic, but it has its fans among 90s kids.
Glenn: This was always one of the odder Cartoon Network offerings so this is for hardcore fans only. I wouldn't say the company could have expected better.
Ray: Even more reorders as Naomi #3, Return of Wolverine #1, and Doomsday Clock #1 (for roughly the tenth time) get about 5.1K in reorders.
Glenn: Around 2 years later and Doomsday Clock 1 is still selling. This will definitely be a worthy addition to DC's library when it eventually finishes around the time Tom Holland plays Iron Man in a crazy stunt casting move.
Ray: Another Pixar mini, Incredibles 2: Secret Identities, sells 5K for Dark Horse at #248. Like I said with Frozen, these short three-part minis are likely designed to do swift business as mini-trades in bookstores.
Another new Aftershock comic, Orphan Age from the creator of Moth and Whisper, does just under 4.9K at #251. I continue to be puzzled by Aftershock's business model, but this comic set in a world where all adults died suddenly seemed to get good reviews.
The beautifully drawn indie comic Ghost tree by Bobby Curnow and Simon Gane debuts at #253, selling 4.8K. IDW still has trouble selling creator-owned books, but look for this one to be a cult hit.
Glenn: IDW seem to do well in collections better than in singles. People will always find quality work eventually.
Ray: A lot more reorders around here, including Die #1 (which is coming for Doomsday Clock in sheer persistence), Shazam #1, Immortal Hulk #12 and #14, and Doomsday Clock #2 all selling around the 4.5K and 4K range, as this odd month continues.
A pair of IDW oversized one-shots sell around this level, with the Ghostbusters 35th Anniversary Special selling 4.5K at #259 and the Star Trek Waypoint special selling 4.3K at #266. These are clearly for die-hard fans.
Glenn: The new Ghostbusters movie to come doesn't seem to be increasing interest in the comics…yet anyway. A new mini or ongoing launching around the time of the film might get some juice.
Ray: 4.2K in orders for the Monster-Sized Chilling Adventures of Sabrina one-shot at #269, making it easy for readers to catch up with a series that will never continue.
Glenn: I missed this one! To eBay!
Ray: The cult Berger Book She Could Fly returns with volume 2, The Lost Pilot, at #270 selling 4.1K. I think this is close to where the original left off, so retailers clearly ordered it as a continuation of the series.
We see Immortal Hulk again, with reorders of #15 (272), #11 (288), and the entire rest of the series getting about 4K to 3.5K in reorders as we exit the top 300. Something is clearly going on with this series, and retailers are ordering accordingly. Great to see a quality series get this push.
Glenn: Marvel haven't missed this either, the first arc are getting new special editions in the coming months which they haven't done except for Vision and Marvels. Not bad company to be in.
Ray: The final Curse Words special, Spring Has Sprung, sells 4K at #273 as it reveals the truth of Wizord and Ruby Stitch's split. This cult series is wrapping up soon and I think all these issues will get a second life in collections.
The Real Ghostbusters special celebrating the property's 35th anniversary sells 4K at #274, standard for the line. The Extreme Ghostbusters special is down at #282, selling 3.8K
It's a new Sexy Lady Comic at #278, as good ol' Zenoscope sells 3.9K for Oz: Heart of Magic #1. Glenn, strike up the Rachel Bloom!
Danger Girl: Dangerous Visions 3D, which is a 3D reprinting of the first issue of J. Scott Campbell's cult series, sells 3.9K at #279. Because it's 1995, apparently.
Glenn: They saw Marvel doing 3D comic and thought they best get in on that.
Ray: Some real buzz for an Aftershock title, as Tim Seeley's Dark Red sells an additional 3.8K for its first issue at #281. Maybe there is room for more than one redneck vampire title?
Glenn: Always room for quality vampires.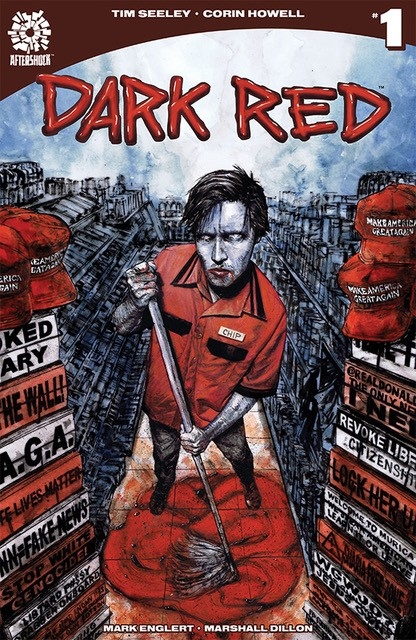 Ray: It's time for Zenoscope's second Sexy Lady Comic of the month, this time with more horror! Hellchild: Blood Money sells 3.7K at #289, and that playlist is getting kind of thin…
Ghostbusters: Answer the Call is the low comic on the totem pole for this anniversary event, which surprises not many people, I bet. Its special sells 3.5K at #295.
Glenn: This version of the franchise will never recover from the deserved or undeserved toxic hate it got.
Ray: The Butch Guice-drawn IDW noir thriller Amber Blake sells 3.5K at #296, a pretty miserable debut likely not helped by its oversized magazine-style format.
Glenn: When even After Death struggled due to its unique printing, its surprising that people are still trying it. I get wanting to do something different but I don't think the direct market is the place for that at the moment sadly.
Ray: It's almost all reorders as we exit the top 300, with issues of Doomsday Clock sharing space with The Life and Death of Toyo Harad and Heroes in Crisis.
At #309 is the latest Disney miniseries from IDW, Tangled: Hair and Now, selling 3.2K. This is a collection of short stories tying in with the animated series, meaning it's mainly geared towards young kids and 30-something Jewish nerds from New Jersey. *waves flag*
Glenn: Covering the Ray demographic is important for survival in this current market.
Ray: Udon Comics is always a consistent presence on the lower half of the charts, and they show up again with Street Fighter: Wrestlepalooza at #321, selling 3K.
Glenn: I am almost tempted to Google this to see what the story is with this comic. Almost.
Ray: More reorders of the second and third issues of Die selling around the 3K/#320 mark, indicating consistent long-term interest for this title.
2.8K in reorders for the first issue of Spider-Man: Life Story #1 at #327. I might have expected a bit more, but this feels like it'll be a slow burn that keeps showing up.
The next notable book is Planet of the Nerds #1 at #333, selling just under 2.6K. This is less than a third of Ahoy Comics' other launch this month, and Paul Constant's pop culture satire about time-displaced jocks doesn't seem to be getting much buzz.
Glenn: The thing is that we're now living in the Planet of the Nerds so the concept doesn't seem that far-fetched.
Ray: At #339 is the second issue of Astro Hustle, selling 2.5K as we shuffle it off under the bed next to Border Town. Anyway, moving on…
Glenn: There's less room under there every month. How is Horace, the By The Numbers Monster supposed to stretch out?!
Ray: A mix of reorders and low-selling creator-owned books for a while, including another cover of White Widow adding 2.4K in sales to that book at #347. I think we'll be seeing poor unfortunate heroines breaking their backs on the covers for a long time…
Maybe the oddest book Action Lab has put out in a while, the R-rated talking animals thriller set in Feudal Japan, Cold Blood Samurai, debuts at #353 selling 2.3K. We may be reaching peak comics, Glenn.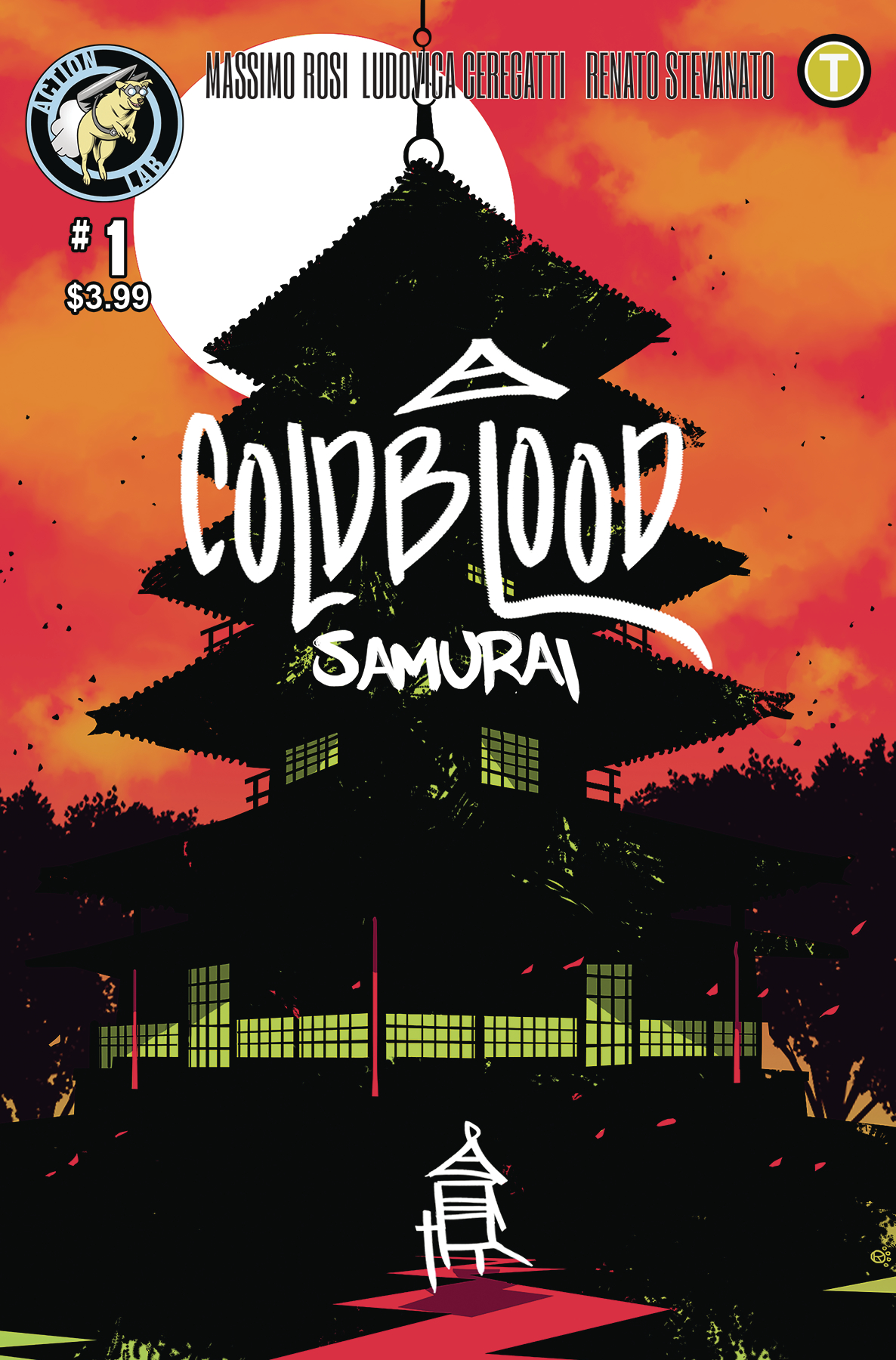 Glenn: What a time to be alive.
Ray: The semi-obscure video game comic Obey Me has its official #1 debut at #354, selling 2.3K, but this debut is likely blunted a bit by the fact that it had a full-priced #0 issue last month. That's almost Marvel numbering!
2.2K in additional sales for the oversized Shredder in Hell #1 Director's Cut issue at #358, showing some real interest for this mini-event as the comic builds to #100.
Amid a sea of reorders and low-selling ongoings, we get the debut of ersatz X-men ripoff Achilles Inc. from Source Point Press. It sells 2.1K at #363, not getting much buzz due to its derivative concept and unlikable lead – who is essentially a union-buster for superheroes.
American Mythology gives us Moon Maid #1, selling 2.1K. This is not a spin-off of Moon Girl, it is an Edgar Rice Burroughs property.
Glenn: It does sell about the level a Moon Girl spin-off would do to be fair.
Ray: Valiant gets about 2K in reorders for $1 reprints of X-O Manowar and Divinity's first issues, an effective way to get the word out at #369/#370.
The Lion Forge European translation of Stiletto: Officer Down sells just over 2K at #371, but this and all other Lion Forge comics are obviously in flux due to the upcoming merger with Oni.
It's mostly Marvel reorders around these parts, but Umbrella Academy: Hotel Oblivion picks up another 1.7K in reorders. The TV series can't be hurting those sales.
Blood Realm, the dark fantasy series from Alterna, returns with a second volume at #390, selling 1.6K.
Not really a comic, but "Ditko Monsters" a collection of the legendary creator's most unique and bizarre creations, gets reprinted in an IDW sketchbook this month and picks up 1.6K in sales. Not bad for a $9.99 collection of obscure art.
Glenn: Odd to see on this chart and not the collections but yes…this is fine for what it is. Similar IDW stuff like the artist editions are very much a specialty item.
Ray: Marking our way out of the top #400, it's 1.5K in reorders for Darth Vader: Dark Visions #1.
It's odd enough that there's an ongoing Bettie Page comic from Dynamite, but now there's a collection of her pinup covers at #403, selling 1.5K.
Glenn: Who wants this stuff?! I know not many people apparently but still.
Ray: The oversized one-shot Giantkillers, which was teased in a zero issue last year, sells 1.4K at #407. Bart Sears has been working on this one for a while, but it didn't seem to really garner any buzz for its new fantasy mythology.
Remnants of a better time, it's 1.4K in reorders for Amazing Spider-Man #800 at #408. Lassie come home…
Glenn: We can only hope for a fate akin to Old Yeller.
Ray: Aftershock's first stand-alone softcover OGN, Replacer, lands at #411 with sales of just under 1.4K. I'll be honest – I did not know this was coming out. It got little hype, wasn't listed as a standard comic, and came and went with few reviews despite the strong creative team of Zac Thompson and Arjuna Susini. I think they missed the boat on this one.
Glenn: Another odd entry on the singles chart. This does seem like one that should have done better on paper. Reorders and time will perhaps be its friend?
Ray: American Mythology has a pair of debuts at #424/#426 selling 1.2K, as Zorro and Rocky and Bullwinkle both launch new books. This company mainly seems to fill its lineup with public domain and licensed properties no other company wants.
Glenn: They clearly missed an opportunity to team the three up and get even more sales!
Ray: I think this is a reorder of a reorder! Immortal Hulk #1 shows up again at #441, picking up 1.1K. This is much less than the other issues, but this one has appeared many times before.
A very odd entry, as the Rick and Morty vs. Dungeons and Dragons box set sells just under 1.1K at #447. This is a $29.99 box set somehow classified as a single issue. That Rick and Morty, always breaking rules!
Glenn: Good lord. This seems like it should be in the collectables and/or other merchandise section. This seems to me like something to be sold in book stores/board game stores and toy stores.
Ray: Antarctic Press has Houdini: Master Detective at #451, selling just over 1K as this oddball one-shot comes and goes. Pretty standard for a company with no real identity at the moment.
Glenn: Just wait until he hears that Droopy already called the name.
Ray: As we head into the three-digit range, it's almost all reorders and low-selling creator-owned titles, but this month's low bar allows some surprises to sneak in. There's Johnny the Homicidal Maniac #3 from Amaze Ink comics, an indie publisher we never see on the charts, at #472 selling 896 copies. The first issue also sells 760 copies at #491.
#476 brings us Cavewoman: Lost, selling 866 copies. The latest installment of "sexy lady comic with 10,000 covers" knows what it's going for.
Apparently 813 copies of Ziggy Pig and Silly Seal Comics were reordered this month at #483, for those who really felt they missed out on that work of timeless comic brilliance.
It's April, so it's that time again – Weed Magic Vol. 3 returns to sell 741 copies at #493 with a cover price of $4.20. Bliss on Tap needs to commit and only print 420 copies next year.
It's reorders and reprints all the way down after that, and wrapping us up at #500 is the $1 reprint of Paper Girls #1 from Image Firsts, selling 702 copies. So ends another bizarre month down in the depths.
Glenn: Well we thought War Of The Realms might make things interesting but seemingly not so much. Year Of the Villain and Absolute Carnage to the rescue!
Ray: Looking ahead, we assumed Marvel had these few months wrapped up with War of the Realms, but that may not be the case. DC may have a good shot at a great showing this month thanks to the likely #1 book – Last Knight on Earth from Snyder and Capullo. There'll also be the conclusion of Heroes in Crisis, more Batman Who Laughs and Doomsday Clock, and the launch of Event Leviathan with an oversized one-shot, plus Tom Taylor's horror miniseries DCeased, a new Batman/TMNT miniseries, and the much-delayed Batman and the Outsiders series.
Marvel has a cavalcade of War of the Realms tie-ins that are looking a lot less exciting to them than they did last month, but they also have the launch of Savage Avengers and the oversized Star Wars #108 continuation of the original series.
It's like the smaller companies know there's too much going on from the big two to compete, but look for new Image series from cult creators Brandon Thomas and Ken Garing, and the launch of Angel from Boom, expanding their new Whedonverse line.
What will rise? What will fall? How big a spanking will Last Knight give everything else? Find out next month on…By the Numbers!
Liked What You Read? Let Us Know Here Or On Twitter @Glenn_matchett and @raygoldfield.