By The Numbers: September 2019
Like in any industry, comic books and their companies listen most to one thing and that's your money! What does your money tell them? What does it tell us as fans? What series do people say they adore but can't seem to catch a break and what books to people hate that sell out? What are the trends? What looks good? What looks rough?
All these questions and more will be answered here, every month in 'By The Numbers' by comic writers, editors and fans, Glenn Matchett and Ray Goldfield.
Glenn Matchett is a comic writer and editor. He's worked in the industry for several years but grew up reading comics. He's had work published with various small press publishers and has is own comic now available on Comixology in Sparks: The Way I Was from Yellow Bear Comics! This Halloween Glenn is dressing up as tax returns, spooky.
Ray Goldfield is a fan of comic books for going on 25 years, starting with the death of Superman. He is a writer and editor and has released his first novel. Ray also does a weekly roundup of DC comic reviews for website Geekdad and they're brilliantly entertaining. This Halloween, Ray is dressing up as Glenn. Terrifying.
We also do a podcast together with longtime buddy, Brandon James on iTunes with Rabbitt Stew or at the link here! Don't ask, I didn't pick the name. If you'd like to hear what me and Ray sound like, give it a listen!
Glenn: Hello once again friends as we have our eye on the end of the year that is, we look back at the September that was in terms of comic sales,
Its another month where all is not what it seems as once more, DC had an issue of two types of covers for two different prices which means that sales are once again wonky. We're going to do our commentary on actual combined sales rather than split hairs. It makes our lives harder but we feel it gives things a more accurate projection overall.
For the full top 500 uncombined numbers click
here
.
It turns out my time travel machine works because Image's longest running ongoing Spawn is at the top of the charts! The long running Todd Mcfarland creation speeds to the top of the charts with a result of over 262.5k in sales making it one of the highest selling comics of the year. This book has a lot going for it including having a big anniversary number, nostalgia, big creators doing stories like Scott Snyder and Greg Capullo while also having a bunch of variants. Of course all this creates some smoke and mirrors but I think this is a very definitive accomplishment. Will it last? Not likely but reports on sales for issue 301 are strong so we could get a long time before Spawn returns to its previous level. Its great to see Image at the top of the charts but this overall was a poor, poor month for them. More on that as we go along.
Ray: Image successfully turned this into an event, which is rare for them. The combination of big-name covers and top guest creators, plus a celebration of the history of the property, delivered exactly what they were hoping for. I'm skeptical that this will work long-term, because I don't know the last time anyone actually talked about the events in a Spawn issue, but at the very least they got back to 90s numbers for one issue.
Glenn: At number 2 is Marvel's much hyped Spider-Man comic written by JJ Abrams, his son Henry and drawn by Sara Pichelli which sells over 156.3k. This is a great number but considering how big a media mogul JJ is I would have expected closer to the number that Spawn got. On our podcast, Rabbit Stew (dong!) Ray made some good points on how this is still a good result but it seems lacking to me. I know a lot of people were hoping the earliest tease for this comic meant a comic version of Sam Raimi's Spider-Man 4 and this is obviously not that and details about what it was were very sparse. Did playing their cards close to their chest hurt Marvel or do big names outside the industry not pack the punch they used to? This will deliver very solid numbers for a (spoilers) out of continuity Spidey tale throughout but I still think compared to other things like Doomsday Clock and DCCeased the results from this will be sub par, time will tell.
Ray: I think Marvel has to be happy about this, actually. They very rarely see numbers this high unless it's for first issues that they have dozens of variant covers for. They didn't even reveal the concept of this series until release, so people were buying this almost entirely based on the name of JJ Abrams. I have some friends who insist Abrams is overrated and has no real sales pull, but the man showran the #1 domestic movie of all time and one of the top TV series. People want to see what he'll do, even if he's only co-writing. We'll have to see how it holds up, but it's another in a streak of stand-alone hit Spider-man miniseries lately.
Glenn: Abrams is one of the biggest name directors and media successes out there. I can think of maybe 4 or 5 directors/producers who can pull in as much attention on name alone. Your friend is mad, mad I tell you.
From 3-6 its all Hickman X-Men as his monster two prelude mini's continue to rack up the sales with issues 5 of House Of X and Powers Of X outselling issue 4. Issues 5 and 4 of House sell over 139.3k and 119.3k at 3 and 6 respectfully while Powers sells over 137.5k and 127k respectfully at 4 and 5. Obviously Hickman getting free reign on the X line has done wonders and his newly coming X-Men book will be a top ten staple. How this will benefit the other X titles not written by him remain to be seen but the numbers here are very encouraging.
Ray: Insanely dominant, with the sales going up as it goes along. There's no other way to describe it. This is another megahit that just keeps growing much like DCeased, but unlike that stand-alone thriller, Marvel should have no problem spinning this success off into the next month's new titles. I think it's likely X-Men #1 is the top book in October.
Glenn: At 7 is the always dependable Doomsday Clock which clocks (hah,see what I did there?) in sales of over 115.8k despite the infamous and numerous delays. The series is hopefully ending in December where even if it sells a small fraction of what Watchman has over the last 30 or so years all the waiting will have been worth it.
Ray: A bunch of other books have lapped it, but Doomsday Clock has not lost a step. The final issue is coming out in December, and then it's likely to be an evergreen hit for years to come. We don't know how much this series will play into coming stories, but it's definitely been the hit DC was hoping for.
Glenn: The first victim of the split numbers is the new Harley and Ivy mini by Jody Houser which sells over 110.3k in total placing it at 8. This is a Heroes In Crisis sequel of sorts but I doubt given that events so-so performance that has anything to do with this. This is due to Harley being a star character, people liking her relationship with Ivy and Houser being a rising star for years. Its a great and unexpected hit for DC and is encouraging for the multitude of Harley related books we have coming over the next few months. More on Harley in a short while.
Ray: It's a massive hit, and I wonder if this might light a fire under DC's butt to finally give Ivy a solo series. Harley's always been a hit, but the combination of her with her on-again-off-again-occasionally-dead girlfriend took the sales to a new level.
Glenn: At 9 is the amazingly successful Absolute Carnage which sells over 95.5k on its third issue this month. Obviously this is outperforming a lot of recent Marvel events that were seen to have much bigger impacts and had much more hype. This is what happens when a dynamite creative team is left to do their own thing, see also: Metal.
Ray: I don't think this is the level of hit Marvel was hoping for, and that's mostly down to Marvel's ongoing problems in the industry. I do think it's held up well from month to month, and the short-run event will close out as a hit. Definitely a step up from War of the Realms.
Glenn: Final spot in the top ten is DCeased: A Good Way To Die, a bonus one shot printed alongside the insanely well performing mini series no saw coming. It sells over 90k which is amazing considering how this was a late addition to the overall story. We're definitely getting more of this universe in one form or another sooner rather than later.
Ray: As of this typing the final issue drops next week, but everything it touches is gold. I expect a season two as soon as the creative team is ready – unless everyone's dead. 
84K in orders for Harleen #1, Stepan Sejic's writer-artist retelling of Harley Quinn's origin at #10 (or #11 on the true charts). That's a solid number for a Black Label book, above the recent Superman: Year One but not quite on the level of the Batman books. I think we can largely say that this line is one of the biggest hits out of DC in a while, and it's not a surprise they're ramping up production with more Harley and Joker in coming months.
Glenn: Great number for a comic in an unusual format (not a winner historically) and given the cover price. The Harley hype train is for real. Ray: There's an apparent discrepancy in sales on Batman this month, with Batman #78 selling 80K at #11 and #79 selling 61K at #18, but that's explained by the 20K additional sales for the lower-selling issue for the special variant cover.
Glenn: Sticking steadily to that 80k at this point. Weird to think King is gone before so long.
Ray: No such explanation for Amazing Spider-Man, which sells 80K at #12 for the second Absolute Carnage issue, but then drops to #16 with 65K for the previous issue, which had no such tie-in. This is probably the normal level for the title, and it's not likely to increase too much for the 2099 event.
Glenn: I don't think that will spike the interest Marvel is hoping it will. Willing to be surprised of course.
Ray: At #15 is the debut of Strikeforce, selling 65K for a new team book pairing an oddball group of heroes including Winter Soldier, Spider-Woman, Angela, and Blade. It's a decent debut number, but those tend to crash after the first issue and this seems like an odd concept for a book without long-term planning.
Glenn: A great debut on the surface for sure but yeah, this won't last. None of these characters have any real staying power sales wise. This will be a 12 issue or less job.
Ray: Amid a regular sea of high-selling books including Fantastic Four, Immortal Hulk, Justice League, Detective Comics, and Silver Surfer: Black in the 50K range, we have the debut of King Thor from Aaron and Ribic at #21, selling 55K. I would have expected more for a new series by this creative team, but I think retailers might have treated it like the regular series. This run has been going on for so long that it's unlikely new readers will jump on for this epilogue.
Glenn: At first I was really shocked by the sales of King Thor, I would have expected that to be a top ten debut. However, thinking it over it is a case of this is merely the final arc of a very long run. People aren't going to jump on out of nowhere now no matter if it is a top team or a major story. I'd say we'll get strong numbers for Cates start of course and Aaron's run will sell in multiple collective forms for the company until the stars turn cold.
Ray: #26 brings the debut of Legion of Super-Heroes: Millennium, the prequel series to Bendis and Sook's upcoming Legion revival. Selling 48K, it's not the biggest vote of confidence in the series – but then, this isn't actually a Legion comic and starred Rose and Thorn, of all characters.
Glenn: This is like one of those zero issues retailers never know how to deal with. Still since the Legion hasn't been a thing outside of some teases in Rebirth and Doomsday Clock for ages, it could be worse.
Ray: I'm really surprised by how strong Absolute Carnage: Scream is doing, with the second issue selling 48K at #27. This is a character who hasn't had a spotlight in a long time, but it seems Marvel knew what they were doing when they greenlit an ongoing spinoff for December.
At #29 is the launch of Flash Forward, the Wally West spinoff from Heroes in Crisis by Scott Lobdell and Brett Booth. It sells 46K, which a little above the level of the regular Flash title. Despite the controversy and the divisive creative team, I think this is a testament to how strong fan interest is in the character.
Glenn: Given its a mini it'll do okay and hopefully set up some interesting stuff for Wally to come. It could be DC is testing the waters for a Flash title starring him and if this settles around the low to mid 30's there could be something here. It does show that not many people are interested in following potential fallout from Heroes In Crisis (although Harley and Ivy does that too but I doubt anyone is picking up the book looking for that specifically)
Ray: The second issue of Batman/Superman is down at #34, selling 43K, but there's another 19K in sales at #119, pushing it up to 63K and making it a solid top twenty book. We'll have to see how it holds up once sales gimmicks and event tie-ins fade, but this is a promising start.
Glenn: Very much so, I think it'll settle to be a solid upper tier DC book while Williamson is on board.
Ray: At #36 is the Absolute Carnage: Symbiote Spider-Man one-shot, selling 42K. This wasn't a Spider-man comic, instead featuring one of the most obscure symbiote-users ever, which shows the pull of this brand name. Not a surprise we're getting a second miniseries from the period soon.
#38 brings us a Valiant debut, as Bloodshot #1 from Tim Seeley and Brett Booth sells 41K, one of the best Valiant debuts in a while. I would not want to be the guy following Jeff Lemire on this franchise, but this is a strong debut for the creative team – and Booth's second top forty debut of the month.
Glenn: Impressive and it shows that Lemire has built up the franchise significantly and of course there being a film next year doesn't hurt. This is a Valiant title that outsells everything from Image bare Spawn 300 which is astonishing.
Ray: #40 has 40K in sales for Absolute Carnage: Symbiote of Vengeance. This is Ed Brisson's prelude to the upcoming Ghost Rider series, which doesn't bode all that well for the series' longevity – I'd be surprised if the first regular issue got higher sales.
Similarly, 39K in sales for Black Panther and the Agents of Wakanda at #41 feels like a misfire from the start. We saw before that Black Panther can't really carry a franchise of books, as most spin-offs have lasted under a year. Given that this mostly focuses on Fat Cobra and Ka-Zar so far, the odds aren't good for a turnaround here.
Glenn: Same story as before when we got a number of Panther books when the relaunch was a hit a few years ago. It didn't quite work then and it had a hugely successful film and the Coates momentum to work of which this one very much does not. It could be worse again but it'll be one that falls hard next month most likely.
Ray: On the other hand, Valkyrie: Jane Foster has leveled off amazingly well with third-issue sales of 39K at #42, Thus is a book where demand was obviously underestimated. Maybe the initial orders were before Jane Foster's big MCU promotion was announced?
#43 brings 39K in sales for Batman vs. Ra's Al Ghul, the latest strange miniseries from Neal Adams. He has his own fanbase, but I think the big names in the title probably helped this one drive sales a bit higher.
Glenn: This is the base level for an Adams level Batman title and considering its off to the side of everything else and is mostly an artist specific project this is still solid.
Ray: #44 has the launch of Web of Black Widow, written by Jody Houser, selling 38K. Houser's other miniseries this month was a huge hit, but this is pretty standard for a Black Widow series. No matter how much they try, she just doesn't seem to be able to carry a solo title long-term.
Glenn: It'll be interesting to see what bells and whistles they pull out come next March when the film hits.
Ray: This is the solid middle tier of comics, with books like Flash, Action Comics, Daredevil, and Star Wars all selling in the mid-to-high 30K range. But a new entry into that area is Teenage Mutant Ninja Turtles, selling 34K at #54 for its 98th issue as the huge countdown to 100 continues. This feels like a mini-version of what Spawn successfully did – reigniting interest in a long-running franchise for a big anniversary. Again, I think #100 hits the top ten.
At #57 is a huge debut for Something is Killing the Children, James Tynion IV's new horror series from Boom, selling 33K. Not only is this one of Boom's top debuts ever, it's actually the top creator-owned book on the charts this month besides Spawn. This feels like Tynion's breakout moment in the creator-owned market, and yet another example of how Boom has improved their fortunes in the market. More on them…laytor.
Glenn: Again, a good bit higher than 99% of Image output, an astounding number from BOOM who have had a quiet renaissance. Good for them, its clear why this was made an ongoing. Ray: After four months off, Shazam returns with a new issue at #59, selling 31K. The delays are a mess, of course, but it's impressive how DC comics tend to weather them with little affect on sales.
#60 brings us a nostalgia one-shot, New Mutants: War Children from Chris Claremont and Bill Sienkiewicz. It sells 31K, which is impressive given how long ago this run was. I suspect Marvel may have commissioned this to tie-in with the movie that supposedly drew heavily on the run, but…you know.
Glenn: Really good all things considered. Better than the majority of these off nostalgia one shots have been doing which we'll see later on.
Ray: #65 brings us another nostalgia one-shot, Spider-Man: Going Big, where the main draw was a new Erik Larsen story. Larsen is back with a bigger project soon, but this sells 29K – which is basically the baseline for any mid-level Spider-project these days. Expect a lot more of these on the charts this month.
The Wolverine Annual is the top-selling Acts of Evil annual this month, selling 29K at #66 for a story by Jody Houser.
Glenn: This event that wasn't didn't seem stir any great excitement but it gave us the Punisher/JJJ team we never knew we needed so whose to say it was all for naught?
Ray: #68 brings us 28K in sales for an oddball project for Steve Orlando, Gotham City Monsters. I don't think any higher could be expected for a book that's essentially a Killer Croc/Frankenstein team-up,  so the fact that it got this high is probably a testament to Orlando's growing profile – good news for him as he takes over Wonder Woman in November.
I was surprised all of the Year of the Villain one-shots sold so closely in sales – and relatively low. Lex Luthor's one-shot by Jason Latour is down at #72 selling 27K, followed by Mark Russell's Riddler one-shot selling 27K at #75. These are big-name villains, but I don't think retailers were treating them as essential tie-ins. Expect some re-orders on the Luthor one.
Glenn: Retailers don't seem to think these one shots are essential which by and large, they probably aren't. It shows how much the modern audience has been trained to treat spin offs for big stories after being batted over the head with them for like 15 years.
Ray: At #74 is another huge win for Boom, as the second issue of The Once and Future sells 27K, a modest decline from last month. That puts the top two non-Spawn creator-owned books on the market as Boom titles, and continues to establish a firm elite tier of creator-owned names that can drive sales for original concepts anywhere – I'd say it's Snyder, Lemire, Gillen, and Tynion at this point.
Glenn: We better say or they'll beat us up and take our money. They're so cool!!!! Again, not a surprise that its got the ongoing treatment.
Ray: Not great second issue sales for Ghost Spider at #79, selling 25K. The character's decline with the frequent reboots doesn't seem to have slowed, but I have a feeling she'll still be outselling Mary Jane once that title settles down.
This is where we see the last wave of Age of Resistance one-shots for Star Wars, with Kylo Ren selling the highest at #80, followed by Rey at #86, Snoke at #96, and Rose Tico at #109. They sell between 25K and 20K, the standard tier for lower-level Star Wars books.
Things finally settle down for Black Cat, as the fourth issue drops heavily to sell 25K at #83. This is where I'd expect the title to sell after an arc, maybe a little higher, so ultimately all those sales games were for nothing.
Glenn: Sanity! Now the game becomes how long this lasts, this has been one that has been interesting to watch.
Ray: The Moon Knight Annual is at #87, selling 24K. All of these Acts of Evil one-shots seemed to get ordered based on the character, not the creative team or plot, because this Cullen Bunn-penned Kang story seemed to have a bit more buzz.
Glenn: Hoping for some reorders based on it actually being one of the better ones and Moon Knight's stock will soon be on the rise.
Ray: At #94 we've got the lowest-selling Star Wars tie-in yet with the video game tie-in Jedi Fallen Order: Dark Temple, which sells 23K. This one doesn't feature any famous Star Wars characters, so the sales aren't a surprise, but it does have a very good decline the same month to only 20K for the second issue, so that's probably just the floor for the franchise.
Glenn: No matter what franchise its ancored to, video game tie ins never do too hot. This is either low tier for Star Wars or high for video games depending what way you look at it.
Ray: The Peter David mini-event Prodigal Sun concludes with a Guardians of the Galaxy issue at #98, selling 22K. Pretty standard for a stand-alone Marvel project with no real ties to bigger stories.
Glenn: Probably the lowest a Peter David Marvel title will do, I'm glad he's still getting regular gigs as one of the most underrated long time talent in comics.
Ray: At #101 we have the launch of Vampirella/Red Sonja, spinning out of the popular crossover with Betty and Veronica and selling just under 22K. Dynamite always inflates first-issue sales with a host of covers, but given what we saw with Priest's title (only four spots below at 21K), there seems to be some momentum for Vampirella at the moment. Can a Vampirella/Zombie Tramp crossover be far behind?
Glenn: We can only dream.
Ray: You've got to get down to #107 to find the first non-Spawn Image title, as Die continues to chug along and sells just under 21K this month. This is clearly a hit, but it seems obvious that Image is struggling to find its next killer app. Or is it just around the corner with Snyder and Soule's Undiscovered Country?
Glenn: I really think so, that and the other Snyder project to be uncovered will be the injection they need to get some fight in the top 100.
Ray: 20K in sales for the Batman #181 facsimile edition at #110, which reprints the first appearance of Poison Ivy. DC keeps getting more and more evidence of how much people want a series with this character.
I would say surprisingly low sales for the new Lemire/Giffen maxiseries Inferior Five, which sells just under 20K at #111, but this is a tie-in to a thirty-year-old event comic featuring almost no established DC characters. It sells almost the exact same as this month's issue of Black Hammer/Justice League, which indicates this is almost all interest in Lemire driving the sales. I could see it leveling out very quickly.
Glenn:
This is one of those 'critical darling' projects that tend to start out low, settle fast before climbing gradually as the reviews/hype come in. Given how obscure the property is I don't know how it could have been much better off the bat. It'll be one that will do well in collections as DC continues to add to their unreal library. 
We next turn our attention to 117 where we have a dollar comics edition of the first issue of Crisis Of Infinite Earth's. This DC equivalent of the True Believers line will be a mixed bag like that line is and will perform or not perform based on the property. This performing over 19.2k is a good solid number for one of DC's most iconic stories and one the company is still trying to get meat off to this day.
Ray: This was probably been the most influential event comic of all time, setting the stage for the next few decades of DC, so I'm not surprised it still has some sales pull.
Glenn: At 121 we have another of the nostalgia one shots, Avengers: Loki Unleashed which sells over 18.8k which I think is very good for what was basically a missing issue of a run that doesn't get much regular callback or notoriety.
Ray: Yeah, this run doesn't get talked about all that much nowadays. I think a lot of the sales are down to the MCU boosting Loki's popularity so much.
Glenn: In the same vein at 125 is Alpha Flight: True North that sells over by 18.2k which sees the Canadian super hero team get a creative team from their native country. Alpha Flight haven't really had much hype in a long time so this is probably driven by nostalgia for the team and end up can be seen as a pretty decent result for a one off.
Ray: An anthology starring Alpha Flight is basically the opposite of sales bait, so I'm honestly surprised it sold this high. Having all Canadian creators was one of the big selling points here in publicity. It was one of many little experiments for Marvel this month.
Glenn: Right below it at 126 is the first issue of Rick & Morty vs D & D II Painscape (such a long title) which sells over 18.1k, this property continues to do incredibly well for Oni, their most valuable asset outside of possibly Scott Pilgrum by far.
Ray: Oni's reportedly going to be going through some major upheaval soon, so we'll see where this franchise winds up.
Glenn: Two dollar comics relatively close together in Detective Comics 854 (starting off the Rucka/Williams III Batwoman run) at 131 selling over 17k and Harley Quinn 1 (I presume the start of the Pilmiotti and Connor run) selling over 15.6k at 136. Solid enough for two runs which do well on a regular basis in various collective forms and are now both getting adaptions in other media.
At 133 is the highest selling Image debut the month in SFSX which sells over 16.6k which is a decent start, its made more impressive when you consider this is a mature readers title so its looking to get a specific part of an already limited audience in general. Should settle to a decent level.
Ray: This was a former Vertigo title that was shuttled over here when the line was closed down, actually. Given that, these sales are likely a slight increase, but this is overall good for a title with no real name creators on board. Very few Image launches this month.
Glenn: A relaunch of a Chaos Comics *shrugs* character from Dynamite in Chasity at 140 selling over 15.1k which I'd say is very good considering I've never heard of this. I'm assuming there's some nostalgia at play here because although Marc Andreyko is involved and he has some big two power, I don't think that's the main driver here.
Ray: There's a Red Sonja/Chaos crossover coming soon, so they're trying to make this happen again. Oddly, Dynamite doesn't own the rights to Chaos' most popular character, Lady Death.
Glenn: Right's issues make Glenn's head hurt.
Fantastic reorders for the unstoppable House Of X's debut issues at 142 selling over over 15.1k which after 2 months is making it one of the most succesful comics of the year (priced at 5.99 to boot). The third issue also pops up at 146 selling over 14.8k, insane stuff.
This months True Believer theme is the Hulk, likely trying to get some love classic takes on the character given the success of Immortal Hulk all sell around the same level starting at 147 with Head Of Banner selling over 14.6k with Professor Hulk at 150 selling over 14.5, Gray Hulk Returns at 154 selling over 13.8k, Intelligent Hulk at 13.2k at 158 and Other Hulks selling over  13.2k at 161, Red Hulk at 168 selling over 12.8k and Joe Fixit selling over 12.4k at 172. Given they're pretty closely packed together would indicate that retailers didn't feel overly fussed about one particular issue over the other and all were ordered as cheap stock filler more than anything.
Ray: True Believers one-shots tend to do best when there's a movie to tie into, and without that these numbers are pretty good.
Glenn: Some reorders for the marketing hype as a comic one shot in Marvel Comics 1000 which picks up over 13k in additional orders at 166, Good for you Marvel *slow clap*
Ray: Surprised retailers needed more. More to add in the dollar bin in a few months, no doubt.
Glenn: Astonishingly brilliant debut for the horror title Plot from Vault comics at 167 selling over 12.5k at 167 which is the highest debut from the company I can recall. This got (justifiably) great reviews for the horror tale reminiscent of Locke & Key and Hill House and its paid off in spades for the company, great to see quality shine through like this.
Ray: Yeah, this is a real breakout for Vault and hopefully this title will stay on schedule and release the whole thing in single issues – unlike many of their more promising debuts in recent years.
Glenn: GI Joe gets a relaunch from IDW at 12.5k at 170 which I would say is very good for property well past its prime. If it settles to sales around 8-9k it wouldn't be a bad middle tier performer for the company.
Ray: This is sort of a reboot, in the vein of their very successful TMNT reboot that used elements from many versions of the property. It's also more socially relevant than past GI Joe comics. Feels like this should be a success for IDW.
Glenn: A long absent Image title returns at 173 in Pretty Deadly: Rat which sells over 12.4k which is roughly were it was when it vanished some years back. It does seem these Image titles to seem to maintain their audiences even after years away.
Ray: Yeah, this has been gone a LONG time, so these are impressive numbers. If DeConnick's other title in a similar fix, Bitch Planet, ever comes back it'll probably do similarly. 
Glenn: More Hickman X-Men reorders with the third issue of Powers Of X getting over 12.3 additional sales at 174. Whatever Marvel did to get Hickman back was a great move.
A facsimile edition of Daredevil 181 which sees the classic Bullseye vs Elektra fight from Frank Miller's iconic run sells over 11.8k at 179, I'm surprised this didn't do a little better but then like all of these its been reprinted to death and likely had a true believers equivalent not too long ago.
The return of Battlepug from Image at 191 selling over 10.9k which isn't bad for one of the companies sillier recent original properties, again this is likely what the audience was before.
Ray: I think this was a webcomic originally, too, so it translated to the main line pretty well. A well deserved success for Mike Norton.
Glenn: Pandemica is a new mini series from IDW which is an adaption from a novel selling over 10.5k at 195, I wonder how many orders were made based on this sharing a title with the very popular board game.
Ray: IDW usually struggles with creator-owned titles, but this is above their usual number and it's probably down to Jonathan Maberry's built-in fanbase.
Glenn: The mature White Trees sees its second and final issue sell over 10.3k at 197, I'm thinking retailers missed the boat here especially if writer Chip Zdarsky's claim about this not going to be made available as a collection are true. Of course given its VERY mature material it limits the potential audience but I'm hoping to see more from this world.
Ray: I wouldn't be surprised by reorders coming in pretty heavily for this title if there's no collection. Lots of people may have missed the boat here.
Glenn: Another facimilie edition at 205 selling over 9.9k for the launch of the original Jessica Drew Spider-Woman ongoing. This one having a so-so performance is less of a surprise.
Yet more Hickman X-Men reorders with issue one of Powers Of X picking up over 9,8k at 206 and the second issue at 209 with 9.6. Very much playing second fiddle to House Of X but no slouch in itself.
Ray: The whole X line seems like it's going to be a monster, both in reorders and in upcoming series launches.
Black Hammer: Age of Doom wraps up its run at #211, selling 9.5K. That's been a very consistent performer for Dark Horse since it started, but we'll see how the franchise does as it transitions to new properties like the upcoming Skulldigger.
Glenn: We also know that Lemire is cooking another one so Dark Horse must be pleased with how they do and the Justice League mini will hopefully grow the audience or benefit the collections,
Ray: At #220 is the nightmarishly named Rick and Morty Present Flesh Curtains, selling 9.2K from Oni. This franchise continues to carry Oni, but at what cost? AT WHAT COST????
Glenn: The franchise had a tie in to new wrestling promotion AEW were I just stared in confusion. I remember when the stuff I liked was cool, it'll happen to you!
Ray: #225 brings us a new Dark Horse series from Christopher Cantwell, the retail horror series Everything. It sells 8.7K for an existential tale of suburban ennui and cosmic nightmares. This is pretty middle of the road for Dark Horse creator-owned titles.
It's mostly ongoing series around here, but at #233 is the Immortal Hulk Directors Cut for the third issue, selling 8.3K. This series continues to deliver impressive numbers for anything it touches. Can't sleep, Hulk'll eat me.
Glenn: Literally! This is definitely something Marvel will get great benifit from in its collection library in regards to recent output.
Ray: #235 brings us the first of the DC 100-page giants for the direct market, as we get a one-shot Scooby Doo 50th Anniversary giant selling 8.2K. This isn't a property that usually does too well in the direct market unless it features zombies, so I expect the next wave in October to do much better.
Glenn: Agreed, this whole line is built for outside the direct market so can't expect much for those meddling kids and their dogs. It'll be interesting to see how the others do next month, I would expect solid but unspectacular, these are new reader friendly stuff that has no greater consequence to anything and likely will see minimal interest outside the direct market except perhaps for Batman.
Ray: At #241 is one of IDW's oddest books in a while – Napoleon Dynamite #1, which sells just under 8K. This is a nearly twenty-year-old cult movie that was briefly a cartoon and is now a comic. Hey, I guess it still has some fans.
Glenn: Isn't it odd what licences that are lying around suddenly become a thing again? This was a cult hit a long time ago so the sales here can't be too surprising.
Ray: #242 brings an unusual facsimile edition – Son of Satan Marvel Spotlight #12, which sells 7.9K. This is the first appearance of Damian Hellstrom, who has been making the rounds in the comics for a few months, but it's still a pretty random choice to recreate with original ads.
Glenn: The sales on all these comics are not too important, they're exta money for old material and in this case, something that has little other value in todays market. You are right though, it is an odd choice.
Ray: There's a surprisingly low-selling True Believers issue at #250, Hulk Returns, selling 7.6K. This is the VERY recent return of Hulk in the No Surrender miniseries, so there's no real momentum for a revival here. But this is technically the first appearance of the Immortal Hulk version, so it's probably just that most people already have their copies.
The final issue of Scooby Doo Team-Up lands at #258, selling 7.1K. This obviously isn't a book for the single issue market, which makes it kind of impressive that it's still stayed this high after fifty issues. The final issue featured every Scooby team from around the multiverse, including the live-action versions and A Pup Called Scooby Doo.
Glenn: Wow that's a lot of Doo.
Ray: #260 brings the debut of Archie 1955, the historical reboot of The Archies that puts the characters in the middle of the birth of Rock. It sells just under 7K, so clearly the momentum for the Waid run has dropped a lot. Kelly Thompson's last issue of Sabrina – for now! – sold about 2K more this month.
Glenn: Very obvious why we're getting more Sabrina. Again, Archie has lost a lot of momentum from the relaunch a number of years ago. They need to bring in a new voice to regain interest and not you know…hire the writer of Secret Empire.
Ray: Just under 6.8K in reorders for the second issue of Absolute Carnage at #261, so there's still some buzz for this event as it heads towards the final act.
A new Aftershock title, You Are Obsolete, lands at #263 selling 6.6K. That's pretty standard for an Aftershock title with no big names attached, but this creepy-child high-tech horror story does seem to be picking up some momentum and good reviews.
Glenn: Horror is definitely the number 2 genre in comics right now and quality ones seem to be gaining momentum at a decent pace.
Ray: A $7.99 reprint, Marvel Tales Black Panther, lands at #265 selling 6.6K. Given that it's all free comics for Marvel, any sales at this price is a win. It doesn't seem like they've been able to translate the world breaking success of the movie to comics, though.
Glenn: That's been a problem Marvel and DC have had for years. It seems more people are more drawn to the creator owned stuff based on adaptions, Umbrella Academy seems to have gotten a new lease of life in comics due to the Netflix show for example.
Ray: Two Dark Horse launches are down here, with Steeple from John Allison launching at #267 with sales of just under 6.6K and sci-fi multiverse adventure Triage one spot below at 6.3K. This is basically where most creator-owned Dark Horse books live. I'm kind of surprised Allison didn't do this one at Boom too, since he has a long-lasting relationship with them.
Glenn: Black Hammer and Hellboy as well as the odd Bunn series seem to be the main highlights of Dark Horse's creator owned stuff. Another trend the last few years is them at a bit of a loss at what to do since they lost Star Wars and haven't found really anything else to replace it. They're likely benefiting hugely from the collections of the Disney properties they have outside the direct market.
Ray: At #270 is a Star Trek Discovery Aftermath miniseries from IDW, selling 6.3K. This is much lower than the original series spinoff they're doing, so maybe the new version isn't really catching on with the old school superfans. The second issue is also out this month, only selling 600 copies less.
Glenn: At least its stable? I'd wager the Picard stuff we have coming up will do a little better.
Ray: Another low-selling Aftershock series, Midnight Vista, lands at #271 with sales of 6.2K. I'm still not exactly sure what this company's business model is.
Glenn: Good question, considering the talent they've been able to attract there's clearly some magic going on that we're not seeing.
Ray: A much lower Vault debut at #275 for Relics of Youth, selling 5.9K. This comic is essentially Lost meets The Breakfast Club, about a group of teens lured to a mysterious island by matching tattoos. It's really a clever series, but I don't think it got the hype needed to make a splash.
Glenn: Vault seems to be putting out some high quality work as of late but yeah, marketing is the key factor here. There's no reason why this couldn't have done close to the numbers of the Plot.
Ray: At #282 is the final issue of High Level, selling 5.4K. This is mostly significant for being the last Vertigo book put out, now that the brand has folded. *salutes*
Glenn: Let us hope that Death herself was there to put the chair's on the tables and put the lights out before closing the door. While its gone its spirit very much lives on in Black Label and a lot of indie work inspired by the work the line produced.
Ray: And at #286, there she is! Miss By the Numbers! Zombie Tramp, selling 5.3K. Action Lab is getting those sales.
#289 brings us the final issue of Moon Girl and Devil Dinosaur, selling 5.2K. Watching just how low this book could get was fascinating, but it obviously had its audience somewhere. We should have gotten 47 issues of Unstoppable Wasp…
Glenn: Poor Ray, these charts make him way too sad.
Ray: Matt Kindt and Dave Rubin's cult series Ether returns for a third volume at #293, with "The Disappearance of Violet Bell" selling 5.1K. I think retailers just ordered it as a continuation, not a new #1.
The Scout Comics alien thriller Midnight Sky launches at #297 with sales of 4.8K. This is not to be confused with Midnight Vista, which came out the same week.
Tim Seeley's redneck vampire thriller Dark Red returns for a rare second arc at Aftershock, but doesn't crack the top 300 with sales of 4.5K at #303. I've got to believe this strong title would be doing better at another publisher, but I guess Image only had room for one redneck vampire comic.
Glenn: That's the trouble when one larger company is doing something similar. Your take (which is likely good in of itself) gets lost in itself. I call it the Walking Dead problem.
Ray: Randomly, at #312, we have 4K in reorders for Civil War II #0, the issue where War Machine got killed. Because I suppose there are people who want to revisit one of the less-liked events from recent years that has already been all but forgotten? Remember when Inhumans were a thing, Glenn? I 'member!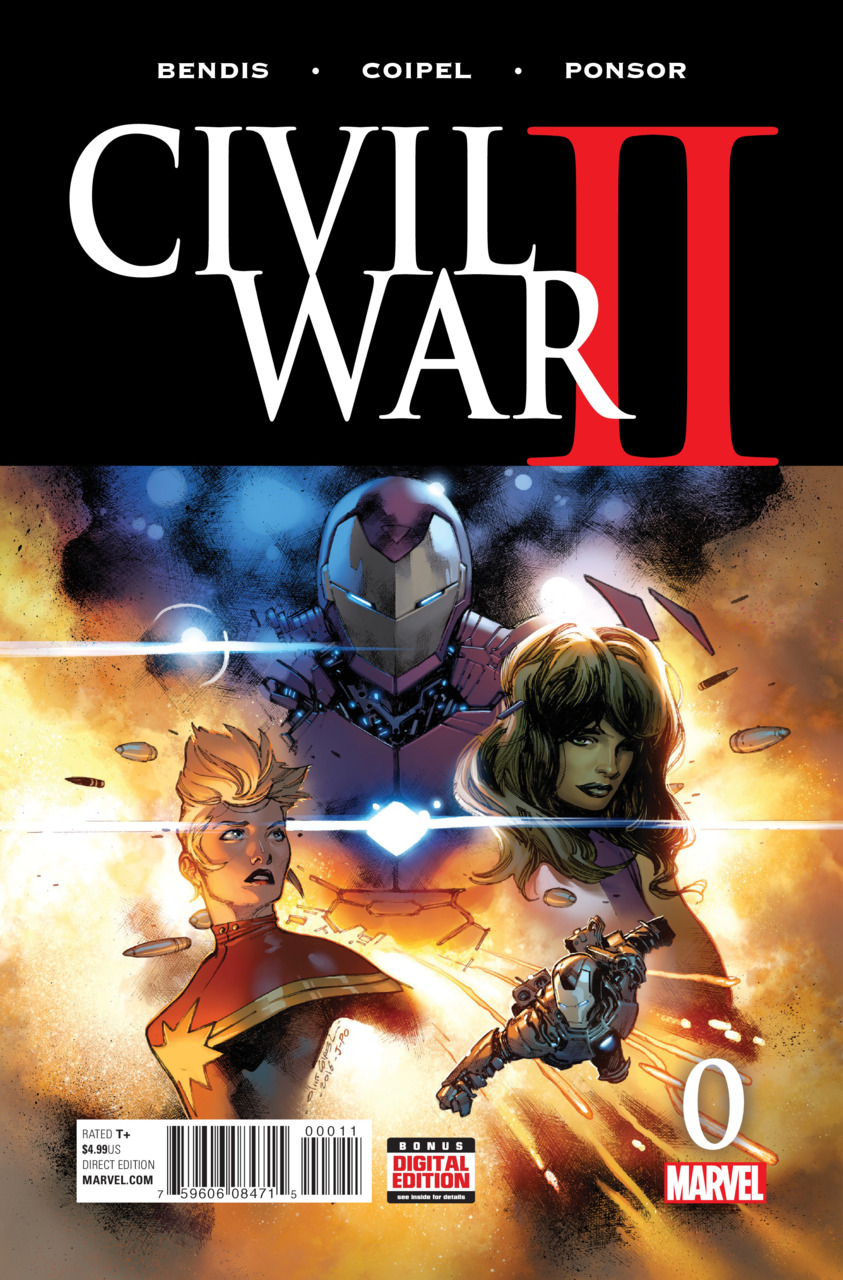 Glenn: The In…who? I can't hear you above all those X-Men sales. Here we go with the stock dumping portion of the month. Yay.
Down at 315 we have a new Zenescope launch in Mystere about a female voodoo priestess or something. She looks sexy and has bountiful bosoms, that's what the audience will care about. It sells over 3.9k which is pretty standard for the company outside of the odd blip from Grim Fairy Tales here and there.
Ray: I'm sure this is a totally respectful tribute to the Voodoo religion.
Glenn: Reorders or stock dumping on Fantastic Four 1 at 318 'selling' over 3.7k which I'm guessing is that latest Slott run? Random.
We got Street Fighter Akuma vs Hell at 321 selling over 3.5k. I mean the sales aren't great but considering this franchise is making any dent at all any more is something. Likely only the few dedicated left.
Ray: Udon Entertainment has locked down this franchise for a long time and they seem to be kept afloat by die-hards.
Glenn: The 8th issue of Captain Marvel which had the debut of new character Star continues to get some more reorders at 332 selling over 3.1k. Maybe there will be some juice for that upcoming mini after all.
More Zenescope at 333 with a horror themed book in Tales Of Terror Bridgewater Triangle selling over 3.1k. The main cover is a callback to old school horror titles like House Of Mystery but is there  sexy variant of a chesty woman dressed as the grim reaper? Of course!
Ray: Zenoscope has really tried to rebrand themselves as a horror publisher lately. But it's good to know they're staying on brand.
Glenn: A decent debut from Scout Comics in Forever Maps at 335 selling over 3.1k, this is especially impressive since if you want the rest of the story you'll have to buy it again plus the rest all at once in a trade at some point in the future. Its an odd business model but nobody seems to realize that quite yet.
Ray: At least Scout is up-front with this plan, unlike other companies where series just mysteriously stop and then show up completed in the trade.
Glenn: Lots of Marvel reorders for new launches such as Spider-Gwen, Captain Marvel 9 and Absolute Carnage tie-ins around this level all at around 2.9k. Nothing too heavy duty here but the Absolute Carnage ones are a few months old so that event has serious traction.
Another Kickstarter project hits the direct market in Starcadia Quest from IDW which launches at 356 selling over 2.7k. Even for IDW creator owned, that's not great but most of the interest would have been picked up by those who backed the project initially. Anyone wanting more are more likely to go back for a sequel project through the same method which was the case for Gail Simone's Leaving Metropolis which saw substandard number for the sequel of its uber successful Kickstarter predecessor.
Ray:
This is apparently a comic book spin-off of a Kickstarter game campaign, which is one of the oddest paths to the comic book world I've seen in a while. I imagine a lot of people got the comic that way instead. 
Glenn: Not often we comment on long running ongoings but Image's Beauty at 357 selling over 2.6k is an interesting story. Its just been announced that for no apparent reason the series is being cancelled with the final two issues not to be published at this time. Sales aren't great here of course but there's over 2000 people who have stuck around for (as of this sales chart) 29 issues. Its a bit odd and I doubt its up to Image, the company doesn't cancel a series unless there's something shady or a legal dispute. They don't really take active interest on how their books sell since they are the middle man only. As long as its a good read that doesn't damage their brand and they get their share as the publisher they won't strong arm a creative team into stopping, especially this far into a run. I genuinely hope the fans of the series get answers.
Ray: This definitely isn't the lowest an Image series has slipped, so it seems likely there's something going on behind the scenes. The writer still has the title listed in his bio and has been very tight-lipped about this affair, so hopefully it'll be resolved eventually.
Glenn: Reorders on the first issue of Jason Aaron's Conan at 364 could be reorders on what is becoming a very well thought of ans successful run or stock dumping. Its hard to tell with something relatively recent. There's over 2.5k more copies in this months chart either way.
Action Comics new title, Going To The Chapel sells over 2.5k at 366. Pretty standard for such a small press title with no known creators. The concept actually sounds like a lot of fun.
Ray: I've really enjoyed this one. Action Lab seems to have trouble gaining traction as a whole, though – I think they have a reputation for some dodgy books and the good ones like this and The Harcourt Legacy get lost in the shuffle
Glenn: First of a two part mini from Alterna comics at 370 in the form of Red Koi which sells over 2.4k. The company still continues to try to regain the momentum they had before things got fishy a number of years ago.
Ray: Heh. Red Koi. Fishy. I see what you did there.
Glenn: Totally on purpose!
Archie and Friends Go Back To School is this month's Archie reprint thingey that sells over 2.3k at 371. Doesn't really matter what these do, they're for elsewhere.
Mythos comics (?!?!?!) launches a new title in Vamp about Vampires running Vegas which sells over 2.3k at 376. I would say this publisher is thrilled to be even here.
Butcher Queen, a new sci-fi mini from Red 5 comics (??!?!?!?!?!?!) sells over 1.9k at 390, again considering they're likely not well known they're probably thrilled to be here.
Ray: These are both definitely startup publishers that haven't done much in the market yet. All it takes is one book to gain a company buzz, though, as we saw with Source Point Press not long ago.
Glenn: Lots of suspect Marvel dumping here like with Meet The Skrull's, the 6th issue of Captain America, Domino Hotshots and a random issue of Moon Knight all suspiciously close together selling around the 1.8k mark. We see you Marvel!
Ray: Meet the Skrulls? Seriously? You mean The Americans but also Vision? This is definitely stock-dumping month.
Glenn: A random Zorro comic where he apparently takes on the old gods sells over 1.8k at 396. This is not a market that will be kind to poor Zorro.
Ray: I'm still surprised that a company other than Dynamite has Zorro, honestly.
Glenn: A one shot of *checks notes* Chainsaw Reindeer sells over 1.8k at 398. Perhaps they should have waited until closer to Christmas.
Ray: Speaking of dodgy books! Yeah, it was a one-joke concept and the joke was ultraviolence. And somehow it wasn't released either for Christmas or Halloween.
Glenn: Among a little more stock dumps, small reorders and the small press usuals is the launch of an Edgar Rice Burrough's property in Pellucidar Wings Of Death which sells over 1.6k at 409. When Marvel scooped up a lot of the author's properties, this one likely flew under the radar for good reason.
Another Alterna launch, this time a new 4 issue mini in Gods and Gears which sells over 1.5k at 413. I wonder often what could have been.
Ray: This one was previewed in their anthology, It Came Out on a Wednesday. Standard sales for the company, unfortunately.
Glenn: A lot of very telling stock dumping from Marvel (Man-Thing 1, COMEON) here but amongst that is Beware Witch's Shadow from American Mythology. It seems to be a horror title with a buxom host. I guess Elvira was busy? It sells over 1.4k at 419.
Ray: With this and Elvira getting books, can a Simpsons spin-off for Boobarella be far behind?
Glenn: When's Vampira getting in on this? She came first damn it!
Ray: Because Marvel will never get tired of selling us old comics again, there's just under 1.5K in sales for Amazing Spider-Man/Venom 3D polybagged edition at #422, because it's the 90s again. I'm not sure if this is a reorder or a new printing. 
Glenn: I'd wager on a reorder, even with the gimmickyness of it I'd say this would normally have done better because people love them some Spidey/Venom.
Ray: Remember the "Typhoid Fever" mini-event where Spider-Man, the Avengers, and Iron Fist fought Typhoid Mary? Me neither, but apparently 1,475 people did because they reordered it at #425.
Glenn: No one remembers it, its just excess that Marvel themselves forgot about that they found in a bin in the office.
Ray: Amid a sea of Marvel and DC  reorders, there's 1.4K in reorders for Red 5 Comics' The Dark Age, about a world where metal doesn't work, at #435. That's an indication of some buzz for this comic and the publisher. Glenn: Really interesting concept, hopefully it picks up steam.
Ray: 1.3K in sales for the Antarctic Press horror comic Scratcher at #437. So, pandering to that element of the fanbase has sure resulted in boffo sales for the publisher.
Glenn: Let's make comics great again, something, something I call them dogs.
Ray: From another small publisher, Fantaco Enterprises, comes the colorfully-named Infinite Punishment: Escape from Hell #1, selling 1.3K at #441. It seems to be about a sexy demon lady.
Glenn: Is there any other kind?
Ray: And from another small publisher, Verotik, comes another sexy demon lady comic at #442! This is Satanika vs. Morellas Demon, which sells 1.3K. Is this unofficial sexy demon lady month?
Amid a lot of reorders is the Iron Manticore one-shot from Aardvark-Vanheim publishing, which sells 1.3K at #445. Dave Sim gonna do what he does – this is for his die-hards.
A book that definitely deserves its reorders at #446 is X-Men Grand Design #1, which sells 1.3K in addition to all the collection sales it's getting now that it's completed.
I didn't even remember there was a Multiple Man comic out recently, but here it is at #454, getting 1.2K in reorders.
Glenn: Still think this is stock dumping. Can't wait for all the Black Cat ones in 6 months or so.
Ray: Marvel Legacy, the universe-shattering one-shot that set up Aaron's Avengers, charts again at #461 selling 1.2K. This was a good comic, but we're about to get our second universe-shattering one-shot since then next month.
At #465 is a comic from Keith Lansdale, son of legendary author Joe R. Lansdale, Red Range: Pirates of Fireworld. This is based on his father's creations and comes from a tiny publisher called It's Alive. It sells 1.2K for what's pretty clearly a niche product at the moment. Looks to feature dinosaurs, native warriors, and steampunk pirates. Gotta love it down here.
Glenn: The fans of the novels will likely not be too bothered until there's a trade and even then, maybe not.
Ray: Alterna's all-ages comic Mr. Crypt returns with sales of 1.2K at #466 with a new miniseries. This slapstick book about a friendly skeleton and his mischievous rat isn't geared towards the singles market, but the question is does Alterna have the reach to do alternative marketing? Glenn: Before things went crazy, they were trying to do that but I'm not so sure. I think Mr. Crypt could fare well elsewhere.
Ray: Amid a lot of reorders for Marvel books, there's 1.1K in reorders for the ultraviolent superhero comedy Pretty Violent from Image. Someone's buying it, I guess.
From small publisher Full Moon Features comes the first installment of a crossover/shared universe called Deadly Ten, which will cross over various horror characters including the villain from Puppet Master. It sells 1.1L at #476, so it seems to be struggling like many attempts at shared universes lately.
Glenn: How did they afford to pay Disney for use of the classic Fantastic Four villain is what I want to know.
Ray: It's almost entirely Marvel reorders here as everything from Defenders to Moon Girl gets about 1.1K in reorders, until we get down to #499, where IDW gets another 1K in reorders for their popular all-ages fantasy Canto's first issue. This has been on the charts since the first issue, so I think we have a genuine hit on our hands. I would be surprised if this book didn't get optioned soon.
And wrapping us up at #500 is exactly 1K in reorders for Avengers: No Road Home #6. I think this was the first Conan issue.
Glenn: Could be genuine interest, could be stock dumping. Quite a high end market for the top 500 for a change in any case.
Ray: Looking ahead, it's been a busy month for both main publishers. At DC, we've got the launch of Hill House with Joe Hill's horror original Basketful of Heads, and a new original horror fantasy from Black Label in Philip Kennedy Johnson's The Last God. Then there's TWO Joker-related Black Label projects in Lemire and Sorrentino's Killer Smile and Kami Garcia's Joker/Harley: Criminal Sanity. Year of the Villain one-shots for Joker (by John Carpenter) and Black Adam are on the way, and Warren Ellis and Bryan Hitch debut their stand-alone Batman miniseries The Batman's Grave. There's also a Didio-penned Metal Men mini, the return of John Constantine to Sandman Universe, Gene Luen Yang's passion project Superman Smashes the Klan, a new horror anthology in Secrets of Sinister House, the first two Tales From the Dark Multiverse one-shots remixing Knightfall and The Death of Superman, the first wave of DC superhero giants, and a comic based on the popular cartoon RWBY. *collapses*
Not to be outdone, Marvel has a host of new launches including the last of the Absolute Carnage tie-ins, the first wave of X-Men solo books including the headline Hickman/Yu book, Marauders, and Excalibur; a bunch of Spider-Man projects including a Mary Jane solo series, an oversized "Jam issue" one-shot, and a new Spider-verse miniseries, new Ghost Rider and Doctor Doom series, the launch of Tom Scioli's Fantastic Four: Grand Design; and one-shots for Marvel Zombies and Red Goblin among a BUNCH of other one-shots and minis.
From Image, the most interesting part of the month is the four issues of Chrononauts released on the same day in a Millarworld experiment. Also look for new projects like The Marked, Nomen Omen, the relaunches of Copra and Dead Eyes, and the latest Thought Bubble Anthology. And over at IDW, the sales should keep climbing for the jumbo-sized penultimate issue of Teenage Mutant Ninja Turtles before their big anniversary.
What will rise? What will fall? Find out next month on…By the Numbers!
Liked what you read here? Let us know below or by hitting up with anything you might like to say on Twitter @glenn_matchett and @raygoldfield