Review: X-Men: Grand Design – X-Tinction #1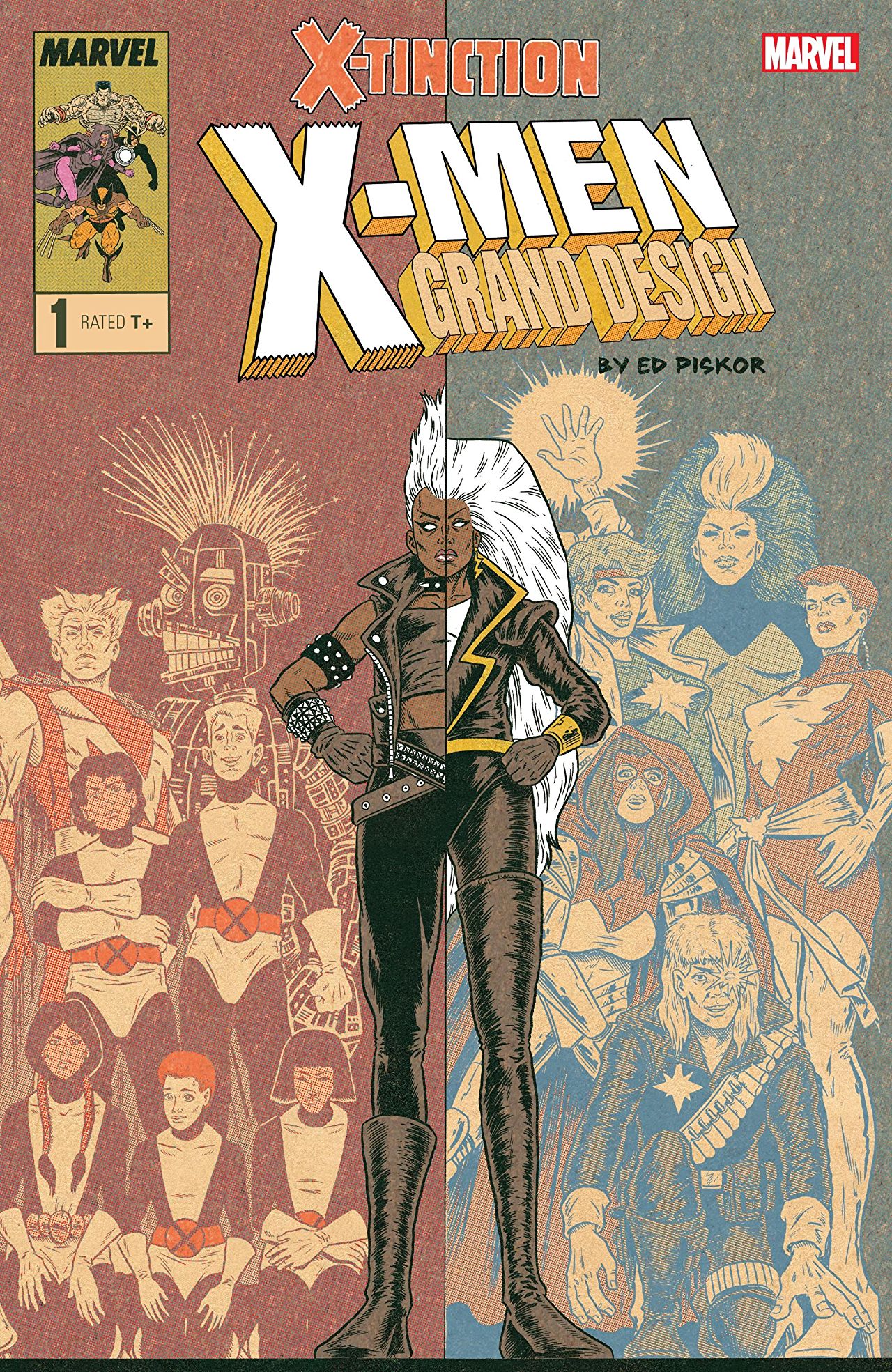 Cartoonist Ed Piskor wraps up the 1980s era of X-Men comics in the first chapter in the final installment of mutant magnum opus, X-Men: Grand Design – X-Tinction #1. On the first page, he picks a narrative through-line (The fate of baby Cable and his parent Scott Summers and Madelyne Pryor) and a Big Bad (Mr. Sinister) and then runs with it to an optic blasting, dimension hopping, ginger psychic battle finale. Along the way, he writes one badass Storm and synthesizes complicated X-Men concepts like the Siege Perilous, Roma, the Outback years, and the deal with Forge and the Goblin Queen into one action-packed, entertaining narrative.
X-Men Grand Design: X-Tinction #1 has all kinds of interdimensional and psychic events in it, and this gives Piskor an opportunity to diverge from his underground comics meets Paul Smith, early John Romita Jr, and Marc Silvestri (Any time the Reavers appear.) style and use cool techniques like "ghosting" his figures against a black ground. He first uses this when Kitty Pryde is stuck in her phase state, or when Storm is on a physical journey with Forge's ally Naze to get her abilities back. It transports the reader to a world beyond the melodrama of superhero comics and uses the mutant powers to further the story or tell something about Storm, Cyclops, and Madelyne Pryor instead of just making the punching look cooler.
Speaking of punching, Ed Piskor does not neglect one of X-Men comics' usual strengths: well-choreographed team fight sequences. And he uses those fights in an economical way pulling off a three panel sequence that some writers and artists would pad for half an issue. Other than his retelling of the classic hand to hand fight between Storm and Cyclops for the X-Men leadership, my favorite fight in X-Tinction is a three panel old school/new school fight when Archangel flies Iceman up to freeze some of the Goblin Queen's goons and Colossus and Rogue punch them out. In a single panel and thanks to some big Jack Kirby poses, you know that Colossus and Rogue are the team powerhouses while Archangel and Iceman rely more on strategy and subterfuge in a callback to the fights in the first volume of Grand Design.
The only real weakness I could find in X-Men: Grand Design – X-Tinction #1 is toward the end of the issue. Up to this point, Piskor is easily juggling the Storm and Madelyne Pryor/baby Cable subplots and crafting a downward spiral for the X-Men as their team's strength is diminished by the Marauders and the Mutant Massacre. This leads into the Outback years, the big Madelyne Pryor reveal, and after some psychic foreshadowing: the return of Jean Grey. However, Piskor immediately throws the original five X-Men into the narrative without mentioning X-Factor or establishing their return. It makes for a cool team-up sequence, but muddies the narrative a little bit.
However, Piskor does redeem himself with a funny final couple pages where the different X-Men basically ask each other, "What the hell is going on?" Like Arcade, Ed Piskor has set up a death trap of continuity mimicking the increasing density of the X-Books with multiple titles and crossovers in the late 1980s, and it looks like he will use X-Tinction #2 to get our heroes, er, readers out of it. Even if the different characters' backstories are a little opaque and it's hard to keep track of a growing cast of characters, Piskor's storytelling is always smooth with clear narration and bright eyed artwork.
Ed Piskor's X-Men: Grand Design – X-Tinction #1 is an achievement in focus as he chooses not one, but two characters with convoluted backstories (Cable, Madelyne Pryor) to be the anchor point of his exploration into late 1980s X-Men comics. For all the cool digressions and sizzling subplots, Piskor rides the momentum of this mother/father/child/ex-girlfriend/creepy scientist guy melodrama from page 1 to page 40 and even plays telekinetic baby keep away along the way. Like Renaissance painters who would find their own story out of a complex tapestry of Biblical stories and classical mythology, Ed Piskor turns the "X-Overs" of the late 80s into a powerful family drama that happens to involve eye beams and psychic powers.
Story/Art/Letters: Ed Piskor
Story: 8.0 Art: 9.2 Overall: 8.6 Recommendation: Read
Marvel Comics provided Graphic Policy with a FREE copy for review