Review: Aquaman #26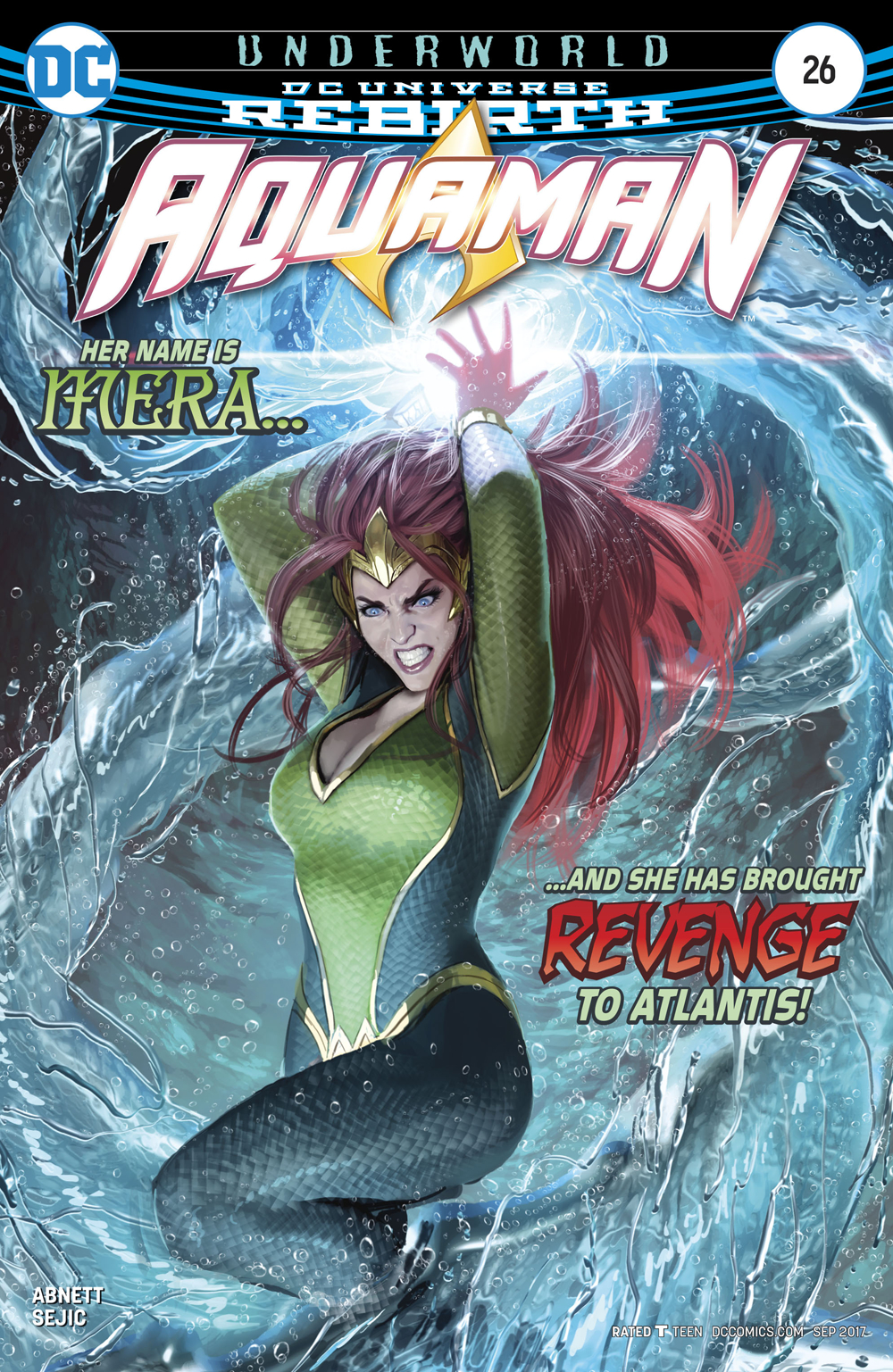 In a fantastic turn of events, Sunstone and Switch creator Stjepan Sejic became the main artist on Aquaman beginning  with issue 25. He has joined series writer Dan Abnett to tell the story of a king in hiding from his own kingdom as Aquaman hides in the Ninth where Atlanteans, who are immigrants and have mutations hide. The new storyline is part the second act of Lion King and Game of Thrones, part Batman (Especially in its darker approach to the kingdom under the sea.), and is even connected to the real world with the Atlantean usurper Rath building a "wall" called the Crown of Thorns to seal Atlantis off from the surface world. He is basically Donald Trump with a blue tattoo on his face and the ability to breathe underwater and is obsessed with keeping Atlantis racially pure through any means necessary including wasting and using its store of magic improperly.
The political intrigue and class struggles plus magic is great and all, but the real draw of Aquaman #26 is the art and colors of Stjepan Sejic. His character designs are famously sexy and detailed, and Aquaman really pulls off the beard as the lone vigilante of the Ninth instead of the monarch of Atlantis. Sejic's action scenes are full throttle beginning with a powerful double page spread of Aquaman and a returning classic supporting character, Dolphin kicking the Drift soldiers' asses with a stream of bubbles acting as a speed line. Your eye is drawn to the big punches that take up most of the page, but as you look down, the magically enhanced Drift (Basically, the ICE of the sea.) have Aquaman and Dolphin in different holds. Then, Sejic brings that Superfriends nostalgia with Aquaman having sonar around his head and calling in some sharks to save the day. He easily synthesizes classic (and unfairly maligned) parts of the character with beautiful, modern storytelling and uses breathtaking colors any time magic is used.
Dan Abnett's plotting is definitely Game of Thrones influenced as he jumps around from POV character to POV character and builds up to one final showdown in the future between Rath and Aquaman. There will be a few pages of Rath, then cut to Krush, the crime lord of the Ninth, and on the good guy side, Abnett shows what Aquaman, Vulko, and Mera are up to. The cast is definitely manageable for now and is bookended with enough undersea magical action and cool art to make up for the table setting. Abnett also plays with characters' roles and likeability.
For example, Cetea, who wanted Mera to basically join a magical Atlantean convent in an earlier arc, ends up teaming up with Vulko in a slow burn rebellion. This is because Rath's wild use of magic goes against her  traditional, conservative beliefs about magic. I might be making a jump here, but this is like some Christians (E.g. Pope Francis.) opposing Donald Trump because he's just plain immoral with his affairs and general greed. Mera is on Aquaman's cover, and Stjepan Sejic draws her like the aquakinetic goddess she is, but her role in the plot is just a slow burning threat against the new Atlantean status quo. I wish she had more panel time, but the full page spreads of her raging and magic-ing out in blue and red are poster worthy. It's gonna be fucking awesome once Abnett and Sejic cut her loose on the usurpers.
As the second chapter in an epic arc, Aquaman #26 does its fair share of setup, but it's far from boring as Dan Abnett transitions Aquaman and supporting cast members, like Mera and the earlier mentioned Cetea into new roles. The villains aren't as interesting with the exception of Krush, who is a mutant, yet still is loyal to Rath for now. Finally, there's Stjepan Sejic's thrilling fantasy art that makes Aquaman stand out from the other house style DC superhero books and transforms Aquaman into the king in exile, the Aragorn of the open sea.
Story: Dan Abnett Art: Stjepan Sejic
Story: 6.8 Art: 10 Overall: 8.4 Recommendation: Buy
DC Comics provided Graphic Policy with a FREE copy for review