By The Numbers: November 2018
Like in any industry, comic books and their companies listen most to one thing and that's your money! What does your money tell them? What does it tell us as fans? What series do people say they adore but can't seem to catch a break and what books to people hate that sell out? What are the trends? What looks good? What looks rough?
All these questions and more will be answered here, every month in 'By The Numbers' by comic writers, editors and fans, Glenn Matchett and Ray Goldfield.
Glenn Matchett is a comic writer and editor. He's worked in the industry for 6 years but grew up reading comics. He's had work published with Outre Press, Alterna Comics and Nemesis Studios. For Christmas, Glenn is hoping to get Sparks on Comixology (yes I finally got it submitted, no I haven't heard anything).
Ray Goldfield is a fan of comic books for going on 25 years, starting with the death of Superman. He is a writer and editor and has released his first novel. Ray also does a weekly roundup of DC comic reviews for website Geekdad and they're brilliantly entertaining.  For Hanukkah, Ray listened to 'Remember That We Suffered' from Crazy Ex Girlfriend while eating lots of Chinese food, as is tradition.
We also do a podcast together with longtime buddy, Brandon James on iTunes with Rabbitt Stew or at the link here! Don't ask, I didn't pick the name. If you'd like to hear what me and Ray sound like, give it a listen!
Top 500 in full available here!
Glenn: Where did 2018 go?  Its the last by the Numbers for the year (unless typing this up takes until 2019) and we have one of the most puzzling and interesting sales charts of the year to see us out!
Number one this month is former Marvel heavyweight title Uncanny X-Men which is back with a new 1, a new creative team and a weekly schedule and a hefty price for 7.99.  Despite said hefty price it sells over 176.1k which is great…kind of.  There were a lot of varient covers and it seems the X-Men are having a moment again…at least where 1's are concerned because the other issues this month tell a slightly different story.  Issue 2 is at 15 with under half the sales of over 62.3k and 3 is at 17 with sales over 58.2k.  Now if it can stay around there then it'll be fine but its quite a sharp drop and a strange sign from retailers who apparently expect over 100k people more NOT to come back THE VERY NEXT WEEK.  Its odd.  The varients will be making a big difference but the big question the title will have to answer if it can stay around the third issue level.  As a side note, another really high priced issue being number 1 is not good for anyone.  I'm sure most of us agree that more expensive comics for not much more content =bad but sales like this will encourage companies to keep giving us them.
Ray: Marvel is a mess when it comes to their overpriced launches. They pack them with variants, set a high price bar to even get into the series (especially bad when it's a weekly series), and then make the Surprised Pikachu face when it crashes in sales. Based on these first few issues, it looks to me like this is going to settle down roughly around the level that X-Men: Gold did for its run, but maybe a little below the hit X-Men: Red. But they're releasing an issue every week, so just like the Avengers weekly (which is coming back), it'll overall be a win for Marvel.
Glenn:  At 2 is the new Green Lantern comic by Grant Morrison and Liam Sharp who are a dynamite team which is more than enough to understand why it sells over 113.6k which is way over what the title has been selling since the glory days of the Johns era.  I would estimate it'll settle anywhere between 75-80k (around the same level as Justice League) for the remaining 11 issues which will be great.  Following up from that will be the real challenge but that's tomorrow's problem, right now its a win.
Ray:
Unlike the book right above it, the creative team on The Green Lantern is the big draw here. That means it'll likely hold much better than other launches. I wouldn't be surprised at all to see it be a top ten staple for its run (currently 12 issues, but they've said that about other runs). Top 20 is more likely, though. 
Glenn:  First surprise of the month is one shot Web Of Venom: Carnage which sells over 104.2k at 3 which in an insane amount of sales for a comic starring a character that lost his main sales pull like 10 years ago, if not more.  Clearly the direction writer Donny Cates continues to take the Venom franchise in seems to be turning anything relating to it to gold and Ray's prediction that a Venom line overseen by him is almost becoming a certainty at this rate.  The regular Venom book rounds out the top ten at 10 with sales over 74.5k as it continues to be one of the most dependable books not only from Marvel but from the industry as a whole which is an insane statement considering where the title was only a year ago.  The title right now is right up there with the megawatt Justice League title which is one of DC's biggest books and that is just madness.  When asked about rumours about building a cage that Cates can't escape from, Marvel refused to comment.
Ray: They don't need to build a cage for Cates. He'll be running the place next year the way he's going. But yeah, these numbers are insane. Venom's a property that's always been popular and has been waiting for a creative team to deliver on that potential. These two issues are yet another example of just how much of an impact this run has had. Flash Thompson and Carnage series are probably inevitable now in some form.
Glenn:  At 4 is right into another surprise with Amazing Spider-Man 10 which sells over 103.6k for no apparent reason?  The previous issue (9 for those of us bad at math) also charts at 7 with sales over 85.5k which is great also bit the leap of roughly 17k is a real puzzler.  Was there a varient people wanted?  Was there an overship?  Is this run gaining momentum?  All possibilities and next month might see the trend continue but clearly this is one book that no matter what, Marvel has little to concern themselves over.
Ray: There's been quite a few cases where the first issue of the month had a weird increase followed by the second issue dropping a lot, but not the reverse. Weird. I'm guessing it's a variant, because this was the end of a fairly bland arc. Either way, this title is largely bulletproof. The run has mostly been getting no buzz for good or bad, but Amazing Spider-Man has a ridiculously strong brand, almost like…the next two books on the list!
Glenn:  At 5 and 6 is Batman which is around its usual level selling over 94.9 and 93k respectively. Nothing much to say here, business as usual.
Ray: King has now confirmed that his run is going to 105, so DC will have nothing to worry about here for a long time.
Glenn:  Heroes In Crisis seems to have settled at roughly around the 80k level as issue 3 sells over 83.7k at 8 on the charts.  Its a good number but again with how DC was hyping this and what they deemed to turn it into, its unclear how much of a success it'll be seen as.  If it was a book dealing with mental illness in the superhero community, a more character driven story I think it would be a great or even fantastic number but as a corner stone story for the entire universe with seemingly huge repercussions…its middling.
Ray: That's a very small drop for the third issue, about 10%, so I'm guessing this is the series' level. Overall decent, but more like a side event than a main event. There's only room for one stand-alone prestige event comic at DC right now, I guess!
Glenn:  At 9 is Avengers issue 10 which is actually issue 700 which sells over 77.7k.  Considering what other books have done with their anniversary issues this is definitely an underwhelming number.  I would say that keeping the current numbering and not renumbering to 700 for one issue (Marvel have done worse, lets face it) may have been a mistake.  There will likely be reorders on this one as I think the significance in regards to numbering and story with this issue was somewhat missed.
Ray:  That's an increase of almost 20K from last month, so I'm guessing Marvel got the word out. This turned out to be a very significant issue with long-term implications, so I wouldn't be surprised by reorders. This is largely Marvel's new flagship book.
Fantastic Four ships two issues this month, landing at #12 and #14 with sales of 72K and 67K respectively. That's right around the level of Justice League, so I think we can safely say this is one of Marvel's top books right now. Just like Thor, absence made the heart grow fonder.
Glenn: Great settlement for Fantastic Four which will get a wedding push next month because Slott definitely isn't one to let things just simmer.  He's really brought bis magic to a title Marvel has trying (and failing) to make work since they put Millar and Hitch on the book way back in the day.
Ray:  Good ol' Walking Dead is down there at #18, selling 58K. As the comic market ramps up, top ten is a hard reach, but zombies will always be waiting for us in the top 20.
At #21 is the first issue of the Marvel Knights 20th Anniversary miniseries. The first issue is written by Cates before other writers take over, and it sells a strong 52K for a series that doesn't really seem to tie into anything else. The second issue drops significantly down to #50, selling a still decent 36K.
Glenn: Some nostalgia here for sure but Cates seems to be the main selling point here.  You might not be too far wrong on him being at the helm of the ship sooner rather than later.
Ray:  One of the strongest debuts in Boom's history is at #22, as Greg Pak's Firefly sequel series sells 51K. This is set after the series and before the movie, so certain fan favorites are still around. That and the top creative team combined for an amazing debut for a company that rarely breaks into the top 100.
Glenn: The love for this series following a one series cancellation 15 years ago (!!!!) is unreal.  Congrats to everyone involved, the demand is clearly still there.
Ray:  The Drowned Earth crossover concludes at #26, selling just under 50K. This was another modest hit for DC just like The Witching Hour, but the event issues selling so much lower than the Justice League issues is weird.
Glenn: Like I said last month, we saw something similar with Clone Conspiracy a few years ago.  The main issues of Amazing sold great but the event mini did far less.  This seems to be a lack of understanding/miscommunication.  It leaves one to wonder what the point of these special one shots are any more when you can just do an extra issue of the main title and sell a lot more.
Ray:  Dead Man Logan, the final arc of Old Man Logan's story, kicks off its year-long run at #29 with sales of 49K. That's a 10K increase for the final anniversary issue of the original series last month, so retailers were likely treating this as somewhere between a new launch and a continuation. There seems to have been a market for a more traditional stabby Wolverine while the original is dealing with hot claws and Infinity Stones.
This is the tier where we see a lot of strong ongoing titles that have locked down around the 50K-45K mark long-term. They include Detective Comics, Catwoman (which is performing like a Bat-title), Superman, Action Comics, the two main Star Wars titles, Thor, Flash, Justice League Dark, and Captain America. This is the cream of both companies' crops at the moment.
Wonder Woman sees the debut of G. Willow Wilson's run at #33 with sales of 44K. That's an increase of only 2K from Steve Orlando's first issue, interestingly, so the title probably already saw its rebound from the previous extended run. The second issue of Wilson's run only sells 37K at #49. DC probably could have hyped this up a bit more to get buzz rolling, but I expect heavy reorders.
Glenn: It could be a climber too.  Wilson's run has the potential to get people talking about Wonder Woman again and could get eyes on the title gradually over time.
Ray:  A decent debut for playwright Eve Ewing's first Marvel book, Ironheart. It lands at #45 with sales of 40K, which is about as much as I could expect for a character who never really caught on under her stint in the Iron Man armor. I am surprised that this issue did better than Shuri's debut issue last month, given the movie hype for that character. As with almost all teen-focused Marvel books, this title's future will be whether it can capitalize on that secondary comics market.
Glenn: Decent start for Ironhart who who will likely settle at around mid 20k.  This one does seem to have been left to defend for itself promotion wise.
Ray:  We wave goodbye to Mister Miracle as he takes his final bow at #47, selling 38K. Great numbers for a Kirby spinoff, owing entirely to the incredibly talented creative team. But his final trick will be turning those 38K sales into millions of trade sales.
Glenn: This will sell forever and ever over various editions.  You can build a house with one copy of each version of Watchmen that's ever been released and this series will be much the same.
Ray:  #48 has the debut of IDW's new Marvel line, with Marvel Action: Spider-Man. This all-ages adventure features Peter, Miles, and Gwen, and is part of a line of new-reader friendly takes on popular Marvel characters for Disney. Its 37K in sales doesn't look impressive, but this is not remotely a book geared towards this market. It seems like it's going over very well, and it'll sell countless times that in IDW's affordable mini-trade format.
Glenn: Its a big number for IDW.  Many fans in the direct market won't be deeming it relevant enough to check out but through other avenue's it could be the biggest selling Spider-Man title.
Ray:  #55 has the debut of Bloodshot: Rising Spirit, selling 34K for Valiant. This is a decent debut, boosted by the character's profile being raised a LOT by Jeff Lemire. I doubt it'll sustain those sales long-term, though, as this flashback story doesn't seem to be getting much buzz.
In one of the oddest spin-off projects Marvel has done in a while, Thanos' henchmen the Black Order got their own miniseries. It lands at #57 and sells 32K, a pretty weak number for a solo story no one was really clamoring for.
Glenn: Most of those sales will be just due to their spotlight in Infinity War.  It might have done a bit better had it been timed closer to the movie but yeah this is really one of those 'well what did you expect?' cases.
Ray:  The latest and last Infinity Warp miniseries, Ghost Panther, sells 31K at #60. Black Panther has a huge audience, Ghost Rider less so. This was just around the level of Weapon Hex and ArachKnight last month.
Glenn: If only it had been Cosmic Ghost Panther!  Then sales would have went through the roof!
Ray:  The latest Ralph Macchio one-shot, Enter the Spider-Verse, lands at #63 with sales of 29K. This is a bit higher than these throw-away one-shots usually do, maybe due to retailers not being sure if this was a Spider-Geddon tie-in or not. This also may be the last of these, as Jody Houser is writing the reader-friendly Captain Marvel one-shot in February.
Glenn:  They probably wanted a female writer on the Captain Marvel one, Macchio will likely be back in time for his Endgame tie in.
Ray:  After a lot of decently-selling ongoings like Doctor Strange, Harley Quinn, and Nightwing (which seems to be surviving the mess the title's found itself in with decent sales), we get to the next #1 on the list. That would be Han Solo: Imperial Cadet at #70, selling 27K. This is a spinoff exploring an unseen era of a prequel that many people felt was unnecessary in the first place, so I'm guessing that retailers felt this was the least necessary Star Wars comic yet – especially with how poorly the film was received.
Glenn: Yeah, there's been so much backlash against Solo (unfairly to me) that this one was always going to struggle.  It'll probably earn its keep in collections sold at various Star Wars related locations but I don't think we'll be seeing this period of Han's life in comics form in the future again.
Ray:  #79 brings us the first issue of Infinity Warps, an anthology tying into Infinity Wars and featuring absurd little merged characters like "Moon Squirrel" and a Fantastic Four of only two people. It sells 25K, which is fine for a side book like this with no larger implications.
At #85 is a comic called "Rick and Morty presents Pickle Rick". This is a real comic that sells just under 24K. This is a real comic that outsells Daredevil. I am not okay, Glenn.
Glenn: I hear that Chip Zdarsky is going to appear on that mountain, as the sun rises on the third day to make everything okay again!
Ray:  Although West Coast Avengers started low on the sales charts, it seems to be holding very well. The fourth issue sells 22K at #90, which is actually up just under 1K from the third issue. This is a title that found its audience and could grow from here, especially once the first trade hits.
Glenn: This seems to be destined to be a cult hit which is fine, a lot of series out there could dream to have the same distinction.
Ray:  The second issue of the Typhoid Fever miniseries, this one starring the X-Men, sells 22K at #91. That's almost a 33% drop from the first Spider-Man issue, which doesn't bode well for next month's Iron Fist installment.
Shuri gets hit pretty hard with its second issue, shedding about a third of its first issue sales to land at #96 with 21K in sales. Caveats apply about the secondary market, of course, but this is struggling early.
Glenn: Borrowing heavily from the super successful movie seems to not have benefited much, at least in the singles market.  The Black Panther title is doing very well historically speaking but its still not going to be a franchise that can sustain much outside itself.
Ray:  A bizarre, inexplicable, massive drop for Supergirl at #100, as it loses over half its sales to sell 21K. This is essentially retailers reverting to form for the series before the revamp and shedding all their extra orders for the Bendis revamp. We'll have to see where it goes from here, but this one of the more dramatic course corrections after the initial three-month period I've seen.
Glenn:  That is an odd one.  Perhaps a mistake, perhaps not.  We'll know more next month.  Its still doing at an okay level but if it drops further it might become a problem.
Also, selling about 20k gets you into the top 100 these days, yeesh.  2018 was rough.
Scottie Young's new Image book, Middlewest sells a very good number at 104 selling over 20.8k.  He's slowly building a brand as a writer.
Ray: Yeah, Young's had a pair of pretty decent hits for Image as of late, even without his art on board.
Glenn:  Losing about 16k on its second issue, Old Lady Harley sells over 20.4k at 105 which isn't too bad given its an out of continuity mini by a writer that doesn't have much buzz about him.
At 108 is Archie 700 which is the title going back to original numbering and the start of a new creative team which sells over 19.4k which is quite a leap up from the titles previous levels.  This issue is essentially a clip show/set up.  It'll likely be back to previous levels soon enough, the hype the title gained when it relaunched under Waid and Staples seems a long time ago.
Ray: I believe this is the start of the new creative team on Archie, actually. The company hyped it up for months and gave it a ton of variants, and these sales reflect it. But as we speak, artist Marguerite Sauvage has already left the title and the book is missing months in solicits. Not looking good. If only other companies had stories that could have warned them…
At #112 is an unusual Dark Horse book, William Gibson's Alien 3. This is the comic book adaptation of what would have been Alien 3 before it was heavily rewritten. It sells 18.8K, a stronger than usual debut for this licensed property. Dark Horse is getting the best out of it before the property heads over to the mouse house. 
Glenn: I missed that one!  The story behind Alien 3's production fascinates me so a lot of fans of the franchise will definitely turn out for this one.
Former DC and Marvel writer, David Walker comes back to comics after a brief break along with co-writer Chuck Brown to launch Bitter Root from Image which launches at 115 selling over 18.6k which again isn't too bad, especially since Walker never really got the opportunity to be a heavy hitter at either of his two employers.
Ray:  Yeah, this is a very promising debut for Walker and Greene's book, and it seems to be getting some amazing reviews. We'll see it have very good holds from here, I bet.
Glenn:  At 119 is Doctor Who 13th Doctor 1 which sells over 18.2k which is the highest launch for the property in…well quite some time and possibly ever.  Not sure how long it'll last but this is likely due to the hype around the first female Doctor and the involvement of writer Jody Houser along with longtime Who artist Rachel Stott.
Books of Magic loses about half its sales with the second issue charting at 120 with sales over 18.1k.  This is still very good if we're going by recent Vertigo standards and these various Sandman related books will do most of their business in trades regardless.
DC's latest 80 page 9.99 anthology, Nuclear Winter sells over 17.2k at 122 which is very good for a bunch of out of continuity series but this volume had some serious talent involved which likely helped.  For what its worth, I think this one was the best one DC has put out.
Ray: That's another healthy launch for an expensive, oversized anthology. If they keep delivering the quality, they'll have a small hit every quarter at this rate.
Glenn:  At 123 is Suicide Squad Black Files which sells over 16.9k which is okay for a throwaway one shot while the franchise waits for the next iteration of its title to be announced.
Ray: This Suicide Squad miniseries is essentially a compilation of two separate solo series – one for Katana and one for El Diablo. Given that, I imagine these sales are much better than those solo projects would have done.
Glenn: Oh yeah for sure, we still have nightmares about the sales of Katana's new 52 series
The second issue of Lucifer at 124 is an identical story to Books Of Magic, it sells over 16.8 which if memory serves places it quite a bit ahead of the previous series that was coming out.
Falling to sales over 16.2+k is the latest Umbrella Acedemy mini at 127.  There's still a small dedicated audience here but this mini and its predecessors will likely greatly benefit in collections from a Netflix adaption coming in the new year.
A new DC series Electric Warriors launches from Steve Orlando and Travel Foreman at 128 selling over 16.1k.  This seems to be a revival of an old 80's property, I don't think there seemed to be much of a clamoring for the return of this one.
Ray: Yeah, this is a super-obscure DC property, taking place between the eras of Kamandi and the Legion. Given that, DC probably didn't expect anything else. It's a fun experimental miniseries that will play out its run and hopefully get a cult audience in collections.
Glenn:  The newest John Layman title, Outer Darkness debuts at 136 selling over 13,7 which seems to be about the audience his name commands.  Decent start, if it can pick up momentum in collections like Chew did there won't be any concerns about Layman getting to tell the title's full story.
Ray: Layman tends to do a bit better than other cult creators known for their weird concepts. Kieron Gillen said that if you're not an A-lister and you launch above 10K, you're probably in good shape.
Glenn:  Usually the movie prelude's Marvel put out are a waste of paper retelling the events of a previous movie or some such.  I'm curious though what Captain Marvel Prelude included since we've seen nothing of her so far on the big screen.  It sells over 13.3k at 138 which is perfectly fine for this sort of thing.
Ray: This one was actually an original story, focusing on what Maria Hill and Nick Fury were doing through the last few years of the MCU. It also had nothing to do with Captain Marvel until Fury called her, so this line continues to be weird.
Glenn: At least it was a new story though
The second issue of Shatterstar loses about 8k in sales which is much better than I would have expected.  It sells over 13k at 139 so it could be much, much worse.
At 141 is American Carnage from Brian Hill which a new Vertigo offering from DC which sells over 12.8k which is about the usual for this new iteration of the line.  I think this one might be the one to watch of all of the new Vertigo launches though.
Ray: Yeah, this one has a very strong creative team and a lot of advance buzz. More on Vertigo's newest troubles in a bit, though…
Glenn:  At 148 the Sideways Annual sells nearly identical to the regular issue which is just one spot below it with both selling over 11.6k.  The character seems to have a small but set audience but that's unlikely to save it from the same fate the books it launched amongst have all met.
Ray: Sideways has in fact been cancelled, so it seems like we'll be seeing this line as a whole wrap up shortly.
Glenn:  At 157 is Dr. Horrible Best Friends Forever the long awaited sequel to the exceptional web series of yesteryear.  It sells over 11k showing that it doesn't seem to have the same nostalgia power that Firefly had but the series hasn't had nearly as much additions to it and doesn't feature any new music (boo)
Ray:  That's really low for a property written by Joss Whedon – he actually wrote the full script here, not just consulted. It's always hard to tell how much audience a property that was solely available online for free has left, but I'm surprised this didn't make the top 100. 
Glenn: I think after the accusations raised by his ex-wife and the performance of Justice League, Whedon's pull may have diminished.  It'll be interesting to see how well his new series does when it sees the light of day.
Ray:  Cult creator Tom Scioli, one of the most acclaimed indie cartoonists next to Ed Piskor, chose the obscure 1980s cartoon Go-Bots as his next project. It launches at #158 with sales of 11K for IDW, their third-highest sales of the month. That's the most relevant Go-Bots has been in decades! But given Scioli's fanbase, I imagine this will be doing most of its audience in collections.
Glenn: I know nothing about Go-bots apart from them being discount Transformers so this seems rather good but within expectations for when you get a creator who brings a set audience regardless of property.
Ray:  The latest Hellboy and the BPRD one-shot, set in 1956, lands at #164 with sales of 10.5K. It's pretty amazing how stable the Mignolaverse is for Dark Horse. That and Black Hammer are their top homegrown franchises.
An odd project, The Wicked + the Divine Funnies, lands at #166 with sales of 10K. This is pretty close to the level of the regular title, so retailers just treated it like the latest one-shot even though it's a comedy anthology with no ties to the main story.
An oversized Jim Henson's Labyrinth one-shot lands at #170 with sales of 9.8K. The movie has gotten a bigger profile recently thanks to the sequel series, so this probably boosted the sales. Not bad for a $7.99 comic.
Greg Pak's latest relaunch of James Bond, titled James Bond 007, launched at #172 with sales of 9.7K. This got some good buzz for his revamp of Oddjob as a rival secret agent, but it doesn't seem to have translated to sales. Probably doesn't help that Dynamite has a lot of different Bond books running at the same time.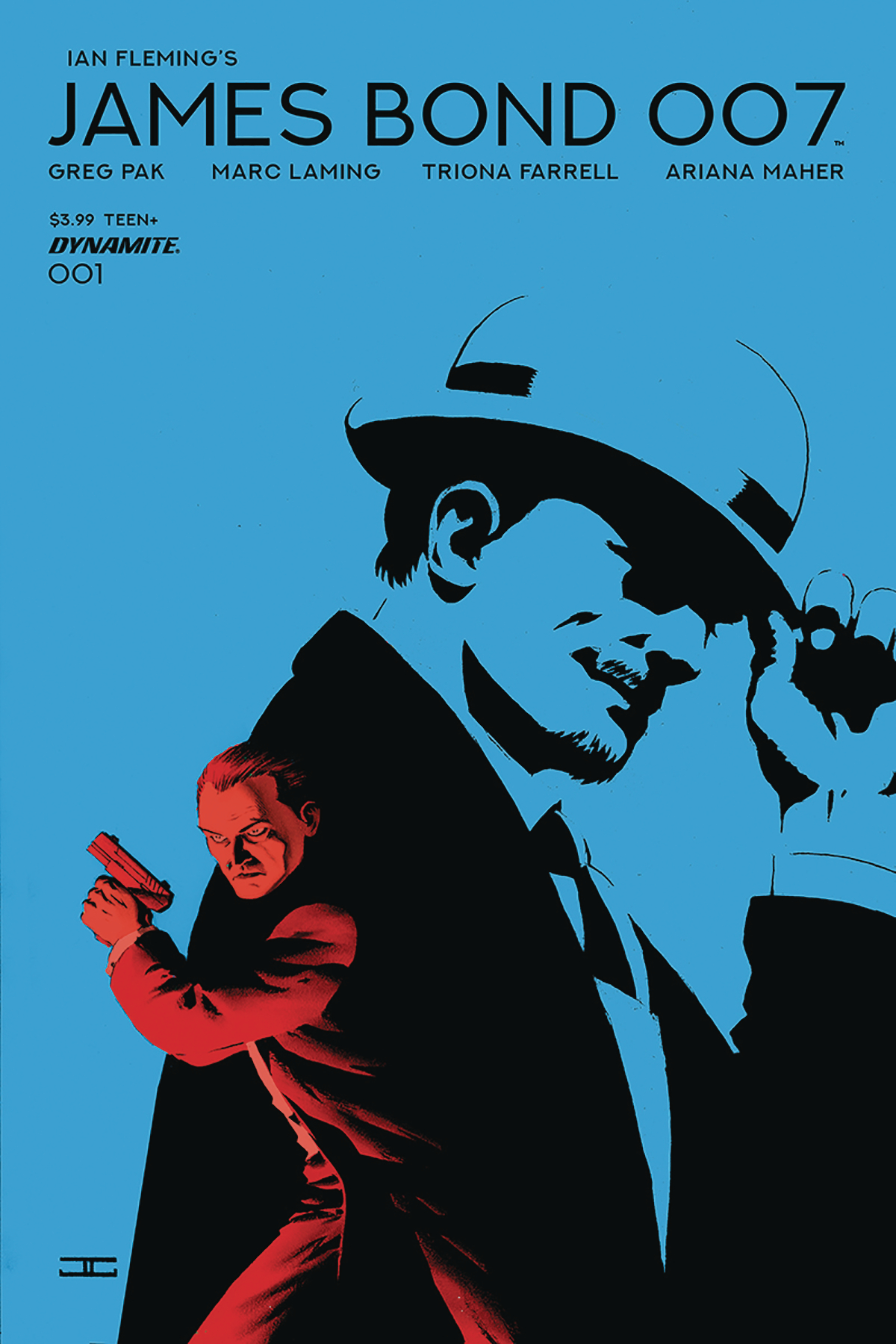 Glenn: They do seem determined to get a lot out of this licence don't they?  Bond outside of the big screen isn't a franchise that commands a lot of attention and even then, the status of the films seem in flux.
Ray:  Star Wars Adventures has a new spinoff miniseries, Destroyer Down, taking place right before The Force Awakens. It sells a healthy 9.7K at #173, although the majority of sales will be in collections.
Bettie Page gets a relaunch at #175, selling 9.6K. I got nothing. Dynamite really likes doing weird adventure comics about real people.
Glenn: I don't remember the last series being that long in the tooth…who do they think they are, Marvel?
Ray:  Tom Taylor wraps up his time in the Injusticeverse with Injustice 2 Annual #2, selling 9.5K at #176. This was a digital-first release, so it did most of its sales there, but this is still a decent increase for the book. It's also one of the best comics of the year.
Glenn: Taylor has been doing Injustice for a few years now (apart from a brief break some years back) and seems to have turned it into a well received cult hit.  Not too bad for a comic based on a video game to remain relatively stable for several years.  We're starting to see Taylor now get bigger franchise opportunities coming up, lets see how those do in the coming months.
Ray:  One of Cullen Bunn's earliest horror comics, The Empty Man, returns for an ongoing series at Boom. It sells 9.3K at #179, a decent number for Boom's creator-owned books. That Bunn guy is all over the place!
Glenn: Bunn, Ennis and Lemire maybe have the most diverse portfolios in comics right now.  Doesn't seem to be doing them any harm either.
Ray:  Top Cow's latest release, The Warning, lands at #180 with sales of 9.2K. Edward LaRoche's writer-artist book didn't seem to get much advance hype and got lost in the shuffle of the month's big releases, so it'll have to build some buzz fast.
Glenn: Typical Top Cow performance then, the company must be able to perform somehow/somewhere to keep chugging along as it does.
Ray:  At #185, we have the third issue of Vertigo's Border Town, selling 8.5K. A decent number, and about 8.5K more copies than it's going to be finishing its run with after the creator was credibly accused of sexual assault, his art team quit, and DC canned the book. Womp Womp.
Glenn:  DC just announced that the first few issues are all returnable too.  Its like it never happened and that's pretty much how it should be.  Kudos to the art team on this, I hope they get more work.
Note:  After this was typed up, it was leaked the writer was due to takeover Nightwing and was to co-write the March issue.  That did not happen.
Ray:  Chilling Adventures of Sabrina, which has spawned a hit Netflix series despite never finishing its second arc, reissued its first issue for a dollar and sold an additional 8.3K at #188. Some free money, akin to the True Believers model, but it's funny that this is the first comic based on the property that has been released in years.
Glenn: The collection sold well this month too.  The upcoming title by Kelly Thompson will likely do well too, it is odd that they're making the call to have that series be more of a traditional Sabrina story than the one that is taking off on screen.
Ray:  Dark Horse had better find some new licenses to make up for all the ones they're losing to the mouse, so they're trying to make a go with the popular video game God of War. The first issue of a new miniseries sells 7.9K at #194.
Glenn: A very popular game series but as usual, that'll only get you so far with a comic adaption.  Fans of these franchises like the medium they originate from.
Ray:  Speaking of cult video games, the choose-your-own-adventure romantic mystery Life is Strange gets a spinoff from Titan Comics. It sells 7.5K at #198, a decent number for Titan and its young adult audience will probably pick it up in larger numbers in trade.
Glenn: That being said, Life Is Strange which is heavily story based and has a very passionate fan base could buck the trend.  Fans could really turn out for the collection of this one.
Ray:  Coming off a 25-cent preview issue, Dynamite launches Battlestar Galactica Classic as a series, and it debuts at #203 with sales of 7.2K. The property has been overshadowed by its modern version in recent years, so this is very much a niche comic.
Crimson Lotus, a spin-off of the Lobster Johnson Mignolaverse franchise, gets her own series at #208, selling 6.7K. Well below the main series, but it's another piece of evidence of how strong this franchise is.
Hey, Zombie Tramp is creeping towards the top 200! She's at #218 this month, selling 6.1K. Good ol' Zombie Tramp, unofficial mascot of By the Numbers.
Glenn: I remember puzzling what the heck it was when it started appearing at 300 (back when there only was 300…) its nice to see it grow up and do so well.  No doubt our constant mentioning of it here and on the Stew helps a great deal.
Ray:  Woof, a pretty terrible debut for Keith Giffen's new Image miniseries, Auntie Agatha's Home for Wayward Rabbits. It sells 5.7K at #220. That's one of the lowest debuts for a main line Image book I can remember, especially odd since Giffen is a fairly big name in comics. This seemed like an all-ages comic based on the concept, but it actually very much wasn't. I don't know who this was marketed towards, and I'm not sure retailers did either.
Glenn: Giffen is a legend in comics but he's not known for much creator owned stuff.  He may be viewed as an old school creator that can't float a new series.  This one could turn around but so far, interest seems to be minimal.
Ray:  The latest Boom teen-oriented miniseries, Smooth Criminals, lands at #234 with sales of 5.3K. This story of a computer programmer who teams up with a time-displaced master thief. A double-period piece taking place in 1955 and 2000, it's clearly a unique book – but like all of Boom's books, it's not really geared towards the direct market.
Glenn:  T
hat seems to be a very interesting if somewhat complex premise.  One thing that the market can't be accused of is lack of choice.
From IDW comes a prequel to the last movie George Romero directed, Road Of The Dead: Highway To Hell which sells over 5.2k at 236.  This is likely for diehard fans of the movie or Romero in particular.  I can't expect IDW expected much more because at its core, its just another zombie book and priced at 4.99 to boot.
The Terrible Eisabeth Dumn Against The Devils In Suits is an English adaption of a foreign horror comic.  It has a very long title and is good for sales numbering over 5.1k at 239.  It seems to have been lost in the shuffle a little bit.
Ray: This was a really weird comic – oversized both in pages and dimensions, and released with little fanfare. Image just sort of tossed it out there, and this is what you get.
Glenn:  Some reorders for last months Venom annual at 242 with over 4.6k additional sales.  There are additional sales for the third issue of the main series at 240 too.  We're going to have so many Venom books come the Summer, we'll not know what to do with ourselves.
Lightstep is a new five issue mini from Dark Horse which sells over 4k at 258.  Pretty standard from Dark Horse when it comes to comics that aren't attached to major properties or by Mike Mignola or Jeff Lemire.
Ray: I believe the creator of Lightstep is a legendary European writer/artist, so this may be aimed much more at foreign markets in the collected edition.
Glenn:  Minions Viva Le Boss is a one shot containing more wacky adventures from everyone's favorite yellow fiends.  It sells over 3.8k at 266 which is on the low side but there's no movie to latch onto, its a kids comic and will likely sell better elsewhere.
Ray: I think it's actually a series – just issue after issue of silent comics where the Minions accidentally kill their boss. This will likely get a lot of bookstore sales
Glenn:  A new mini from Zenescope written by Chuck Dixon (no really), Van Helsing Sword Of Heaven launches at 280 selling 3.5k.  This is a higher level than Zenescope usually does but again, its a rough month all round.  Seeing Zenescope publish work by Comicsgate creators seems about right for them.
Ray:
Zenoscope, keeping it classy even when not selling Sexy Red Riding Hood. 
Glenn:  Disney Afternoon Giant at 286 selling over 3.3k is much like the case of the Minions comic above, its a kids comic that'll do its business elsewhere.  For those keeping track on their 'Disney properties and who deals with them' Bingo cards, this one is from IDW, well known publisher of Spider-Man.
Speaking of Spider-Man, at 288 we have some reorders of Spider-Geddon.  Reorders are always nice but this is only sales of over 3,2k so this doesn't seem to have been the barn burner that the company was likely hoping it would be.  Its been very good too but it seems the idea will be more profitable as a movie franchise in the years to come.
More reorders for Venom, issue 7 this time at 295 selling over 3k.  Venom showing up multiple times in the forms of reorders is something that makes me doubt my sanity, who would have guessed?
Another new mini from a creative team I don't recognize in the form of Sukeban Turbo which sells over 3k at 296.  I think they should be pleased they made the top 300 all things considered.  Up here is where its safe.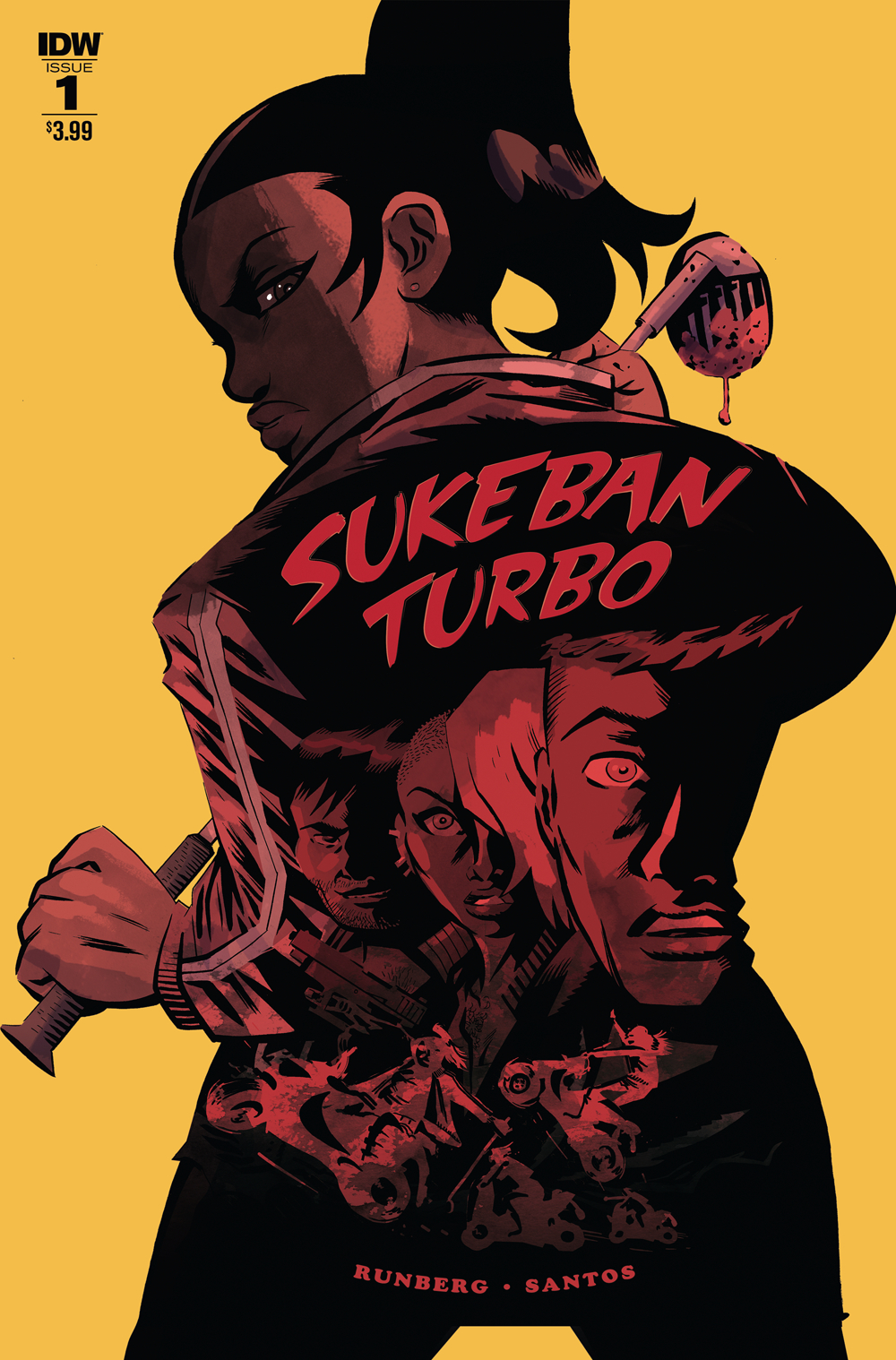 Pretty much the same story at 300 for Night Movies which just squeaks in at the upper end of the charts with sales over 2.9k.  IDW are throwing out a lot of content but not much of seems to be resonating interest.
Ray: There's been a real increase in the number of creator-owned comics on the market, to the point where it starts to feel like a glut. IDW is one of many companies that hasn't been able to catch fire. We saw what happened to books by legendary creators like Carey and Gross with The Highest House (come on, people!). What hope do books like these have? Neither of them picked up any critical buzz either.
Glenn:  Cheryl Blossom 1 is some sort of comic shop incentive thing from Archie which sells over 2.4k 1t 313  proving that not every Archie character needs their own title.
Ray: I believe this was a reprint of Cheryl's solo series from the 1990s. It didn't last long then either.
Glenn:  At 315 is Trump Titans Space Force.  It sells over 2.4k.  I wonder how many of those were ordered for the lolz factor.  Those reading this will likely still hear my cries of sorrow on the wind from having to type about this comic.
Ray: *deep long sigh followed by barely muffled scream* We are professionals and judge all comics equally. This is by Canadian company Keenspot, and I believe their Trump comics are more parodies? Maybe?
Glenn:  No one said we were professional.
A lot of reorders around the 2k mark for random issues of Amazing, Shuri, Nightwing, Drowned Earth, X-Men Black: Magneto, the first issue of Heroes in Crisis and others.  Again, reorders are always encouraging but none of these exactly scream high demand.
At 341 is Cerebus In Hell, our monthly Dave Sim insanity which sells over 1.9k.  I wonder if in another reality he too had to do an article about the top 500 sales…
Conspiracy The Illuminati is a comic centering around some of the worlds craziest theories.  It promises to shape how readers perceive reality but given its from Zenescope, the only thing readers may doubt is their sanity.  It sells over 1.9k at 342.  The Da Vinchi Code this isn't.
Ray: I'm sure this won't at all give their new ComicsGate fanbase some bad ideas about who's running the world…
Glenn:  The price of $1 doesn't seem to get much interest in the Atomic Robo: Greatest Hits release at 345 selling over 1.8k.  Its a cult all ages property with a set audience and even a price incentive is unlikely to grab new readers.
Ray: This comic has had a long, healthy run already and has found a solid audience in trades. This is just a way to try to get some more eyes on it, but I imagine this is a lot like Usagi Yojimbo or Savage Dragon – another long-runner that isn't going to pick up much of a new audience.
Glenn:  Die Kitty Die Heaven and Hell maybe wins the prize for the oddest title this month.  It sells over 1.8k at 346 and is the monthly release of a Kickstarter project so likely all those who were desperate to have it got it through there.  The property shows up again at 356 in Die Kitty Die Cathouse Horror special selling over 1.7k.  I think they missed the fact that all the horror releases were last month.
Ray: This is one of those obscure comics like Lady Mechanika that I keep on seeing around but I'm still not sure if it's real.
Glenn:  90's nostalgia features this month at 372 in the form of Rugrats C Is For Chanukah Special which sells over 1.5k at 372.  Better elsewhere, yadda yadda.  You all know the drill.
Ray:  One might even say…T is for Trades? And B is for Bookstore?
The oversized IDW Disney digest, Tsum Tsum Kingdom, is at #374 selling just under 1500 copies. Same story as Rugrats, but this one is about tiny little aliens that look like Disney characters! It also had stories by Time & Vine creator Thom Zahler. This is likely going to be an evergreen book at Disney World, so IDW's Disney/Marvel bet continues to pay off.
The new sexy Superhero comic Punchline debuts from Antarctic Press with 1.4K at #375. Got to get some of that Zenoscope money, I guess.
Glenn:  She does seem to wear a little more clothes than the female characters from either companies choose to wear if that counts for anything.
Ray:  The Catalyst Prime line from Lion Forge has been ambitious, but it hasn't paid off in sale as the line's seven books often miss the top 500. We get a new debut this month, as Quincredible – a teen superhero adventure that doesn't actually have the Catalyst Prime logo – lands at #381 with sales of 1.4K. Clearly, these books have to be getting their sales somewhere, but it's not here.
Glenn:  As you said on the Stew, removing the logo seems to have helped matters which is hilarious in a way.
Ray:  A surprisingly hefty reorder for Steve Orlando's Dead Kings, from Aftershock at #385, picking up just under 1.3K. I think retailers ordered this like every other Aftershock book but underestimated Orlando's fanbase. There's also 1.2K in reorders for the Wytches Bad Egg special four spots lower.
Starburns Industries Press has the oddball anthology, Comics Comics Quarterly, at #388, selling 1.25K. This collection of stories by comedians featured Patton Oswalt and might become a collector's item if one of the lesser-known comics breaks out.
Glenn:  An odd one and may worth digging out of your lcs's bargain bin cause you never know!
Ray:  Pink Panther Classic Christmas sells 1.2K at #391. It's a weird world down here.
Amid a lot of reorders, the Source Point Press Frankenstein remix Monstrous lands at #401, selling 1.1K. Source Point, unlike many other new companies, seems to have a distinct POV. They do oddball horror and supernatural comics, and it seems to be helping them grow a bit faster than others.
Action Lab has Princeless: Find Yourself, a feminist fairy-tale remix from Unstoppable Wasp creator Jeremy Whitley. It sells 893 copies at #418, but this is a series that's been out for a while and gets 99% of its sales in collections. I'm kind of surprised they;re even doing singles anymore.
Mad Cave Studios, which we rarely see on this list, has a new title in Knights of the Golden Sun at #421. Selling 843 copies, it's a pseudo-Christian comic about the lost adventures of angelic warriors. Clearly, the definition of niche comic.
Glenn:  Wow…I wonder if this is secretly an Ed Wood comic and he's using this to finance his latest zany movie.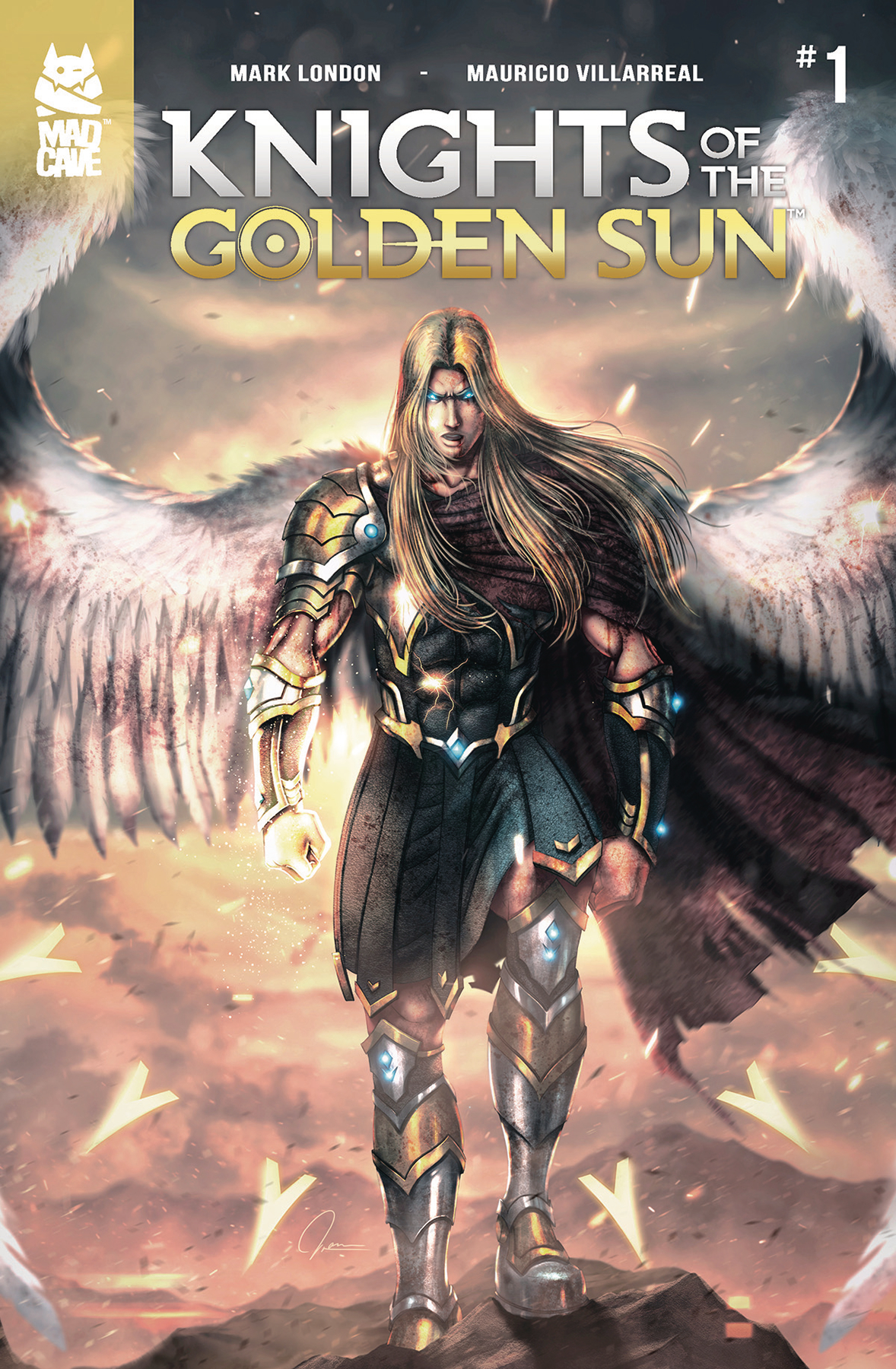 Ray:  The Long Con deserves so much better than 765 copies at #430. Clearly, Oni has faith in it, though – hopefully it's killing it in trades.
Glenn:  It really does.  Oni released a second printing of the first issue and only charged $1 for it a while back so hopefully that helps things long term.
Ray:  Vault might have a mini-hit on its hands as they pick up 677 reorders for their India-based vampire thriller These Savage Shores at #435. Amid a sea of Marvel, DC, and licensed reorders, this one stands out. They also get 672 reorders for their supernatural writer drama Fearscape at #438.
Judge Dredd is a character who's made the rounds at various companies. His newest home at Rebellion Developments doesn't really pay off, as movie sequel Dredd: Final Judgement only sells 663 copies at #439.
Neither Monarchs #1 from Scout Comics nor Love Town #0 from Devil's Due make any impact on the direct market, selling 581 and 576 copies respectively at #446/447.
We finally get to see where the Catalyst Prime titles land, as this month's chart has a much lower floor than most months'. Noble is the highest of the lot, selling 551 copies at #454, with Summit and Accell selling 490 and 457 respectively. The others are still MIA.
Two more creator-owned bombs are Pandora: Shotgun Mary #0 from Avatar (#455, 541 copies) and Antarctic's Star's End (#456, 539 copies). Too many books on the market and little to set these two apart.
Glenn:  Its sink or swim in the market with too many books doing the former.
Ray:  It's a wave of reorders down here, as the vast majority of the bottom fifty are books we've seen already. The last original book on the charts, at #493, is WWE Superstars Ongoing from Super Genius. This is an alternate reality comic featuring the WWE stars as superheroes, and it sells 397 copies.
Glenn:  Super Cena!  He's reallllll
Ray:  The actual #500 book this month is a reprint of Rick and Morty vs. Dungeons and Dragons #2, selling 391 copies. Somehow, I blame Pickle Rick for this.
Glenn:  Same.
Ray:  Looking ahead, it's a pretty big month to end the year. DC is bringing us some new launches and creative teams, including a new Freedom Fighters and Martian Manhunter series, Kelly Sue DeConnick's debut on Aquaman and Pete Tomasi's return to Detective Comics, and Zoe Quinn's first published comic at Vertigo in Goddess Mode. But the heavyweight entries are undoubtedly the lightest and darkest comics DC puts out this month – the debut of Shazam, and the return of The Batman Who Laughs. Good chance those two are chasing Doomsday Clock on the charts.
Marvel this month is more about endings than beginnings, with events like Spider-Geddon, Infinity Wars, and Extermination wrapping up their runs. But they've got quite a lot of launches packed into three weeks this month – including two Fantastic Four wedding issues, a five-part Defenders special event, the launch of Superior Octopus, Killmonger, and a new Miles Morales series at exactly the right time.
It'll be a busy month for indie as well. The headliner is probably the new Gillen/Hans series Die, but Mark Millar and Rafael Albuquerque's new series Prodigy isn't far behind. And when it comes to Dark Horse, it's the comic everyone's been waiting for – Black Hammer presents Cthu-Louise!
What will rise? What will fall? Will we cry when we get into the 400s? Find out next time on By the Numbers!
Liked what you read?  Have a question or a comment?  Let us know here or hot us up on Twitter @glenn_matchett and @raygoldfield!