By The Numbers: October 2018
Like in any industry, comic books and their companies listen most to one thing and that's your money! What does your money tell them? What does it tell us as fans? What series do people say they adore but can't seem to catch a break and what books to people hate that sell out? What are the trends? What looks good? What looks rough?
All these questions and more will be answered here, every month in 'By The Numbers' by comic writers, editors and fans, Glenn Matchett and Ray Goldfield.
Glenn Matchett is a comic writer and editor. He's worked in the industry for 6 years but grew up reading comics. He's had work published with Outre Press, Alterna Comics and Nemesis Studios. Submitting a comic to Comixology is slowly breaking Glenn's spirit.  Next month he will be replaced by Garth Ennis.  There will be a lot more swearing.
Ray Goldfield is a fan of comic books for going on 25 years, starting with the death of Superman. He is a writer and editor and has released his first novel. Ray also does a weekly roundup of DC comic reviews for website Geekdad and they're brilliantly entertaining.  When She-Ra dropped on Netflix, Ray outlasted several little girls in a sleepover to watch it first while completely forgetting how on demand worked.
We also do a podcast together with longtime buddy, Brandon James on iTunes with Rabbitt Stew or at the link here! Don't ask, I didn't pick the name. If you'd like to hear what me and Ray sound like, give it a listen!
Top 300 in full available here!
Glenn: We get closer to the end of the year and things are actually relatively quiet.  Both companies seemingly have events going on but the results of both are rather muted.  This means that books that sell well on their own merits rise to the top and this months sales of October 2018 exemplifies that perfectly.
Without many big launches or high profile books in its path, the measuring stick of monthly sales Batman takes the top spot with issue 56 selling over 107.5k with issue 57 selling over 95.2k at 4.  Returning to its ever so gentle slide, everything is business as usual here but without anything really 'big' hitting this month that means the most consistent book on the chart wins the day.  It does mean the lowest number one selling book for a while though which might be a problem if this was the case long term but that isn't likely, we've got plenty of big launches to come over the next few months.
Ray: It's been a while since we had a sales chart with numbers this low. Only three books above 100K is pretty rare, but it's not surprising given how few a-list titles launched. There's a few books I would have expected to do higher, but how amazing is it that the 57th issue of a title can still command 100K in this day and age? Given the Mark Buckingham side story this issue, though, that might be 100K+ lawsuits for mental trauma…
Glenn:  Continuing to break every rule in comics, Walking Dead is the second best selling book of the month but not in the form of its regular issue, oh no that would be too easy.  A reprint of the first issue from 15 years ago gets an anniversary edition that sells a whopping 106k+.  When this issue came out way back when it sold just over 7,200 copies but now Walking Dead is a genuine phenomenon and people can't get enough.  This issue has been reprinted more times than you can imagine but here it is, selling like hot cakes none the less.  Its insane how successful this property is and how it has literally changed the landscape of comics forever.
Ray: A reprint. A full-price reprint from fifteen years ago. This blows the performance of any True Believers one-shot out of the water – and those are a dollar! It's insane what Walking Dead has become.
Glenn:  At 3 is a somewhat muted debut for the super hyped Spider-Geddon which is a sequel to the massively successful Spider-Verse from a few years ago.  Last time, the story was told in the pages of Amazing with numerous tie-ins but this time around gets its own mini.  It debuts with sales over 104.8k which is lower than I would have imagined.  The event is missing the architect of the previous chapter, Dan Slott true but I would have thought that the concept enough would have got people more excited.  I do think it'll perform very well in itself and the various mini's will do well but I doubt we'll see a trilogy out of this concept.
Ray: This feels like an epilogue to the Slott era in some ways, and this result shows how much nostalgia there is for that run. But even with all the tie-ins, this event seems a little disconnected from the main Marvel Universe. The upcoming Spider-Verse movie will likely give it a slight boost, but this definitely isn't a sequel topping the original.
Glenn:  With a new number 1, a new creative team, a new direction and a new event to ride the wave off of, Spider-Gwen: Ghost Spider launches at 5 in the charts with sales over 88.9k.  Miles ahead of where the book was before and a promising start. if the book can manage to do a bit better or around the same as the previous book it will live a long happy life.  This version of Gwen is about to hit the mainstream in a big way with Sony's upcoming Spider-Verse movie so the stock in this character is only going to rise.
Ray: Gwen is definitely the most popular new character out of Marvel in recent years, even eclipsing Miles and Kamala who are huge in their own right. It's great to see her sales getting a huge shot in the arm from the new creative team and event.
Glenn:  At 6 is the bizarre case of Heroes In Crisis and I'm not just talking about the murder mystery in the title.  The second issue sales are over 88.5k which is a lot lower than the hype machine at DC has been pushing it as.  The bizarre true nature of the event of course has got a lot of people scratching their heads and a lot of divided opinion.  If it was looked at as a offshoot character piece then yes, this is a great number but as an event as it seems to have been turned into then as Ray predicted this looks to be performing at the same trajectory as other secondary events that people couldn't figure out long term did too such as Fear Itself.  Will this be a long run winner for DC or quickly smushed under the rug?  We're too early to tell.
Ray: DC sort of took everyone by surprise with this miniseries, not really hyping it properly, and it shows. But the repercussions are seemingly going to be HUGE, so this is primed for reorders.
Glenn:  At 7 is the new issue of Venom, the insanely successful title from Marvel that without anyone paying attention has become their highest selling ongoing.  It sells over 87.1k which is just the result of a perfect storm for this book.  The right creative team at the right time telling the right story.  Everything just works and this is the direct result.
Ray:  I'm really, really reminded of the trajectory of Green Lantern here, with an a-list creative team turning a B-lister into a franchise. We'll probably have multiple books by this time next year. 
Glenn:  The first issue to dive into big story, Drowned Earth is the 10th issue of Justice League which sells over 84.1k.  There seems to be genuine interest in this story and the run as a whole.  It even seems that though solicitations indicate that this is more of a Snyder/Tynion book than a Snyder book alone, it doesn't seem to be making much of an impact.  Issue 9 also sells well at 13 getting sales over 72.6k.  Hype for a new story seems to be enough to give this some solid legs long term, another nice addition to DC's top line of books.
Ray: This is the second mini-event like this from a Justice League title this month, and we'll get to the other shortly. We saw great numbers from both, boosting the sales of the parent title. We'll likely see more small-scale events like Drowned Earth, The Witching Hour, The Button, and Flash War as they seem to work well for DC.
Glenn:  Finishing out the top ten is the newest issues of Amazing Spider-Man which sell over 83k and 82.8 respectfully for issues 7 and 8 in the new direction.  Another book with a glacial slide, it seems that this one can be left pretty much unattented while there are more pressing matters elsewhere in the company line.
Ray:  It seems pretty clear that ASM is still stable, as the near-decade long halo Dan Slott gave it hasn't worn off yet. The general response to this new run from readers seems to be "It's okay", so it'll take more than that for retailers to start shedding copies of their long-time best-selling book. 
Return of Wolverine #2 sheds about 2/3rds of its sales to sell 80K at #11. Pretty predictable, given its absurd number of variants the first one, but this is a pretty healthy number overall. We've gotten some word today about the character's new series going in a cosmic direction in Avengers recently, so we're likely to have another new #1 after this to keep sales high.
Glenn: Return Of Wolverine was always a mini so I figured we'd be getting another number 1 with the character soon but I must admit, I didn't imagine it going in that direction.  Maybe this is Wolverine's future now, never ending mini's instead of an Ongoing.
Ray:  #12 brings that dastardly Venom again, selling 75K for an annual at #12. This issue didn't have Donny Cates except in a brief framing sequence, but brought back several iconic Venom creators including David Michelinie for short stories about Venom's past. At only 12K below the main title, it's more evidence that Venom Fever is in full swing.
Glenn: Eating brains is officially back in fashion
Ray:  The performance of Catwoman's new solo series is quickly becoming one for the ages. It inexplicably jumps 17K this month to land at #14, selling 72K. That's a huge boost and reflects the fact that retailers actually underordered during the initial preorder phase. Huge coup for Joelle Jones and for Tom King in raising the character's profile.
Glenn: That's great for any book but especially for a Catwoman one, this is a character whose title has always been middling sales at best.  Perhaps in some ways she is the DC equivalent of Venom where everything has clicked at the right time to make the book a runaway hit.
Ray:  The gap continues to narrow between Superman (#15, 67K) and Action Comics (#19, 60K), as Bendis' Superman run builds momentum. The character definitely seems to have benefited from the new high-profile creative teams, and Action seems to be the better-received of the two.
The weirdest thing about those crazy sales for the Walking Dead reprint up above is that it outsold this month's new issue by over 45K, as we find old reliable Walking Dead down here at #18, selling 60K.
Glenn: It'll be back at the top in no time but Walking Dead outselling itself is the most Walking Dead thing to happen ever.
Ray:  The Batman anthology issue Batman Secret Files lands at #20 with sales of 58K. This had stories by Tom King, Tom Taylor, and several new creators. These are very impressive sales for an anthology, but this was a $4.99 one rather than the giant $10 ones that DC does.
Glenn: Very good performance but it had the Bat boost and King's name attached at that.  I was a bit iffy on this one but it was mostly good, it doesn't seem to have any real significance so for a throwaway one shot priced at 4.99, those are great numbers.
Ray:  This month brought us a lot of one-shots, including the five-part X-Men: Black villain-based series. Emma Frost's issue did the best, selling 55K at #23, with Magneto not far behind at #31 and 49K. Mystique is down at #42, selling 43K, followed by Juggernaut three spots lower at 41K. It's Mojo bringing up the rear down at #52, selling 37K for his bizarre incel cautionary tale.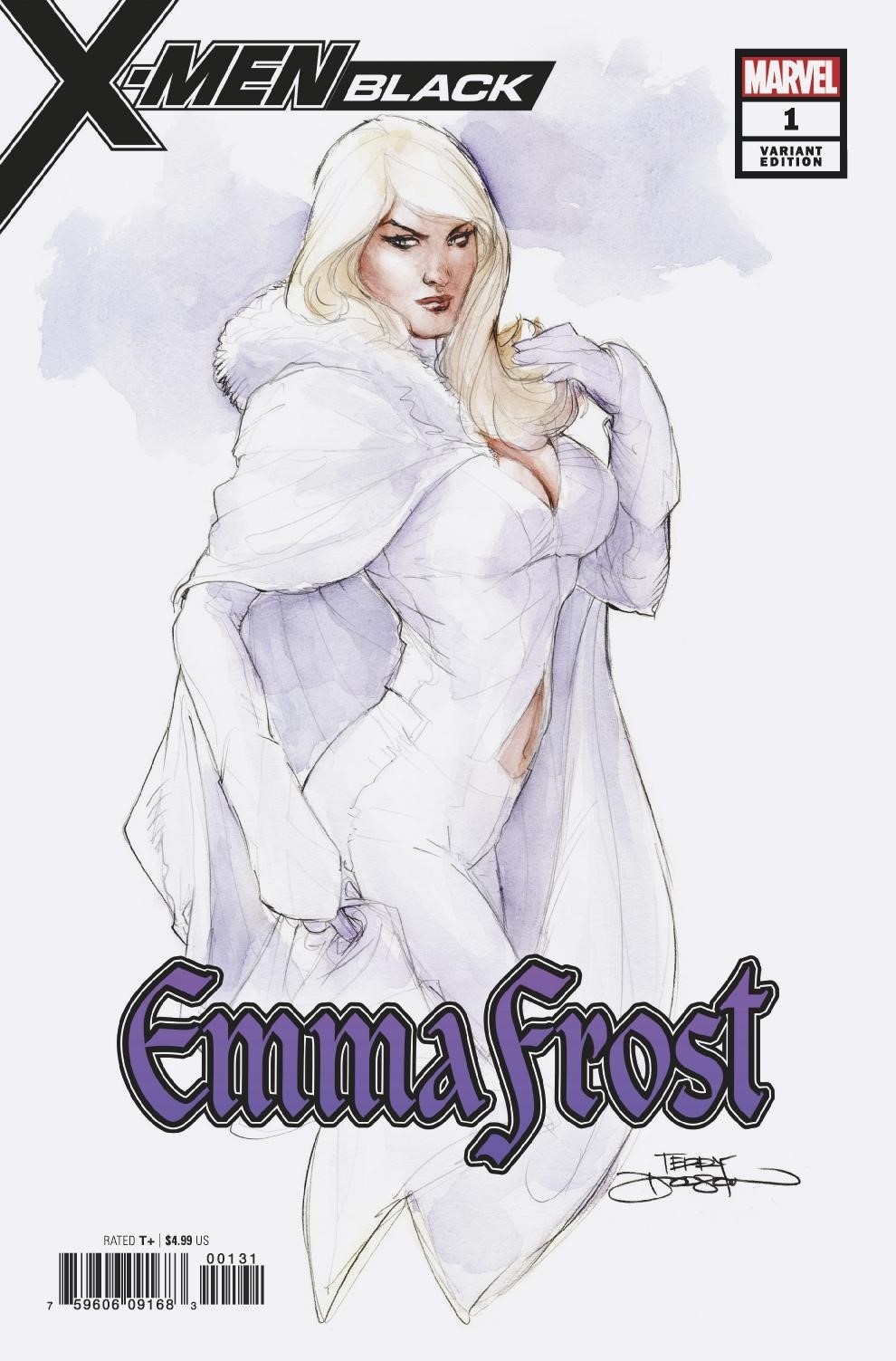 Glenn: I thought Clairemont back at Marvel and back writing X-Men might have caught a bit more interest but these are fine numbers for a mini based on some X-Men bad guys.  The best thing to to come out of this is all the Emma Frost meme's, all of them are priceless.
Ray:  Event comic one-shots are always weird, as the launch issue for Drowned Earth is down at #25, selling 53K. That's over 25K below where the Justice League issue tying in landed, which means there's going to be a lot of very confused readers.
Glenn: It reminds me of the big sales gap between Clone Conspiracy and Amazing back in the day.  Its odd because Marvel and DC go to a lot of effort to put check lists of these types of things in their books but its ultimately inconsequential.  They probably would have been better just doing extra issues of Justice League.
Ray: Drowned Earth wasn't the only event comic in the Justice League line this month. The five-week Justice League Dark/Wonder Woman: The Witching Hour crossover had all five issues this month, with the launch one-shot landing at #32 with sales of 48K. The first WW issue tying in sold 55K at #24, followed by 53K at #27 for the Justice League Dark issue and 42K at #43 for the second WW issue. Then the concluding issue is at #41 with 43K. All over the place in no particular order, but very solid sales as both titles get a boost and Wonder Woman continues to recover in advance of the G. Willow Wilson run starting next month.
Glenn: The Witching Hour sounds like it was a damn fine read and has done well for both titles.  Justice League Dark will continue chugging away most likely but it'll be interesting to see where the new creative team takes Wonder Woman sales wise.
Ray:  A surprisingly big drop for Spider-Geddon #2 at #26, selling 53K. If that's the actual level of the series sans variants, that's not great for Marvel at all.
Glenn: That…is really surprising. I guess if they can get the trade out before the movie then it might all be worth it? Hopefully the tie ins bring in some respectful returns.
Ray:  This is the level where we see a lot of those long-standing and new top books that have leveled out, including Avengers, Detective Comics, Flash, Captain America, Immortal Hulk, Thor and both Star Wars books. These are the cream of the crop for the companies right now, selling 65-50K. I do notice some odd hiccups in the sales of Detective and Flash this month, with the first issue of the month getting a boost and then the second issue dropping over 10K. Strange. Might be due to special variant covers – DC had some novelty foil covers last month.
Glenn: I'd say its the foil covers for sure.  This time next year, scratch and sniff variants!
Ray:  Justice League Odyssey also seems to be leveling off nicely, selling 46K at #36 for its second issue. But we'll see what it looks like when the preorders wear off, because unlike its sister titles its more isolated from the rest of the DCU.
The new direction for Supergirl definitely seems to be paying off, with the latest issue selling 44K at #37. That's about double what it was consistently doing under the previous run, despite growing buzz.
Black Panther vs. Deadpool lands at #38 selling 44K. Pretty standard for a Deadpool miniseries, with Black Panther boosting numbers, but I bet it would have sold double if it was just Deadpool making bad Get Out jokes until T'Challa decked him because they don't get American movies in Wakanda.
Glenn: I also think Deadpool referring to Wakanda as Zamunda would have had a superior sales effect also.  Dear readers, why Marvel has not called us remains a mystery
Ray:  The Old Man Logan series wraps with its fiftieth issue, selling 39K at #49. This is a small boost, but it's relaunching next month for the year-long Dead Man Logan, which will probably result in a bigger increase.
Another title that's benefiting from a new direction is Batgirl, which is down at #50 selling 37K. This book was hovering around 20K a few months back, so the new creative team of Mairghread Scott dealing with Barbara's recovery from her shooting is definitely catching on.
#54 brings us the next Spider-Geddon tie-in, the one-shot Superior Octopus. It sells 36K, and the upcoming ongoing will need to do better than that for its first issue to have a chance at a long run. Otto's profile obviously went up a lot thanks to Superior Spider-Man, but we'll see if he's solo series material yet.
Glenn:  I'm surprised Superior Octopus didn't sell better given how high Otto's profile is following Superior and such.  Rebranding the new ongoing title Superior Spider-Man seems to have been a good move.  I think there might be some reissues here as this is essentially the 0 issue for the ongoing.
Ray:  Arguably the most puzzling comic released in recent years, the poorly received one-off Frank Tieri AU that closed his Harley Quinn run is now its own miniseries, Old Lady Harley, which lands at #56 with sales of 36K. Pretty standard for a random Harley spin-off, so I don't think we'll be getting Harley Quinn vs. Black Lightning or Harley Tsum Tsum Adventures any time soon.
Glenn: Remember when Marvel Zombies was first done and it was on the back of a gag but was initially mega successful?  This seems to want to be like that but very much isn't.
Ray:  The other Marvel one-shot wave of the month was a new round of What Ifs, and they didn't do nearly as well as X-Men: Black. The top-selling one was What If: Punisher, which saw Peter Parker become a darker, more murderous Spider-hero. It's at #58 selling 35K. Next is What If: Spider-Man featuring Flash Thompson under the webs, selling 29K at 85. What If: Thor sells 27K at #91, showing what would happen if Thor was raised by King Laufey. A complex cyber-AU they called What If: X-Men is at #95 selling 27K, and What If: Ghost Rider (which wasn't a What If at all, but some weird meta parody about black metal and demons) rounds them out at #98 selling 25K. All in all, this wave feels like kind of a misfire.
Glenn: These one shots were all a bit odd.  Retailers probably just played a guessing game with them because not all fans would seek out material like this because ultimately, none of it matters.  We definitely won't be seeing a return for the classic series anytime soon.
Ray:  The second issue of Stranger Things from Dark Horse is down at #63, selling 34K. Still the top-selling Dark Horse book on the charts by a wide margin, even as it loses almost 50% of its first issue sales.
Glenn: Stranger Things is a bit of a tank of a property so I'm not surprised that it seems destined to become Dark Horse's best performer.  I have no doubt when its collected that fans of the show will seek it out too.
Ray:  Maybe the oddest crossover in recent memory, Batman/The Maxx: Arkham Dreams launches at #64, selling 34K. The Maxx is an obscure Image character from the 1990s that hasn't had new material in well over a decade, so this likely boils down to "Well, Batman's in it". Definitely a big number for IDW, their only book in the top 100. The second issue ships this month as well, selling 23K at #111.
Glenn: Yeah pretty much this is probably the lowest you can go when ordering Batman and still expect a return given that who he's teaming up with here has no sales power at all.  You know for a loner, Batman isn't fussy about who he teams up with is he?
Ray:  Not an impressive launch for Shuri's solo series at #65, selling 34K. Despite the main series being in a very healthy place, the spinoffs have failed to launch high. The only question here is if this well-received first issue can find a place in the new comic market and render its direct market sales irrelevant.
Glenn:
I would have thought this would have done better for sure.  While Black Panther and the characters supporting cast has never had a higher profile than the one they got this year, it doesn't seem to be able to translate over to comics, not in the singles market anyway.
Ray:  The other Spider-Geddon tie-ins are down around this level, with the Jody Houser-penned Spider-Girls (teaming Anya, Mayday, and Annie) selling 33K at #67. A little lower at #73 brings us the black-ops Spider-Force, written by Priest and selling 32K. If these short minis hold these numbers, they'll be fine. But these are hidden gems that I wish more people were checking out.
Glenn:  Same, Spider-Girls especially is excellent.  Decent enough for tie-ins but it seems like these ones will have major implications on the main story so they might get some reorders that way.
A bit of an increase for the 200th Anniversary issue for Moon Knight at 68 which sells over 33.3k  The number on the front will help but this also had Jeff Lemire return to the character which probably didn't do any harm either.  For the time being, Moon Knight is going on vacation.
At 72 is the newest Sandman universe title, Books Of Magic which sells over 32.2k is the first book of this line that is eventually also a relaunch. This seems like a good number to me and I think this one might have an advantage over its peers with old fans returning but new fans checking it out too.
Ray:  Tim Hunter hasn't had a presence in the market for well over a decade. He last appeared in the New 52 Justice League Dark title as a supporting player, so given that it seems like a decent number. Overall, I don't think any of these books will reach the numbers of The Dreaming. 
Glenn:  The wacky Infinity Warps combos continue this month at 74 with Arachknight which sells over 32k.  This likely sells the best this month cause of the connection to Spider-Man who unless you couldn't tell, is the 'Arach' part of the title.  Next one is Weapon Hex at 31.1k which benefits due to Wolverine being connected to this particularly pairing.
Ray: These sold very similarly to each other, and neither sold nearly as well as Soldier Supreme or Iron Hammer. Spider-Man aside, neither the characters involved or the characters involved were as high-profile as last month'
Glenn:  At 78 and 79 are the first of many, many Walking Dead 'blind bag' reprintings of key Walking Dead issues.  Keeping in mind these reprints are full price and the material has reproduced multiple times over the years that issue 1 (yes again) sells over 31k (making it the highest selling comic of the month combining it with the sales of the OTHER Walking Dead 1 that came out) and issue 19 sells over 30.8k.  It literally is like printing money.
An odd mini focusing on Typhoid Mary begins at 82 selling over 30.6k which has her taking on Spider-Man.  Given that Spidey comics always do well, its no surprise that this particular part of the Typhoid mini sold these numbers.  Not mind blowing but not too bad, especially at 4.99.
Ray:   This Typhoid Mary series is very similar in structure to the Wakanda Forever series a few months back. Only, you know, without the Billion-dollar movie driving sales.
Glenn:  The ever slightest of boosts for Nightwings 50th issue and the new direction spinning out of Batman at 86 selling over 29.4k.  This new direction DC has taken Nightwing in is controversial to say the least and the months ahead will determine if it was the right thing to do.
Ray: (It won't be the right decision.)
Glenn:  At 90 is the relaunch of Lucifer under the Sandman universe banner which sells over 28.2k.  This one probably didn't do as well as the other title's because it wasn't that long that the title had been relaunched previous to this so this isn't as much of a novelty.  Still the sales are a good bit ahead of the previous incarnation and all these Sandman Universe books will do well in trades.
Ray: Lucifer barely played a role in the Sandman Universe one-shot and isn't as firmly associated with Sandman as the others, so that played a role too, I'm sure.
Glenn: No that's definitely the 'lead' book as it were.
At 93 is Avengers Halloween Special which sells over 27.3k as Marvel tries to get in on the anthology game that DC has been doing so well the last few years.  This is a decent result, we'll see if the company makes this type of thing a regular occurrence.
Ray: Much like Batman Secret Files, it seems like these $4.99 anthologies do better than the bigger ones.
Glenn: Being $5 cheaper likely helps
At 102 is Batman Blank Comic which was something DC sold to retailers to sell onto people for 24 hour comic day.  This means you pay to basically make your own comic.  Given that it sells over 25.4k and is priced at 2.99 this just shows how much you can sell bu just putting 'Batman' on a cover and literally nothing else.
Ray: Damnit, Glenn, we should have been putting Batman stickers on blank pages long ago!
Glenn:  Right below it at 103 is the first part of the Solo comic adaption which sells over 25.2k.  This film got an unfair lukewarm response I feel and these sales reflect that.  Still not bad for a comic based on a movie that was only out a few months ago.
Ray: Despite the movie disappointing, Marvel seems to have a bit of faith in the Solo franchise – there's also a Solo mid-quel original comic coming next month about Han's time in the Imperial service.
Glenn:  Asguardians of the Galaxy loses less than half its first issue sales at 106 selling over 24.7k which actually isn't too bad for a comic with a team full of b listers and below.  This one could stick around.
At 107 is Marvel Zombie, the once mega successful franchise lives again!  It sells over 24.7k which tells me that while the property is well past its prime, it might be decent enough for Marvel to trot it out now and then to eat into some fans wallets.
Ray: This was a weird one-shot that came out of nowhere, but it shows that zombies continue to sell. I wonder if there's another comic this month that proved that…
Glenn:  Big increase for Batman Beyond for its 25th issue which sells over 24.2k at 109.  This series has never been at the top of the charts but has been a solid lower tier performer for the company for years despite it never really getting any special marketing or big stories or the usual stuff.  There are title's that are worse off.
Ray: This is also the return of the original Joker to the title, so that's undoubtedly driving sales to this future-set title.
Glenn:  Umbrella Academy returns at 110 for a new mini, hotel oblivion selling over 24.1k.  I'm not sure how the original series sold but this is a good number for publisher Dark Horse and the first two stories of this series have probably made quite a bit in collections which this one ultimately will as well.
Ray: Given that the franchise has been in…oblivion for a while, those are good numbers. Thank you! We'll be here all week! Try the veal!
Glenn: I'm allergic to Veal, why you try kill me
At 117 is Shatterstar, a new mini from Marvel about a character that is ridiculously obscure.  It sells over 23.1k and that's a lot better than I would expect from a book about a character I couldn't point out in a line up between him and various versions of Micky Mouse.
Ray: Tim Seeley's writing this, which is probably why it managed to top 20K. Otherwise, this is obviously a niche book.
Glenn:  DC rising star, Sam Humbries releases a new Image title at 118 in the form of Blackbird which is some fantasy based mystery from what I understand from the description.  It sells over 23k which is pretty on par with what I would expect from a book written by someone who is gaining momentum at the big two.
Ray:  That's a really healthy Image debut, well above what we normally see unless you're talking about a megawatt creative team like a Millar or Snyder joint. Both Humphries and Bartel are fast-rising talents. 
It's time for another wave of Hanna-Barbera/DC crossover one-shots. These four were actually all ordered in very similar numbers, but once again it's the weak link that tops the sales. That would be Superman/Top Cat special, where Superman and a talking cat fight a Kale monster. It sells 22.6K at #122. Not far behind that, selling 22.2K at #125 is Deathstroke/Yogi Bear, where there is both carnage and pic-a-nic baskets. Then at 130/131, both selling 21.2K, are Green Lantern/Huckleberry Hound and Nightwing/Magilla Gorilla. Sales likely reflect the DC character involved more than anything, and it seems like retailers are just ordering them as a set now. With lots of Hanna-Barbera properties left to go, I could see this oddball mini-event continuing for some time.
Glenn: They seem to do decent for what they are and can be a lot of fun with the potential of landing another Batman/Fudd type scenario so why not?
Ray:  More Walking Dead at #133, as the one hundredth issue gets an anniversary reprint that takes in 20.9K.
The latest jumbo-sized DC anthology, Cursed Comics Cavalcade, has a healthy debut at #135, selling 20.2K. Any time a $9.99 comic breaks 20K, that's impressive. DC continues to deliver with these anthologies.
Two more blank comics, with Wonder Woman at #136 (20.2K) and Superman at #141 (19.4K). That's about 40K in comics with nothing inside. Talk about a money-maker. Let those sucker readers make their own comics for a change!
Glenn: I'd be surprised if more companies don't do it next year.  Imagine what Walking Dead could do with a blank version if old issues can sell so well without any discount on their original pricing?
Ray:  Infinity Wars: Sleepwalker debuts at #139, selling 19.6K. Given that this is a Sleepwalker comic, a character who hasn't been relevant since the 90s, well…insert the Arrested Development "I don't know what I was expecting" meme here.
Another strong Image debut at #142, as Dead Rabbit from Gerry Duggan and John McCrae sells 19K. This noir-accented retired-criminal tale had some top creators and a good concept, but trouble may be ahead – a mandatory recall of both issues was issued today due to trademark issues, so we'll see what this comic's future is.
Glenn: Hopefully it can stick through it and at worst it will be a simple title change, I like both these creators and was glad so see this do well
Ray:  More Walking Dead! The second issue sells another 19K at #143.
IDW had another successful weekly Star Wars event, Tales from Vader's Castle. This horror-accented story of a group of rebels telling scary stories as they tried to infiltrate Mustafar debuted at #144 with sales of 18.7K, and the other four issues landed at #155, #162, #165, and #167 bottoming out at 16.2K. These were the top five IDW comics this month that didn't feature Batman.
Glenn: Having Vader in the title of your book will help.  Its like having a slightly more goth Batman with magic powers.
Ray:  The Terrifics Annual #1 is down at #146, selling 18.6K. That's well below where the regular title sells – but then, this annual didn't have Jeff Lemire. Lemire is leaving the title with #14 as he says goodbye to work-for-hire, and I doubt it'll be continuing from there. This is his book.
Glenn: Then these odd new DC hero books will never be mentioned again.  Let us hope lessons were learned.
Ray:  Six more Walking Dead issues down here – #27, #7, #53, #108, #48, and #167. They're scattered between #148 and #166, selling between 18K and 16K. These are basically True Believers one-shots at full price, so the way they're selling is bizarre and impressive.
The relaunch of Unstoppable Wasp is waaaaaaaaay down at #151, selling 17.2K. To put this into perspective, this is between the latest issues of Damage and Sideways, two series almost a year old that are likely to be cancelled soon. I assume this series is getting its sales elsewhere, because it's sure not getting them here.
Glenn: Got to love Marvel for try, try, trying again but this doesn't indicate any strong presence for this character as a solo lead anytime soon.
Ray:  Another new Vertigo series, the supernatural Stepford Wives pastiche Hex-Wives, lands at #154 with sales of 17.1K. It's another strong debut like Border Town last month, but as we'll talk about down the list, that may be fleeting.
Speaking of True Believers, this month's wave of $1 Marvel reprints was classic What If issues. These are largely all clustered together, since none of them are really key issues and retailers ordered them more for the die-hards. The top-selling one is "What if Silver Surfer had wielded the Infinity Gauntlet?" at #157, selling 16.8K. From there, we see "What if the alien costume had possessed Spider-Man" at #170, "What if Spider-Man rescued Gwen Stacy" at #175, and "What if Jane Foster had found the Hammer of Thor" at #182. These are all issues featuring top characters or concepts, and they all sell between 16K and 14K.
Glenn: Given that these books are out of continuity and are from way back when, retailers probably found it hard to gage demand which is why they're all lumped together at similar numbers.  Most retailers probably just ordered them to have inexpensive back stock for the back issue divers.
Ray:  Four more Walking Dead issues – #127, #92, #171, #132 – down here selling between 16K and 14K in the #169-#180 range. So. Much. Walking. Dead.
Glenn: Its like they're coming through the walls man!
Ray:  Daniel Warren Johnson, the cult creator behind the brilliant Extremity, debuts his new comic at #179. It's Murder Falcon, the story of a grieving musician who learns to live again through the power of…a giant talking bird superhero who needs heavy metal to fight? It's a real book, I swear! It's also brilliant and it sells 14.8K but should be selling 10x that.
Glenn: I'm calling the mental asylum, its time.  It sounds like a good book in all seriousness but very much has a niche hook so the number doesn't surprise me.
Ray: Another offbeat Image book, the supernatural action-comedy Exorsisters, debuts at #183 selling 13.9K. This book seemed to get a good response all around and might be a sleeper hit for Image. Is "feminist supernatural satire" becoming the new "deep space murder mystery" for Image?
Glenn: Female Supernatural seems like a trend lately doesn't it?  Lots of books with similar hooks/feels and its likely all coincidence.  This is within the Image safe zone for creators without a high profile and I think will pick up a bigger audience through trades, its also begging for a TV adaption.
Ray:  Wytches makes its long-awaited return – sort of – with the terrifying Bad Egg Halloween Special. This 80-page comic for $7.99 sold 13.7K at #188, but that's kind of a deceptive number – this comic was serialized long ago in the Image + magazine both digitally and in print. So many people have already read this, making this a much healthier number. When Wytches does come back, it'll be just fine.
Glenn: You nailed it, people who wanted this desperately likely read it through Image+ so this is just a few extra sales.  Given that the creative team is doing one last stop to do a mini about the Batman Who Laughs before coming back to Wytches, this could easily be Image's number 2 book for as long as it comes out next volume.
Ray:  The rest of the What If True Believers issues are down here, with "What if Kraven the Hunter had killed Spider-Man" at #186, "What if Doctor Doom had become a hero" at #191, "What if the FF had not gained their powers" at #196, "What if the Avengers had fought evil during the 1950s" at #198, and "What if the FF had different super-powers" at #200. All of these sell 13K to 12K, a pretty decent range. The only outlier is "What if Legion had killed Magneto", down at #212 selling 11K. This one was from a much later What If run, with VERY 90s art.
Glenn: The 90's were dark and full of terrors.
Ray:  Tee Franklin, the creator of the very popular Bingo Love, made her monthly comic debut this month with the feminist horror comic Jook Joint, about an enchanted bar that helps victims of domestic abuse get their revenge. Her popularity doesn't seem to have translated, as the title lands at #205 with sales of 11.8K. I think the massive tonal difference between the sweet Bingo Love and this incredibly dark title didn't help.
Glenn:
It does seem like a very different direction to go in.  Likely most retailers didn't make the connection with who Franklin was and ordered it like they would any other horror title.  I would say her next project will likely be closer in tone to her first.
At 214 is the second issue of Bully Wars selling over 11.2k.  I might have expected higher with something that has Scottie Young's name on it but he's only doing the writing.  Its at a level with a lot of newer Image books so it'll likely stay fine if it stabelizes here.
Another month, another KISS comic from Dynamite.  KISS Blood Stardust sells over 10.5k which seems to be the range for these odd band comics.  Stable numbers are stable numbers.
Ray: This one was by Bryan Hill, but it doesn't seem to have made much of a difference. I guess only so many people want to see Gene Simmons fight demons.
Glenn:  Infinite Dark, a new sci-fi mystery which is the latest genre that is suddenly everywhere debuts from Dark Horse at 220 selling over 10.2k.  Pretty standard debut for a new Image book with a decent premise and no huge names attached.
Ray: It's also Lovecraft-inspired, which is one of the public domain genres that keep cropping up. Odd book without much of a built-in audience.
Glenn:  Pretty expected second issue sales for MST3k (over 10.2k at 221), Vampirella Dejah Thoris (over 10.1k at 222) and United States Vs Murder Inc (Over 9.7k at 224) in the case of the latter, it seems the new Bendis titles are faring much better than the ones he brought back.
At 225 is Mars Attacks which sells over 9.7k which is a lot better than I might have expected for a property that hasn't been hot in like 20 years.  It likely helps they that they have Kyle Starks on board, his name will likely bring in some attention.
Ray: Mars Attacks seems to be falling into the Nancy Drew/Lone Ranger pool of taking characters that don't have much of a market presence and giving them shiny new creative teams from up-and-coming writers. Dynamite makes some puzzling choices, but they seem to be able to attract some top-creators lately and it's paying dividends.
Glenn: All I know is that they came in peace *releases bird*
In the end of an era, the final issue of the Simpsons Comic (issue 245) sells over 8.8k at 230.  Slightly better than what it usually would do but this comic never made its money in the direct market, instead of being sold in every type of place you could think of worldwide.  As Bongo comics goes away, we'll likely see the franchise farmed out to BOOM or IDW or some such who will be able to buy a new pool with all that sweet Simpson royalty money.
As Ray indicated earlier, there's quite a fall for Border Town's second issue as it drops down to 232 with sales over 8.8k.  This is pretty much been normal level for Vertigo for anything non Sandman and/or Snyder related for years.  There's a lot of books from this new line of Vertigo so we'll see if they all do the same and how DC processes that in the months to come.
Rainbrow Brite is the newest property to get a comic version, Dynamite releases the first issue this month at 235 and it sells over 8,5k. I'm not sure how much appeal this character has to a wide audience but this seems probably about as good as you can get at launch.
Ray: Rainbow Brite is one of Dynamite's only forays into the all-ages genre, and it has Unstoppable Wasp creator Jeremy Whitley writing. I'm not sure this will be one of the direct market, but Dynamite is really trying a lot of new things lately.
Glenn:  At 237 is Marvel Super Heroes Captain Marvel Spooktacular which sells over 8.3k.  All ages kids comic to tie in with a show aimed at young girls, this is not its place to make its money.
Right below it at 238 is definitely not a comic aimed at young girls, reorders for Batman: Damned get another 8.3k+ in sales.  Fans and retailers will have to live with a version that will feature less male genitalia but the titles been a hit regardless.
Ray: Nananananananaa Bat-wang!
Glenn:  At 243 is TMNT Macroseries Donatello which sells over 7.9k, these one shots focusing on each of the turtles will very depending on the popularity of each.  I doubt many people think of Donatello as their favorite turtle but this is a number in line with how turtle comics usually do.
A new mini from Image, Errand Boys is the latest in another odd trend of 'delivery boys with a twist' titles that all seem to be coming out at once.  It sells over 7,8k at 244 on its first issue.  Pretty standard stuff.
Ray: Errand Boys has a pair of new creators on board, so these numbers aren't a surprise. The play here is usually to hope for good trade sales and some nice buzz, leading to a sequel. First two issues indicate it might deserve it.
Glenn:  New BOOM ongoing, Sparrowhawk is a fantasy selling 7.1k which is pretty normal for a BOOM comic with no big names attached.  At least this books premise sounds unique.
At 265 is the latest attempt to make Lone Ranger a thing, it sells over 6.5k which shows that he is still not a thing.  A team up with Batman may be the only thing that can help him at this point, I demand a cook off between Alfred and Tonto stat.
Ray: This Lone Ranger reboot has Mark Russell on board and is getting some very good reviews, but it's been relaunched so often already that it probably didn't matter. Too many false starts for the property.
Glenn:  At 268 is reorders for the uber controversial Heroes In Crisis 1 as it racks up additional sales over 6.3k.  Nothing huge reorder wise, pretty standard for a high profile story but its still something.
Season 11 of popular kids show Adventure Time launches at 270 selling over 6.2k.  I have no idea what this show is about and I'm sure the comics sell great outside the direct market to legions of die hard fans of whatever the heck this is about.  In my day, cartoons had Batman in them and we liked it!  These new things confuse and scare me.
Ray: Adventure Time is coming off a popular series finale with a major twist, so I imagine that boosted sales. This is definitely one for the bookstore market, though.
Glenn:  Two halloween one shots starring two female comic characters from Dynamite sell at 273 and 274 respectively.  First we have Red Sonja which sells 6k and Vampirella which sells over 5.9k.  Seems retailers ordered these close together which to me suggests a similar fan base for specials starring these characters.
First issue of the adaption of Ray's favorite cartoon 'Rise Of The TMNT' sells over 5.9k.  I don't think this version will be still talked about in 10 years time, or five, or two.
Ray: But when we think of TMNT, we definitely think of…evil invading aliens and magical sci-fi weapons?
Glenn: Technically Krang is an alien…I think.  I'm actually not sure.
A new book from
Steve Orlando
hits from
Aftershock
at 285 which sells over 5.4k.  Even though Orlando has been a heavy feature of DC the last few years, it seems that still can't get sales out of an Aftershock launch for him but not many people can.                                                                                                                                                                                      
Ray:
Orlando overall has struggled to find an audience for his creator-owned books, be they at Image, Boom, or Aftershock. They get good reviews, but he hasn't gotten to the point where his name sells books on their own.
Glenn:  Spookhouse 2, a reprint of an all ages kids anthology dealing with stories likely more Muppets Christmas Carol than Heriditory sells over 5.3k at 287.  Another book that likely isn't depending on the direct market for most of its sales.
Lodger, an interesting sounding thriller that is put out through IDW's Black Crown line sells over 5.3k at 288.  These Black Crown books actually usually seem interesting but seem to not be capturing the markets attention.  Black Crown seems to essentially be IDW's Vertigo and even DC Vertigo isn't what it used to be.
Ray: Lodger is a David Lapham book, and he's always been a niche creator. These numbers are pretty close to what can be expected.
Glenn:  Getting in on the halloween one shot craze this month is Bettie Page who has a spooky themed one shot at 290 selling over 5.2k.  Horror and Bettie PAge aren't things my mind would usually link together and its not as if there's a lot of demand for the character and the market (especially this month) is overloaded with horror so I guess this is fine?
More reorders for Venom 1 at 294 selling another 5.1k+ of copies.  Reorders are slowing down but they're still there, even with the trade out soon.
At 295 is an Army Of Darkness Halloween special which sells over 5.1k.  See?  This makes sense but somehow gets outsold by Bettie Page, I don't know what to tell you.
New Judge Dredd book with the subtitle Toxic sells a shade over 5k at 297 which like all other Dredd stuff is pretty standard for the direct market for the character.  For die hard Dreddheads only.
Thankfully nothing to do with annoying singing people, Lollipop Kids from Aftershock seems to almost be a more family friendly version of American Gods.  It sells over 4.8k at 206 which is pretty standard for the publisher when no big names are attached.
At 312 we have another new Aftershock title Last Space Race selling over 4.7k, see above
Ray: Aftershock puts out a surprising number of books, and very few of them get anywhere near healthy numbers. I'm not sure what the company's long-term is, but they do seem to be able to get a surprising number of top creators.
Glenn:  At 313 is Barack Panther which sells over 4.7k.  No its not a type although I really wish it was.  I miss the good old days of the top 300, I had far less tearing in my soul then.
Ray: But is he facing Trumpmonger? The world may never know, because most of us aren't reading this book. 
Ryan Ferrier's Death Orb debuts at #316 from Dark Horse, selling 4.6K. This post-apocalyptic sci-fi comic got a lot of advance promotion, but like many creator-owned books without a clear hook it struggled.
Man-Eaters continues to do two covers a month, and so they sort of have to be combined. They're at #277 and #317, selling about 10K combined. Odd plan, but the numbers are overall decent but unspectacular.
Glenn: Cain's usual audience might be trade waiting but yeah, seeing it show up twice on the charts like this is odd.  It seems her controversial end at Marvel didn't get many people to follow her to indieland.
Ray:  #330 brings us an oversized Planet of the Apes one-shot, selling 4K. This is based on the classic continuity, which has a smaller audience than the recent hit movie series. This is overall a niche property that Boom continues to do some occasional content for, just like they do with Kong.
At #340 is an interesting entry, the From Hell Master Edition from IDW. This reprint of Frank Miller's classic thriller sells 3.7K, an impressive number for a $7.99 reprint of an old comic most people probably read in collections.
Glenn: This is a graphic novel that I see a lot outside comic shops so these single issue sales don't matter ultimately.  They're likely just for those that consider the book their favorite.
Ray:  The newest Tangled: The Series miniseries lands at #342, selling 3.7K. This one is definitely part of IDW's fast-growing all-ages line geared towards bookstores with small, affordable trades.
Zenoscope's Black Knight debuts at #349 with sales of 3.6K, and is…apparently a comic about a sexy black knight lady in armor with a lot of conspicuous gaps in it? Glenn, strike up the Rachel Bloom!
Glenn: I am shocked to learn this.  Shocked.
Ray:  A new Dragon Age: Deception miniseries is at #350, selling 3.6K. This is mostly notable for me given that it's written by two of my favorite comic book creators, Nunzio DeFilippis and Christina Weir. Marvel's loss is Dragon Age's gain?
Glenn: Its still just a video game tie-in and those will only go so far.
Ray:  At #351 is Nancy Drew #5, wrapping up Kelly Thompson's original miniseries. It sells 3.6K, but it needs to sell a lot more than that in collections. It ended on a cliffhanger! Me need sequel now!
Glenn: If we don;t get a sequel, I might cry.  Please don't make me cry.
Ray:  #362 has the Archie Halloween Spectacular, selling just under 3.4K. This is part of a series of a single-issue sized digests combining about five short stories into one volume. Definitely more of a newsstand market book.
At #366 is The Devil Within, a new Black Mask horror comic that sells 3.2K. It's basically The Exorcist but more political. "Your mother sucks at bringing progressive policies into effect!"
Glenn: Something for everyone I guess?  Politically themed comics also can only go so far.  People read comics and other forms of fiction to forget about the political mess we're all in.
Ray:  The adaptation of Shades of Magic, based on the classic fantasy series by V.E. Schwab, lands at #374 with sales of 3K. Titan gets a healthy amount of business based on adaptations and reprints of foreign comics.
For once, it's another company doing the public domain comic thing! American Mythology revamps Zorro with a new series launching at #378 with sales of 3K. This is a supernatural take with Zorro fighting demons, but these are actually pretty healthy numbers for this company.
Glenn: In the immortal words of Homer Simpson 'You go Zorro!'
Ray:  After a lot of reprints and all-ages ongoings like Lumberjanes that aren't meant for this market anymore, we get a new #1 – Sex Death Revolution from Black Mask, selling 2.7K at #390. These numbers are both shocking and not – it's a creator-owned comic from a company that struggles in sales and was a double-sized $6 issue, but it's also by Mags Visaggio, the writer of arguably the company's ongoing signature book, Kim & Kim. Although she's rising fast, her star apparently doesn't lift the company she got her start at yet.
Glenn:  Its also an odd book that I find hard to describe.  There's no one sentence that describes what it is to potential readers so that will make it a hard sell.
Ray:  Ahoy Comics had a wildly successful debut with Wrong Earth last month, but it doesn't seem to have translated to their other launches. Their horror anthology, Edgar Allen Poe's Snifter of Terror, lands this month at #393 selling exactly 2.7. Still not a bad launch for a completely new company.
It feels like I reviewed the zero issue of Artifact One from Aspen on our podcast ages ago, but the #1 issue is finally here and selling 2.6K at #396. The long wait couldn't have helped, but in general Aspen's numbers tend to be low.
After more reorders and some creator-owned gems that should be selling much better, we see our next launch with Source from Scout Comics. This story of an ordinary teacher who gets caught up in a cosmic war sells 2.3K at #410. It's from the cowriter of The Mall, one of Scout's more buzzworthy titles, but the company as a whole is still struggling to sell comics that aren't Stabbity Bunny.
Glenn: Maybe all their comics should star homicidal rabbits?
Ray:  And the other Ahoy Comics launch of the month is at #414. Captain Ginger, the story of a bunch of talking cats traveling a post-apocalyptic cosmos and doing cat-like things, sells 2.3K. Sometimes, Glenn, it still is wonderful down here.
Glenn:  No its not, even if they're clearly pandering.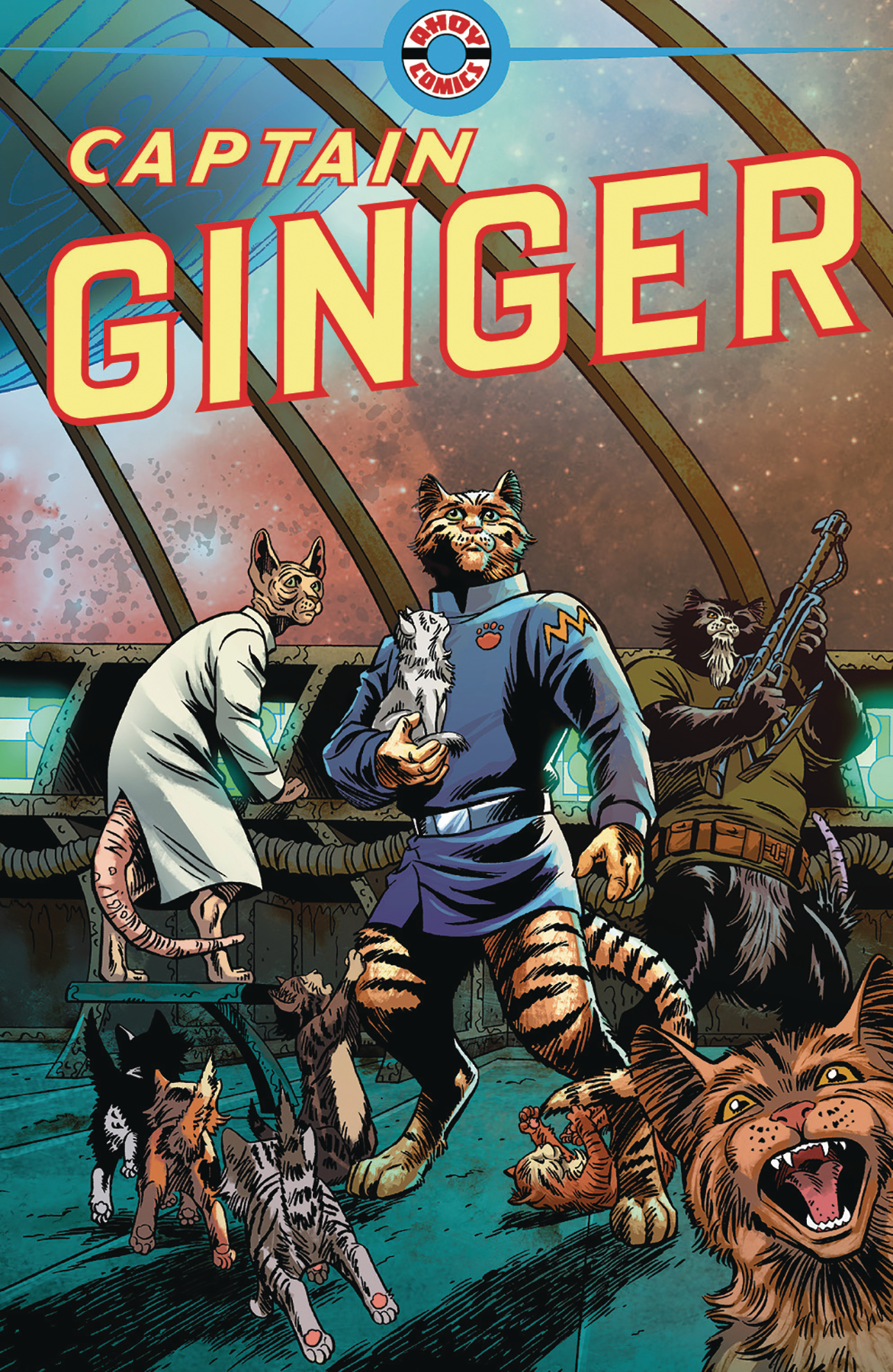 Some reorders for Stranger Things at 415 with additional sales 2.2k+  This is probably Dark Horse's best launch in a while and they're be eager for more asap.
At 426 is Albert Einstein, Time Mason which sells over 2k.  It doesn't seem like many people want to read about Einstein's adventures in time and space.
Magica De Spell Halloween Hex from IDW sells over 1.9k at 429.  I have no clue what this is and apparently not many people did.  In a month full of halloween one shots with big prices, this one got lost in the shuffle.
A new comic from Vault, These Savage Shores sells over 1.8k at 438.  The premise doesn't seem to grab me and I'm not sure of the creators so yeah, this is what you get.
I'm surprised to see an Archie comic featuring Betty & Veronica at 440 selling over 1.8k.  Usually books starring these characters do a lot better.  Archie is an odd place as a company now and maybe this is an effect of that?
Ray: This Betty and Veronica book is a mini-digest of sorts, reprinting a small collection of themed stories. It's not really new content and sold accordingly.
Glenn:  More people wanting that True Believers reprint of the Punisher's first appearance at 441 selling more copies of over 1.8k.  Not too bad for a very old comic that's earned its money countless times over.
Usual performance for Dave Sim and his increasingly punny titles at 442 as League Of Extraordinary Cerebi sells over 1.8k.
At 445 we have Midnight Mystery from Alterna which sells over 1.8k which is about normal for new Alterna books that don't get major news coverage.
Ray: We'll see how many new Alterna books are coming, given their recent bad PR.
Glenn:  At 446 is Backstagers Halloween Intermission selling over 1.8k.  This book has never found its place in the direct market despite its writer being a major fixture at DC.  Since it still carries on, I assume that it sells in some sort of format.
Ray: Backstagers has definitely found a big audience in bookstores, along with other Boom titles like Lumberjanes. You'll see a series of YA novels featuring the characters soon, but the comic seems to live on in these occasional specials.
Glenn:  Garfield TV or not to TV at 446 selling over 1.8k is the typical level of sales for the grumpy cat with at least 1.6k of those copies being bought by Ray.
Ray: Garfield > Grumpy Cat. I support the OG Cat.
Glenn:  I'm a big sucker for Ripleys Believe it or not museum in Florida and New York but I can't imagine the odd tales transferring well to comics and I wouldn't imagine Zenescope being the best choice to deliver them.  Its an odd mesh up priced at 5.99 (!!!!!!) that results in sales over 1.7k at 452
Another Dredd comic from another publisher shows up at 455 selling over 1.7k.  I'm not sure who this publisher is but they are likely a lot smaller than IDW who usually bring Dredd comics to America in single issue format so that explains the massive gap.  Again, Dredd isn't a monthly market guy and this small press company will benefit off various reprints and collections for quite some time.
If Zenescope is too classy for you, Boundless comics has you covered!  They release Hellina Ravening Nude which sells over 1.7k at 456.  She has her boobies out and everything, what's not to love?
Pellucidar at 458 seems to be an adaption of at the earths core which is good for sales over 1.6k apparently.  Perhaps the odd choice of title made it easy to miss for those that might be interested in the novels comic adaption?
Source Point Press releases Ogre, the first part of a 3 issue mini which sells over 1.5k.  Under the radar.
William The Last which reprints a webcomic that also had a Kickstarter comes out in monthly form from Antartic Press selling over 1.3k at 478 indicating most of the people interested already likely checked it out.
The non booby version of Hellina Ravening sells over 1.3k at 480.  Sex sells kids.
Ray: And just think, this is two of the roughly 30 covers this issue released!
Glenn:  Hachet Vengeance (from Adam Green apparently) is some sort of horror book that sells over 1.3k at 481.  Its a thing that exists.
At 492 is the Three Stooges comics that somehow continue selling over 1.2k.  How do these keep happening?!?!?!?!?
At 500 we have more reorders for Doomsday Clock 6 which sells more copies, 1.2k+ more to be precise.  At the end of these articles, I too feel like Doctor Manhattan with a greater understanding of the universe beyond what any man should know.
Ray:  Good ol' Doctor Manhattan, ending this article on a classy note. 
Looking ahead to December, it's kind of a quiet month for DC. We'll see a few specials from the company, including their latest Apocalypse-themed seasonal anthology. The Drowned Earth event concludes, and we see the kind of sales boost G. Willow Wilson brings to Wonder Woman. Plus, another Vertigo launch from Bryan Hill. But the heavyweight release of the month is undoubtedly The Green Lantern from Grant Morrison and Liam Sharp, which has a decent shot at #1.
Marvel will be putting up a fight, though, with the weekly Uncanny X-Men kicking off this month and a Carnage one-shot from Donny Cates. In smaller releases, Ironheart launches her solo series, Han Solo gets a miniseries tying into the movie, and the Black Order go their own way from Thanos.
The biggest Marvel release of the month, though, might not be from Marvel. That would be Marvel Action: Spider-Man from IDW, the launch of their new all-ages Marvel line. If it's a hit, this could be a game-changer. Also look for Dark Horse to make a splash on the charts with a Joss Whedon Doctor Horrible spin-off.
What will rise? What will fall? Will Ray cry when he sees the numbers on his favorite books? Find out next month on By the Numbers!
Liked what you read?  Have a comment or question?  Hit us up here or on Twitter @glenn_matcett and @raygoldfield