By The Numbers: September 2018
Like in any industry, comic books and their companies listen most to one thing and that's your money! What does your money tell them? What does it tell us as fans? What series do people say they adore but can't seem to catch a break and what books to people hate that sell out? What are the trends? What looks good? What looks rough?
All these questions and more will be answered here, every month in 'By The Numbers' by comic writers, editors and fans, Glenn Matchett and Ray Goldfield.
Glenn Matchett is a comic writer and editor. He's worked in the industry for 6 years but grew up reading comics. He's had work published with Outre Press, Alterna Comics and Nemesis Studios. After binge watching Haunting Of Hill House, Glenn spends the majority of his time rocking back and forward silently weeping to himself.  He's much happier this way.
Ray Goldfield is a fan of comic books for going on 25 years, starting with the death of Superman. He is a writer and editor and has released his first novel. Ray also does a weekly roundup of DC comic reviews for website Geekdad and they're brilliantly entertaining.  When told the news about how American Vandal was cancelled at Netflix, Ray decided to conduct his own acts of vandalism in order to justify the show coming back.
We also do a podcast together with longtime buddy, Brandon James on iTunes with Rabbitt Stew or at the link here! Don't ask, I didn't pick the name. If you'd like to hear what me and Ray sound like, give it a listen!
Top 300 in full available here!
Glenn:  There wasn't much to talk about last month as there was only one big headline release.  That all changes this month of course because now there are TWO headline releases.
One of which is the top selling comic of the month, Return Of Wolverine 1 which is the start of a new mini detailing how Wolverine comes back from the dead,  It sells over 260.4k which on the surface is incredibly impressive.  It helped of course that the issue came with 25 variants (!!!!!) and Marvel wheeled out Steve McNiven for this issue (he'll be back for the finale) and he's arguably still their biggest sales draw in terms of artists (Marvel certainty thinks so).  Still smoke and mirrors with variants is hardly anything new but its hard to know how this mini will perform long term.  I don't fancy its chances to sell above 70-75k at best from here on out.  We can probably expect a lot more variant incentives like this from Marvel cause of this.
Ray:  Yeah, first-issues sales from Marvel are notoriously unreliable these days. With the incentives and number of variants, a ridiculous second-issue drop is almost guaranteed. There's been very little buzz about this event, as well.
Glenn:  The other major release, DC's Heroes In Crisis is an odd one.  When this was initially announced, writer Tom King indicated it was going to be a small scale book addressing mental health issues in the superhero community.  Now it seems to have turned into a murder mystery which has annoyed a lot of people.  It sells over 140.6k which is nothing to sneeze at for sure but its not really big event numbers.  I would wager that this will perform similarly to how Fear Itself did a few years ago as from what we've managed to gleam about the background of each story and what it was vs what it turned into are remarkably similar.
Ray:  There's been a TON of buzz about Heroes in Crisis, but very little is good. The audience is not happy, but there's a lot of story to be told. The rollout here is very odd, with the way it changed into a mega-event and the shocking moments in the first issue. It's a nine-month series now, so it'll have a lot of time to build an audience. DC can't be too happy with how this debuted, but there's a lot of story still to be told in this book's sales.
Glenn:  Long term with collection sales and stuff, Heroes In Crisis will probably deliver but short term there may be some fallout from a modern day audience who want things to happen yesterday.
At 3 is the near unstoppable Doomsday Clock which sells over 130.9k.  This one featured the full return of Doctor Manhattan so we'll likely see some decent reorders.  This is a book that's basically out on its own, separate from everything else that is one of the most stable books in the charts, its astonishing.
Ray:  Doomsday Clock is performing like a combination of a major event comic and a Black Label book, with the sky-high sales of the former and the stability of the latter. That's about as big a win as any company can hope for, and I imagine DC has to be thrilled to have Johns back writing full-time.
Glenn:  It'll be interesting to see how Shazam does, I have no doubt in my mind that Three Joker's will be a mega hit but with Johns at the helm, Mr. Batson could be in for a sales high.
At 4 is old releable Batman which seems to have escaped any great loss from the people that seemed to claim to want to abandon the title following the events of issue 50.  Issue 55 sells over 105.6k while the previous issue sells over 94.6k at 6.  Issue 55 likely sold more due to the events in it regarding Nightwing which seemed to have worked out well for Batman in terms of sales but I doubt will have the same effect on ol Ric Grayson in the months to come.
Ray:  Yeah, this sales boost was definitely the result of DC leaking the events of Batman #55 in advance, allowing retailers to up their orders. Sadly, this means we're probably getting spoiled a lot more in the future.
Glenn:  At 5 is Batman Donged….errr Damned, the first official Black Label release which sells over 95.6k which for an adult orientated prestige line that' priced at 6.99 is incredibly impressive.  Of course, this issue has drawn a lot of attention for one very specific thing but despite that, the reviews have been strong and this could be a line for DC that performs incredibly well for them long term in singles and collections.
Ray:  This is an extremely similar number to Batman: White Knight despite the fact that it has a much higher price tag and comes in a prestige format. That's a testament to the power of Batman, of course, but it also bodes well for the line as a whole. There's a Frank Miller Superman project and a few Wonder Woman projects down the line, so we'll see if they can hold these numbers. Reorders might be coming, but they will be Batwangless.
Glenn:  I think all of the Black Label books we've had announced so far will perform really well with titles like Three Jokers, Last Knight, the White Knight sequel and Superman: Year One being at the top of the pack.  There are some potential dark horse contenders in there though.
At 7 is Thanos Legacy which sells over 92.1.  This is a special one shot that sees Marvel MVP, Donny Cates return to the character and the massive sales on this is a testament to how quickly Cates has shot up in terms of name power in comics.  This is a great number no matter what way you look at it and I'm sure Marvel is already looking into ways to clone Cates so he can write more books.
Ray:  This was both an epilogue to the Cates Thanos run and a tie-in to Duggan's run on Guardians and Infinity Wars. This is an amazing number, well above what Infinity Wars is normally doing, and shows just how much pull Cates has right now. His Guardians run is going to be huge come January.
Glenn:  At 8 is the second issue of Dan Slott's Fantastic Four which sells over 85.5k which is a brilliant hold from the first issue.  The title is still within the 3 month safety zone but most books already drop quite heavily despite that.  This looks to be a win for Marvel and it'll be interesting to see if Fantastic Four can be Marvel's highest selling ongoing.
Ray:  Yeah, I think it's safe to say that Slott's Fantastic Four is going to be one of Marvel's top ongoings going forward. Another perfect match of creator and characters.
Glenn:  Its main competition for that title, Amazing Spider-Man is at 9 and 10 selling over 84.3k and 82.9k respectfully.  Interestingly, issue 6 sells higher than issue 5 despite it being the first issue without Image grab Ryan Ottely on the title.  The writer of Amazing Spider-Man hasn't exactly had a steady past few years but this seems to be working so far at least.
Ray:  The sales on Amazing Spider-Man are staying very solid through the three-month buffer zone, but that comes to an end next issue – the same month as Spider-Geddon debuts proper and this doesn't tie in. Not a good combo. I wouldn't be surprised if the sales bump this month is due to the tie-in with the writer's past Superior Foes of Spider-man, one of his best-regarded works. 
Glenn:  I didn't think of that!  I wonder if it had been a bit higher then if artist Steve Lieber's involvement had been solicited.  Maybe he moves the needle?
Ray:  We're starting to get a new picture of the top books on the market as we see what fills out the top twenty. Justice League, Venom, Avengers, and Brian Michael Bendis' new run on Superman are all selling in the 75-70K range several months in, demonstrating a very solid floor. That's expected for most of them – but it's Venom that once again stuns with how it climbs every month. This month's jump may be due to retailers ordering higher in advance of the movie.
Glenn:  We'll see if the boost holds next month on Venom but the resurrection of this property has been quite a sight to behold.
Ray:  Speaking of Spider-Geddon, its #0 issue lands at #12 this month, selling 74K. A very strong debut for a comic that featured the debut of the new video game version of Spider-man but didn't play a huge role in the event itself. If the #0 issue does this well, there's a good chance that Spider-Geddon #1 tops the charts next month.
Glenn:  This is sort of a Spider-Geddon tie-in but is mostly something to link in to the incredibly popular video game (over 86% completion!).  By video game comic numbers, this is an excellent result.  The hype for this is event is really something, going back to revisit this concept is going to pay off in a big way for Marvel I think.
Ray:  Spider-Man, Spider-Man, sells almost as many comics as Batman… The wall-crawler shows up again at #14 with the Amazing Spider-Man Annual #1. This is a symbiote story by Saladin Ahmed, taking place during the Black Costume era, and sells within 10K of the main series. I credit this to a combination of Ahmed being a fast-rising writer and the ties to Venom. Ahmed is taking over Miles Morales' title in December, so this performance bodes well.
Glenn:  Its a popular era in Spider-Man mythos too but yeah this is a great number.  I would say that we can't expect to experience a slow down in Spidey related comics anytime soon but we're about to experience an avalanche in Spider-Geddon crossovers so…
Ray:  Infinity Wars #3 is down to #18 at 63K. This is a really fun old-school event, but the buzz for it seems to have faded a lot given the extended buildup. The tie-ins start this month, so we'll see how they do below.
Glenn:  Its not event level sales but its still in the upper tier so its not too bad but Marvel likely expected more and will probably get the performance from Spider-Geddon they wanted out of Infinity Wars.
Ray:  It was such a competitive month that Walking Dead barely scraped into the top 20 at #19, selling a standard 62K for this absurdly steady title.
#20 sees the highest appearance for Dark Horse in a long time with the debut of Stranger Things by Jody Houser. Focusing on Will's time in the Upside Down, its sales of 60K show just how hot this series is right now. Season 3 when?
Glenn:  This is a hot property and Dark Horse being able to bag it is what will keep them in the game.  Much like Walking Dead, Stranger Things has become a bigger entity than anyone could expect and people will take whatever they can of the property while we wait on the third season.
Ray:  The third issue of Bendis' Action Comics is about 10K behind Superman, selling 57K at #22. That's a similar separation to what we saw at the start of Rebirth, and I wouldn't be surprised to see it narrow again. Action is definitely the superior series.
Justice League Odyssey, the much delayed space series by Williamson and Sejic (for the first two issues), launches at #23 with sales of 57K. That's a very strong debut for a series featuring no a-list characters, but the art shift might hurt it in the future. I'm not expecting it to have the rock-solid hold of Justice League Dark (still at around 75% of its first issue sales, at #35 selling 44K this month)
Glenn: Being a part of the very powerful Justice League brand will help Odyssey live a respectful existence.  It'll be the lowest selling of the three but still earn its keep for as long as this current direction lasts most likely.
Ray:  More rock-solid sales in the 55K to 45K range here filling out the top forty, as we see newer titles (or relaunched titles) like Catwoman, Thor, Captain America, and Immortal Hulk settle down here for the third month in a row alongside long-runners like Flash, Detective Comics (which is holding well despite having a fill-in arc this month) and the two Star Wars titles.
I was a bit surprised Punisher held so well with its second issue, selling 42K at #38. Punisher isn't really a top-selling  character and not much has shifted in the creative team, but this is a decent second-issue hold. It manages to outsell the third issue of X-"event" Extermination.
Glenn:  It seemed like no time at all since the last Punisher relaunch but it seems to have done no harm.  The sales on the True Believer one shot does show interest in the character.  Nothing against the current creative team but if Marvel can get a winning formula on the book like they've done with Venom the market might respond appropriately.
Ray:  Speaking of Punisher, he has one of the top-selling True Believers issues that didn't star Venom. Punisher's first appearance for $1 charts at #40, selling 40.6K. That's a lot of free money for Marvel for a reprint.
Asgardians of the Galaxy debuts at #41, selling just under 40K. Not a great debut, but given that Guardians of the Galaxy got cancelled for low sales and spun off into an event, maybe the time wasn't right for a punny spin-off? This is more of a Thor spin-off, but the title may have confused retailers. Shame, it's very good.
Glenn:  There's no mega hitters on the team either (apart from maybe the pilot of the Destroyer) so its no big surprise.  Will probably end up being a fondly remembered 12 issue or so series by the few that read it.
Ray:  Iceman got the first-issue sales bump for its return, selling just under 39K at #43, but I don't expect it to last. It's a miniseries and will likely be down to its previous sales before long. But it's geared towards trade readers now anyway.
Mister Miracle's had a lot of delays along the way to its conclusion, but its penultimate issue lands at #45 with 38K in sales. King and Gerads' masterpiece has outstripped anything a New Gods title could be expected to sell.
Venom continues to be solid gold, with the remaining four issues of the weekly Venom: First Host selling between 36-37K with virtually no attrition, landing four issues between #46 and #51.
The first Sandman Universe spin-off, The Dreaming, lands at #47 with sales of 37K. As Glenn said on Rabbit Stew (dong!) these are great numbers for a Vertigo title, not so great numbers for a Sandman title. Of course, it has neither "Sandman" nor Neil Gaiman on the cover, so both might play a role in the drop from last month's Sandman Universe. The month's other spin-off, House of Whispers, is much lower at #77 with 28K sales. That one's a new concept with new characters, so the gulf isn't a big surprise.
Glenn:  Yeah, I expected more here but I think DC will call this a win.  This could be seen as bonus for the trade sales which will pay this title's bills for decades to come if the other Sandman collections and DC's ability to release them in new ways repeatedly and still have them sell is any indication.
Ray:  #49 brings us the Captain America annual, which was the Marvel debut of Tini Howard. This WW2-set issue had Captain America and Bucky working to protect refugees from the Nazis, and it sells 37K. A big gulf between this and the main series, but then it's a flashback story with no ties to the main universe right now.
Glenn:  Captain America as a franchise is still recovering from a rough past couple of years, it'll be a while before spin off tales featuring new talent not relevant to anything in particular can hold water.
Ray:  The first two Infinity Warps miniseries launch very close together, as the Captain America/Doctor Strange hybrid Soldier Supreme lands at #53 selling two copies under 35K, and the Tony Stark/Thor hybrid Iron Hammer sells about 300 copies less at #55. Pretty decent launches for tie-ins, and we've got quite a few more of these ridiculous concepts coming in the next few months. Marvel's having fun here, and while these sales aren't spectacular, they're a bit better than recent event comics managed.
Glenn:  I'd say for a concept as silly as this, those sales are great.  Assuming these are inspiration for mash up toys and whatnot too then it'll be the Mouse laughing his evil squeaky laugh
Ray:  #60 and #61 have the last two issues of Edge of Spider-Geddon, selling 32K each. These were the Spider-Ben and Petey and Spider-Norman stories. Given that, I'm surprised Latour's name on the former didn't open a gulf between them. Marvel didn't quite push "From the creator of Spider-Gwen" enough for that, I guess.
Glenn:  Decent enough for a throwaway mini, not surprising given how much hype there is for the big event.  Retailers were probably unsure what to do with these, any of them could have been the next Spider-Gwen but they also didn't want to end up with unsold copies on shelves.  I don't think any of them particularly stood out so these sales seem to make sense.
Ray:  This is the section of the charts where we see a lot of regular books selling in the 30K range, including most of the X-books, Black Panther, Doctor Strange, and Deathstroke. Both Deathstroke and Aquaman are benefiting from a crossover this month as Deathstroke finishes up Deathstroke vs. Batman, and Aquaman crosses over with Suicide Squad for "Sink Atlantis". Aquaman is doing crossovers for a few months and then starting a new run by Kelly Sue DeConnick, so I imagine it'll be rising on the charts for a while.
Glenn:  Rising, like water?  Huh?  Huh?  Huh?  Like Green Lantern, the sales on Aquaman are moot for a little while as the character waits for the next big creative team to sail in.  Sail, like water?  Huh?  Huh?  Huh?
Ray:  #68 brings us the Old Man Logan annual, selling 30K. This actually sells five spots above the Old Man Logan series, probably because of the presence of Punisher.
Glenn:  People love old man Frank, he's cuddly
Ray:  Batgirl seems to have gotten a permanent bump from its new creative team, charting at #74 with sales of 28.8K. This is a big new arc bringing back her evil brother and calling her future as an able-bodied crimefighter into doubt, so retailers are responding.
Another new Bendis creator-owned title launches under DC's Jinxworld line. This time it's David Mack's Cover, a twisty tale of a comic book creator who meets a femme fatale with ties to international spies. It sells 27.3K at #79, which is about 5K below the sales of Pearl last month. It's been a long time since Mack did internal art, so I think this is a healthy start.
Glenn:  Very much so, this pair haven't worked together for decades and the concept could go either way so this is definitly a good performance.  If this was an Image book, I'd call it a good start so it just depends what DC expects from its Jinxworld line apart from keeping its writer happy.
Ray:  Image's top debut of the month is Bully Wars, the new Skottie Young title with art by Aaron Conley. It lands at #84 with sales of 27K. Young is quickly building his own brand as a creator-owned powerhouse, and he's got another new comic as writer in only a few months.
Glenn:
Young being able to now sell himself as a writer is an interesting transition.  Fans of his work will be here regardless of who is drawing the interiors it seems so that's a good sign.
At 86 is Adventures Of The Super Sons selling over 26.5k which is probably what the main series would be selling had it continued.  Nothing lost, nothing gained.
The ever slightest (like nearly non existent) bump for Chip Zdearskey's final issue of Spectacular Spider-Man sells over 24.8k at 89.  Given that I think this is one of the greatest Spider-Man one and dones ever, I think this one will be included in collections and stuff for years to come.  I hope more people check it out and the run as a whole in the future, it didn't last long enough.  The previous issue also charts at 96 selling over 24.2k 
Ray:  Zdarsky's run really sailed under the radar, which is surprising given how good it was. I think going up against the conclusion of Slott's run probably blunted the attention this run got a little, but it'll wind up being seen as a modern classic.
Glenn:  Second tier title runs can be like that. Comic readers have been trained to pay attention to one title at any specific time if there's one they have to choose from.  Trades and collections will remember Zdarskey fondly one hopes.
Outselling the main issue by a fair bit, the Domino Annual sells over 24.4k at 92.  This was an anthology annual with some of Domino's former writers returning which might explain the difference, or it could be because the Deadpool DVD/Blu-Ray was out around this time, who knows?  Either way, Domino has become a solid performer for Marvel under the general guidance of Gail Simone.
Ray:  The return of Fabian Nicieza to the character was a big deal for old-school X-Force fans, so this annual got a combo of those fans and Gail's.
Glenn:  About a 10k drop for West Coast Avenger's second issue which isn't too bad.  It sells over 24.4k at 93 which is pretty good if you look at it like a Hawkeye spin off and a wacky character team book than anything necessary 'Avenger's' related.  I'd say fan support and digital sales will keep this one around.
Ray:  That's a roughly 33% drop for WCA, which is really good for a Marvel book these days. I think it'll level out quickly, as Kelly Thompson's fanbase is building by the day as she steps onto bigger and bigger books.
Glenn:  Not too far below the sales of its main series, the second Doctor Aphra Annual sells over 24.3k which in the usual Marvel Star Wars spin off range these days.  I still think Aphra is a more impressive performer because she's never appeared in any other media but Marvel comics so doesn't have a wide outside audience to help keep her around.
At 103 is the Silver Surfer Annual selling over 22.6k which is…oh there is no main series.  Okie dokes…umm, this is decent for Silver Surfer?  Probably a lot of these sales should be credited to the fan base Slott and Allred built up around the character.
New Warren Ellis comic, Cemetery Beach from Image launches at 105 with sales over 22k which is very good.  Ellis is a creator who can pull in a respectful set audience every time and this book is no exception.  It'll run for as long as he wants it to.
High sales on the True Believers reprint on Daredevil 1 by Lee and Everett selling over 21.8k at 107.  I'm guessing retailers wanted this cause of the new season starting soon but this is great for a reprint that is decades old and is very different to the version of the character the majority of us are familiar with.
Another Bendis series, United States Of Murder Inc launches at 120 selling over 18.5k  This is with long time Bendis partner, Mike Avon Oeming and a continuation of a Marvel Icon series that kinda just…vanished?  I'm not surprised this one is selling less than the others, it'll be harder to pull people in on this than something completely fresh but people that have been waiting on it will be glad to see it finally finishing and it'll probably have a respectful performance.
Ray:  That's the lowest debut of the Jinxworld books by a fair margin, and it's also the one that's been gone the longest. Bendis has been having great luck with the new titles so far, but the returning ones less so.
Glenn:  At 122 is another True Believers reprint of Luke Cage's first comic which sells over 18.2k which I would say again is ridiculously good.  They might be vanishing one by one but the various Netflix shows have seemingly given retailers confidence in these cheap reprints that is just free money for their publisher.
At 129 is a Dynamite crossover, Vampirella/Dejah Thoris which sells over 17k which I'd consider very good considering that its hardly Avenger's Vs. X-Men is it.
Ray:  I have no idea how vampires and martian princesses are going to crossover, but Dynamite gonna Dynamite.
Glenn:  The second issue of Pearl sells just over 16.8k at 130 which is better than Vertigo but not as good as you think a Bendis creator owned book would do at Image.  Being somewhere in the middle is something that will be up to DC to find acceptable.
Ray:  That's a roughly 50% drop. A lot steeper than I would have expected for a creator-owned book, but still well above what it would have done at Vertigo. It'll need to level out quickly, though.
Glenn:  At 132 is Journey Into Mystery: Birth Of Krakova which sells over 16.5k which is pretty great considering it literally seems to have nothing to do with anything.  I'm guessing a large portion of these sales are nostalgia over the Gillan series of yesteryear?
Ray:  Yeah, this is just a completely random Nick Fury on Monster Island comic that Marvel put out. Random, but fun and with a decent creative team. Retailers probably ordered this for Marvel completists.
Glenn:  At 134 is another True Believers Reprint which is another Punisher book, this time its the first issue of the book by Grant & Zeck.  I actually would have thought this would be higher but there are other much more famous Punisher runs out there.  Still ridiculously good of course.  At 137 is an Iron Fist one which sells over 15.5k.  Did you know that Danny Rand was in fact the Immortal Iron Fist?  That he is the sworn protector of Kun-lun (Sp?)?  Well he'll tell you…a lot if the show is anything to go by.
Ray:  The most oddly numbered title in Marvel history, the Marvel Rising miniseries concludes with Marvel Rising: Omega at #138, selling 15.8K. This all-ages oversized comic introducing the team from the animated franchise that is totes not inspired by DC Super Hero Girls only with two guys no one likes has released five issues, and each of them was a #1. That's one way to stop issue-by-issue attrition, I guess.
At #141 is the debut of Border Town, the first of the new Vertigo relaunch books. This controversial title that aroused the attention of some nasty people for its commentary on American racial divisions lands 15.2K in sales. Given that the title doesn't have any name creators attached, that's a definitely increase over what Vertigo titles were doing a while back. This is actually close to what I would expect this title to do at Image.
Glenn:  That isn't too bad at all for Border Town and I think a higher debut than the last past of new Vertigo launches did a while back.  Maybe the return of Sandman has given the line some much needed juice again?
Ray:  Right below at #142 is the debut of Mystery Science Theater 3000, the comic. Replacing the classic B-movies with odd c-list comics, this issue sells 14.6K. That's actually great for a Dark Horse debut, especially for such a cult property. More meta comics in Dark Horse's future?
Glenn:  This series is the very definition of cult following so these are great numbers.  As the new series on Netflix (where else) continues building a new generation of fans, this will be a nice one for Dark Horse to have in shelves/in their archives.
Ray:  The next True Believers comic is down at #155, selling 12.4K. It's the first issue of Power Man and Iron Fist, kicking off the fan-favorite team. Both of these characters just lost their Netflix series, so maybe this team-up will be revived as a series?
#160 brings us the top reorder of the month, as Fantastic Four #1 pulls in another 12.3K to add to last month's ridiculously good sales. They're back and people are excited.
Rick and Morty Presents Sleepy Gary is a comic. It sells 12K at #163. It's Oni's top comic of the month besides its parent title. I don't know what a Rick and Morty is.
Glenn:  Its like if someone watched Back To The Future while taking a lot of drugs, I think?  I don't know, I'm not cool.  I'd rather watch that new show on Netflix about this nice family renovating an old house.
Ray:  Right below at #164 is an odd entry, Jinxworld Sampler. This $1 mini-collection has snippets of all of Bendis' creator-owned work and is more of a promotional comic for new readers. 12K puts this in a similar range to the True Believers line, which is pretty good for free comics for DC.
Glenn:  Not too bad at all since its basically like paying to go see a teaser trailer essentially.  This is something retailers might just slip in on orders where people are picking up Bendis new DC stuff.
Ray:  In Archie's latest strange experiment, Archie 1941 debuts at #167 with sales of 11.9K. Archie goes to war! Mr. Lodge has shady dealings with the Nazis! But Riverdale's greatest horrors lie ahead – next month they get taken over by the writer of Secret Empire.
Glenn:  At least it'll look pretty, Marguerite Sauvage is amazing.
Ray:  Lot more True Believers one-shots down here, selling in the 11K range between #167 and #176. They include Hellcat's first appearance, the debut of Jessica Jones, the first issue of Punisher War Journal, the first Ennis/Dillon Punisher, and the Smith/Quesada Daredevil launch. The launch of the Bendis/Maleev daredevil is a little further down, selling 10.3K at #182.
Glenn:  I'm surprised the Daredevil ones sold so low.  Maybe cause they've been reprinted so plentifully in recent years?  These are the beginnings of major points in the characters history though and seems like an easy win with the new season coming on Netflix.
Ray:  There's an odd animated crossover at #173, as IDW crosses over the animated 80s versions of two of their popular franchises in Star Trek vs. Transformers. It sells 11.5K, but I imagine a lot of readers were confused. Why do the Enterprise crew suddenly have a catgirl on the crew?
Glenn:  She was a character from the cartoon for reasons that escape me.  This is for the die hard audience of both properties really.  Even most hardcore Trekkies don't pay much attention to the animated series.
Ray:  Jeff Parker's James Bond: Origin #1 lands at #179 with sales of 10.8K. This is a pretty acclaimed miniseries, taking Bond back to his teen years and showing us how he went from prep school boy to super-spy. It could be a sleeper hit for Dynamite. Almost feels like he should be having a team-up with Nancy Drew.
Glenn:  is gives me memories of the super awful/cheesy James Bond JR series from yesteryear.  The Bond property seems to be a steady performer for Dynamite, I'd be curious to see if it does well in book stores.  I'd imagine that at this stage, Bond is more known as a movie property than a novel series.
Ray:  Speaking of Catgirls – the less friendly version – the much-yelled-about Image book by Chelsea Cain, Man-Eaters, lands at #181 with sales of 10.3K. But that's not entirely accurate – there's another "Glitter Variant" of the same issue down at #214 selling 8.2K. So all in all that's a debut of about 18K. Healthy but not spectacular given how much this series was hyped.
Glenn:  Maybe a bit too late to benefit from the controversy that was raised around her DC firing?  Reorders might be good but given she has a big audience outside of comics this will probably do well in trades, not that this is poor mind you.  Its not too bad at all for an Image debut by someone who hasn't/didn't spend too long at either of the big publishers.
Ray:  The Buffy comics as we know them come to a quiet end for Dark Horse at #185, with sales of just under 10.2K. A far cry from the series' heyday, and soon we'll be seeing a new version launch at Boom.
Glenn:  The all ages, back to basics version BOOM is going for will no doubt appeal to an all new much wider audience than this one did.  Its crazy to think how much of a hit this series was when it first launched but I think it lost a lot of people due to some of the decisions that were taken in that initial first comic season and it never won them back.
Ray:  The Wicked + The Divine 1373 lands at #190, with sales of 9.7K. That's only 57 copies below this month's issue of the parent title, so these periodic one-shots are definitely doing what the creators want.
Two more True Believers one-shots on the low-end at #194 and #196, selling in the 9.4-9.6K range. These are the Black Widow series by Grayson Jones, and the short-lived Daredevil and the Defenders series.
Dennis Culver and Geoffo's odd stoner alien invader comedy thriller Burnouts has its debut at #197, selling 9.3K. Neither of these creators have any real mainstream profile, so this is a pretty solid debut for a comic that sold itself based on its concept.
Joe Casey's always been a bit of a cult creator, so it's not a surprise that his latest title debuts at #201 with sales of 8.9K. But then, it doesn't help that the title, "MCMLXXV" is near impossible to say! Too bad, because this story of a 1970s cab driver fighting monsters and ninjas on her nightly route is a weird and clever comic.
#205 has one of IDW's most intriguing revamps of a licensed property in some time, Dick Tracy: Dead or Alive. Written by the Allreds and drawn by indie cartoonist Rich Tommaso, it only sells 8.7K but feels like it's going to have a long life as one of the defining Dick Tracy stories. Sadly, no spy seals in it.
Glenn:  Trying to know if this is a good level for a Dick Tracy comic is near impossible.  It seems like a good result given the property and the creative team seems so perfect that I can't imagine anyone else doing much better.
Ray:  We've had a lot of indie comic startups lately, and the latest is Ahoy Comics. They're bringing back the format of oversized comic magazines, with backups, prose pieces, and letter columns. Their signature title with a lead story by Tom Peyer and Jamal Igle is Wrong Earth, a story of two alternate versions of the same superhero who swap universes – one from a gritty 1980s universe and one from a sunny Batman '66 inspired universe. It goes badly, but this launch didn't. It sells 8.2K at #212, a very impressive debut given that this is the first comic this company has ever put out!
Glenn:  That's a fantastic number for a new company, good for them!  Igle has had some work at DC which would have helped but the concept is so interesting that it may have gotten in here just because people were genuinely interested also!
Marvel Superheroes, Captain Marvel first day of school sells over 7.7k at 217.  Pretty standard for an all ages type affair that's not really meant for the direct market.
Ray:  This one-shot was mainly notable for the one-page gags where Rocket Raccoon was Garfield and Bruce and Hulk were Calvin and Hobbes.
Glenn:  I now have to read this comic.
At 218 is GI Joe: A Real American Hero Silent Option selling over 7.6k.  This is the launch of a new Joe mini from IDW and given the issues with sales this property has had in recent years, I'd say this pretty decent.  Pretty much the most of what you might expect from a GI Joe comic these days.
At 226 is the newest Valient offering, Harbinger Wars 2 Aftermath selling over 6.9k which is slightly lower than Valients usual range but not dramatically so.  I know nothing about Valient comics but this 'event' book doesn't seem to have performed how they might have liked it to.
Ray:  Yeah, this was an event Valiant had been building towards for almost two years. I'm wondering if that worked against it – Infinity Countdown syndrome?
Glenn:  Could have been…lets go with that.
Image's Crowded loses half of its sales at 230 selling over 6.4k.  Still okay given that there's no huge names attached.  This is where Image's lower profile titles usually operate so it'll just be if its manageable for the creative team to see how long it can go.
Another True Believers one shot at 238, Luke Cage Fantastic Four selling over 6k.  If this is retelling a time where Luke joined the FF, this is not a thing I knew happened so there you go.
Second issue of Frozen: Breaking Boundaries sells over 5.9k at 239 losing less than half its sales.  This is a comic that is destined for book shops, disney stores and everywhere else you can think of when its collected so these single issue sales don't really matter.
At 248 is Doctor Who 13th Doctor 0, one of the always unpredictable 0 issues which this time is a prelude to the new ongoing starring the new female version of the Doctor.  Sales over 5.8k aren't great but I think the actual proper first issue will do a lot better.  I think the new Doctor is doing a wonderful job for what its worth.
Ray:  #0 issues are always so tricky, because retailers never know how to order them. You might get a mediocre clip show or recap, you might get an essential chapter.
Glenn:  At 250 is a new offering from fan favorite Faith in Dreamside which sells over 5.7k.  I think if memory serves, Faith's book usually manage better than this so not sure what happened here but this is a tad lower than I would have expected.
Chief Wiggums Felonious Funnies is one of the last offerings from Bongo comics before it closes its doors forever.  It sells over 5.5k, at least they're not going quietly into that good night.
Low Road Rest is a new mini from BOOM which sells over 5.3k at 261 which is pretty standard for a new BOOM creator owned series with no big names involved.  This has quite an interesting concept too but BOOM doesn't have a strong enough place in the market for titles like this to do much better.
Ray:  Philip Kennedy Johnson has a pretty solid track record at Boom. He's becoming a bit of a cult creator for them.
Glenn:  Right below it at 262 is Elric White Wolf selling over 5.2k from Titan Comics.  This is the first of two issues adapting a fantasy novel I'm unfamiliar with.  This will be for diehard fans of the novel or completeists.  Most times with novel adaptions,the audience got what they needed from it the first time round and don't have much interest in it being laid out to them with pretty pictures and such.
More reorders for Infinity Wars Prime at 265 which picks up another 5.1+ additional orders which is nearly what in reorders last month.  Again, this event hasn't broken any sales records but seems to be enjoyed enough to be a bit of a sleeper performer for Marvel.
At 268 is a genderbent update of a classic in Olivia Twist which sells over 5k.  Not much to say except that there seems not to have been much interest, the stories been adapted multiple times and this new version didn't seem to have caught too many people's imagination it seems.
Ray:  What's especially odd is that another futuristic Oliver Twist reboot is coming in a few months, this time from Image with a male lead and less of a political bent.
Glenn:  At 270 is War Bears, a new Dark Horse offering from Margaret Atwood who is a hugely successful novelist who wrote a book called the Handmaid's Tale that a bunch of people enjoy.  All these things seem like a winning formula but it only manages sales over 5k for reasons that elude me. I really thought the tv show would propel Atwood into a name that could float a comic much stronger than this but surprisingly, that doesn't seem to be the case.
Ray:  I assume this will do gangbusters in the collected market, where Atwood's main audience is. Plus, I imagine the oddball comic-within-a-comic concept didn't hook casuals.
Glenn:  Joe Golem: The Drowning City is a sequel series to an old school pulp detective tale co-written by Christopher Golden and Mike Mignola.  The sales of 4.5k indicate a set audience.  Presumingly the first story did well enough in collections to warrant this sequel.
A continuation of one of Ray's favorite cartoons at 284, Over The Garden Wall: Hallow Town sells over 4.3k.  Ray will be able to give a more accurate assessment here but this will likely do better outside of comic shops and/or is only for die hard fans of the series.
Ray:  You're definitely right that this is a tie-in for die-hards. It's also more of a "lost tale", since the series ended in such a way that really put a neat bow on the whole concept.
Glenn:  From Aftershock, Moth & Whisper sells over 4.2k which again is pretty much what I would expect from this publisher and two creators I'm unfamiliar with.
Ray:  This one got some great critical responses, more so than Aftershock's usual. Didn't seem to make a dent in the sales, though.
Glenn:  At 286, Grimm Tales Of Terror 2018 Halloween Edition reminds me that Crazy Ex Girlfriend is back.  This makes me happy.  It sells over 4.2k
It doesn't have a regular issue this month but Gideon Falls releases a directors cut of the 1st issue which sells over 4.1k at 288 which is very good for what is essentially a higher than full price reprint of a book that didn't come out that long ago.  Even when its not coming out, the barn won't let us escape…
Ray:
Gideon Falls is a bit of a sensation for Image lately. It's gonna show that Hill House what's what when it comes to structures that haunt our dreams.
Glenn:  The Barn going to make that big fancy Hill House cry!  Cry like a stable!
Ray:  This section of the charts has an oddball mix of licensed properties. You've got Uncle Scrooge: My First Millions at #294 from IDW, followed immediately by Call of Duty: Zombies, and WWE NXT Takeover Blueprint at #296. All selling just over 4K, a pretty standard range for cult properties that get comics without much fanfare.
Nancy Drew should be selling much, much more than 3.8K at #303. Oh, well. It's going to do gangbusters in the bookstore market.
Glenn:  It better!  I want a sequel series!
Ray:  Another Aftershock debut at #307, the excellently-named Patience! Conviction! Revenge! It's the story of a wild-west outlaw in deep space on an elaborate revenge mission. It sells 3.7K and seems to have largely slipped under the radar.
The Disney-inspired fantasy miniseries Welcome to Wanderland debuts at #313 with 3.5K in sales. This is definitely not a book aimed at the direct market, and it doesn't have any major creators attached. Boom is one of the first companies to find the success other companies are looking for in the bookstore market, so I doubt they're really bothered.
A Top Cow one-shot, Aphrodite IX: Ares, lands at #325 with sales of 3.3K. This is a revival of a previous incarnation of the series, not linked to the current Bryan Hill incarnation. I doubt there's much interest in that material anymore.
Three more WWE Takeover one-shots around this level – Into The Fire, Proving Ground, and Redemption – between #326 and #334. They all sell about 3.3 to 3.1K. Boom's got a lot of WWE material out there lately, but returns are definitely diminishing.
Glenn:  WWE has never been a particularly hot comic property.  I suppose if you treat it like any other drama on tv getting a comic adaption most of the audience are getting the story that matters from the show rather than side stories that likely have little consequence.  We'll see if the WWE Network sending out a free sample of the upcoming Undertaker graphic novel will help it sell more though.
Ray:  A new low-selling Dark Horse miniseries, Gamma, lands at #329 with sales of just under 3.3k. This giant-monster themed comic pairs some cult creators and didn't seem to get much pre-release hype.
Glenn:  First I've heard of it, so there you go.
Ray:  Mata Hari #5 ends the run at #339 with sales of just under 3K. This was the Berger Book that got the least pre-release attention and didn't really catch on with readers. Historical fiction is not exactly a dominant genre in comics.
After a lot of reorders and ongoing series, we get to a new #1 at #352 – Fearscape from Vault. Selling 2.6K, it's an intriguing series about a narcissistic writer who cons his way into a "chosen one" magical quest that was meant for someone else. Vault is a company that's rising fast and a lot of its books are getting some real buzz. This was written by Ryan O'Sullivan, the writer of Image's Void Trip.
Stabbity Bunny remains the biggest hit Scout Comics has ever produced, still hanging in there on the charts. This month's issue lands at #3362, selling 2.4K. That's apparently enough to greenlight a January spinoff, Shadowplay.
#364 brings us a new Moon Maid comic from American Mythology. This is not based on the Dick Tracy villain, but on an obscure Edgar Rice Burroughs fantasy novel. That's good enough for 2.4K.
In depressing "This book should be selling so much more" news, JM DeMatteis' new creator-owned all-ages adventure Impossible Inc. lands at #367, selling 2.3K. This comes down to IDW not being able to sell creator-owned books, I think. I imagine his name would have pulled double these numbers at Boom.
Glenn:  That's a real shame, DeMatteis still has as much talent now as he ever did.  Hopefully this will find an audience in trades or digital.
Ray:  Starburns Industries Press, an up-and-coming publisher that's been making a splash these past few months, debuts a Latin-themed horror anthology a month before Halloween. Fantasmagoria, featuring classic Mexican ghost stories with a modern framework, lands at #373 with sales of 2.1K. It's also by the writer of Border Town, and this is a pretty decent debut for such a new publisher.
Glenn:  Maybe some layover from Coco?  Who knows?  That's definitely worth taking note of though, good for them.
Ray:  At #374 is probably the oddest comic on the list, Junior High Horrors from Keenspot Entertainment. Featuring teen versions of Jason Voorhees, Michael Meyers, Laurie Strode, Nancy from Elm Street, and Freddy Kreuger as an evil talking tiger, it sold 2,147 copies, which means 2,147 very confused people.
Glenn:  I'd love to know how this comic company got all the rights to use these characters (they might not have done).  The bronze age of horror villains despite their unwillingness to ever go away have never translated to much of an audience or demand in comics.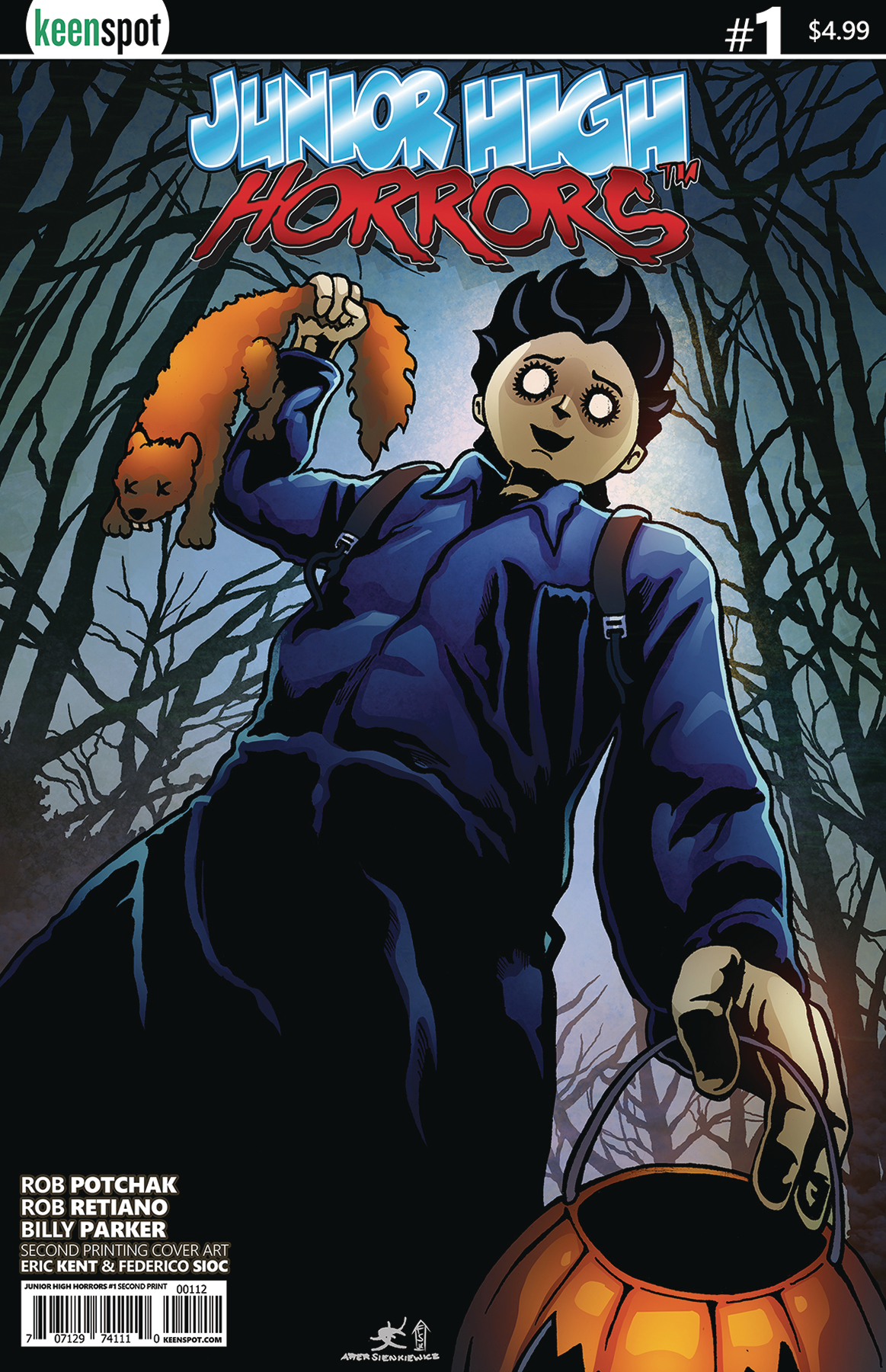 Ray:  I'm pretty sure it qualified as a parody, so Keenspot didn't need to get the licenses.
The cult supernatural romance Kim Reaper returns from Oni with a new miniseries – Vampire Island. It sells just over 2K, which means this is probably finding its audience more in Oni's growing OGN market.
It's Crisis on Infinite Cerebi at #383, selling just over 2K. Dave Sim is gonna do what Dave Sim wants.
#386 brings us High Heaven, the other debut from Ahoy Comics this month. What do you mean there were two debuts, you ask? Apparently retailers were just as confused! This sold less than 25% of the sales of Wrong Earth's debut at just under 2K. Very odd, especially since both books had the same writer in Tom Peyer. Maybe it was the Jamal Igle factor? Maybe the concept of Wrong Earth just hooked more people? Either way, what a weird disparity.
Glenn:  Igle is probably the difference maker here.  He's got a higher profile due to his DC work and his link with Black.
Ray:  Another Vault comic, Friendo, debuts at #387, selling 1.9K. This book about a malevolent AI companion had cult creator Alex Paknadel as writer, but it seems to have slipped under the radar compared to Fearscape.
Glenn:  Sounds like a character that should be on Disenchanment!  Evil AI is a sub genre of sci-fi that's been done to death so it probably had to have a really good hook to stand out, same like if you want to do a zombie comic these days.
At 389 we have Casper's Capers from American Mythology selling over 1.9k and Caspers Ghostland sellind over 1.9k too at 392.  Who knew the market could support two Casper books?  As the sales indicate, these titles always sell around the same, new number 1 or not.  Nothing to see here.
Ray:  American Mythology releases a lot of Casper #1s. Relatively few Casper #2s.
Glenn:  A few new Alterna releases make the top 500 with Blood Realm at 396 with sales over 1.8k and Exilium over 1.8k too.  Pretty much their standard level, their recent hot topic controversy from a little while ago doesn't seem to have made any great effect on their unit sales either way.
Ray:  Neither of these Alterna books got all that much buzz pre-release, either, so these numbers aren't a shock.
Glenn:  Proving my point about zombie comics at 403 is Rags selling over 1.8k.  This is from Anatric Press and only real difference seemingly about this particular zombie book is it features a sexy lady in a bikini top on the cover.  It doesn't work.
At 406 is Newbury & Hobbes selling over 1.7k.  I got to review this for Break The Forth (don't fire me Brent, I got a kid to feed) and loved it.  However its a new chapter of a series of novels I'd not heard of previously so probably going to rope in too many people.  Will probably do a better job in collections with fans of the novels.
Ray:  Given what an odd duck this is – a foreign comic spinning out of a novel series that no one in the states knows about – I'd say this is a pretty healthy debut for Titan.
Glenn:  At 413 is…is…is…a…comic….that sells over 1.5k.  It sure is a comic that one at 413.
Ray:  God bless'em, there's a comic for everyone
Glenn:  From Rebellion (?!?!?!?!) is The Vigilante One Shot selling 1.4k at 417.  Even priced at 4.99, that's not good.  This is a reinvention of some 'classic' British comic heroes.  I wonder if Dennis The Mennis is on the team (no, not that one).
At 430 is The Three Stooges Matinee Madness and 431 is Pink Panther Surfside Special which both sell over 1.2k.  The franchises are dead Jim.
Another new comic from Waxworks in Poser at 433 which is about a serial killer who poses his victims like shop window dummies and the like.  It sells over 1.1k.  This company don't seem to have caught on with their horror concepts.
Ray:  Waxwork is one of many, many small startup comic publishers in recent years trying to carve out a small slice of the market. Some are clicking with audiences. Others are Waxwork.
Glenn:  Aspen comics relaunches Dellec (?!?!?!??!?!) at 436 with sales over 1.1k.  No one was missing Dellec.
Antartic Press has what appears to be an anthology at 438, Steam-Age Wasteland which sells over 1.1k.  There is a solid audience for steam punk but this one didn't seem to tap into that for whatever reason.
Ray:  #453 brings us the toy tie-in Vamplets Beware: Bitemares One Shot. It sells 958 copies, which seems about right for a title about tiny fuzzy monster balls.
Down at #464 and also from Lion Forge is Guncats, the action-comedy about alien bounty hunters, selling 788 copies. Another creator-owned book that didn't find its audience.
From Source Point Press selling 709 copies, The Family Graves #1 lands at #478. This family adventure focuses on a clan of monsters trying to travel through time while dealing with the problems of their natural monstrous abilities. It's a fun concept, but launched with very little fanfare from a small publisher.
Another action comic I believe based on a video game, Sniper Elite Resistance from Rebellion gets the dubious honor of being the last original #1 on the charts this month at #490, selling 607 copies.
Glenn:   I don't think I know this game?  There's one sniper game that gets a lot of talk for showing x-ray effects of your sniper shots and I don't think its this one…
The rest of the charts are largely reorders with some more sales for the 20th issue of Darth Vader getting some of that at 500 with 549 more copies being ordered.  That Vader guy is hot stuff!  Hot like molten lava, amiright?  Too soon?
Ray:  Looking ahead to next month, DC is bringing us two major mini-events, The Witching Hour and Drowned Earth. Two Justice Leagues, two world-wrecking threats! It's Tynion vs. Snyder and, um, Tynion. We also get a new wave of Hanna-Barbera crossovers. 
Marvel is bringing us two weekly one-shot events, the return of What If and the villain spotlight X-Men: Black. Spider-Geddon also begins in earnest with its tie-ins, including the return of Spider-Gwen.
Image has a few major launches as well, including new debuts from Sam Humphries, Gerry Duggan, and Tee Franklin. There's also bound to be a few surprise launches that catch the market by surprise.
What will rise? What will fall? Tune in next time on By the Numbers!
Like what you read?  Have a question or comment?  Let us know here or hit us up on Twitter @glenn_matchett and @Raygoldfield