By The Numbers: March 2018
Like in any industry, comic books and their companies listen most to one thing and that's your money! What does your money tell them? What does it tell us as fans? What series do people say they adore but can't seem to catch a break and what books to people hate that sell out? What are the trends? What looks good? What looks rough?
All these questions and more will be answered here, every month in 'By The Numbers' by comic writers, editors and fans, Glenn Matchett and Ray Goldfield.
Glenn Matchett is a comic writer and editor. He's worked in the industry for 6 years but grew up reading comics. He's had work published with Outre Press, Alterna Comics and Nemesis Studios. Because of Booster Gold personally messing with his time stream (its a gift!) Glenn is now imprisoned for various cases of arson and murder in America, don't ask.
Ray Goldfield is a fan of comic books for going on 25 years, starting with the death of Superman. He is a writer and editor and has released his first novel. Ray also does a weekly roundup of DC comic reviews for website Geekdad and they're brilliantly entertaining. Due to Booster Gold messing with the time stream (its a gift!) Ray has no longer interest in cooking shows, in fact he hates all type of food.  He lives off corn and water.  He is an unhappy fellow.
We also do a podcast together with longtime buddy, Brandon James on iTunes with Rabbitt Stew or at the link here! Don't ask, I didn't pick the name. If you'd like to hear what me and Ray sound like, give it a listen!  We talk about these very sales numbers in the most recent episode here…but read this first so Bret doesn't hurt us.
Top 300 in full available here!
Glenn:  March madness is upon us for the sales charts for March 2018.  We see a lot of unexpected twists and turns including some surprising numbers, the healthiest top ten in a while and some books coming off better.  Of course, its not all cause for celebration as we'll soon see.
Ray:  This month seems like it was a much-needed boost for the industry, as a lot of books hit major events that boosted their sales overwhelmingly. It shows there's some real interest in what the companies are doing – albeit only on some fronts, as other areas showed real trouble spots.
Glenn:  The top book of the month was the final chapter in Metal by Snyder and Capullo which sold over 187.5k.  This event has been a major hit from start to finish and it seems to want to go out with a bang, event outselling the other big DC event book going on at the moment for its final chapter.  There's been delays on this one but they haven't hit the numbers that hard at all with people investing in Metal and its tie ins through out in spades.  Of course some of the new books that spawned from this event haven't landed the best but really the main title this will lead into it seems is Snyder's Justice League book which should end up being another top ten staple for DC.  This event was balls to the wall insane but came out on top.
Ray:  This is a jump of almost 40K from Metal's fifth issue, which was totally unexpected. The event really seemed to capture the unpredictable feel of classic events, and audiences responded in spades. Every book that tied into this event reached surprising highs, and the main mini did numbers we haven't consistently seen since Secret Wars. If anything, the failure of New Age of DC Heroes to really take off is due to the characters not being properly set up inside this mini, aside from a few cameos.
Glenn:  They got a better lead in here with the epilogue but I would say in most cases it'll be too little, too late.
In second place is Doomsday Clock which barely loses any sales and pulls in over 148.5k despite the delays that have hit it.  Metal might be over but DC has this cooking too and even though it won't have tie ins or that to sate the demand that there seemingly is for it, its another big win for DC in terms of new sales and also reorders which we'll see later.
Ray:  Doomsday Clock only loses 8K in sales out of 150, despite the delays. You know what this is performing a lot like? The recent Dark Knight Returns sequel that dominated the charts when it slowly came out last year. With no tie-ins, this feels like it'll be both a successful event for DC and an evergreen seller in the future.
Glenn:  Jumping up over double its previous range, Amazing Spider-Man swings in at 3 with sales over 128.1k.  This is the start of the much hyped 'Go Down Swinging' story which is the start of the end of Dan Slott's decade run on the title.  Retailers have found it hard to keep copies of Amazing in stock lately due to this story featuring Norman Osborn merging with the Carnage symbiote.  That concept plus Slott's leaving and the fact that Amazing 697 was the first of the build to 700 and was vastly under ordered so retailers may have been prepped this time.  This is being treated like the mini events Slott has pulled off to great success over the years like Spider-Island, Ends Of the Earth, etc.  Hopefully he will bring this strong momentum with him to Fantastic Four and Iron Man in the future while I think Amazing is going to miss him very much.
Ray:  This is over a 100% jump for the start of Slott's final arc and his big Norman Osborn storyline. That's the kind of jump you don't see often at all, and it really shows just how much Marvel is going to miss Slott on this title when he's gone. If he can bring this same kind of buzz to Fantastic Four and Iron Man, he could go a long way towards helping Marvel's issues.
Glenn:  At 4 is Weapon H, a big surprise for the book that sees the government meld together the Hulk and Wolverine.  This was treated like a much bigger deal than I expected and probably took Marvel by surprise when it pulled in numbers over 98.6k.  I guess all of still have that desire to see their favorite characters mushed together for lolz.
Ray:  This title was a lot better than it had any right to be. However, I'm still betting that these numbers are largely statistical noise. It spins out of two middle-selling books, one of which has now concluded. That being said, it doesn't have to keep most of these sales – if it can sink down to the level of parent title Weapon X and stay there, it'll likely be a safe mid-level hit for Marvel in the long run.

Glenn:  At 5 is Batman selling over 93.8k and its also at 8 selling over 91.6k which is a bigger gap between the two issues than usual but that's cause this is a very strong top ten.  Despite a lot of books coming in either with higher profiles or over performance, Batman just carries on as normal.  the sales are gradually reading the high 80 mark but with the wedding just around the corner, it'll rejuvenate things for the title but even at that, it's still solid as a rock.
Ray:  Good ol' Batman. With the numbers revealed for DC Nation #0 (over a million copies), I don't see any way that the wedding issue in Batman #50 doesn't outright win the month in July.
Glenn:  At 6 is another Marvel title getting a massive boost in the latest issue of Mighty Thor which sells over 93k.  This is the conclusion to the Death Of Thor story and retailers may have thought this would be the end of Aaron on this book (orders I think would have needed to have been in prior to the announcement he was staying) but I just think that people are enjoying the hell out of this run which seems to be one of the all time greats and is currently still going.  Much like Dan Slott, Jason Aaron has a skill to make people care about his books without needing to be involved in the bigger Marvel picture.  These two are clearly Marvel's most valuable assets in terms of writers right now.
With Chris Hemsworth hanging up his hammer in the movies, we might see (recast) Jane Foster as Thor in an upcoming MCU movie so this might not be the end for this character, you never know.  I would say that this momentum will carry over to the new Thor title much like the Amazing relaunch (the first one with Slott) really benefited from Superior's success.
Ray:  Again, over a 100% jump in sales for this issue, but this was hyped as a big event issue and it delivered. I think we'll see strong numbers, but not on this level, for the next issue and the epilogue. I'm curious to see how the title will do when it returns the Odinson to the lead, as Jane seems to have brought an enormous amount of buzz to the title. It's ironic. The one replacement hero who really took off is the one Marvel couldn't keep.
Glenn:  In another big surprise at 7 in Infinity Countdown, the event comic by Gerry Duggan featuring the Guardians Of The Galaxy and Thanos which sells over 93k.  This was much better than I was expecting too, especially since its a direct follow on from Duggan's Guardians which was selling around 30k at the time it was cancelled.  I guess that movie that's coming out in a few weeks (as of this typing) motivated retailers to stock up.
Ray:  Yeah, that's almost 40K over the prelude issue last month. Retailers seem to be treating it like a legitimate event, and the movie should keep it relatively hot. I'm glad to see Duggan's Guardians run getting the love it deserves, at least in event form.
Glenn:  Even though Ray doubted me, Robert Kirkman's new Image title Oblivion Song sells just over 80.2k at 9.  This is a brilliant debut no matter how you look at it.  The last new title Kirkman launched, Outcast didn't do as nearly as well as this so I would say people were more intrigued by the concept on this one.  It won't be anywhere close to this next month in all likelihood but still a very strong starting number.
Ray:  That's one of the best Image debuts in a while, easily besting what we saw from Kick-Ass last month. It shows, Kirkman's a brand in himself right now, and it keeps on building. This one feels incredibly marketable as well, although with a higher budget for adaptation than the others, but I expect it to stay high on the charts from here.
Glenn:  Its interesting that Kirkman's last title launch, Outcast didn't do nearly this well.  Maybe this concept has more mass appeal?  Demon related stuff can be off putting for most.
Finally at 10 is Sean Murphy's White Knight which sells over 73.3k   Only losing a few thousand copies between issues and we're on the home stretch.  Amazing success for DC and Sean Murphy who no doubt has been given free reign to do what he wants next.
Ray:  Even in a highly competitive month like this, White Knight keeps rock-solid. It's no surprise that Murphy has said to expect an announcement from him about the future of his creator-driven Batman comics in a few months. DC will want more!
Likewise, Walking Dead is locked down at #11, selling 74K, which is down only 3K this month. It's invincible, and likely would have been safely in the top ten if it wasn't for all the events.
Glenn:  Invincible was the other Kirkman book, silly Ray and now its gone and I remember and I'm sad and…anyway.  Yeah, Walking Dead just does its own thing as usual. The latest trade was also the top selling one this month (no surprise there).
Ray:  Daredevil #600 had a similar performance to the other Marvel events of the month, increasing over 100% from its normal issue sales for a double-sized anniversary. It charts at #12 with 67K in sales. Soule's Daredevil has been a solid performer that's slipped under the radar a bit, so I wouldn't be surprised if this big spotlight allows it to climb up the charts long-term.
Glenn:  The return to original numbering really has helped the books that were near a centennial issue with the noted exception of Spectacular Spider-Man but unlike that title, Soule has been guiding Daredevil for a while now.  I don't think we'll see a long term benefit here because Daredevil has always been one of those titles that sells at around the same title no matter what the title is doing and who is writing it but good to see it get the opportunity here.
Ray:  Easily the oddest entry this month is True Believers: Venom vs. Spider-Man, a $1 reprint of Amazing Spider-Man #300, which sells a staggering 65K at #13. This is unheard of numbers for a True Believers reprint. It outsold the vast majority of both DC and Marvel's first-run lines! And spoiler alert, there are a LOT more of these Venom True Believers one-shots this month, although none do anywhere near these numbers.
Glenn:  Amazing 300 is still a hot comic all these years later.  This one has been reprinted and retold multiple times but retailers and fans can't get enough.  Its no surprise that Marvel are continuing to invest in Eddie Brock's Venom.
Ray:  A surprisingly good debut for New Mutants: Dead Souls at #15, selling 54K. It was supposed to be a movie tie-in, but it wasn't the movie team, and now there's no movie. Despite this, it seems retailers thought there was a big audience here that wanted a New Mutants title. We'll see if it can hold any of those sales, but early buzz hasn't been great.
Glenn:  Maybe people have a lot of nostalgia for this title even though this isn't the traditional team?  With the film being delayed again and this perhaps not being what people expected, the sales will probably drop next issue.
Ray:  The return of the Hulk in Avengers #684 wreaks havoc on the rankings for the weekly Avengers titles, as that issue sells 54K at #16, over 8K more than the other three issues, which are clustered in the 24-28 range on the charts. But as this event series enters its final act, it's safe to say it can be called a hit for Marvel – it's consistently outselling the previous main Avengers book, only four times a month.
Glenn:  No Surrender has definitely been a win for sure.  Aaron's run on the book will absolutely be a sales hit too so the future seems optimistic for the Avenger's for the first time since Bendis left.
Ray:  As Action Comics approaches its massive anniversary issue next month, the title continues to climb, selling 51K at #19 for its 999th issue. That's even above Detective this month (right below it at 20-21), making it the second-highest selling DC ongoing of the month. Quite the feat for a title that was struggling at the start of Rebirth. And spoiler alert, it's going to chart a LOT higher next month.
Glenn:  Momentum towards 1000 and having a number so close to that definitely upped the interest here.  It'll be interesting to see how Action does post 1000 since the title is taking a break for the Man Of Steel mini.  With Bendis writing, its hard to not imagine it (and Superman) doing these numbers on a more consistent basis long term.
Ray:  X-Men: Red seems to be off to a good start, keeping 50% of its first issue sales to land at #22 with 49K. That's more than 10K above the other main X-books, and it's getting a much better reception from fans. This could be the proper X-book revival fans and Marvel have been waiting for.
Glenn:  People really seem to be excited for this book and for (adult) Jean Gray returning.  Hopefully it'll remain unaffected by the larger relaunch happening in the shape of 'fresh start'.  The announcements seem to have stopped for that though and the X-titles are just going towards a line event in the form of extinction instead so we'll see how that goes but this could be a winner for sure.
Ray:  Even though Saga did absolutely nothing unique for its 50th issue besides continuing its story, the title gets a 7K bump in sales to land at #26 with sales of 45K. Retailers like their round numbers.
A huge jump for the penultimate issue of Donny Cates' Thanos, selling 42K at #33. That's up a full 13K from last month. With this being a short-run series, retailers didn't have all that much time to react to just how big this got, but I expect we'll see a lot more reorders for this title down the line. 
Glenn:  Reorders and collection sales will be the main thing for this title, especially for those hungry for Thanos content when a certain movie comes out in a few weeks.  I'd say that retailers will be less conservative when ordering Cates work in future when it comes to his mainstream work.  We've seen DC have Tom King bring in numbers on name alone, Cates could very well do the same.
Ray:  Speaking of King, right below Thanos is perennial chart-climber Mister Miracle, which returns from a skip month by gaining another 2K in sales to chart 40K. It feels like we're seeing a new era of these "boutique" comics spotlighting less-known characters by elite creators who can go nuts with the concept. If they're as good as these two, it could be a new golden age for the industry.
Glenn:  Mister Miracle's success is astounding and will live out a long healthy life in collections. When we're old folks this one will be one of those collections that is given to every comics fan as a must read like Dark Knight and Watchmen.
Ray:  To put it into perspective, Thanos and Mister Miracle are outselling Wonder Woman, Captain America, and both primary X-books besides Red.
Glenn:  Wonder Woman is going through a…less than stellar run at the moment and Captain America is recovering from a lesser run than that but still that is really quite a jarring thing to see.  Coates coming on will help Cap to a certain extent but there seems to be no immediate plans to help out poor Wonder Woman, its not like DC isn't spoiled for choice.
Note:  Since typing this, former Supergirl writer, Steve Orlando has announced he is hopping on Wonder Woman briefly and a new regular creative team will soon follow!
Ray:  A pretty solid slide for The Terrifics this month, as it keeps about 75% of those first-issue sales to land at #43 with sales of 34K. We've seen retailers ordering cautiously on these New Age of DC Heroes books, followed by decent slides the next month. Terrifics actually feels like a hit, with the audience responding to the odd mix of characters and Jeff Lemire has a built-in fanbase.
Glenn:  The Terrifics is sure going to be the winner out of the new age of DC heroes launches.  I wonder if this books performance or even presence is partially responsible for the new Fantastic Four title coming from Slott and Picheli.
Ray:  Speaking of that built-in fanbase for Mr. Lemire, right below selling 33.5K is Lemire's new Image creator-owned title Gideon Falls. I was maybe expecting a bit more for Lemire's first foray into horror in a while, but then – this is a weird book. I've read the second issue the same day I write this, and I still have no clue what it's about but I love it. It's an odd project and retailers may have been a bit cautious. However, Lemire's books tend to be extremely stable long-term.
Glenn:  I think this will be one that stabelizes fast, could even be a slow climber as word of mouth spreads.  The concept is odd on the surface but I think anyone that took the chance on it will spread the word quickly.  It'll definitely end up well into Image's safe zone I'd say.
Ray:  A good debut for Shadowman at #45, selling 33K. This is the return of Andy Diggle to mainstream comics, and the return of a Valiant character who was off on the dark side for a few years, but the first issue seems to have gone over well. I'm a bit surprised by how well it did, but I wouldn't be surprised if retailers ordered a bit heavily to ensure that fans wanting to support the return of Valiant's most prominent African-American hero didn't go home empty-handed. We are in a post-Black Panther world, after all.
Glenn:  Good logic on Shadowman, it is becoming more common to see Valient being able to launch pretty strong numbers on some books which is great to see for them.  There's been a lot of corporate changes at Valient but their strategy of slow and steady seems to be really working for them and I can't imagine that changing anytime soon.
Ray:  Doctor Strange: Damnation started low, but seems to have had a decent second issue slide this month, selling 32.9K at #47. That's down about 25% from the first issue. The third issue is the same month, selling 30K at #58. So it seems like this quick event has at least given Donny Cates' Doctor Strange run a slight boost, in sales if not quality.
Glenn:  Not too bad a drop for Brave and the Bold: Batman and Wonder Woman which has its second issue sell over 31.8k at 49.  Still might have expected more considering the characters involved and the creator involved but for a throwaway mini, this is very good.
Ray:  Peter Parker: Spectacular Spider-Man comes back down to Earth after its big anniversary issue, and it keeps 3K of that anniversary boost to land at #54 with sales of 31K. Not a huge increase, but this title is a solid mid-level performer for Marvel. And it'll soon be the only Spider-book once Slott leaves! Hooray for Zdarsky!
The penultimate issue of Supergirl lands at #55 with sales of 30K. That's down about 1.5K from the last issue, but this was also a special issue cowritten by guest writer Vita Ayala. It's been massively praised for its nuanced take on LGBT issues and teen alienation, and I would expect to see it get a lot of reorders in the coming months. This is not a title that should be ending based on sales and buzz, but here we are. Bendis is coming!
Glenn:  This Supergirl issue should be given to kids in school's to help those struggling with their identity (gender or sexual orientation or otherwise) and help kids support those going through the struggles this issue deals with.  This is one of my favorite comics of the year so far so I hope it picks up some reorders.  I really hope DC has more plans for the character because it seems a shame for multiple reasons to just kill off the book at the behest of a new creator.
Ray:  At #61 we have the Damnation: Johnny Blaze Ghost Rider one-shot, selling 29K. That's a decent number for a one-off story featuring a B-list supernatural hero spinning out of a minor event. What's worth noting is that both this and the recent Spirits of Vengeance miniseries did a bit better than expected. It seems the supernatural characters from Marvel have a bit of an untapped fanbase.
Glenn:  People might be wanting more Ghost Rider since the cosmic version has been such a hit also.  We're not going to see Ghost Rider (the normal version anyway) be able to hold his own title anytime soon so for a one off that is tied into an event that people seem pretty blegh about, this is a pretty great number.
At 77 is the next of those multiple Venom True Believers you mentioned, this one reprinting the first issue of the Lethal Protector mini which sells over 25.9k.  Much lower than the Amazing 300 reprint but still incredibly impressive.
The newest Kick Ass comic loses about half its sales selling over 25.1k at 81.  That's quite a drop but still but it as a comfortable Image level.  I would say the upcoming 'Netflix wave' of Millar books will do a lot better for him than these revisits of his older creator owned properties.  I think this is only a mini (DC will be wanting Romita JR back) so in terms of that this book will fine.
Ray:  I think Kick-Ass is ongoing? Romita Jr. doesn't have any formal DC deal and is co-creator on Kick-Ass (although it's owned by Netflix now, obviously), so I imagine this will take priority for him. I find it amusing that I can refer to "That John Romita Jr. comic about a mom who has a secret life as a brutal vigilante" and I could be referring to two books.
Glenn:  Millar hasn't done an ongoing for quite a while so that would surprise me.  Let us know if you know, loyal Numberites!
No increase for Poe Dameron's Star Wars title at 88 but it only loses a couple hundred sales from last issue with its 25th selling over 24.5k.  The book is now going to cover the period of time that the Force Awakens does so it'll be interesting to see if that has any impact.
Much like the majority of its other new era brethren, Sideways has a troubling second issue sales performance of over 23.8k at 92.  It could be worse of course but this book along with the others that proceeded it are likely to be not here this time next year apart from Terrifics which will continue as long as Lemire is involved most likely.
Ray:  All the New Age of DC Heroes titles had rough debuts but moderate slides. The problem is, there just isn't much room for them to keep falling – and when these a-list artists leave, we might see bigger drops.
Glenn:  The roll out of the books was a big mis fire, then them losing the artists (who were supposed to have the spotlight) is an even more baffling decision.  There still be the specter of stupid decision over at DC.
Last appearance of a Venom True Believer in the top 100 at 98 with a Venom/Carnage reprint selling over 22.3k.  This is a reprint of Carnage's first story so I'm surprised it didn't do better than Lethal Protector, especially with the Carnage symbiote being such a major part of Amazing at the moment.  Still great stuff for a comic that's like 20 years old or so.
Not quite losing half its sales like Kick Ass, Hit Girl nearly does with sales over 21.1k at 100.  Considering how popular Hit-Girl is I might have expected more but still fine for as long as Millar wants it to be around.
At 101 its True Believers: Venom Symbiois which is a repring of Web Of Spider-Man 1 which doesn't even have Venom in it!  The connection here is black suit Spidey on the cover I guess?  I don't know how this one qualifies but it sold over 21k regardless.
At 102 is an odd comic, Iron Man: Hong Kong Heroes which sells just under 21k.  This is a promotional comic to tie in with a new Iron Man themed ride opening at Disneyland: Tokyo.  So this is an ad that you pay for, genius!  This being such an oddball of a book, I'd say sales around 21k is sensational.
Ray:  I suspect retailers didn't really know what to expect out of this one, and just went "Iron Man? 20K sounds about right". The fact that there's only about 10K between this theme park tie-in and Bendis' proper Iron Man title, though, is sort of crazy.
Glenn:  Wrapping up the Ivy/Harley & Betty/Veronica mini at 104 with sales over 20.7k.  Pretty strong sales from a mini that seems to have just been done for the lolz.  Again DC benefits greatly for letting others play with their characters and I don't think that'll be stopping anytime soon.
At 105 is the second issue of video game tie in Batman Sins Of The Father which sells over 20.4k which is very good for a video game tie in.  Batman, the people can't get enough of him!
Ray:  I recall that the Batman digital-first tie-ins always did better than any other book from the Digital-First line, so DC has got to be glad to have a new video game to tie in with!
Glenn:  After a very surprising debut, Mera: Queen Of Atlantis has second issue sales of over 19.7k at 108 which makes a lot more sense.  Still very good stuff for a mini focusing on one of the lesser known supporting characters in comics.
Ray:  Yeah, this is about what I would have expected from a Mera title, selling just a little below the level of Aquaman. Not bad, but certainly nothing that is going to make DC order an ongoing like the first issues made look like a possibility.
Glenn:  At 109 is a competitor for the oddest comic debut this month, Vampironica which is Veronica from Archie becoming a vampire.  Its typical old school wacky Archie stuff and sells over 19.7k which I'd say is very good.  These Archie horror books seem to have a lot of interest in them.
Ray:  These Archie horror books sell in a different league from anything else from the company, and this one has Greg Smallwood on board. As long as they keep selling, we'll keep getting new ones. They'll listen to me and greenlight Moosenstein one of these days!
Glenn:  I personally am hoping for Betty and Veronica but its more like Jekyll and Hyde than two girls hanging out.  Betty and Veryde?  Why Archie hasn't called me yet is a mystery.
Next at 110 is Rick & Morty present the Vindicators which I assume means something to someone?  It sells over 18.8k which is on the upper tier of how tie in comics usually do but Rick & Morty's popularity explains how this one has done better than average.
The next part of the comic adaption of American Gods debuts at 114 with sales just under 18.5k.  Seems like retailers gave this a slight boost for the number 1 but will likely treat it as a continuation overall like they did for the Dark Tower adaptions back in the day.  This is a title that Dark Horse seems to be glad they have.
Ray:  Even though Gaiman isn't writing this, his name on the cover gives it a big boost. That certainly bodes well for Sandman Universe at DC this summer.
Glenn:  At 121 is another wrap up of another inter company crossover, The Shadow/Batman which sells 17.5k.  I wouldn't be surprised to see another part to round out a trilogy coming along.
Ray:  Dynamite has a lot of these properties that could mesh well with DC in the future. This is one of the biggest successes of the crossover wave overall, so we'll definitely see more.
Glenn:  More Venom in the form of True Believers at 126 with this one focusing on Agent Venom aka Flash Thompson Venom.  It sells over 16.7k which is still very good for a reprint, especially one that's not that old.
Ray:  There's quite a few reorders on the charts this month, including Amazing Spider-Man #796, which charts again at #127 with sales of 16,6K, above first-run sales of multiple DC and Marvel books. This was the prelude to Slott's final arc, and there's clearly an enormous amount of interest here. 
Glenn:  Retailers can't pry copies of this arc of Amazing from people it seems.  It could be interest in the red Goblin, Slott's final arc, the first proper Green Goblin/Peter Parker Spider-Man story in years or a combination of all three.  This is like a perfect storm.
Ray:  The Young Animal books get their relaunches this month following Milk Wars, and the highest-charting one is the new one, as Eternity Girl – Magdalene Visaggio's personal story of a depressed immortal superhero – lands at #129 with sales of 16.2K. Impressive that it beat the established ones, which are a bit below. Mother Panic: Gotham AD lands at #143 with sales of 14K, followed by Shade the Changing Woman at #154 (12.7K) and Cave Carson has an Interstellar Eye at #163 (11.6K). These books largely continued from the previous run, but they all got decent-sized boosts in sales from those final issues. This is clearly a niche line, but let's hope some of those new eyes from Milk Wars stick around!
Glenn:  Decent numbers from what we've come to expect from Young Animal by now.  If they can land above 10k and do well in trades, DC will likely keep the books around as long as each respective writer wants to work on it.
Ray:  Venom is all over the charts this month, with five more True Believers one-shots in this range. Venom: Shiver lands at #130 with sales of 16K, and then not far below we have Flashpoint, Dark Origin, Homecoming, and Toxin all selling in the 15K range between 135-138. This feels like the biggest True Believers wave yet, and probably the most successful.
The magnificently-named Pornsak Pichetshote makes his debut on the charts at #142, as his modern haunted house thriller Infidel sells 14.2K. For a creator without a mainstream profile yet, that's a really strong debut. This is a miniseries and should keep healthy numbers throughout, but I suspect we'll be hearing a lot more of the name Pornsak Pichetshote in the future.
Glenn:  You're having way too much typing that name, I can tell.  Infidel has a great concept and sometimes, that's all you need to draw the eye of the reader.
Ray:  In the latest installment of "comparisons that make Marvel look bad", let's look at three titles. Ms. Marvel (#145, 13.7) is Marvel's most popular new character in years. Deadman (#146, 13.3K) is a much-mocked Neal Adams title featuring a character with little to no buzz. Runaways (#148, 13.1K) is a critically acclaimed run by a mainstream novelist featuring the stars of Marvel's new hit TV series. Should these titles be selling in the same range? I think not.
Glenn:  It seems that this is where Ms. Marvel lives now as a sales entity which is a real shame.  I have no doubt her collections and larger outside of comics presence keep her safe but its a really good book with a fresh protagonist which is what Marvel needs more of right now but if the market tells them otherwise, they're hardly going to give us that.  We'll probably get Ms. Marvenom in a few months.
Ray:  More reorders for Amazing Spider-Man, as #795 charts again with sales of 13K at #150. Clearly, fans are going to miss Slott a lot on this title. I suspect Marvel will too.
Mystic U, DC's prestige-format magical college adventure, comes to a close with sales of 11K at #166. This is a title that didn't find the audience it deserved in singles, but DC has an opportunity here – they can repackage it as part of the DC Ink line and get that collection into bookstores. If they're smart, it could still be one of their biggest hits in a long time.
Down at #167, we've got the second issue of Labyrinth: Coronation. Selling just under 11K, this is Boom's second-highest selling comic of the month. Unlike the other Jim Henson comics from Boom, this one seems to have caught some serious buzz for its prequel revealing the origin of Jareth.
Glenn:  There's a lot of love for Labrynth and for Bowie so these could be key factors helping this book be a healthy offering from BOOM.
Ray:  And MORE Amazing Spider-Man reorders, as #794 sells an additional 10K at #172.
Top Cow relaunches one of their oldest franchises, Cyber-Force, with Matt Hawkins and Bryan Hill at the helm. It sells 10K at #172, not a great showing. The time for these old-school Image properties with a distinct 90s vibe may just be past.
Glenn:  There will always be a little bit of an audience for them but Image has changed SO MUCH from what it was when it launched that these are not the type of books people want from the company anymore.  It might be more beneficial to them to farm them out to smaller companies that could use these sales that Image don't.
Ray:  At #177, we've got the debut of the latest Black Hammer spinoff, Doctor Star and the Kingdom of Lost Tomorrows. It sells 9.8K – but that's deceptive, because there was an odd case last month where 4.5K worth of copies shipped a week early in the previous month. That puts the title's total orders at a very healthy 14K+, which is close to in line with the main series. This book continues to prove itself to be Dark Horse's first original hit franchise in a long time.
Glenn:  There's soon going to be two Black Hammer books going at the same time with a third on the horizon.  Clearly Dark Horse loves the franchise and Lemire loves doing it, I know I love reading about it.

The second of issue of Lockjaw sells just over 8.4k at 190.  Pretty much what you would expect from a comic about the Inhumans dog.  The Death Of The Inhumans series by Cates coming soon will likely be the final word on this franchise for a long, long time.
Ray:  It'll be interesting to see if Cates' general hype and buzz can lift the Inhumans sales-wise, but quality-wise it's more likely to get people talking than most of their recent projects.
Glenn:  The Crow: Momento Mori from IDW is a new installment of a franchise exploring the unique gothic super hero who has a somewhat colourful history in terms of an excellent first movie, a string of meh to terrible sequels, and middling to terrible other types of adaptions.  It sells over 8.2k which is probably the die hard fans only.  Might be good long term for IDW to have it in their library if that Mamoa remake ever gets going.
Ray:  This property's heyday was over twenty years ago, and I don't think it even quite worked outside of the context of its creator's very personal story, so these numbers aren't a big surprise. Not every nostalgia revival is going to work.
Glenn:  Odd sounding sci-fi title Prisim Stalker debuts from Image at 198 with sales over 8k.  Pretty standard stuff from creators that don't carry sales clout and a quirky premise.
Ray:  Making the situation worse for Prism Stalker, it debuted the same day as two massive new Image launches by Kirkman and Lemire. That likely made retailers order even more cautiously on this. The title's concept doesn't become fully clear until the second issue, so it might pick up reorders from here.
Glenn:  Hope so!
Very small drop from the Buffy: Giles mini at 199 with sales also around the 8k mark but it didn't have that far down to go.  This franchise, even with the return of Whedon on co-writing duties is long past its heyday.  We're going to have one more four issue mini wrap things up here and Dark Horse gets a healthy Buffy/Angel library for future generations that will come to discover the classic show that want more.
At 202 is another Marvel Movie prelude in the form of Ant-Man and Wasp which sells over 7.7k at 202.  I'm guessing this is a retelling of the events of the Ant-Man movie so you can't expect much.  The fact that all these cash gra…errr preludes are getting their own Omnibus in a few months is hilarious.
A new female led Green Hornet series from Amy Chu and Dynamite launches at 207 with sales over 7.5k.  This franchise has its small  set audience and is unlikely to do anything to create a great resurgence of interest in it. Dynamite might have liked to have more interest on paper but its not horrible, just standard Green Hornet performance.
Sharp drop of over 10k for Dejah Thoris on its second issue with sale over 7.4k at 209.  This is more what I imagine this book to live at after its unusually high launch last month.  Like Green Hornet, its not brilliant but its not terrible…as long as it doesn't lose another 10k readers next month and has negative readers.
Ray:  Interesting that Green Hornet sold about the same with its first issue as Dejah Thoris did with its second. Bump from Dejah Thoris' #0 issue getting a wider audience? Maybe, because Dejah Thoris has far less mainstream presence overall than the Green Hornet does.
Glenn:  The creator of Spy Seal, Rick Tomasso takes a break from that series to launch Dry County which sells over 7k at 217. Retailers probably ordered this based on how well Spy Seal sold but that was a very particular type of book for a very specific audience, on the surface this book reads like it has more mass appeal.  Maybe it'll find its audience in trades?
Ray:  Tomasso does very offbeat comics, and this slice-of-life crime comic didn't really have a strong hook to grab retailers and make them order heavily. I expect it'll have pretty stable but low sales for the miniseries.
 
Glenn:  For those that still care, Moon Girl and Devil Dinosaur sells over 6.7 at 220.  No word on this getting a Fresh Start style paint job.  Could the mystery be finally at the end?
Ray:  I doubt it'll be ending, especially with the recent announcement of an animated series coming. What's happening here is that Moon Girl likely does 95% of its sales in collections and bookstores, and no one cares about the single issue sales. Once the cartoon begins, don't be surprised if IDW shows up to take the property into custody. It's better this way. They'll be happier there. Devil Dinosaur will have a bigger yard to play in.
Glenn:  The book that Ray has been yelling about how awesome it is, Highest House from the creative team behind the Unwritten launches from IDW at 224 with sales over 6.5k.  Ray talks about this one like it should be selling ten times as much but IDW never as much luck with creator owned material and this one is printed in a unique fashion (much like A.D: After Death from Image which went on to do amazing in collections) so this one seems like one that will earn its keep from collection sales both inside and outside the market for many years to come if its quality is anything to go by.
Ray:  If you're reading this column and you're not reading Highest House, what are you doing with your life???? In all seriousness, this will be a classic in bookstore form for years to come, and you're all going to wish you had the single issues when it's a hit Netflix miniseries.
Glenn:  Deathbed, the latest Vertigo series from Joshua Williamson sells over 6.2k at 230.  Even one of the biggest writers at DC right now can't get a lot of interest through Vertigo anymore.  Uncle Neil Gaiman and his seven endless children are coming to save the day next year.
Ray:  That's a roughly 50% slide for Deathbed, a little lower. Worth noting than the conclusion of Deathbed is the only Vertigo title solicited for July – and that the upcoming Sandman books are not going to be under the Vertigo brand, but get their own line.
Glenn:  So it is!  Sorry Vertigo.
Spider King, another creator owned from IDW sells over 6.1k at 231.  I don't know these creators so they're probably delighted they came so close to the likes of Mike Carey up a few spots at Highest House.  Again, this isn't about the material but about IDW's position in terms of a creator owned publisher.
Ray:  IDW's slowly pushing more and more into the creator-owned market, but they don't quite have a brand yet on that front, and interested people have to sift through roughly 900 licensed books to find these books. That doesn't make it easier to find these hidden gems.
Glenn:  Ghostbusters: Crossing Over sees multiple versions of the ghost busting team join together with sales at over 6.1k checking in at 232.  This is going to be one for die hard Ghostbuster fans only who want to see the iconic movie team interact from everyone to the extreme version to the reboot cast of the movie no one talks about anymore.
Ray:  Making things rougher for this Ghostbusters crossover, the fanbases of the two groups of movie Ghostbusters do not play well together. As for the Extreme Ghostbusters, they're just happy to be here.
Glenn:  Pretty soft fall for Xena on her second issue as she sells over 5.8k at 237 but she couldn't afford to fall much further with where she launched.  Another one for the die hard fans…or the Collector.
Ray:  At #235 is the second Ian Flynn-penned issue of Archie, and it only sells 5.8K. That's close to a 50% slide for the main Archie title in less than six months, most in the last two issues. To say this isn't good is an understatement. The book seems to have lost almost all of its buzz since the Over the Edge story petered out with few permanent consequences, and the new creative team hasn't helped. Flynn will probably have more success on next month's Sonic relaunch from IDW.
Glenn:  Its a shame they couldn't get another name like Waid to come on board.  The comic industry is thriving with some very talented folks, surely at least one of them would be interested in writing Archie?  I'll write Archie, I'll make it about crime and time travel!
Ray:  At #242 is Secret Weapons: Owen's Story from Valiant. 5.5K isn't great, but Valiant's one-shots rarely sell too well. This is more of a prequel, introducing fans to the stories of the players for the upcoming Harbinger Wars II, so look for these to maybe pick up some reorders when that event ramps up this summer.
Not getting an animated series like Moon Girl is Monsters Unleashed, which wraps up its run at #244 with sales of 5.4K. These are shockingly low numbers for a main line Marvel book – and yet, still probably not as low as Solo or Slapstick, the latter of which actually fell out of the top 300. Just another attempt to make something happen for Marvel lately. It didn't happen.
Glenn:  Marvel threw the kitchen sink at this one to make it happen.  Another one of their growing number of recent misfires.
Ray:Usagi Yojimbo's been running for a very long time, and had high numbers – until now, as Stan Sakai debuts a new miniseries titled "The Hidden". It sells 5.2K at #248, which isn't huge but definitely an improvement from the title's usual numbers. This is a book that has a very loyal audience of longtime readers, similar to Savage Dragon, I imagine.
The latest Boom original property, Lucy Dreaming, debuts at #252 with sales of just under 5K. Not unusual for Boom miniseries, which probably do better numbers in collections, although this one had hit musician/writer Max Bemis and the acclaimed artist of The Woods. This will be a complete story in a few months and will sell on bookstore shelves for years to come.
At #253 is an unusual entry, the promotional Image Expo 2018 Preview Book. It's a $1 collection of opening pages from a host of upcoming books announced at the Expo, and it sells 4.9K. I'm surprised this was counted as a regular book at all, and I might have expected it to be ordered a bit more heavily.
Glenn:  Interesting idea for a promotional tool, much like DC's been starting to do but not on a regular basis by any means.  Considering Image books need perhaps the promotion to get them in mind of readers if they don't have a big name creator attached and retailers like making money, you would have though investing in this to get more readers to buy more books would have been a no brainer.
Ray:  More reorders for some hit comics, including Thanos #14 (4.7K at #256) and the unkillable Doomsday Clock #1 (#261, 4.5K), which will be on these charts until we're long gone.
Glenn:  It helps to be the follow up to the most critically acclaimed comic ever but Geoff Johns and Gary Frank are doing the work of their careers and deserve the success.
Ray:  Another Boom debut, Dodge City, about a scandal-scarred competitive dodgeball team, debuted with 4.5K at #264. This one didn't seem to have much hype behind it or any name creators, and it's not the first Boom title about oddball competitive sports, so I think this one might have slipped under the radar.
Glenn:  We don't really have dodge ball here as far as I'm aware.  Getting people committed to a sports book is usually not something that goes well in today's market.
Ray:  Black Mask debuted two new comics this month, the body horror/social media thriller Come into Me and the cryptozoology/big pharma conspiracy Breathless. Both sold about 50 copies apart in the 4.4K range at #266 and #270 respectively. Black Mask is apparently going through some transition right now as many books and collections have been cancelled due to delays. Numbers like this aren't exactly a ringing endorsement for the future, since I don't think they really have a bookstore market presence yet.
Glenn:  Black Mask seemed to be going somewhere a year or so ago but no…its not looking good.  That may maintain a small presence, vanish entirely or rebound.  With the unpredictability of the comic market today, any of these three things could realistically happen.
Ray:  The Berger books have absolutely crashed on the charts, with the second issue of Mata Hari and the third issue of Hungry Ghosts selling in the 4.4K range at #271 and #273 respectively, and as for Incognegro – unknown. It's not on the charts. Depressing news, especially since the latter book is exceptional.
Glenn:  Dark Horse have to betting on these doing well in collections otherwise we may not see too many more of the Berger line.
Ray:  4.3K in reorders for the Swamp Thing Winter Special at #275, as Tom King and Jason Fabok's acclaimed story gets some additional sales. Retailers may have ordered cautiously because of the price tag, but that King dude has built a fanbase! And an additional 4.3K sales for Avengers #276 right below, as the return of the Hulk builds buzz for this weekly run.
A rare creator-owned debut for Oni, as Ed Brisson's violent kung-fu assassin thriller The Ballad of Sang debuts at #279, selling only 4.2K. There's no way this wouldn't have sold twice as much or more at Image, which is probably while Oni seems to be ramping down their production of single-issue originals.
Glenn:  Like Black Mask, Oni seemed to have a few interesting things on the horizon and have gone nearly dark in terms of monthly.  Did we ever even get the book that resulted from their much hyped open submission a few years ago?  If we did then I missed it.
Ray:  A very low debut for the all-ages fantasy Betrothed, Sean Lewis' new Aftershock title, at #287 with sales of 4K. Despite growing their output and talent pool every month, Aftershock still has trouble getting decent-sized launches for books without boldface names on the cover.
Glenn:  Aftershock still seem to be doing something to get the attention of bigger names than a company their size and their relative newness would really warrant.  They must be doing something right somewhere.
Ray:  A Ghostbusters annual sells 4K at #290, showing once again that this franchise is struggling for IDW. The split in the fanbase will likely hurt the property for a long time to come.
3.8K in reorders for the first issue of The Terrifics at #298, showing some real buzz for this series. Combined with the healthy second-issue drop this month, this feels like it's the one new hit for DC in this wave.
Glenn:  One out of five (or however many it was) isn't bad?  Probably not but hey…at least Lemire is writing big two comics again!
Ray:  And at #300, it's Matt Kindt's creator-owned title Grass Kings. It's ending in two issues, so we'll see if it can rebound a tiny bit and complete its run in the top 300, the way Tom King's Sheriff of Babylon did towards the end of its run.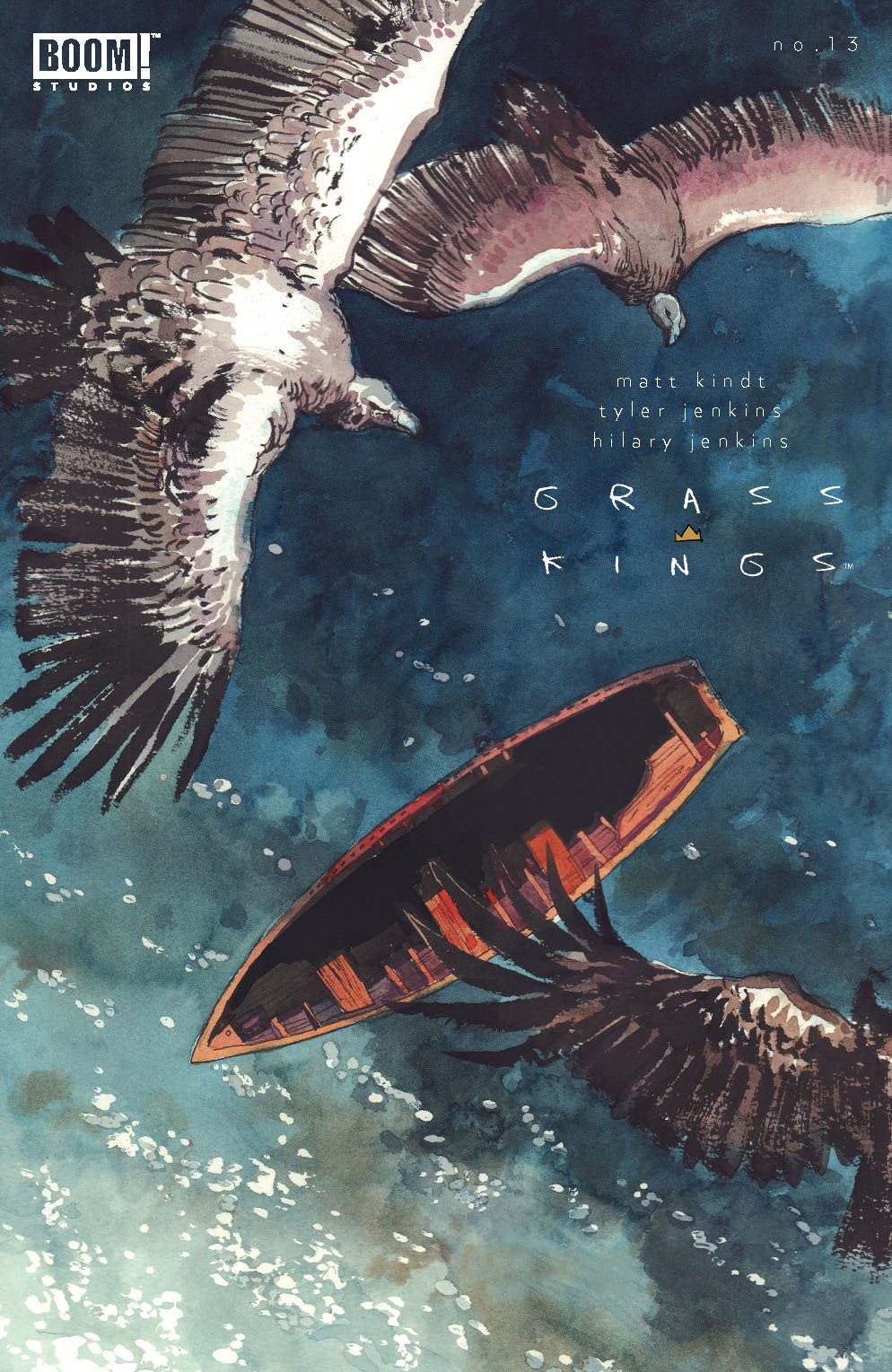 Glenn:  I'll pretend I know what this book is and agree!
While we leave the top 300, I want to take a quick glance as the collection sales for this month.  Even though the output from the line is a rarity these days, the latest Earth One offering in the form of Green Lantern does really well.  It comes second only to the new Walking Dead collection (of course).  This line basically only consists of Batman (put on hold for Doomsday Clock) and Wonder Woman.  Superman is MIA with the writer of the first three volumes presumably not returning and the promised Flash book never materializing.  Considering all of that, this sells really well and that's especially interesting since this creative team of Gabriel Hardman and Corrina Beckho are probably the least known creators this line has seen thus far.  That's very encouraging for any other Earth One books DC might deem fit to put out in the future and one to keep an eye on!
Ray: Hardman and Bechko are acclaimed indie creators who are not all that well know to fans of the big two, but are bringing their own fanbase to the picture. This goes to show that DC should maybe take some chances with these titles, let lesser-known creators with big ideas take a chance on top characters. Every time an installment of the Earth One Series has come out, it's sold very well, but the pace of the franchise is so unpredictable that it doesn't do for DC nearly what it should. There's a similarity to the All-Star Line in that way (only without kids being forced to eat rats).
Looking ahead, there's no real question what wins the month – we know Action Comics #1000 is crash-landing and destroying the top of the charts with sales of over 500K. These are unheard-of numbers for superhero books in this market, and this is a massive event (that DC will be able to recreate in less than a year with Detective). With 500K at $7.99, could DC win the month outright? I think it's possible. They'll also have two new debuts from The New Age of DC Heroes – Brimstone and Immortal Men, but this month, a lot of series are ending to make way for new launches in May and June.
This isn't Marvel's month, but they'll be trying to keep up with two issues of Amazing Spider-Man's blockbuster storyline, and the launches of soon-to-be cult favorite titles Domino and Exiles. Plus, the mini-event The Hunt for Wolverine kicks off this month before splitting into four miniseries the following month. And they've also got the weekly Venomized, the conclusion to Cullen Bunn's Venom storyarc before Donny Cates jumps on board.
It's a big month for indies as well, including the return of Frank Miller to Dark Horse, with an original Xerxes miniseries spinning out of 300. They've also got the return of the proper Black Hammer title's second volume. Image has a host of new launches, including Isola from the Gotham Academy creative team, Steve Orlando's Crude, Kyle Higgins' Dead Hand, Joe Henderson's Skyward, and Gerry Duggan's Analog. IDW's got one of their biggest launches in a while with the weekly rollout of the new Sonic the Hedgehog series, following that property's departure from Archie.
What will rise? What will fall? Find out next month on…By the Numbers?