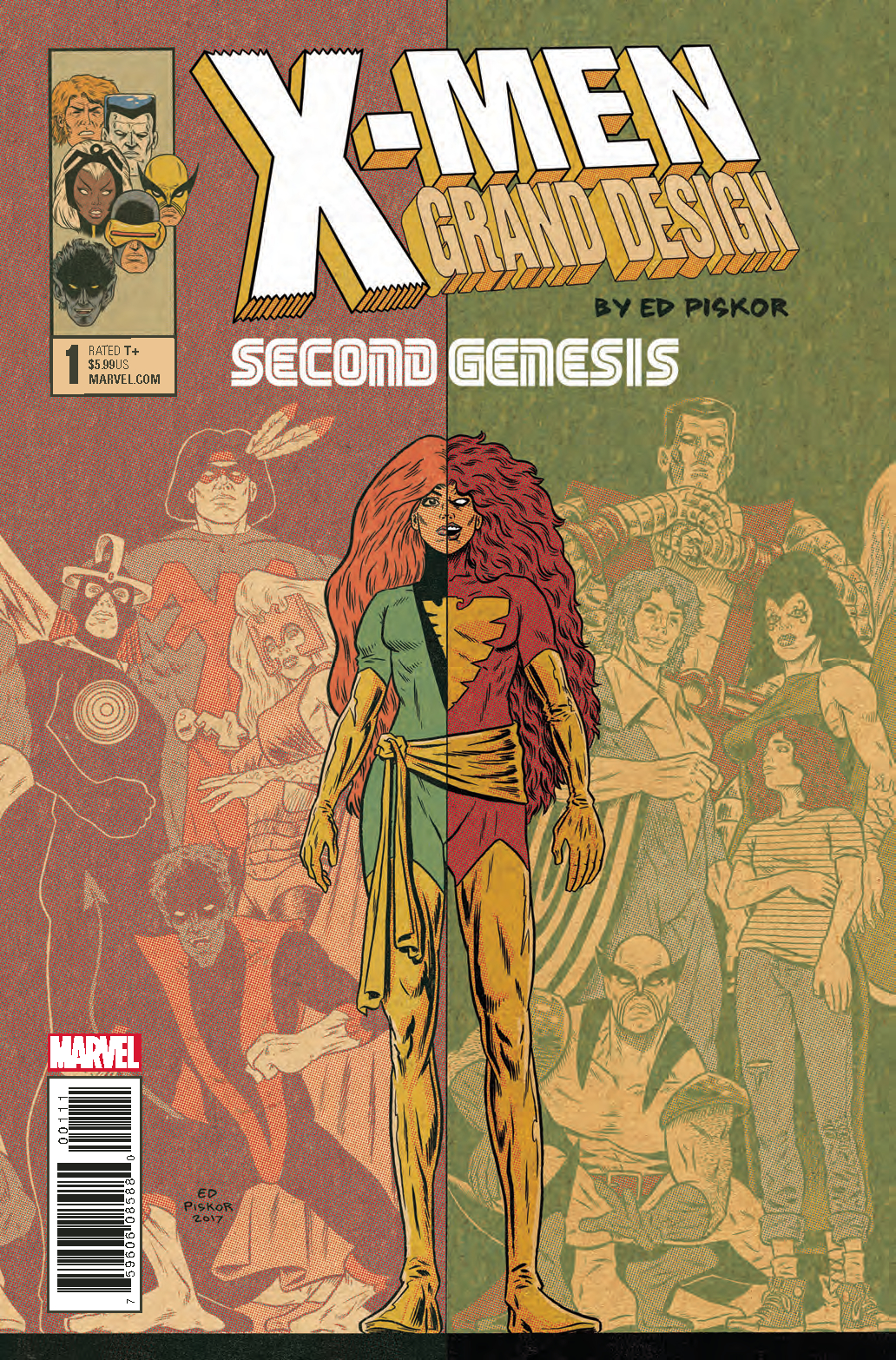 Cartoonist Ed Piskor leaves the Silver Age and enters the Chris Claremont, Dave Cockrum, and John Byrne era in X-Men Grand Design: Second Genesis #1 retelling the story of the X-Men from Cyclops and Professor X's assembly of the "All-New, All-Different" team of Storm, Wolverine, Colossus, Nightcrawler, Thunderbird, and Sunfire to rescue the original X-Men from the mutant island Krakoa to the conclusion of the classic "Dark Phoenix Saga". The comic's biggest strength is Piskor's meticulous attention to craft including panel layouts and lengths, color choices, and lettering. With so much material to cover, there are no wasted beats in his storytelling, no filler. This does harm its emotional resonance which pales in comparison to Claremont's original saga that partially worked because the longform storytelling created a connection between readers and characters and developed various relationships in more depth, like Wolverine and Nightcrawler, Jean Grey and Cyclops, and Professor X and Lilandra to name a few in this time period.
However, for the most part, Second Genesis #1 is beautiful, yet streamlined take on one of the most important pop culture icons from a talented writer/artist. Even though there are appearance from various secondary foes and antagonists and even mentions of and cameos from heavy hitters like Magneto and Galactus, Piskor establishes from page one that the Hellfire Club will be the chief opponent of the X-Men in Second Genesis while continuing the larger Ur-narrative of the Phoenix that he hinted at in the first volume of X-Men Grand Design. And the force or character that these two powers rotate around is Jean Grey and later the Phoenix force taking on the appearance of Jean Grey as Piskor agilely summarizes the retcon that allowed for Jean Grey's "ressurection" and absolving of a murder of planets in a sequence of dark panels that show her go from a powerful mutant to almost a fetus. He even shows his horror chops in his recreation of the famous scene in the "Phoenix Saga" where Jean absorbs radiation and crash lands the X-Men team after they rescue Professor X from mutant hater and experimenter Stephen Lang. A classic countdown sequence combined with some shocked facial expressions builds the suspense that culminates in a firebird rising from Jamaica Bay.
Although Second Genesis #1 is much more plot-driven, and the best X-Men stories I would argue are more character driven (And Claremont managed to cram a lot of plots in too.), Ed Piskor still takes care to flesh out the individual X-Men's flaws, personality traits, and memorable moments. There's a baseball game with Nightcrawler playing catcher, early in the book, Colossus and Wolverine link up in a trademark fastball special, and there's even a panel with Storm's claustrophobia. Piskor writes and draws Kitty Pryde as plucky and ingenious without being annoying and accidentally saving the X-Men with her phasing ability as Claremont and Byrne were trying to finish off their great epic while also introducing an actual student for the Xavier institute per editorial mandate. She adds bursts of joy and energy between the shadow and flame of Dark Phoenix and whited out psychic duels between Mastermind and Cyclops. The Phoenix and Hellfire Club predominantly take center stage while Professor X's deal with Lilandra and Shi'ar runs off to the side, and even though some of my favorite X-Men were on this incarnation of the team, they lack a strong identity unlike the original five plus Havok and Polaris in X-Men Grand Design.
Don't get me wrong. For all its flaws in the characterization department (For example, Piskor puts Professor X and Cyclops at a graveyard at the top of the page, and Thunderbird's death at the bottom and barely hints at his headstrong nature.) and lack of focus on the Jean/Scott dynamic when Jean is at the center of the story, Second Genesis #1 is the rare mainstream comic created auteur style by a single creator. Ed Piskor gives the subplot heavy, soap operatic narrative of the X-Men a strong thread to follow and lets his nostalgia and love for the source material shine on every page. His art style is retro without being simplistic, and there is a kind of minimalism to his use of captions and dialogue, especially compared to the overwrought style of Claremont. In fact, his strongest emotional beats involve few words at all like Jean and Scott spending one last night in bed before the X-Men's honor duel against the Shi'ar, and he punctuates these emotional crescendos with the use of black and white instead of the colorful costumes, spaceships, and energy bursts that permeate this book and the X-Men canon as a whole.
Even if it focuses more on singular narrative building than the growth of one of superhero comics' greatest ensemble casts, X-Men Grand Design: Second Genesis #1 is a wonderful example of the cyclical nature of myth as Ed Piskor filters the beginning of Chris Claremont's run on X-Men through a lean, visually striking storyteller's lens or his childhood fantasies through a steadier, yet no less energetic hand. I'd probably rather reread the "Dark Phoenix Saga" though.
Story/Art/Letters: Ed Piskor
Story: 7.2 Art: 9.0 Overall: 7.6 Recommendation: Read
Marvel Comics provided Graphic Policy with a FREE copy for review