By The Numbers: January 2019
Like in any industry, comic books and their companies listen most to one thing and that's your money! What does your money tell them? What does it tell us as fans? What series do people say they adore but can't seem to catch a break and what books to people hate that sell out? What are the trends? What looks good? What looks rough?
All these questions and more will be answered here, every month in 'By The Numbers' by comic writers, editors and fans, Glenn Matchett and Ray Goldfield.
Glenn Matchett is a comic writer and editor. He's worked in the industry for 6 years but grew up reading comics. He's had work published with Outre Press, Alterna Comics and Nemesis Studios. If you think Glenn's an okay dude please check out his new one shot Sparks: The Way I Was on Comixology here!
Ray Goldfield is a fan of comic books for going on 25 years, starting with the death of Superman. He is a writer and editor and has released his first novel. Ray also does a weekly roundup of DC comic reviews for website Geekdad and they're brilliantly entertaining.  Thinking that Glenn is indeed an okay dude, Ray also wants people in the UK to know they can buy Sparks: The Way I Was here!
We also do a podcast together with longtime buddy, Brandon James on iTunes with Rabbitt Stew or at the link here! Don't ask, I didn't pick the name. If you'd like to hear what me and Ray sound like, give it a listen!
Top 300 in full available here!
Glenn:  Welcome to the first sales chart for January 2019 fellow comic fans!  Its very late this month and I'm sure you're all bursting with curiosity to find out what exactly is going on in the first month of the year sales wise so lets get groovin'.
The top selling book of the month is the same book that was top last month in the hugely successful Batman Who Laughs mini which sells over 116.8k which is insanely great.  Its no surprise that DC is doubling down and giving the character his own book in the coming months given how much of a life he's taken on after Metal. I could see the title continue to deliver 6 figures or close to that for the rest of the run.  Normally that would guarantee a top 5 spot or top ten at least but War Of The Realms is coming with its gazillion tie-ins so its unclear how that will mess up the charts during its duration.  Of course, good sales (or great sales) are still the same regardless of chart placement.
Ray: I think a good amount of this is the creative team. This being Snyder's final main-line Batman story for the time being, aside from the future-set Last Knight on Earth, it's driving a lot of sales. But the character obviously has an enormous fanbase as well and there's a good chance it'll stay above 100K for the entire run. The character is probably the biggest hit new character since Spider-Gwen, and I think DC will be a lot more careful with managing their rollout.
Glenn: Agreed, its unlikely we'll see much of the character outside of the use of Snyder and Tynion and they seem to be hinting at an end game plan for him.
I'm hugely surprised by the numbers behind the newest Captain Marvel launch at 2 with sales over 111.3k.  First instinct is that I shouldn't be given the movie is coming and Kelly Thompson is writing but Marvel hasn't been treating poor Carol particularly well while they've been killing time waiting for the movie to hit.  Multiple relaunches, iffy creative and whatever Civil War II was has not been kind but despite all of that, we get a great launch for the book.  I think this is huge testiment to Kelly Thompson and the faith that retailers have in the potential crossover market from the Marvel movies.  Where it goes from here is unclear it could really go anywhere between the 40-20k range and the closer to the former number would be preferable and is definitely possible with this creative team.  We'll see.
Ray:  This is far and away the best we've ever seen a Captain Marvel book do. That's a sort of black swan combining the movie, the character's extended push from Marvel, and a writer whose stock is rising VERY fast and people have wanted to see take the character on for a long time. Given how Marvel books usually do, I'm expecting a steep drop for issue #2, but I think it'll level out quickly. Marvel should hope for a similar trajectory to Coates' Black Panther here. 
Glenn:  Another megawatt creative team on a property that has been languishing, Donny Cates and Geoff Shaw come to the Guardians to reinvent the team which is good for sales over 104.9k at 3.  Its astonishing to continually see how essential Cates continues to be to Marvel in very quick fashion.  Given the stand out character he co-created in Cosmic Ghost Rider is here and how his Venom run has gained huge momentum this could settle in the 50-60k range which would make it one of Marvel's top ongoings and miles ahead from where the title was previously.
Ray: The previous run struggled in sales and ended with the interminable (still technically not over!) Infinity Wars event, so this feels like a return to form for the property. The addition of Cates and Cosmic Ghost Rider probably makes up for the loss of 3/5th of the movie team (especially Rocket!). I think it'll drop hard with the second issue, but stay well above the 20K range of the last run's final regular issues. They're hoping for a performance like Venom, no doubt, and I think it'll be a little short of that.
Glenn:  Another Marvel launch, another megawhat team but this time its a new property…or at least new to Marvel for the first time in a while in Conan The Barbarian.  They've placed (arguably) their top writer on it in Jason Aaron and been hyping it to death which  is enough to get it the 4th spot in the charts with sales over 100.9k which is phenomenal for the title given how it performed at Dark Horse.  However the second issue also charts this month at 46 with sales over 37.9k.  Quite a drop in the same month but of course still much better than what it was doing previously.  This isn't like Star Wars that took 5 years to settle down at the 40kish range, Conan is a much more niche title so it'll have different expectations.  If can stay around this level, it'll be great but we're getting a flood of Conan in the months to come from Marvel including a second ongoing, a mini and him on an Avengers team (?!?!??!?!).  That's a lot of Conan to thrust on the market, whether it'll have an impact on the main book or not is hard to tell.  Marvel is being Marvel and doing the most they can with a property in their roster, whether it will benefit them long term or not is hard to tell.
Ray: Amazing debut, but pretty standard second issue for Conan. For a Conan title this is just fine and should level out quickly based on Aaron's name. But I would say this should worry Marvel a lot about all those spinoffs. I could see several of them crashing hard, especially the secondary book (which might be an anthology given the quick creative team change) and the Belit miniseries. But Savage Avengers will do fine – it's as much a Venom and Wolverine title as a Conan one.
Glenn: I forgot about Venom being a part of the Savage Avengers.  It'll be interesting to see how he fares as a sales factor without Cates and I'm sure Marvel are curious too.
Amazing Spider-Man continues to be an oddity in the charts, it places 5 this month and is the highest selling existing ongoing with sales over 91.6k for issue 14 which is phenomenal but then issue 13 is lower at…well 13 with sales over 66.3k and a 30k difference in sales is…weird.  I'd maybe be more understanding if 14 is the start of the much hyped 'Hunted' story line but it isn't.  I don't know what to make of the book at the moment…in more ways than one.
Ray: There's been a lot of weird fluctuations with this title, jumping a lot for no apparent reason. I'm guessing it's incentive covers. But the title's regular issues keep dropping, now down to the mid-60K range. Hunted could be a mixed bag – while it's an event of sorts, it also turns the title into a weekly for all practical purposes and could speed up the shedding of sales.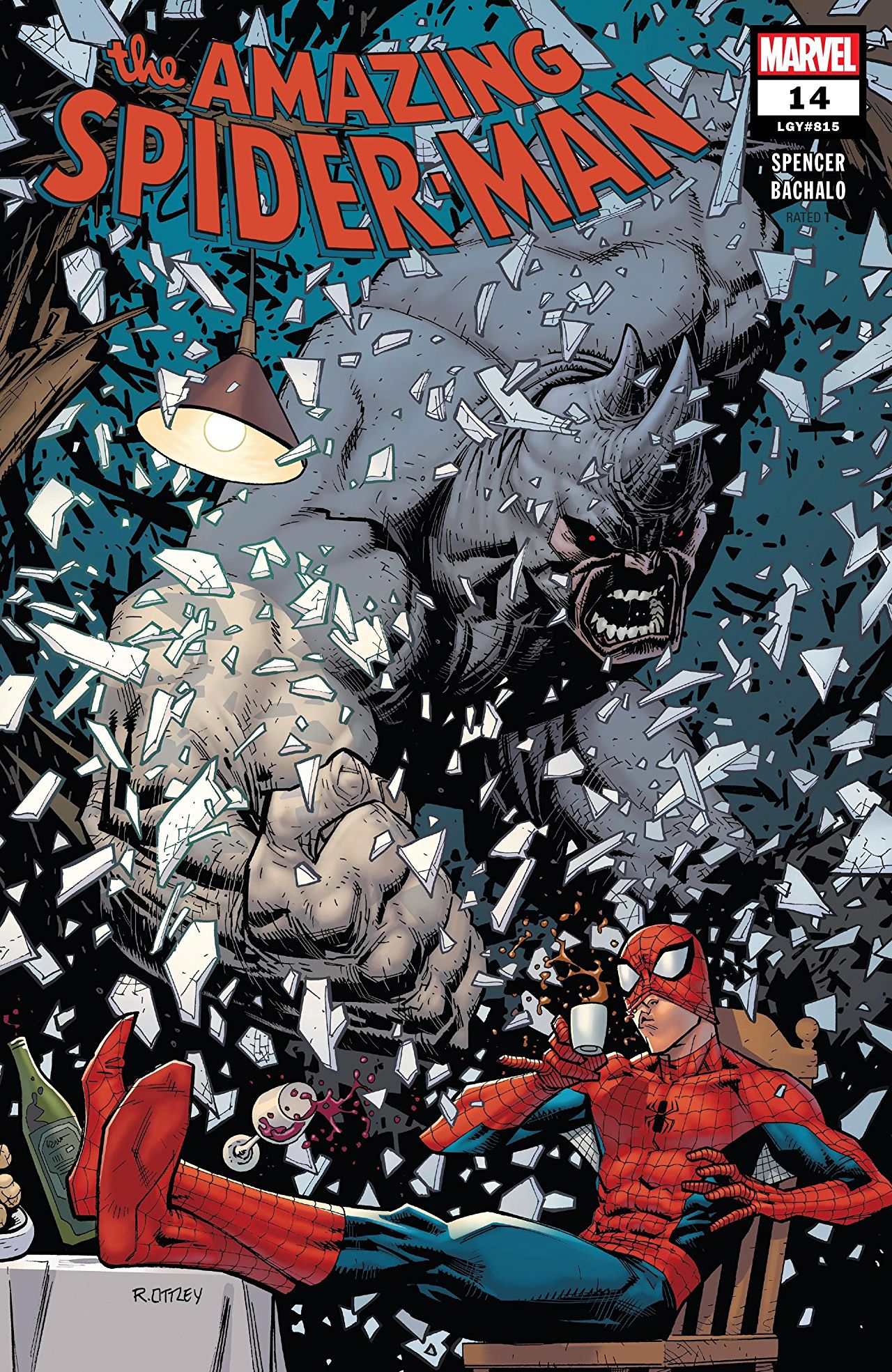 Glenn: Its also odd to see a return of the oddly numbered 'point' issues which are a thing that never took off for Marvel despite them really, really wanting them too.  The tie ins run the risk of performing poorly and further diluting Amazing's brand.
What does make sense is Batman which continues its slow decrease and comes ever closer to the rest of the charts in terms of numbers.  At 6 and 7 it sells over 90.6k and 83.6k respectfully.  Crossover with the Flash title in 'The Price' might see a boost back up but we'll probably not see a continual increase in sales until the 'Knightmare' story is ever.  The following story which seems to feature the Batman version of Thomas Wayne in it will be enough to spice things up again sales wise.  It could be though with War Of The Realms that Batman might lose its long steady top ten position.
Ray: Bigger than usual mid-month drop for Batman, with no obvious reason except that #62 is a Mitch Gerads guest issue. The artist behind Mister Miracle may have given it a bounce. But next month's crossover should be big and the return of Thomas Wayne Batman to the series in May will give it a boost.
Glenn:  Two issues of Heroes In Crisis this month at 8 and 9 meaning we get four Tom King titles in a row.  The issues sell over 82.1k and 79k so the difference in sales in minimal.  If this was a story about mental health in the super hero community I'd say it would be a big hit but as a big crossover which is meant to have major ramifications for the DC universe, its sub par.  We'll not be seeing a Batman Who Laughs success story out of this one.
Ray:  It's interesting – Heroes in Crisis started a lot lower than anyone expected, but attrition has been very good, almost on the level of Doomsday Clock. I think DC's recent decision to keep events mostly centered in the main miniseries with minimal tie-ins has kept those books high – the core mini feels essential and there's not a big buy-in.
Glenn: As opposed for $120 worth of War Of The Realms in May, oy.
At 10 is the launch of new Spider-Man title, Friendly Neighbourhood by Tom Taylor which sells over 78k.  The first volume of this title sold over 100k when it debuted and that was when there were already two other Spider-Man titles but Amazing wasn't bi-weekly in those days and it was tying into the much hyped 'The Other' story.  Given how todays market book and 'b' titles will always have a ceiling, this is probably a bit better than expected.  The second issue is on the charts too selling over 32.4k at 63 2 which again seems about right.  Given how good the title is I'm hoping it can climb up some numbers over the coming months.  There's a lot of Spider-Man out there at the moment with Amazing twice a month (plus all the Hunted tie ins), Spider-Gwen, Miles book and Otto's book so it has to really fight to keep its place.  I hope it can manage it.
Ray:  I expected a bigger debut for Friendly, and I definitely think retailers missed the boat on that second issue. The Slott-esque tone has scratched the itch a lot of people had since #801 and reviews have been fantastic. This feels like it'll be Tom Taylor's breakout book and keep stable and growing if they don't undercut it like they did with X-Men Red. 
A healthy debut for Wonder Comics at #11, as Young Justice #1 sells just under 74K. This is obviously a comparably great debut to what Teen Titans has been doing for the longest time, and the creative team of Bendis and Gleason is heavy-duty. But three of these characters have been gone for years – seven years is an eternity in comic time – and the DCU teen zone has been a disaster for a while. Still, it's starting in a very good place to essentially take over for TT as the flagship young-heroes book. The line as a whole? Much less certain, and more on that lay-tor.
Glenn: I would have thought Young Justice has a top ten spot locked down but its not far off and as you indicate there's a lot of baggage here to try to overcome.  If it can settle around the 50k mark (not that difficult I think) it'll be grand.  Clearly Bendis has a lot of passion for the book so DC will get it to work regardless.
Ray:  As usual, this is the part of the charts where we see long-running hit titles that have settled into their sales groove. There's no new titles between #12 and #26, selling in the 67K to 50K range. The books up here are Fantastic Four, Amazing Spider-Man, Justice League, Venom, Return of Wolverine, The Green Lantern (firmly locking down here for the third month), Uncanny X-Men, Detective Comics, Superman, and Avengers. An odd mix, but this is the new comics A-list under Batman.
Glenn: These are the big two's heavy hitters for sure.  Most of them will likely remain around this level in the months to come in, Venom may go up or down with War Of The Realms which loses Cates/Stegman but gets a nice shiny event crossover.  Its all a bit unpredictable.
Ray:  Uncanny X-Men in particular seems to have stabilized impressively, landing three issues in the top thirty and its annual selling #41K at #36. This new direction may be working, but we'll see how it does when Rosenberg takes over as solo writer and the book goes biweekly.
At #27 is Web of Venom Unleashed, a one-shot written by series artist Ryan Stegman selling 47K. About 10K lower than the main series without Cates, but given that this was an issue about dog-Venom fighting giant spiders, I think we can safely say Venom is a franchise now.
Glenn: For sure and Marvel is now confident enough to give us one of these one shots without either of the main title's creators.  As I alluded to above, with Venom's placement on the Savage Avenger's, its all gentle testing of the market by the company to see how much they can get out of the hit handed to them by Cates and Stegman.  This one shot didn't read as an essential piece of Venom's gooey puzzle so these numbers are great.
Ray:  The Justice League annual comes in at #28, selling 47K. That's a good 13K lower than the main series, so retailers might have missed the boat given that this was the conclusion of the main story of the first arc. Expect some reorders here.
Glenn: I'm surprised given it was the writer(s) of the main series.  Perhaps there was some misunderstanding over who was producing this and what it was?  Reorders aplenty for sure.
Ray:  It's almost unheard of to see Walking Dead this far down, but it clocks in at #30 selling 46K. It's been a while since a big event to goose the sales, so we've seen some real attrition here. But as #200 approaches, we'll see those sales climb again.
Glenn: With everything else in the market up in the air, Walking Dead can afford to bide its time.  A new character or story is enough to have it back on top.  No concerns here even though this is the lowest placement its done in years.
Ray:  Shazam holds pretty well for its second issue, selling 43K at #34. I'm not sure if it's settled down fully yet, but if it holds around here that's a definite win for a character who hasn't had an ongoing series in what, twenty years? The power of Johns!
Glenn: I don't see many other creators being able to do much better with the franchise.  We'll see if the film helps any…likely not but hey you never know.
Ray:  #35 brings us the Age of X-Man: Alpha one-shot, which is leading into an alternate reality mini-event featuring the X-Men trapped in an odd mutant utopia. It sells 42K, which probably indicates middling sales for the upcoming six miniseries set in this world.
Glenn: There seems to be a lot of odd mutant utopias.  Middling indifference has been the tale of the tape for X-Men for years so no big surprise.
Ray:  This is where we see the second wave of successful long-running books settle down, selling in the 45K-35K range. They include Thor, Action Comics, Flash, Star Wars (and most of the Age of Republic specials), Captain America, Immortal Hulk, Wonder Woman, Justice League Dark, and Catwoman. All of these books have secured themselves around the top fifty despite some tough competition.
Superior Spider-Man looks like it's a hit for Marvel, with its second issue coming in at #47 and selling 37K. Otto is another character that's become a real sleeper hit for Marvel in recent years, mainly thanks to Slott's work. He also keeps his lead over Miles, who has the second issue of his new series at #57 selling just under 34K.
Glenn:  I guess we'll see Otto break out in the next Spider-Verse movie perhaps?
Ray:  #48 brings the debut of Chip Zdarsky's Invaders, selling 36K. That's a pretty rough start for a book featuring Captain America and Winter Soldier, but the brand name doesn't have much pull. Given the good reviews, this is one with potential to grow.
Glenn: Its the Invaders so it can only do so well but this has a lot of potential for a steady hold on where it is.  Despite being a great writer, Zdarskey doesn't pull in big sales but delivers on consistency in his audience.
Ray:  The epilogue to Infinity Wars, simply titled "Infinity", lands at #53 selling 35K. I thought this series already had an epilogue! This one leads into Wolverine: Infinity Watch, launching next month. They truly are the Infinity Stones!
Glenn: I have a feeling we'll never stop talking about this.  I get wanting to have something to do with Infinity out there for Endgame coming but I feel burnt out by this event and I'm not even reading it
Ray:  In terms of a series having a rough debut this month, few were rougher than Black Widow, landing at #59 and selling 33K. Even Waid and Samnee couldn't make the character a solo hit, but they at least launched at a healthy level. This new book by the Soska Sisters is likely to be eight and done.
Glenn: Kudos to Marvel for keep trying despite continually failing to make a thing work.  Maybe like Captain Marvel, Natasha will get her time to shine when Kelly Thompson writes her for a new relaunch in time for her own movie.
Ray:  Marvel had to kill time in the gap month for Chip Zdarsky's Daredevil launch. The Jed McKay-penned "Man Without Fear" miniseries focusing on a broken Matt Murdock pushing away all his friends and allies didn't connect with retailers, as the weekly makes its debut at #62, selling 33K. The other four issues sink further, landing at #75, 79, 80, 81. They're selling about 26K by the end, and Zdarsky's first issue of Daredevil should easily triple that next month.
Glenn: Oh man, what a waste of time this was.  Couldn't they…just have not had a Daredevil book?  It reminds me of after Diggle's run, they had a mini 'Daredevil: Reborn' that was promptly pushed off a cliff when Waid came on the book.  Seems like history repeating itself except at least back then it served as somewhat of a wrap to Diggle's run.  This was just putting it out there for the sake of it and the market responded appropriately.
Ray:  The Star Wars: Age of Republic Special sells well below the other issues of this mini-event, landing at #67 with sales of 31K. This is an anthology issue (that featured a Jar-Jar story for some reason), so the lower sales are probably to be expected.
Glenn: Unless it featured the death of Jar-Jar, I'm not surprised.
Ray:  A puzzling debut for Buffy the Vampire Slayer #1 from Boom, landing at #70 with sales of 31K. I would have expected a lot more for Boom's biggest license ever – this is less than half of what their Mighty Morphin' Power Rangers title launched at – especially given the top creative team. Maybe it's because the Dark Horse Buffy comic has only been gone for a few months and really lost most of its momentum by the end? Watch for this one to pick up steam.
Glenn
:  
I'm really surprised by this one.  I really expected more but there has been a lot of baggage coming in with the Dark Horse tenure plus people might be put off by the reboot.  I hope people give this a chance.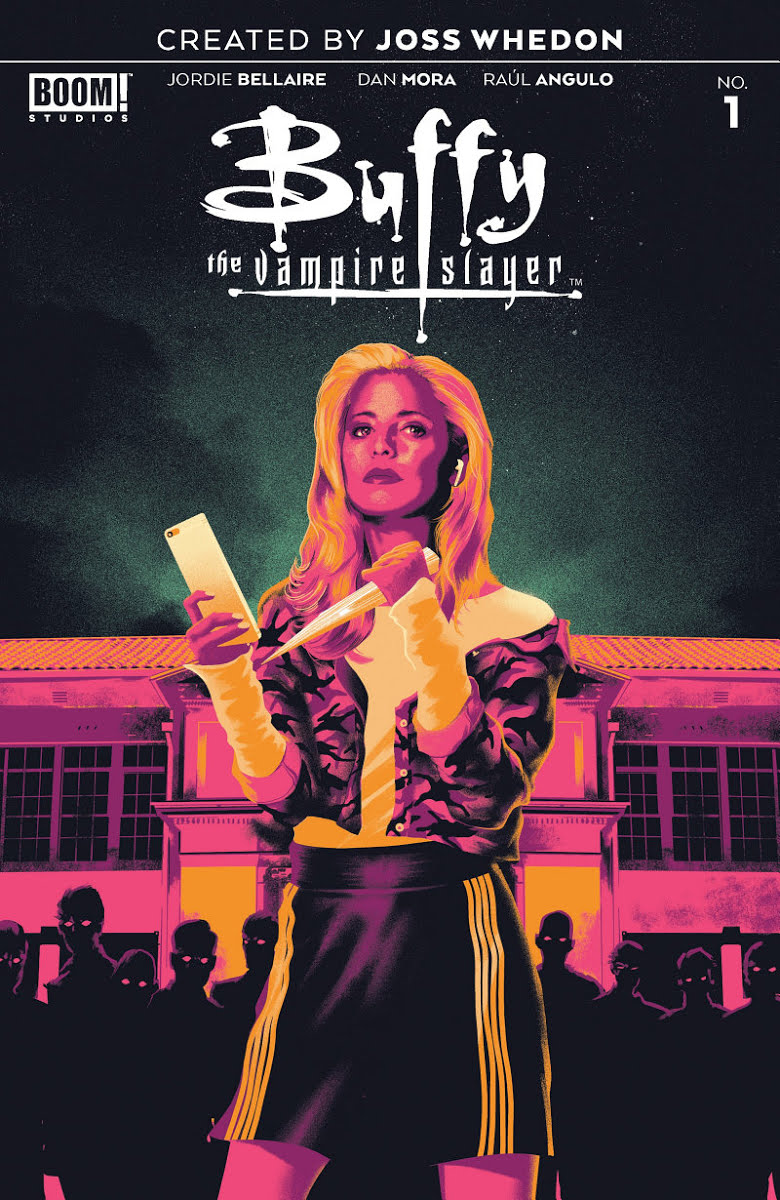 Ray:  Another rough relaunch at #71, as the first issue of the relaunched Champions only sells 30K. An expanded roster didn't do much to revitalize this title, which never took off under Waid. I expect we'll be seeing it replaced by a Young Avengers relaunch within a year.
Glenn: Another book that seems to have had high hopes placed in it and it lands with a hard thud on its latest relaunch.  A disturbing trend for Marvel.
Ray:  Marvel Comics Presents, an anthology title including a new Wolverine story by Charles Soule, lands at #72 with sales of 30K. I don't think there's much of a market for regular anthologies anymore, so this isn't a big surprise.
Glenn: Maybe they thought they could get some regular income based on the fact that the DC ones do well?  Its fine for what it is but I don't think it'll last past 12 issues given the trend behind falls in Marvel books with a singular narrative people can latch onto.  Creators like Soule can only do so much with limited space for their stories.
Ray:  Supergirl seems to have stabilized and increased this month, landing at #73 with sales of 29K. That's up 8K from last month's anniversary issue, which is similar to what the title did under Orlando and Houser for a while.
Glenn: Well it got some extra sales for a few months so…yay?  Nothing ventured and all that, at least DC didn't bombard us with a pointless relaunch of the books number
Ray:  Martian Manhunter keeps about 2/3rds of its first issue sales and lands at #82 this month, selling 26K. That's okay for a Martian Manhunter title, but lightning doesn't seem to have struck twice like it did with Mister Miracle. If this can stay above 20K for most of its run, it'll be considered a modest hit.
Glenn: It might climb up like Miracle did but I don't think this one has the same awe behind it.  Around this level will probably be about right and it might catch fire (no pun intended) in sales as a decent offering to DC's all powerful library
Ray:  A bizarre, shockingly low debut for the second Wonder Comics title, Naomi, written by Bendis and David Walker and drawn by Jamal Campbell. The story of an original young character with ties to a big DC mystery, this was never going to be the big hit Young Justice was – but I think everyone expected it to sell more than a Jinxworld title normally would. This is puzzling, and indicates that Bendis' name definitely isn't what it used to be. I do think this could pick up steam as the mystery reveals itself, but it's now been downgraded to a six-issue "first season" and we'll see what happens from there.
Glenn: The trouble is that new characters without a connection to another established character are a hard sell.  New characters who we're told little to nothing about is a harder sell.  I get why the need for secrecy but retailers can tell their customers what they're buying if they don't know themselves.  I think Wonder Twins and Dial H might launch a bit better than this because they're known properties, Naomi is a completely unknown factor and in today's market that's not something retailers will want to gamble on.  Stales might have stabilized or improved but if DC is cutting it short, it'll be left to squander most likely.
Firefly is holding its own at 90 with sales over 25k so this is going to definitely be one of Boom's biggest successes.
Ray: Based on typical second-issue attrition, Firefly might wind up a higher seller overall than Buffy. No one saw that coming.
Glenn:  At 96 I think is a first, a launch of a comic adaption of a podcast in the case of Wolverine: Long Night which sells over 23.5k.  I'm not sure how big the podcast was (must have done well since they're doing another) so this will be for people that aren't into that kind of thing or people looking to double dip.  On the surface it might be a bit low for a Wolverine book but since its place in continuity is unclear and its been readily available through another medium, if you compare this to say…the MCU preludes it favours quite well.
Ray: Yeah, this is a very odd duck. I didn't even know a Wolverine podcast was a thing, so I image that most retailers just treated it like a throwaway Wolverine mini and his sales star has fallen a lot. Given the audience for podcasts might be a bit more geared towards bookstores, this feels like it'll make a nice OGN and sell a lot there.
Glenn:  101 brings us Fight Club 3 which sells over 21.7 which is a strong launch for Dark Horse these days.  The last chapter in this was a big hit for Dark Horse so another one was a no brainer, from what I hear though, Fight Club 2 was a bit of an odd one so there is some diminishing returns likely thanks to that but this is still a strong performance for Dark Horse since its only beaten by the juggernaut franchise of Stranger Things.
Ray:  It's a decent first-issue number, but well below what the previous installment did. This dropped with very little fanfare, and there's rumors that Chuck Palahniuk had to write this to make money after he was swindled out of a lot of money. I think this one is likely to fly under the radar.
Glenn:  Much lauded title Criminal returns after several years away to launch at over 20.3k at 105 which is pretty in line with how Brubaker books tend to do.  The audience here seems to be as loyal as ever and Brubaker is one of those creators that you can set your clock by in terms in what his properties deliver sales wise.  No big surprises but still a strong and consistent output which is likely more important long term.
Ray: Retailers clearly didn't treat this like a new #1, instead ordering it on the level of whatever they order for Brubaker/Phillips' regular projects. That means it'll almost definitely settle down very close to this level.
Glenn:  At 106 is the Teen Titans annual which sells over 20.3k also which is about 4k below the main title.  Pretty much in line with where Teen Titans has been as a franchise for well over ten years and how close DC annuals tend to sell to their main title.  No surprises again.
I am surprised at the sales of Crypt Of Shadows which is one of Marvel's odd renewals of very old comics to celebrate an anniversary of some sort.  This horror title sells over 20.2 at 107 which is pretty good considering this is a franchise I've never heard of before.  Apart from superheroes, horror seems to be the safest bet in terms of getting readers attention so it makes sense that this is the best performing of these odd books.
Ray: This is the first of these oddball one-issue relaunches, which is a similar stunt to what DC did during their Blackest Night event. I think Ewing's name was probably the main draw here, as well as the fact that this was a single full-issue story rather than an anthology.
Glenn:  Latest Image juggernaut Die's second issue settles at over 18.5k at 115 which is a great performance that puts it among on of Image's upper tier performers.  Given that the first issue has gone into multiple performers and reviews have been very generous, I would say this is where the sales number will stay…or mabe go up over time.
Ray: Die, like Gideon Falls, has fantastic creative reception and a top creative team. That'll likely lock it down as one of Image's top books long-term.
Glenn:  Also in its second issue at 116 is Winter Soldier which sells over 18.5k which is pretty good for a Marvel mini.  The character did of course used to have a much higher profile but that was many years ago, this number makes sense after how he's been handled for a decade or so even if the character in theory should be able to pull in much higher sales.
Sharp drop for Mark Millar's Prodigy which loses nearly 20k this month landing it at 121 selling over 17.7k.  Perhaps these Netflix comics are getting more initial hype than demand warrants and that's the reason for the big drop.  Of course, 17kish is grand for an Image mini but it'll be interesting to see if Millar's other Netflix comic projects follow a similar pattern.
At 122 is yet another second issue in the form of Spawn Kills Everyone Too which lands at over 17.5 which is very good for a wtf title that's done for the lolz.  TTFN.
Second issue of Ironheart is less encouraging in terms of an ongoing for a character Marvel seems invested in.  If it can settle at sales over 17.5k which places it at 123 in this months charts it can probably have a decent shelf life but no doubt we'll have another relaunch before so long to shake up what it can actually be capable of.
Ray: That's not a bad second-issue slide for Ironheart, but it'll need to hold close to this level or find a secondary audience in digital and trade if it wants to survive.
Glenn:  This months True Believers theme is Conan with the highest selling of them at 125 with sales over 17.2k which again is free money for Marvel, especially since this is reprinting stuff they likely never thought they'd bother putting out there again.
Ray: Old Conan comics were never going to have the pull of classic Marvel books. For $1 promotional issues, this is pretty good, but the sales of the new Conan series is due to the creators rather than the character. Most of them are much further down, around the #190-210 range selling close to 9K. Still, largely free money.
Glenn:  A new reprint anthology, Marvel Tales launches at 131 with sales over 16.5k which is essentially like Marvel putting out an oversized True Believers issue and charging 7.99 for it.  I'm not sure if sales will remain up here but this is a ridiculously good number for reprinted material at this price.  Kudos to Slott for making the Fantastic Four a thing again.
Ray: I never fail to be amazed by how many ways Marvel can sell people old comics.
Glenn:  TMNT: Shredder In Hell launches at 132 with sales over 16.5k which is better than the average Turtles comic that IDW puts out. I'm not sure what the difference is here so the resident turtles expert in Ray will likely be able to fill in the blanks here.
Ray: Yeah, this is close to double what this month's issue of the main series did. This is also Shredder's first major appearance in almost four years in this continuity, so we're talking about a real event here for the fans. Great number. Alas, the second issue is rather delayed due to the writer/artist's very detailed process.
Glenn:  Next random Marvel one shot for their anniversary is Journey Into Unknown Worlds which sells over 16.5k at 133 which again is pretty good for something that is not to do with anything particular and based off a long defunct franchise.  Not too far behind is War Is Hell which sells over 15.3k at 139 which is still pretty good.  I thought maybe a war book might have had the advantage given Marvel's history with the genre in Howling Commandos and such but these are so close together its not really too much to take a glance at.  Retailers likely didn't know what to do so ordered the majority of these in close numbers and called it a day.
Ray:  Journey into Unknown Worlds is a sci-fi/horror issue with two stories by Cullen Bunn and Clay McLeod Chapman, while War is Hell had stories by Howard Chaykin and Philip Kennedy Johnson, and both lacked the buzz of Crypt of Shadows. I think this will be the level that most of these one-shots find next month too. 
Glenn:  More Marvel Tales with Venom this time which sells over 15.2k at 140.  I'm surprised this didn't do better given how hot Venom is at the moment and only a few months ago, a $1 reprint of Amazing 300 did ridiculous numbers.
The second issue of Freedom Fighters is at 147 with with sales over 14k so a fall of about 9k from launch.  Not too bad given its for a third tier property and a book that is isolated from everything else.  Should be good for a respectful performance for its 12 issue run.
Massive reorder for the first issue of Batman Who Laughs at over 14k more sales at 148.  The laughter here is DC finance.
Ray: That's a pretty spectacular reorder number, closer to what we saw for Rebirth and Action #1000 than anything recently. This is a genuine megahit.
Glenn:  In recent months there's been an odd trend of new takes on Oliver Twist and there's another one in Oliver from Image at 152 which sells over 13.6k.  This one is from a Hollywood screen writer and popular artist Derick Robinson so its no surprise it likely did better than the others.  There should be enough residual support next issue to get this to where the creative team need it to go long term.
Ray: Yeah, this is an upper-middle debut for Image and definitely a bigger hit than the recent Olivia Twist from Dark Horse/Berger Books.
Glenn:  At 154 is Uncanny X-Men 3D which is Marvel getting in on that hot 3D streak Avatar (the crap one) made hot like 10 years ago.  Charging 7.99 to give people a headache while they read a comic from the past is a gamble but its good enough for sales over 13.4k.  Now it seems like Marvel is trying to figure out new ways to earn more from comics they already made money off, I guess it is the house of ideas.
Ray: 3D comics. Yep. Man, it sure is great here in 1993. I can't wait to see Jurassic Park.
Glenn:  At 166 is Alien: Resistance, the latest Dark Horse Alien mini which come along as regular as your local public transport.  It sells over 11.7k which is pretty much the norm.  This is one of Dark Horse's bread and butter franchises that they're hoping Marvel doesn't take a liking to.
Ray:  This is also a new comic by Brian Wood, who's…controversial right now and only seems to work for Dark Horse. 
The latest DC Anthology, Mysteries of Love in Space, debuts at #168 with sales of 11.7K. This didn't have the megawatt names of previous installments, but it did have James Tynion doing love on Apokalips and Saladin Ahmed making his DC debut on a Bizarro story. Given that it was sort of an oddball one, I think these numbers are pretty good for a $10 comic.
Glenn: Agreed, the anthologies are continuing and getting weirder as they go so clearly DC is happy.
Ray:  Now it's time for some oddballs! At #174 selling 10.5K is "The Shape of Elvira", a Dynamite spin-off mini about Elvira falling in love with the Creature from the Black Lagoon. If this franchise is sending up Oscar winners now, should we expect a miniseries about Elvira driving Blackula down south next year?
Glenn: We can only dream of such a book.  This is a pretty good number for a joke title.
Ray:  Archie's latest entry into the horror world comes in at #175, with Blossoms 666. Cullen Bunn and Laura Braga's miniseries sells 10.5K, probably on the strength of the creative team rather than a concept of C-list Archie supporting cast as the antichrists.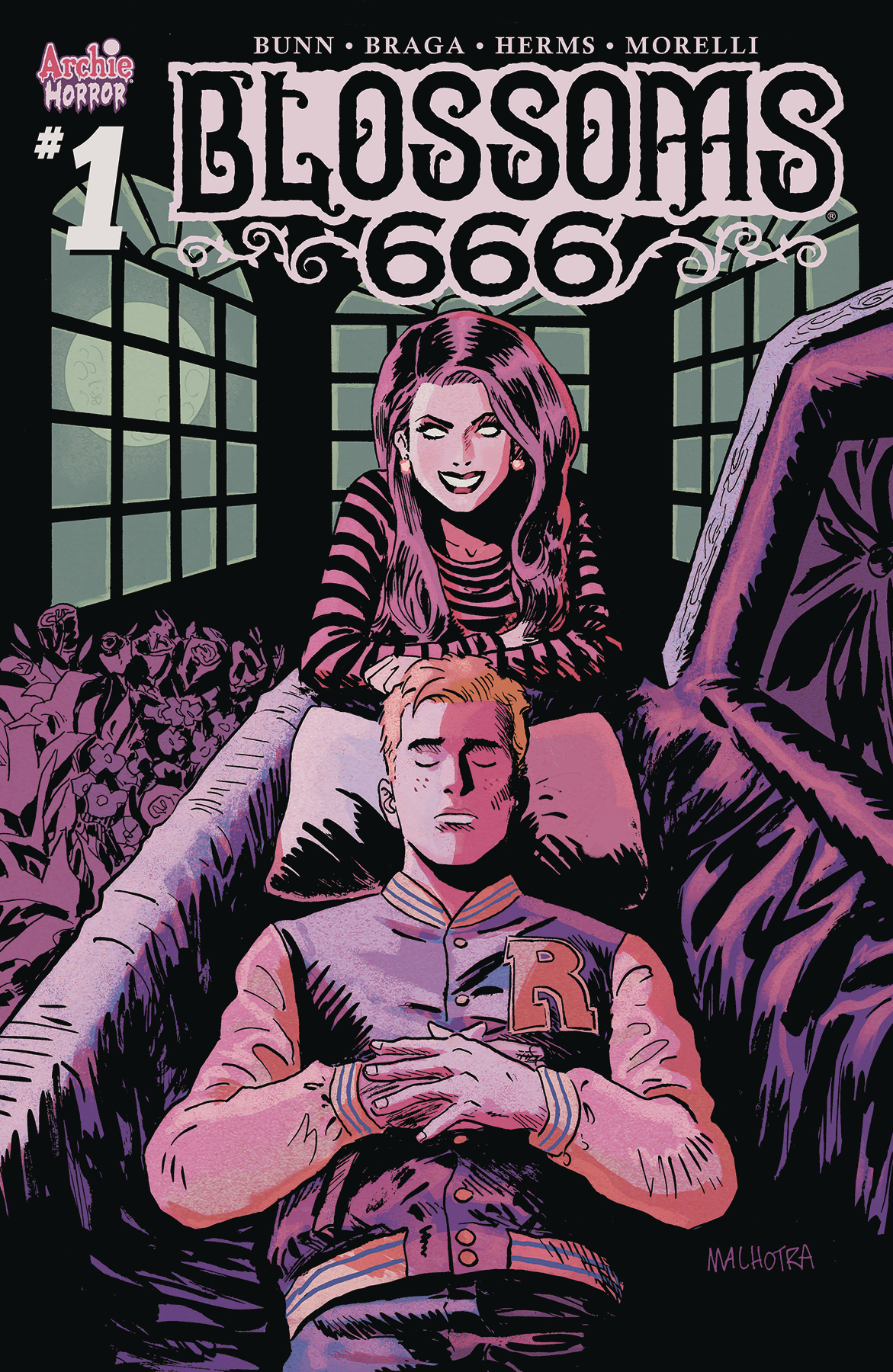 Glenn: Its a Bunn horror book so I thought it would have done better but like you said, maybe its his name that got it to 10k in the first place.  Archie is in a very weird place as a company at the moment but clearly these random alt universe books are working.
Ray:  At #193 is a lower-selling Image book, Gunning for Hits by British music veteran Jeff Rougvie and veteran DC artist Moritat. It sells 9.7K and wasn't helped by its bizarre concept (a music agent turned assassin) and some controversy over antisemitic imagery in one segment.
Glenn: Very odd concept but also perhaps too close to the much more high profile book that Bendis is doing for DC in Cover.  With the controversy, the sales will likely take a big hit next month.
Ray:  Hey, remember when James Cameron's Avatar was the top-grossing movie of all time for over five years, a record it still holds worldwide? Surely that franchise has left such a huge cultural footprint that the first official comic book spin-off launching would create a huge – oh. #198, 9.6K. Womp womp.
Glenn: I forgot about Avatar 5 seconds after seeing it, it seems most people did the same.  Needs more Prince Zuko clearly.
Ray:  The latest IDW Star Trek miniseries, The Q Conflict, lands at #210 with sales of 9K. This is largely a product for completists, as the Next Generation fans tend to be more hardcore Trekkies.
Glenn: Q's a well known character for Trek fans but wouldn't have much appeal to people who are fans through the Abrams verse or some such.
Ray:  Speaking of Marvel being really good at selling old comics, they manage to sell just under 8.4K of Silver Surfer #14 in "facsimile edition" at #215. Seems to be a lot of these this month.
Glenn: Given how they like us to pay for things we've already paid for, I think that's a safe bet.
Ray:  Marvel Super-Hero Adventures has essentially become a monthly with a different brand each month, and this month's installment, Across the Spider-Verse, sells 8.1K at #220. Pretty standard for a new all-ages comic, but these are mainly worth getting for Ty Templeton's brilliant funny pages. Marvel should collect those as a one-shot.
IDW had a special 20th anniversary event this month, releasing a set of 20/20 specials flashing forward 20 years into the future of their most popular characters. TMNT tops the list, with this special issue coming in at #227 and selling 7.7K. That's about 80% of the main series sales, which is pretty good.
Glenn: Odd experiments like these are often something that appeals to the completest so the individual issues will be only as successful as each individual property.
Ray:  Predictably, Archie loses most of its anniversary issue bump, plunging down to #228 and losing 12K in sales to drop to a standard 7.6K. Maybe hiring the writer of Secret Empire to revamp Archie wasn't the best idea?
Glenn: Clearly not no.  The title is back to the level it was at prior to the Waid relaunch a few years ago.  They'll need to cook up something to stay with the rest of the pack
Ray:  In what surprisingly isn't a Marvel book, the Red Giant comic White Widow sells 7.4K at #230. That's surprisingly good for a comic whose cover looks like it should be released by Boundless or Zenoscope. That pose is not natural.
Glenn: *googles* she must have went to the Linda Blair school of poses.  I wonder how many retailers ordered this thinking it was something to do with Spider-Man or Black Widow or some such?  I don't see sales lasting.
Ray:  The first and only Curse of Brimstone Annual (the series is ending in March) lands at #231 selling 7.4K. That's only 600 copies below the main series, which is pretty impressive but the series as a whole sells shockingly low.
Glenn: 'Sales are shockingly low' is going to be on the tombstone of the New Age Of DC offerings.
Ray:  7.2K in reorders for Batman: Damned #2 at #236. No Bat-wang in this one, but still very strong sales all around.
Glenn: The hype is real and of all companies, BOOM seem to be the company that has picked up on that as they've given the creative team an open ticket on a mini together through them sometime soon.
Ray:  The third relaunch of Turok from Dynamite in the last few years lands at #240, selling just under 6.9K. Ron Marz isn't the name he used to be and this isn't one of the properties Dynamite put a lot of promotional heat behind, so these are standard weak numbers.
Some reorders for Venom #8, selling an additional 6.8K at #243. Cates' run continues to pick up steam.
The Facsimile Edition of Marvel Presents #3, featuring the first appearance of the Guardians of the Galaxy, picks up 6.7K sales at #244. Essentially a $4 True Believers issue, so good for Marvel getting those dollars.
The latest crossover no one knew they wanted, Barbarella/Dejah Thoris, launches at #257 from Dynamite with 6.4K sales. Bless Dynamite, someone is buying these old public domain sexy lady crossovers.
Glenn:
T
o be fair to Dynamite they are trying very hard recently with a lot of their properties but they still are understandably catering to the audience that has stuck by them this long.
Ray:  The next 2020 special, Star Trek, charts for IDW at #258, selling 6.4K. These generally do pretty close to the main series, down a bit.
Glenn: This one was 20 years prior to Next Gen I believe and explored Picard's first command.  Definitely one for the hardcore fanbase.
Ray:  A low debut for Peter Cannon Thunderbolt from Dynamite, as the Kieron Gillen-penned Watchmen-inspired revamp of the classic character sells 6.2K at #261. I would have expected a lot more given the creative team and the Watchmen connection, but this is a character who hasn't had a title in over a decade, I think.
Glenn:
Its possible that some people don't know the connection between this character (and other Charleton creations) and the ones featured in Watchmen.  It'll likely level out quickly, maybe pick up some momentum through word of mouth and do well in Dynamite's collection library.  Lets see if it can finish before the DC Watchmen follow up, Doomsday Clock wraps up.
The next 20/20 one shot is My Little Pony at 270 with sales over 5.9k.  Is it even possible to do something like this with (I assume) immortal cutsey horse characters?  I mean we're not going to get an issue where characters mourn Sparkle Princess or whatever getting sent to the glue factory.  Retailers likely ordered this as a standard MLP one shot.  I'm having a daughter soon and will forever be unable to make jokes about this property, the sacrifices a father makes.
Ray: I hope it's a bizarre post-apocalyptic special where the ponies have been forced to become cyborgs to fight, I don't know, Fairy Aardvarks.
Glenn:  Wyrd is a new comic by Dark Horse with an interesting premise that debuts 274 with sales over 5.8k which is pretty much to be expected from the company when no big creators are involved.  I think this would have sold better at Image but the creators got it out which is probably more important for them.
Ray: Wyrd is one of those Dark Horse books with no real hook and a talented but not a-list creative team. This is still their level, as the company tries to rebuild their brand after losing so many licenses. Lemire will help.
Glenn: Bloodshot: Rising Spirit at 379 with sales of 5.4k sees the character trying to find its place in a post Jeff Lemire world.  Its defaulting to standard Valient numbers at the moment but its going to be very hard for them to get anything close to the acclaim and buzz Lemire brought.
I'm not sure what audience there still is for Lady Death in 2019 but there must be one, her new book sells over 5.3k at 283.  I didn't say it was a big audience.
Ray: Strike up the Rachel Bloom, Glenn!
Glenn:  Getting a bump of about 2k for their 25th issue, Zenescopes Grimm Fairy Tales sells over 5.2k at 286 priced at 5.99 to boot.  Just shows what those anniversary numbers can do, most series tend to launch way before 25 so its like the new 100 this weather.
Losing about half its sales, Image's Freeze is at 290 with sales over 5.1k.  This is pretty standard for Image books left to fend for themselves without the big creative juice behind them.
Reorders in the 5k range for Fantastic Four, Middlewest and Uncanny X-Men, all either top or decent hits for their respective publishers at spots 292, 294 and 296.
Before things start to get scary, the second issue of Betty & Veronica sells over 4.7k at 300.  It seems as odd as the books like Blossom 666 and such are, they do a lot better than the pseudo Archie spin offs.
At 301 is the first issue of Adventure Time: Marcy and Simon which sells over 4.7k.  I'm sure these words in this order mean something to some and those people are the ones this book is aimed at.  I assume given Adventure Time is a thing (I think?) it sells more elsewhere.
Ray: Yeah, this is one of the most popular cartoon series of recent years and these are two of the more popular characters, so the core audience of the show is showing up. But like all cartoon spinoffs, it's geared more towards kids at bookstores.
Glenn:  Miles Morales: Spider-Man selling another 4.5k or so copies at 307 for its debut issue indicate retailers got it right when they ordered it initially and have adjusted realistically.  We'll see if any Oscar buzz comes Miles way in terms of sales but I wouldn't count on it, not in the direct market anyway.
311 is Barack Panther vs Tremendous Trump which sells over 4.4k.  Makes me sad.
Ray: Sigh. I never know if these are pro-Trump, Anti-Trump, or a collective fever dream
Glenn:  At least you see it too.
A new BOOM series at 315 in the form of Avant-Guards sells over 4.2k which on the surface is not great but the company does the majority of their business elsewhere and really only use the direct market as a formality more than anything.
Ray: Boom seems to have faith in this one, a diverse new comic about a girls' drama school starting a basketball team. It's got a twelve-issue order as opposed to the usual four or five. They're doing something very right, we just can't see it here.
Glenn:  This months Transformers thingeymabob is Transformers: Historia which sells over 4.1k at 317 which is a good bit lower than the usual Transformer offerings.  This seems to be basically a 5.99 manual going over the history of the properties time at IDW so the low sales are no surprise then.
The first comic spin off in the Stabbity Bunny universe, Stabbity Ever After debuts at 328 with sales over 3.7k.  Once again this is more Ray's area than mine but what a world we live in when such a comic by that name can exist eh?
Ray: This is one of two Stabbity Bunny spin-offs in coming months, so they're obviously happy with this weird little property.
Glenn:  At 330 is Halo: Lone Wolf a comic spin off of the incredibly successful Halo game series.  The sales of over 3.6k indicate this one is purely for huge Halo fans who want to absorb everything about the mythos rather than people who just want to go in and kick some butt as Master Chief.
Ray: Looooooooong way from when this was a top Marvel property by Bendis and Maleev.
Glenn:  WWE Forever is the wrestling offering this month at 336 selling over 3.5k which I think indicates 7.99 is probably too much to ask for the wrestling fans who are even half interested in reading comics about their favorite wrestlers.
Going 20 years into the future really didn't work well for the Ghostbusters with their one shot selling all the way down at 340 selling over 3.4k.  Retailers are probably worries about crowds with pitchforks and torches turning up if they learn they're stocking any variation of the classic team.
Ray: Ghostbusters is a firmly divided franchise and it's hurt its already limited group of old-school fans
Glenn:  The 2019 annual for Grimm Fairy Tales is at 346 with sales over 3.3k which is where the main title usually hovers.  Hard to deny that what Zenecope delivers to its set fandom, they like to buy.
Underneath that is Tom Clancy's Division Extremis Malis and this type of thing isn't going to have much appeal to comic fans and it shows in sales over 3,3k
At 357 is Jem and The Holograms 20/20 which sells over 2.9k.  I'm guessing not many people would be interested in what would be the bands nostalgia reunion tour.
Ray: Unlike the other books in this mini-event, Jem has already ended its comic run at IDW, so this is sort of a series finale/epilogue. That might not have helped with sales.
Glenn:  At 364 is yet more Zenescope in the form of Grimm Universe Presents 2019 which sells over 2.7k.  The Zenescope fanbase don't care to pay 7.99 for their output it seems.  This issue sees writers like Howard Machie and Terry Kavanagh take part so that really tells you everything you need to know.
Ray:  At #364 is the Spider-King: Frostbite one-shot from IDW. Selling 2.7K, it's an epilogue to a low-selling Vikings vs. Aliens comic that had the misfortune of coming out the same week as Highest House #1. This will likely go in the trade with the original miniseries and sell more there.
Another 2.7K in reorders for Black Hammer #1 in the form of a director's cut at #369. This is clearly Dark Horse's alpha franchise at the moment, and you're going to see anything it touches do better than expected.
Glenn:  Especially when the DC crossover hits.  Its odd to be reading a comic that may be looked at the Watchmen of indie books.
Ray:  Some decent reorders here, as Shazam #1, Heroes in Crisis #2, Batman #61, and Die #1 all pick up between 2.7 and 2.4K in additional sales. Bodes especially well for Die, which should perform like Gideon Falls.
The Brian Clevinger/Scott Wegener cult series Atomic Robo launches a new miniseries, Atomic Robo and the Dawn of a New Era, lands at #385 with sales of 2.3K. This is one of those books, like the Mignolaverse, where retailers know very well who's interested.
Much like Halo, the Starcraft series doesn't seem to sell well in comic book form. Starcraft: Soldiers, a new mini written by Jody Houser, sells 2.2K at #388. I imagine these sell more in video game stores.
Glenn:  This is an older game franchise so yeah, only a few set fans out there.  Kudos for Houser seemingly having her foot in the door everywhere.
Ray:  Our lucky #400 comic is Carson of Venus: Flames Beyond #1, selling 1.9K. American Mythology is a weird company, putting out pulp hero comics, random comedy books like Pink Panther, and the occasional adults-only creator-owned book. Whatever works for them.
Remember Tool? I member! Their Rock and Roll Biography from "Gumby Comics" sells 1.9K at #401.
Glenn:  I don't remember, must be an American thing.
Ray:  It's a pretty big gap of reorders and low-selling comics until we find the next notable comic – Appalachian Apocalypse from "Cave Pictures" Comics at #412. This story of hillbillies fighting zombies sells 1.7K, a decent launch for a new start-ups's first notable comic. It's just above reorders of Venom #8.
Glenn:  Like we said last month or the month before (maybe both!) having a zombie book is going to be a hard push without any big name talent.  There's a clear front runner in the genre and everyone picking up the juicy meaty scraps.  Mmmmm scraps.
Ray:  The other book in the Stabbity-verse, Shadowplay, launches this month at #416 with sales of 1.6K. This one doesn't have a murderous stuffed bunny, so that explains the lower sales.
The Alterna launch The Actual Roger, about a kid superhero sidekick with the lamest powers ever and the hero forced to mentor him, launches at #419 with sales of 1.6K. This was by the head writer of The Tick TV series, which probably explains the higher than average sales for Alterna.
Glenn:  Big grab for them in term of a name writer.  Will def get them a bit more attention, the good kind this time.
Ray:  1.6K in reorders for Doomsday Clock #8 at #427, as this event continues to pick up steam. The poor schedule hasn't kept it from success at all.
Alterna shows up again at #428, as Wes Locher's alien comedy Unit 44 sells 1.5K. Locher's a talented up-and-coming creator (and a friend of the columnists), so I'm glad to see it do so well.
Glenn:  Wes is great so happy for him to be here.  He's a name to watch.
Ray:  Art Baltazar and Franco continue their tour of all the major comic companies with an outing from Action Lab, as their superhero satire Powers in Action sells 1.5K at #431. They're cult creators, but their brand of all-ages comics have a solid audience everywhere.
Speaking of Action Lab, one of their oddball suspense books lands at #434. The fairie murder mystery Null Fairies sells 1.5K as the company can't really get much footing for their creator-owned books.
Glenn:  Image is the place to be for creator owned.  Everyone else just fights for the leftover market %.
Ray:  Archie's been releasing a series of themed single-issue anthologies lately focusing on Betty and Veronica. The latest, Betty and Veronica Go To Work, sells 1.5K at #437. Every issue of these is a number one, so that helps them stay above the level of the digests.
The first two issues of Firefly both get 1.5K in reorders at #438 and #440, further confirming that this franchise is Boom's biggest hit yet.
Giant Sized Jingles, the latest absurdist comic parody from Dave Sim, lands at #441 and sells 1.5K. That Dave Sim, making sure we have something to talk about every month.
Amid a bunch of reorders and low-selling ongoings, we get the launch of John Carpenter's Tales of Sci-Fi: Twitch. The original horror concept from the king of horror sells 1.4K from Storm King Productions, another start-up.
Glenn:  Another Carpenter comic didn;t do too hot that long ago.  Unless its Halloween or the Thing, it doesn't seem as if his name will add much to sales.
Ray:  After a lot of reorders and obscure titles, we come to the next original comic on the list – of sorts. That would be ICYMI, a reprint title from Alterna repackaging their all-ages titles in a 99-cent package. The first issue, featuring talking-skeleton comedy Mr. Crypt, sells 1.3K.
At #480 is Savants, a dark new superhero concept from Source Point Press. It sells 1.2K, likely boosted a bit by the untimely death of creator Gary Reed. Reed had a pretty big cult audience as the founder of Caliber Comics, so his final project picked up some interest.
The Pink Panther Pink Winter Special is down at #485, selling 1.1K. I really don't understand how you can cobble a company out of properties that haven't been relevant in decades, but here we are!
Glenn:  They're also a month late for Christmas specials, for shame!
Ray:  #494 brings us the relaunch of Scrimshaw from Alterna. This futuristic pirate thriller is the company's only ongoing, and relaunches with just over 1K. That's a decent boost from the previous volume.
#499 is the launch of Amigo Comics' Blackening, selling 955 copies. This is a futuristic comic about cyborgs and a plague wiping out humanity. It is not a spin-off of Black.
And at #500, selling 942 copies, is…Threshold: Allure #0 nude variant. *flees*
Glenn:  You and your nudity Ray.
Ray:  One thing I notice is that the bottom of this list has a much higher floor than usual. 496 comics sold over 1000 copies this month.
Looking ahead to February (and by ahead, I mean back, because we're in March), it looks like a pretty quite month for DC. They've got a few new miniseries including the third Wonder Comics title, Wonder Twins; a Female Furies spin-off (that is definitely not a sequel to Mister Miracle); a Vertigo sci-fi series titled High Level, and a 100-page Superman giant from Marv Wolfman.
Over at Marvel, it is less quiet. Chip Zdarsky relaunches Daredevil, the weekly Avengers event No Way Home kicks off, Conan gets his second title in Savage Sword of Conan, Old Man Quill is out for revenge, the Hulkverines go to war, and we get the rest of the Age of X-Man miniseries and the revival one-shots.
In Indieland, Mark Millar drops his latest Image book with Sharkey the Bounty Hunter, Hit-Girl returns with Kevin Smith writing, and the independent cop thriller Vindication competes for a place in the market. Outside of the big three, JM DeMatteis has a new creator-owned book from Dark Horse, GI Joe and Red Sonja relaunch with top creative teams, and the latest Valiant mini-event launches with Incursion.
What will rise? What will fall? Which indie comics will make Glenn cry? Find out next month on By the Numbers!
Liked what you read?  Have any questions or comments?  Let us know here or on Twitter @glenn_matchett and @raygoldfield.  Please go check out Sparks: The Way I Was!