By The Numbers: May 2018
Like in any industry, comic books and their companies listen most to one thing and that's your money! What does your money tell them? What does it tell us as fans? What series do people say they adore but can't seem to catch a break and what books to people hate that sell out? What are the trends? What looks good? What looks rough?
All these questions and more will be answered here, every month in 'By The Numbers' by comic writers, editors and fans, Glenn Matchett and Ray Goldfield.
Glenn Matchett is a comic writer and editor. He's worked in the industry for 6 years but grew up reading comics. He's had work published with Outre Press, Alterna Comics and Nemesis Studios. The gift that Glenn is getting for the Bat/Cat wedding is a lifetime of bat anti-shark repellent.
Ray Goldfield is a fan of comic books for going on 25 years, starting with the death of Superman. He is a writer and editor and has released his first novel. Ray also does a weekly roundup of DC comic reviews for website Geekdad and they're brilliantly entertaining.  The gift that Ray is getting for the Bat/Cat wedding is a list of other nine weddings that are the must attend functions of the year.
We also do a podcast together with longtime buddy, Brandon James on iTunes with Rabbitt Stew or at the link here! Don't ask, I didn't pick the name. If you'd like to hear what me and Ray sound like, give it a listen!
Top 300 in full available here!
Glenn:  Its time for May sales with another month where things went a bit crazy for several reasons!  It seems that top 500 sales are going to be a regular thing and I suppose our integrity (what's left of it) dictates we cover it all.  Main points for 300 and highlights for the rest though…I need to sleep.
Let's get going.
So to no surprise, with all the sales momentum in the world, a pack of great artists and a writer doing his last huge story before riding off into the sunset next month (or this Wednesday as of this typing), Amazing Spider-Man #800 slams into the sales charts with a bone crushing performance over 411.4K which in the modern market for a $9.99 book is INSANE.  This has surpassed even the high expectations we had for it and I'm sure Marvel is thrilled.  The only comic that MIGHT match this is Batman 50 with its significance, all star artist roster and insane amount of variants but this right now is the best selling issue of anything in years.  Just brilliant numbers and I bet Marvel are wondering if letting Slott go is a huge mistake.  Of course, I bet he'd rather go out on a high like this and take some momentum with him to FF and Iron Man.  I think Amazing 801 will see very well too since its Slott's last issue for real and its the return of Marcos Martin to the big two but this is something that there should be champagne passed around about.
Ray:  That is a MASSIVE number for Amazing Spider-Man. In this month, with so many premieres, nothing even came close and that's amazing. It's the #2 comic of the year, behind only Action Comics #1000 about 30K higher (as of last month, more on that lay-tor). Given that the top two comics of recent memory are a $7.99 issue and a $9.99 issue, it feels like the companies aren't going to be shy about going for these mega-issues in the future, which worries me. However, the quality and quantity on both of these justified the price. Given how easily this outpaced many of the big launches from both companies this month, Marvel is seriously going to miss Slott. I suspect #801 tops 200K as well and comes in #2 next month
Glenn:  Good point on the pricier comics selling.  If people are promised a good package, they're willing to pay.  We've talked a lot about how DC has made some good sales on quality specials in recent times, the success of this will undoubtedly drive Marvel to perhaps produce more but they're likely to see any similar success due to the 'perfect storm' of elements that encourage the sales.
To underscore the success of Amazing, the next best selling book sold 200k less but still pulled in fantastic numbers.  The latest relaunch of Venom by Donny Cates and Ryan Stegman surpassed expectations also by selling over 225.7k outdoing regular heavyweights and some times you wouldn't have expected it to leap over (more on that in a bit).  Venom is having a major renew of interest but the involvement of this creative team seems to have caught a lot of interest.  I think this is going to end up doing a lot better than the previous volume and will be one of Marvel's strongest performers.
Ray:  That's an astounding debut for Venom, easily enough to top the charts almost every month. We've seen Venom #1s debut very strong out of nowhere before, but they always crashed down to earth soon enough. This might not do that, between Donny Cates and the upcoming movie. I wouldn't be surprised if it wound up being a top-twenty fixture, and we've already got some spinoffs announced.
Glenn:  I have a feeling if Venom is a success it'll be in spite of the movie.
Despite the delays, Doomsday Clock remains rock solid at 3 with sales over 146.8k.  This seems to be performing similarly to Dark Knight III which had great sales despite various delays.  Again like that book this will also do very well in collections for decades too come.
Ray:  Yeah, this is barely a drop at all from previous issues and the fact that Doomsday Clock continues to outpace major launches every month is amazing, despite the delays. I think we'll probably see a similar performance, if a bit lower, from DC's upcoming stand-alone event Heroes in Crisis by Tom King and Clay Mann, especially as it spins out of events in Batman.
Glenn:  At 4 is the latest Avengers relaunch by Jason Aaron and Ed McGuiness which sells over 131.4k.  Another very solid performance but I would have expected maybe more from this creative team and the book that is being pushed as the flagship of Marvel's line.  Being outsold by Venom is a big surprise and then we have Issue 2 selling this month also, landing at 13 with sales over 66.6k.  Not terrible sales, this would put it in Marvel's upper tier of 'regular' books but given what this book is and who is producing it Marvel must have been hoping for more.
Ray:  The fact that Venom so handily trounced Avengers by this megawatt creative team is a testament to just how much these few years have damaged Marvel's core brands in the comic world. If it can hold most of those second-issue sales, it'll be fine, but this should be Marvel's new flagship book, and it's not selling like it at all.
Glenn:  At 5 is another strong debut from Marvel in their latest onslaught of new books, this time its Black Panther which sells over 122.3k.  Considering this title was getting into danger territory previous, this is a great sign and either a good thing in terms of Marvel's 'fresh start' or just as and/or more likely more Black Panther fans existing after the movie. This likely won't stay a top seller but even sales around 40-50k once things settle would put it well above where the title was before and I see that being possible.
Ray:  Obviously a lot of this is the retailer bump for the first issue, but I expect there to be a lot more interest in this run of Ta-Nehisi Coates' Black Panther than the last run due to the multiple new-ish characters who popped up there. If they can get even a tiny fraction of the fans who loved the movie to give this a try, it'll stay very healthy.
Glenn:  At 6 and 7 is Batman who still shows up in his usual top ten spot despite all other wackiness.  Issue 47 of the series slightly edges out issue 46 with them selling over 101.5k and 100.1k respectively.  Momentum gathering for the wedding or just damn good writing pulling people in?  I wouldn't be surprised if it were a mix of both.
Ray:  Batman seems all but invincible. I expect a decent-sized bump for next month's wedding prelude issues featuring Joker, followed by a massive landing for #50 in July.
Glenn:  At 8 is the first part of the Justice League weekly series No Justice which serves as a bridge between Metal and Snyder's League run which starts proper next month.  Part 1 sells over 86.7k, issue 2 is at 12 with sales over 68.8k, issue 3 is at 14 with just under 66k and the final part is at 15 with over 64.3k.  The drop from 1 to 2 isn't too bad and then it stabilizes fast. Given the success of Metal, I would have thought there would be more interest here.  I think this is where we'll see Justice League Dark and Justice League Odyssey sell with Snyder's book doing about 70-80kish.  Again as we all know, consistency in this market is key and if DC can pull off this Justice League line around these numbers or better on a regular basis then there will be much to celebrate.
Ray:  Apparently Justice League #1 has sold over 250K for June, so I think this is much more of a hiccup than any lack of interest in the post-Metal status quo. Remember how we were consistently puzzled by the event series Clone Conspiracy selling less than the main ASM title? I think this might be something similar – retailers underordered on this weekly event not knowing just how critical this would be to the core series. Still, DC got over 250K in sales for the franchise in one month, so that's hardly a disaster.
Glenn:  I see what you mean in regards to the Clone Conspiracy comparison but I think DC did a very good job of marketing this as important.  There was a lot of hype and a lead in that was printed in the pages of the massively ordered DC Nation #0.  Who knows?  It doesn't matter in the long of course and this isn't a bad seller by any means and like you said, the combined sales are very good.
Another first issue of a weekly comic event from DC at 9 (although the other issues shipped next month in this case) and its the start of Brian Bendis at DC proper and his start on Superman proper.  The first part of Man Of Steel sells over 86.7k which is very good but given this is Bendis proper big full issue debut I would have expected three figures.  Still, if this mini follows a similar pattern to No Justice and Bendis can deliver two Superman titles over 60-70k then DC will be delighted.
Ray:  Yeah, if the Superman books follow this sales pattern, Bendis will have his first big win for DC on his hands. I don't know if this will be the case, but it's worth noting that DC did far fewer variant covers for this event than for almost any other. The rollout was almost a little muted, so that may have depressed sales but lead to a stronger hold for the weekly issues next month. We'll see – reception has been a bit mixed so far.
Glenn:  Final part of the top ten is the Walking 'we don't care what the rest of you do, we sell by existing nyah nyah' Dead which sells over 73.7k.  This book lives the dream.
Ray:Every month! Almost like it's…unkillable.
At #11, Batman: White Knight wraps its run with sales of 73.6K. It's kept growing and stabilizing through the run, so I think this is a massive hit for DC. They've just announced it'll be collected under the new Black Label brand with some minor new content, so it's likely going to keep selling well for years to come.
Glenn:  Yeah, White Knight is a worthy addition to the DC back catalog and Murphy seems content to just work away in this little corner he's created for himself.  This is good news for DC if his other books sell around this level (and I don't see why they wouldn't)
Ray:  Despicable Deadpool wraps its run with issue #300 at #16 on the charts, selling just under 60K. A major increase for the series, but a bit weak given that this is Deadpool's longest run ever and this came out right around the time of the second movie. I think Deadpool's brand in this run was hurt quite a bit by having to tie in with the reviled Secret Empire and upending its status quo. Skottie Young is up next with a run that's essentially a hard reset.
Glenn: I would expected more for the end of Duggan's run too.  Similar to the latter end of Brubaker's Cap run, I think he missed an opportunity to end his run earlier.  He still did solid work but nothing like what came before.  I'm sure next month's new Deadpool launch will be strong and it'll return to the standard 50-65k range its been doing for years after.
Ray:  That's right above the next issue of Infinity Countdown, the pre-event by Gerry Duggan, which sells 59K. Solid numbers for Marvel, but they'd better hope the second event increases when it launches, or it's not the kind of numbers that really carry a summer's worth of tie-ins.
Glenn:  Yeah, those numbers are rather muted aren't they?  I guess people that were fans of Infinity War didn't want to sign up for this one as opposed to people who liked Black Panther.  This event will stabilize quickly I think but won't be anything to write home about.  Line wide events at Marvel could be a problem in the near and possibly distant future given how the last one was handled.
Ray:  Surprised both of these beat Invincible Iron Man #600, the much-hyped final Bendis comic for Marvel. This landed at #18 with sales of 58.5K. Bendis' days as a Marvel sales powerhouse were behind him when he left – we'll see if his DC career brings back the heat.
Glenn:  It seems that this last tenure of Bendis time at Marvel was rather muted.  He was getting strong praise for some of his work but this book, the one that was supposed to be his latest big project faltered.  Iron Man's been a tough nut to crack since Fraction left sales wise so we'll see if Slott can bring momentum with him.
Ray:  #19 has the X-Men Wedding Special, selling 56K. I imagine a lot of retailers were very annoyed with this when they realized there was no wedding in this issue – it's an anthology of bachelor party related stories. And given spoilers about the actual wedding that have come out by the time this article sees print, this may take the cake for one of the most over-ordered issues of all time.
Glenn:  Given how fickle their sales are past launch, Marvel shouldn't really be trying to mess with retailers.  Its cute that they're trying to steal some of the Bat/Cat wedding heat though
Ray:  A decent-sized increase for Flash this month, as the two issues gain about 7K in sales for the launch of Flash War, selling 53K and 52K at #20 and #22. I wouldn't be surprised to see major reorders, as well, as it seems this event is – like The Button – a key part in the unraveling of the post-Rebirth status quo.
Glenn:  Flash is the biggest benefactor in terms of sales and story post Rebirth even a couple of years in.  Its become one of DC's hottest books and this upcoming 'Flash War' might give it a platform to reach a higher level as it carries on.
Ray:  The first of five Batman: Prelude to the Wedding one-shots lands at #21, selling 53K for an issue pitting Damian Wayne against Ra's Al Ghul. Solid numbers for a series that everyone knew wasn't really essential reading, and it shows the interest in this storyline overall.
Glenn:  Interest for the wedding is high so DC may as well capitalize on that.  I wonder if perhaps this would have been much higher had King been involved in some way given this while story is his idea.  Still if the rest of the mini can sell around this (the highest selling will probably be Harley vs Joker) then that's icing on the cake (pun intended).
Ray:  Speaking of reorders! What an impressive second month of sales for Action Comics #1000, selling 52K more copies and putting the total sales just over the 500K mark. I would say this is a once-in-a-lifetime event, but it's not – stay tuned for Detective Comics #1000 in early 2019.
Glenn:  Its always insane to me when reorders on a book do better than the majority of new books but then again, this is a special case.  Like we said, DC did this one right in every aspect and I have no doubt that the Detective one will be every bit the same accomplishment…if not more so.
Ray:  James Tynion wraps his run on Detective Comics at #24 and #25, with both issues closing out the run over 50K. It's been incredibly steady in sales, but the next few months feature three writers between now and September (Michael Moreci, Bryan Hill, James Robinson) with no sign of a permanent creative team. That's worrisome as the series heads towards its big anniversary.
Glenn:  DC is trusting Detective to fend for itself while they hold off on the new long term creative direction.  Its a curious strategy but DC are no doubt just treading water for something big here to coincide with the anniversary issue coming up.
Ray:  The previous Superman creatives teams got to wrap up their runs with oversized one-shots this month, and there's a pretty big delta between the two. Dan Jurgens' Action Comics Special lands at #28 with sales of 47K, while Tomasi and Gleason's Superman special is down at #34 with sales of 43K. Given how much higher Superman originally sold, it shows that Jurgens really won the crowd over with his old-school run. He's headed off to Green Lanterns next.
Glenn:  Jurgans will go down as one of the greatest creators on Superman ever so I'm glad he gets to go out on a relative high.  He's also been writing Batman Beyond for DC for a few years so I don't see him going anywhere else at this stage.
Ray:  The four Hunt for Wolverine miniseries debuted this month, and to a one the numbers were sort of unimpressive. The highest selling was Jim Zub's Mystery in Madripoor, focusing on an all-female team of mutants, which sold 47K at #29. Next was Charles Soule's detective thriller Weapon Lost, selling 44K at #32; Tom Taylor's spy adventure Adamantium Agenda, selling 42K at #36, and Mariko Tamaki's horror-themed Claws of a Killer one spot below with 41K. All acceptable numbers, but certainly not the event Marvel seems to think it was and a huge drop from last month's one-shot, which sold 138K in setting this up.
Glenn:  I think like we've joked that everyone realized that all these mini's were just cash ins and no one was really going to find Wolverine during them.  Given the amount of mini's there were, its been a success in terms of managing to get people to pay money for what is essentially an intermission.  The publishing schedule for Wolverine continues to be curious in the month ahead as writer Charles Soule and artist Steve McNiven bring him back for realsies in another mini before a real ongoing starts.  Got to get in all the number 1's we can I suppose.
Ray:  A solid debut for the latest Star Wars miniseries, Lando: Double or Nothing. It sells just under 43K at #35. Maybe a bit lower than expected, but this was expected to tie in with the Solo movie, and we all know how that went…
Glenn:  The Star Wars line has become less of a spectacle over the years also.  These mini's used to sell insane numbers but things have steadily calmed down now that the initial 'Star Wars is back!' wave has passed.  Still the franchise always performs respectfully or better for Marvel and this is no exception.  I could see good reorders on this and will likely be a good seller in collections, especially if this version of Lando gets his own movie down the line.
Ray:  The Paul Dini/Bret Blevins miniseries Harley Loves Joker took the place of the main Harley series this month, bringing back the classic animated Harley Quinn. It's a pretty healthy increase over the usual fare, with the first issue selling 41K at #38 and the finale clocking in at #46 with sales of 37K. That's 11K and 7K above where the series was last month.
Glenn:  Dini writing Harley always draws interest.  A solid replacement for the main book which has Sam Humpries coming on board for a bit shortly.
Ray:  The one-shot Mighty Thor: At the Gates of Valhalla sells 39K at #40, and I'm a bit surprised it was this low. The conclusion of the main Thor storyline sold 56K last month, and the #1 next month will probably top 100K. It's probably another case like No Justice, where retailers ordered a bit light on a bridge story that they thought was a side story. Expect strong reorders on this one.
Glenn:  Yeah, there was clearly some misunderstanding here.  This one should have sold a lot more and likely will pick up 10-15k additional sales next month.  We'll try to remember to check!
Ray:  The X-Men Red annual lands at #43 with sales of 38K (just below a Star Wars annual by Cullen Bunn selling 39K). That's 6K below the main X-Men Red issue this month, and shows how Tom Taylor's acclaimed, socially relevant take on the X-Men and Jean Grey is easily outpacing the rest of the X-line at this point in terms of buzz and sales.
Glenn:  X-Men Red has become a strong performer for Marvel, Tom Taylor is a creator who doesn't seem to grab the headlines like some but always seems to pull off these successes on the down low.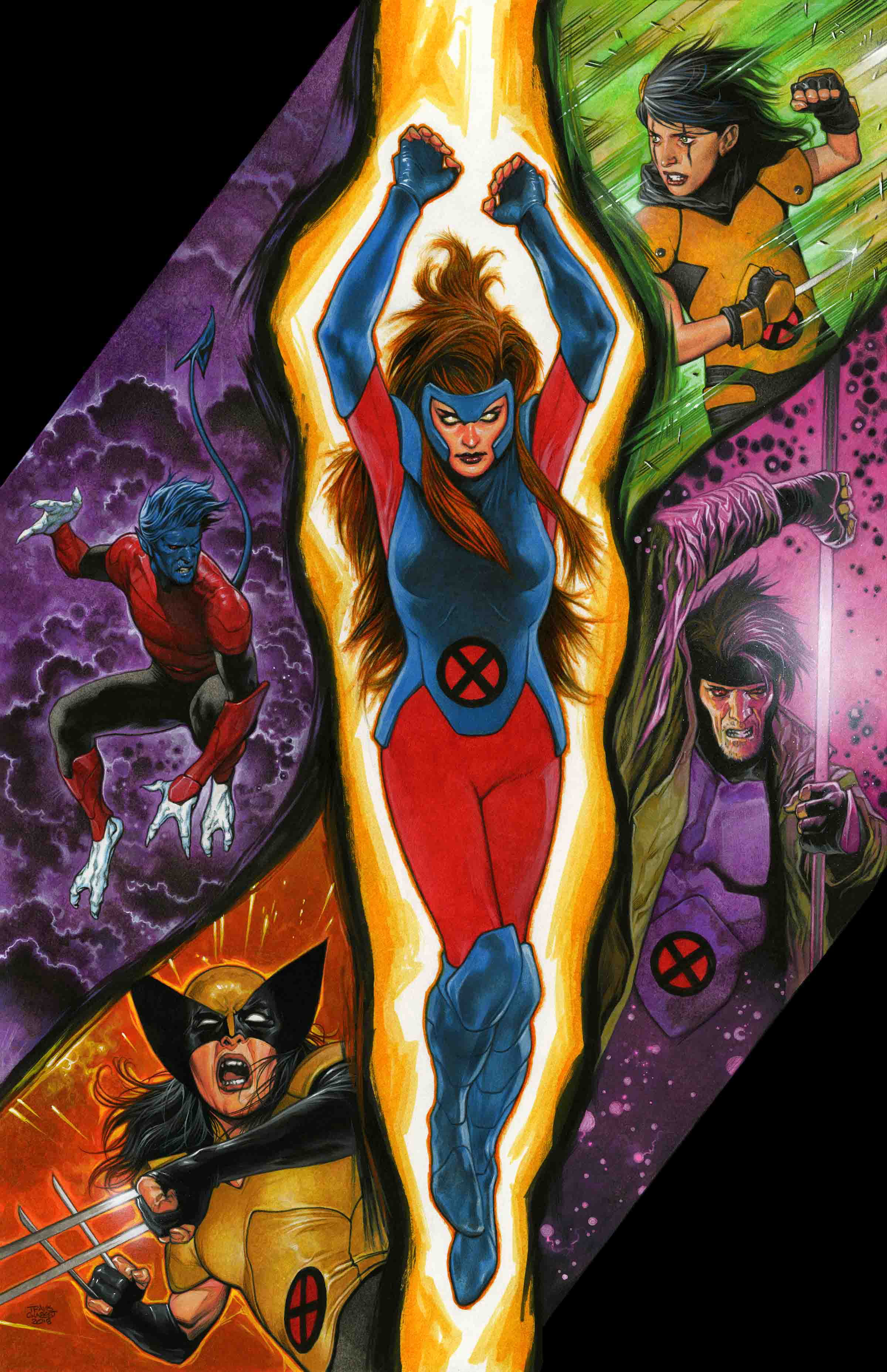 Ray:  Spawn, surprisingly, keeps 75% of the sales it had last month for the return of the Violator and lands at #44 with sales just under 38K. Maybe the hype of the movie announcements is helping, but this is currently Image's #2 book, just ahead of Saga. Is it 1994 again?
Glenn:  With the return of popularity to Venom, it just might be!
Ray:  A typically disappointing debut for the latest member of the New Age of DC Heroes lineup,New Challengers. It lands at #47 with sales of 36.5K, which is surprising given that Scott Snyder's name is on the cover. This comic was announced cancelled, and resolicited with a co-writer as a miniseries, so I'm guessing retailers smelled a lot of behind-the-scenes meddling. Snyder seemed to have big plans for this, but that was before he was announced as the new architect of the Justice League books, so it seems to sort of have fallen by the wayside.
Glenn:  Yeah, this seemed to be his next big project but that could have been prior to him being given the keys to the Halls Of Justice, who knows?  I wouldn't be surprised to see the challengers feature into Justice League proper and some of the ideas Snyder may have had re-purposed there.  If that does happen then this could be one that does well in collections.
Ray:  A title that seems to be keeping last month's sales bump is Deathstroke, which lands at #49 with sales of 35K. The addition of Batman for a self-contained crossover event dealing with Damien's parentage is getting this book a lot of new eyes, and hopefully they'll stick around for the long haul on this excellent book.
The top-selling Image debut of this month easily goes to Death or Glory, the futuristic crime thriller from Rick Remender and Bengal. It charts at #57 with sales of 32.8K, very strong for an Image title. Remender's sort of building his own brand at Image now, and he's good for healthy numbers on virtually anything he does.
Glenn:  I liked the look of this new Remender book a lot.  Given how good his work at Image usually is, he seems to have built quite the following.  I can see his stock only going up following the adaption of Deadly Class to TV.
Ray:  The experimental miniseries You Are Deadpool, which combined an Al Ewing Deadpool comic with tabletop gaming, ran weekly in May and opened at #59 with sales of 31.5K. Future issues landed at #90, 100, 101, and 105, selling between 24K and 22K. An odd comic, for sure, but it's done decent numbers for a comic with a limited audience.
Glenn:  I remember Marvel did weird game like comics before in the late 90's.  I guess its good they did something different and Deadpool is the type of character that is tailor made for this type of book.
Ray:  Speaking of weeklies, Brian K. Vaughan and Marcos Martin release their multi-lingual alien abduction thriller Barrier in print for the first time, and it does very strong numbers for an Image weekly. The first issue (which was also released in a different edition on Free Comic Book Day) sells just under 29.4K at #65, with the next four issues charting at 80, 86, 93, and 98, selling 26-23K. Given how many people already read this in digital, that's a great showing.
Glenn:  Some people (like me) prefer print I guess!  This is also Martin's first comic work in a while so that may have gotten interest.  People who have read the webcomic (as it were) may have wanted a print copy too.  I can see this doing well in collections after its completed in singles form also.
Ray:  Infinity Countdown launches three tie-ins this month. Captain Marvel and Daredevil release one-shots which chart at #66 and #70, selling 29K and 28K respectively. Decent numbers, in line with their main series for the most part. The news isn't quite as good for Infinity Countdown: Darkhawk, the miniseries spinning out of the Darkhawk one-shot from the start of Legacy. It launches at #91, selling only 24K.
Glenn:  There's never going to be anything with Darkhawk's name on it does well, sorry fans of his.
Ray:  The Terrifics remains the only one of the New Age of DC Heroes titles to actually maintain some momentum, as its fourth issue lands at #67 selling just under 29K. That's already ahead of the second issue of The Immortal Men, which lands at #71.
Glenn:  The power of Jeff Lemire strikes!
Ray:  The Star Wars: The Last Jedi adaptation arrives at #76, selling 27K. Decent numbers for a delayed adaptation of a story everyone knows, and the second issue is down at #107 selling 22K.
Glenn:  These adaptions of the movies are just done likely because Marvel is obliged to do them.  They're fine for what they are and I'm sure Marvel considers them an acceptable aside to getting to still print the majority of Star Wars comics.
Ray:   At #82, we have Domino #2 selling 26K. Not a bad number for a Domino series, of course, but that's a nearly 70% crash from the first issue's massive sales. Combination of retailer over-ordering due to the movie and the usual Marvel #1 tricks? I knew it would crash back to Earth, but not this much.
Glenn:  That is quite a Domino fall (get it, get it?  I'll see myself out) but still good numbers considering she's a c list character with no ongoing to herself ever.  I think this could stableize and remain around here as long as Gail is the writer which will give Marvel a reason to keep it around.
Ray:  90s nostalgia continues in full swing, as Medieval Spawn/Witchblade launches at #85. This crossover between two properties well past their prime manages to sell 25K, which probably means we'll be getting a lot more crossovers and revivals.
Glenn:  Wasn't there a lot of wacky copyright stuff with Medieval Spawn?  Sometimes I feel like the charts are a time machine.  I can't wait until Sam Keith brings back Ma…oh wait…
Ray:  DC gave us another wave of oddball DC/Hanna-Barbera crossovers this month, and there's a pretty big gap in sales based almost entirely on the DC character involved. Despite being written by Scott Lobdell and getting the worst reviews of the four, Flash/Speed Buggy sells the best of the four, landing at #89 selling 24.6K. Not far below is Super-Sons/Dynomutt, which sells 23.8K at #92. Then it's a big drop to Aquaman/Jabberjaw, selling 21K at #115, and finally is the most acclaimed of the four – Black Lightning/Hong Kong Phooey, selling 18.5K at #128. That one might get some reorders as writer Bryan Hill takes over Detective next month.
Glenn:  These sold based on the popularity of the main DC hero it seems.  I would say the ones that were better viewed might pick up some reorders.  These bizarre little teams ups seem to perform well enough for DC to keep doing them in any case.
Next book of note is the launch Harbinger Wars II from Valiant which is at 103 selling over 22.6k.  I didn't even know there was a Harbinger Wars I!  This is a great number for a Valiant book, they've had higher numbers in the past but their launches usually perform much lower.  They keep on trucking.
Ray:  I sort of expected a bit more for Harbinger Wars II, given that this is their biggest event comic in a long time. It's sort of their Civil War and much of their line is tying in. Still, Valiant does the majority of their sales in trades, and they've just announced a new line expansion to follow this up, so they're clearly very happy.
Glenn:  Its anniversary issue time with Punisher #225 selling at 112 selling over 21.7k.  No special increase here as 224 is released the same month and sells more. I guess we only get big numbers for 50 and 100's nowadays.  Punisher is getting his new coat of paint in a few months none the less.
Ray:  Punisher, much like Deadpool, got hit very hard with the aftermath of Secret Empire where he sided with HYDRA, so that may be hurting sales as well here.
Glenn:  At 113 is the Green Lantern annual which sells over 21.4k which is only around 3k below the main title.  That's very good and DC annuals continue a pretty decent streak of solid performances.  There's rumours that the whole direction of Green Lantern is about to undergo a big creative change, time will tell.
Following the pattern of its fellow books, the Curse Of Brimstone title drops in sales to just over 20.2k at 118.  This line has been a misfire apart from the Terrifics all in all.
At 119 is the launch of Quicksilver: No Surrender with sales over 20.2k too.  Not bad for a title starring Quicksilver who hasn't been able to sustain any sales draw for decades but Marvel maybe expected better given its spinning out of Avengers: No Surrender which performed quite well for them.  The pattern of Marvel readers not really interested in any follow up stories from big events has been an issue for the company for years.
Ray:  Saladin Ahmed tends to be a creator who gets good reviews but doesn't really sell, although many of his properties display very good holds once they hit a certain level (like Exiles this month, which only loses 2K from issue #2 to #3). Still, this is very low for a comic spinning right out of a major Avengers event. More evidence of the damage Marvel's done to their own brand.
Glenn:  Another DC Annual!  Green Arrow this time which sells over 18.5k at 129.  Again  about 2k less than the main title so quite consistent there but this was a tie in to the big Justice League: No Justice mini I think?  I think retailers probably didn't realize, I certainty didn't until I saw the cover in my LCS.  Those that did know didn't seem to care all too much.  This one might be another one for the reorder pile.
Ray:  This one slipped under the radar, yeah, and it pulled double duty as the only No Justice tie-in during the month of release, and a lead-in to the Benson Sisters' regular Green Arrow run. This is one to watch.
Glenn:  The True Believers One Shots are here again, this time focusing on Wolverine (he's coming back ya know).  The highest selling of the batch is Wolverine: Sword Quest which is a reprint of the first issue of a mini by Chris Clairemont and John Buschema from back in the day.  I'm surprised this is the best selling, I've never heard of it but there ya go.  This sells over 18.2k at 131 which is great for a reprint like this.  At 140 is the new Wolverine True Believers one shot, this one putting him up against everyone's favorite symbiote Venom!  This one sells over 16.7k.  Given how hot Venom is I'm surprised it didn't do better but hey its all free money to Marvel.
Ray:  I'm pretty sure this is not the first Wolverine: True Believers wave, so almost all of the true A-list issues have been released in this format already. That's probably why we didn't see any of them sneak up on us and do huge numbers like the Venom ones did. All in all, like you said, free money for Marvel.
Glenn:  Second issue of Image title Isola is at 135 with sales over 17.5k which I'd say is very good.  This is from two creators that are well known and well thought of but neither have had major 'sales pull' as it were.  Maybe people just are interested in this book, fancy that!  Its well within the Image safe zone.
Ray:  That's a really solid number for Isola, and means it should probably wind up in the top tier of Image books overall. This might actually wind up selling better in single issues than the creative team's last collaboration, Gotham Academy, did. That's a testament to how Image can sell a greater diversity of material in the direct market than the big two can.
Glenn:  The sequel to 300, Xerxes: The House Of Dariussells over 16.8k at 139 losing about 8k from its first issue.  Again, the single issue sales here are basically irrelevant but its a strong enough performer for Dark Horse in any case.
A crossover between Red Sonja and Tarzan debuts at Dynamite from megastar writer Gail Simone selling over 16.3k at 142.  This is another great number considering the characters involved.  Dynamite will be thrilled and Gail Simone I think again proves she can bring interest to any property (see also: Domino)
Ray:  Yeah, this is 100% the power of Gail's sales, as Red Sonja rarely sells this well and Tarzan has zero sales power in the market. She can make anything sell better, although usually more on a cult hit level (see the second issue sales of Domino).
Glenn:  Another Wolverine True Believers at 143 with Wolverine vs Sabretooth it sells over 16.2k.  These are a lot more consistent sales wise than the usual true believers one shots.  I'm not sure which fight between Wolverine and Sabretooth this one collects, I choose to believe each page is from a different fight in a different comic and no one can tell me different.  The next one of these at 155 in the form of Wolverine: Fatal Attractions which sells over 14.1k.  I doubt Sharon Stone is in this comic but hey, ya never know.
Ray's favorite comic of last month, TMNT: Urban Legends sells over 12.7k at 161.  This is a continuation of the long abandoned Turtle's series from…Image I want to say?  Ray is the Turtle's expert, he'll fill you in.  Pretty decent for something you would have thought no one cared about anymore.
Ray:  Ohhhhhhhh jeez. This run is generally considered the worst Ninja Turtles run of all time, and it never actually finished its initial run. Despite this, it sells higher than the main series by about 1K. I don't expect it to keep that once readers get ahold of it and tell the retailers "WTF?"
Glenn:  There's Wolverine again in Dying Game at 167 selling over 12.7k.  I googled this one and saw a cover where Wolverine has large teeth so we'll say this one is the story of Red Riding Hood starring our stabby mutant friend.
New Image book, Last Seige launches at over 11.8k in sales at 173.  Good sales for a book from two creators I'm not familiar with, will likely land at about 7k which is pretty normal for none big name Image offerings.
Ray:  That is a pretty strong number for a title by Landry Walker, who is best known for his all-ages series Supergirl: Cosmic Adventures. This medieval thriller is definitely not all-ages, but it seems there's some real interest.
Glenn:  At 174 is the next issue of Black Hammer: Age Of Doom which sells over 11.6k. Pretty stable as always from books in this universe.  If books sold on quality then this one would be in the millions.  Dark Horse must be happy with this universe of titles, we're getting another Black Hammer spin off that'll run in tandem with this one this month (June).
Ray:  That number for Black Hammer is down less than 2.5K from the launch, and still well above what it was selling before the relaunch. So this book continues to build buzz. Worth noting that Gideon Falls (#121, 19.4K) lost less than 1K in sales from the second issue to the third as well. Lemire has among the most stable books on the market in quality and sales.
Glenn:  I would say a lot of Lemire's books do well in trades too.  Again, Dark Horse is letting him do more and more Black Hammer for a reason.
Ray:  At #169 we've got an unusual entry, SHIELD #5 by Jonathan Hickman and Dustin Weaver. This was a comic that was released to mass critical acclaim for its complex take on the history of Marvel Universe…until it just stopped coming out years ago. The creative team finally found the time to finish it and Marvel released the first few issues as a mini-collection at a reasonable price, but there was still a lot of sales attrition. It sells 12K, showing there's only so long audiences will wait. It's likely to do much better in collections. The mini-compilation of the first four issues charts at #198, selling 9.4K
Glenn:  I can't remember how well this book did but yeah, it seems that interest passed on this one.  I'm sure people maybe wanted it but didn't get the memo it was back or completely forgot.
Ray:  The new Star Trek: The Next Generation weekly spin-off mini "Through the Mirror" lands at #176, selling 11.5K. This got previewed on FCBD and features a major new villain, I believe. It's getting a bit more hype than most IDW Star Trek comics. The second issue holds well at #184, selling 10.2K, and the remaining issues of the month sell in the 9K range with only minor attrition.
Glenn:  Pretty good sales for a Star Wars mini for sure.  It'll be interesting to see if IDW benifits from the rumors of a show that continues from Next Gen.
Ray:  A strong debut for Garth Ennis' new Aftershock series A Walk Through Hell, selling 10.8K at #179. Ennis has said this is the darkest book he's ever written, so if it turns out more like his Punisher Max run than, say, Hitman, it could be one to watch.
We almost never see Tokyopop up this high, but they've got a hit in The Nightmare Before Christmas: Zero's Journey, a spinoff from the popular movie. Selling 10K at #187, it's a nearly wordless book geared towards young readers. The power of nostalgia is strong!
Glenn:  Nightmare continues to be a popular property for Disney even after all this time, the film ages remarkably well and Disney pushes it hard in their parks every Halloween and Christmas.  The fandom for this property is still respectfully high.
Ray:  Coda #1, Si Spurrier's latest weird worldbuilding epic from Boom, has a strong debut for Boom at #193, selling 9.7K. This is a 12-issue miniseries, so I don't know how it'll turn out by the end, but it's starting with more room to fall than many Boom offerings.
Harbinger Wars 2 Prelude #1 shows up on the charts at #201, selling 9.2K. This was a stand-alone issue that set up the conflict between Livewire and the government, by Oscar-nominated screenwriter Eric Heisserer. Great issue, but remember all those #0 issues that did half the numbers for Marvel that the main event did the next month? Might be a similar pattern.
Glenn:  Valiant's audience behaves very differently than Marvel's though so you never know.  Stay tuned for next month!
Ray:  #207 has a fairly strong new Dark Horse debut, the haunted-college thriller Blackwood from Evan Dorkin and Veronica Fish. It sells 8.6K, which makes it the fifth-highest selling Dark Horse book of the month behind Miller, Gaiman, and two from Lemire. Likely to do well in the bookstore market as well. It's enough to beat the final issue of Falcon!
Glenn:  This book sounded really good, it seems that Dark Horse has a lot of these interesting looking horror books on the go.  They seem to be happy with another horror offering in Harrow County to let that book conclude so I don't see why this would be any different.
Ray:  Cyborg selling badly isn't news – the latest issue of the relaunched-but-not series sells 8.3K at #216 – but what is notable is that as we type, DC has just announced that the upcoming issues of the series have been cancelled. June's #23 will be the last, which means that the story will go unfinished. Those upcoming sales numbers must have been absolutely horrible – that has only been done once by DC in recent years, for the Vigilante reboot that turned out to be a mature readers book in disguise.
Glenn:  The decision to bring the book back was an odd one to start with and now the re-cancellation makes it seem even weirder.  I suspect we'll only see Cyborg in Snyder's Justice League for the foreseeable future.
Ray:  #217 brings us My Little Pony: Ponyville Mysteries. It sells 8.3K. I hope they have to investigate the Black Barn next issue.
Glenn:  I would buy every copy if they did.
Ray:  Batman #44, the "wedding dress" issue, picks up another 8K in orders at #221. Just more evidence that the Bat-wedding in July is going to be massive.
Glenn:  Can Batman 50 outsell Amazing 800 I wonder?  I think that it might manage it, especially with the amount of variants (I'm decorating my entire house with them and still have some left over)
Ray:  And now it's time for me to yell "Come on, people!" At #223, we've got the launch of Flavor by Joe Keatinge and Wook Jin Clark, selling just under 8K. This fantasy cooking gladiator adventure deserved so much better for its inventive concept and gorgeous art, and I would think the success of Shutter would boost it. Booooooooooooo.
Glenn:  I liked the sound of this but maybe too quirky for some people?  Then again, Chew (another food based comic) never did too hot in singles but delivers in collected format so maybe this will be the same?
Ray:  Bubba Ho-Tep and the Cosmic Bloodsuckers #1 lands at #227 with sales of 7.7K. I didn't know there were this many Bubba Ho-Tep fans, but you never know!
Glenn:  The Bruce Campbell fan club are a small but passionate bunch.  I suspect that there would be similar interest in a comic based on 'The Room' (which I now want to read)
Ray:  Analog has a pretty harsh fall to #229, losing about half of its sales to land at 7.6K. Gerry Duggan's name on the title helped the first issue, but this book doesn't seem to be picking up as much buzz as expected.
Glenn:  This seems to have missed the mark, yeah.  Its healthy enough to carry on but is performing around the level of Image books from people that aren't as well known which is odd.  I couldn't get into the first issue myself so maybe I wasn't the only one?
Ray:  The second Marvel Super-Heroes one-shot, The Spider-Doctor, sells 7.5K at #230. This all-ages book is likely going to repackaged into a small digest for bookstores, so these sales are almost irrelevant.
Glenn:  Spider-Doctor sounds supper terrifying though.
Ray:  Matt Kindt's cult favorite Dark Horse book Ether returns with a new volume, subtitled "The Copper Golems" at #233 with sales of 7.4K. This is pretty typical for Kindt's small-but-steady books, and I expect it won't drop too much from here.
Also a pretty harsh fall for Skyward, selling 7.4K at #234. There's been a few acclaimed Image books lately that haven't debuted or held as well as expected. Maybe too many comics in the monthly release schedule making it a bit hard to find an audience?
Glenn:  Image are putting out more content than ever and people have limited budgets.  Books will find they have to sink or swim quickly to grab readers attention but that's a problem for every book at the moment, especially when Marvel is releasing best selling books at $10 a pop.
Ray:  Selling just under 7.4K at #235 is a new Fraggle Rock series from Boom. Obviously, this title isn't geared towards the direct market, but raise your hand if you already have the song running in your head!
Glenn:  *raises hand* given that Fraggle Rock never captured the level of success as the Muppets or Sesame Street, I think this is a very good number,  Either this is nostalgia at work again or people are buying this for their kids who then have no idea what a Fraggle Rock is.
Ray:  7.3K in reorders for Batman #45 as well, the launch of the Booster Gold arc at #237. I think this arc could become a very hot commodity now that it's clear it'll be a major prelude into Heroes in Crisis.
Glenn:  Good call, this will probably pick up more reorders which we will now see because the length of the sales chart is nearly double.
Ray:  As the four miniseries reach their halfway point, all four Young Animal books are incredibly close in sales this month, ranging from 6.9 to just under 6.4K. We've got Shade the Changing Woman at #242, followed by Mother Panic: Gotham AD at #244, Eternity Girl at #245, and Cave Carson at #249. This was a bold experiment, but it doesn't seem like it was made for the direct market. Here's hoping for a revival for some of these in a new format.
#250 brings us the new Dark Souls comic, Age of Fire, selling 6.3K from Titan. Obviously for a cult audience of gamers, but is it really Dark Souls if you're not screaming in frustration?
Glenn:  I was thinking that the comic can only give you a true Dark Souls experience if it tries to give you paper cuts while you read it.  I'm totally copyrighting that idea by the way.
Small drop for the Star Trek Discovery Succession mini not even losing 1k with sales over 6.2k at 251.  This is another one to do with the mirror universe so maybe people are interested in an evil version of the federation?
Another new Aftershock book at 263 selling over 5.5k in the form of Pestilence: Story Of Satan.  This is from writer Frank Tieri who has some big work under his belt but never hit the big time and hasn't done anything of note for a while.  Pretty standard Aftershock sales on a first issue with that taken into account.
Ray:  This is the second volume of Pestilence, a medieval zombie thriller. Given that, it probably didn't get all that much of a first-issue bump either.
Glenn:  Reorders for Deathstroke 30 which was the first part of the Deathstroke vs Batman story which sells over 5.4k at 264.  Not often you see reorders for Deathstroke, the magic of Batman is unending.
At 268 is a new Judge Dredd comic, Under Seige which sells over 5.3k.  Like we've said before on these charts, Dredd never really does too well in the direct market but has a massive scope outside it.  These sales are pretty secondary to the property as a whole.
Steve Orlando's Image book, Crude loses about half its sales selling over 5.2k at 269.  Like Analog, this is a book that has a writer attached that you think would get a lot more attention.  This is one that might not last too long.
Ray:  I think Crude is a miniseries, but it's odd that Orlando doesn't seem to be able to parlay his DC success into creator-owned success just yet. His Boom work recently also struggled to make the top 300.
Glenn:  Another launch of a comic based on a video game, this time from Dark Horse and Garth Ennis in the form of World Of Tanks: Citadel which sells over 5.2k at 271.  This is one for hardcore fans of the game and Ennis only it seems.  I think this is an online and/or mobile app game only which likely explains why is has even less sales than video game tie-in comics usually do anyway.
A Simpsons comic, Mighty Moe Syslak sells over 5.1k at 274.  These Bongo one shots keep showing up more and more in the top 300.  The demand for Moe is more than I would have thought.
Ray:  It is odd how more and more niche characters are getting spinoffs from Bongo, but when we're talking close to thirty years of a fanbase, it makes sense. I wonder what will happen when Disney takes ownership of the Simpsons – they'd be smart to keep this arrangement with Bongo going.
Glenn:  Given the move DC just made with Wal-Mart, they might appreciate a company like Bongo who has a lot of reach outside the direct market.
Obligatory Hellboy comic time in the form of Witchfinder: The Gates Of Heaven, the start of a new mini which sells over 4.9k at 278.  On the lower end of the usual Hellboy sales but nothing too dramatic.
An odd sounding Vampirella one shot, Savage Tales (she fights barbarians apparently) sells over 4.8k at 279.  This is pretty good sales I'd say for something that doesn't sound like the type of thing that usually gets attention.  Do dead barbarians move the needle?
A reprint from Titan in the form of Tank Girl: Full Color Classics 1988-1989 launches at over 4.8k in sales at 281.  If these comics are indeed around 30 years old than those are some good numbers that will cost Titan very little to produce.
Some reorders for last months True Believers: Infinity Gauntlet at 283 which sells additional sales over 4.8 too.  Its almost as if there was a massive blockbuster with the same name or something.
Some reorders for Donny Cates Thanos at 287 with issue 14 picking up additional sales over over 4.7k which is more than the reorders it picked last month.  It seems investing in Mr. Cates is going to pay off for Marvel.
The Robocop: Citizens Arrest book loses about half its sales at 290 selling over 4.6k.  Like we said last month, no one really cares about Robocop anymore.
A new Adventure Time comic debuts at 292 with over 4.6k sales.  This comic will be picking up most of its sales in collections and outside the direct market so these are inconsequential.
In the past, the fifth issue of Back To The Future: Time Train would have been the last comic we covered at 300.  It sells just over 4,4k in sales and this is where things start to get scary kids.
Ray:  I don't want to go in the sub-300 barn, Glenn. Hold me.
Glenn:  This was your idea.  I wanted to be lazy but then you were all 'but we have a duty to our readers!'  Stupid scary duty.
Ray:  Also worth noting that the 31st issue of Harrow County is at 299, selling 4.4K. It should likely get a small bump for its June finale, which will mean it stayed in the top 300 for its entire run. Well deserved!
Glenn:  Having read the first two trades, I agree.
Scout Comics releases the first issue of Cybre Spectre, a former Kickstarter project that sells over 4.3k at 303.  Not too bad for a book that presumingly the Kickstarter basically already paid for.
Ray:  Cyber Specter is drawn by Ale Garza, who's done some major DC and Image work over the years. That probably explains why this sold a lot better than most Scout debuts that aren't Stabbity Bunny.
Glenn:  At 308 is Delta 13, a new horror book from 30 Days Of Night creator, Steve Niles.  This one sounds quite interesting but only sells over 4.2k.  Another likely victim of IDW not having that strong a footing with creator owned.
Ray:  Steve Niles is one of those names that almost everyone knows due to his one iconic work (30 Days of Night) but few of his future works get anywhere near the same level of buzz. He's taking over Kick-Ass in a few months, which is an interesting choice.
Glenn:  Doomsday Clock piles on the reorders with issue two (which is now 6 or 7 months old) picking up another 4.2k+ additional sales at 310.
Valient High from…Valient debuts at 316 with sales over 4k.  A lot lower than Valient debuts usually manage.  I really hope this is an alternative reality starring high school versions of their characters, those are usually fun type stories but may not have appealed to their usually dedicated audience.
Ray:  This is not only an alternative reality, it was a digital-first comic that got most of its sales online months earlier. Given the young-skewing audience and the fact that it was a reprint, I doubt Valiant was expecting much more out of this – it's a novelty book.
Glenn:  A new Sherlock Holmes mini, Vanishing Man debuts from Dynamite at 322 with sales over 3.8k.  I would assume Holmes stories do better in collections and there isn't much demand for the single issues given that his type of stories don't lean towards installments.
Some additional reorders for Domino at 324 with 3,8k additional sales.  It may have crashed hard in sales but clearly people were interested to see what the title had to say right off the bat, this really makes me thing a quick stabilization is more than likely.
Ray:  Yeah, I expect Domino might even increase from second-issue sales once the true reader interest level becomes clear.
Glenn:  Crossed Plus 100 Mimic, a revival of a series created by Alan Moore returns from Avatar press at 333 with sales over 3.6k.  I've never heard of this property and without Moore's involvement there seems to only be minimal interest.  Probably not too bad in terms of how Avatar books usually sell though.
Ray:  I know this used to be a Garth Ennis property as well, but since then it's really slipped below the radar. Essentially Walking Dead with more gore and religious iconography, I guess it has its audience.
A Kong of Skull Island special, which is becoming a yearly event for Boom, lands at #337 with sales of 3.5K. This one had Kong vs. Vikings, which is apparently a niche concept. But not in my heart!
Right below at #338 is a spinoff of Zenoscope's Oz series, focusing on the Wizard. Rachel Bloom needs to put out more songs to make our job easier…
Glenn:  She just needs to do more things in general.  More Bloom, less Zenoscope a By The Numbers dream.
Ray:  The Highest House only sells 3.5K at #341 and I'm gonna throw a chair. This better sell six digits in trade and get a Netflix deal ASAP.
Glenn:  I bet its not that great…Ray put down the knife…
Ray:  3.3K in reorders for Sonic the Hedgehog #1 at #344, proving further that this is a new hit franchise for IDW.
Jasmine: Crown of Kings sells 3.1K at #350 from Zenoscope. Rachel Bloom, why have you forsaken us…
Glenn:  She has friends, lots and lots of friends.
Ray:  A new mini-collection of stories, Betty and Veronica Best Friends Forever, sells 3.1K at #353. This was hyped as a new series like Your Pal Archie, but it's actually just a collection of themed stories from the digests – the first issue is themed around movies. Unlike the other major new Archie releases, this one isn't really providing new content, just a new format, and it seems retailers realized that.
Titan Comics seems to have a lot of debuts here, with both a new Warhammer spinoff titled Deathwatch, and a series called 2021: Lost Children, both selling 3K at 354 and 356. Titan books seem to have higher price points, European creative teams (many are reprints and translations), and a small but loyal audience.
The spectacularly titled Alien Toilet Monsters lands at #368 from Omnimorphic Press, selling 2.8K. I've never heard of this company before, and their output seems to be…unique. I'm gonna campaign for making this book a companion for Zombie Tramp as the official mascot of By the Numbers.
Glenn:  The writer of this series, Carol Zara seems to work hard to promote this book so good for her.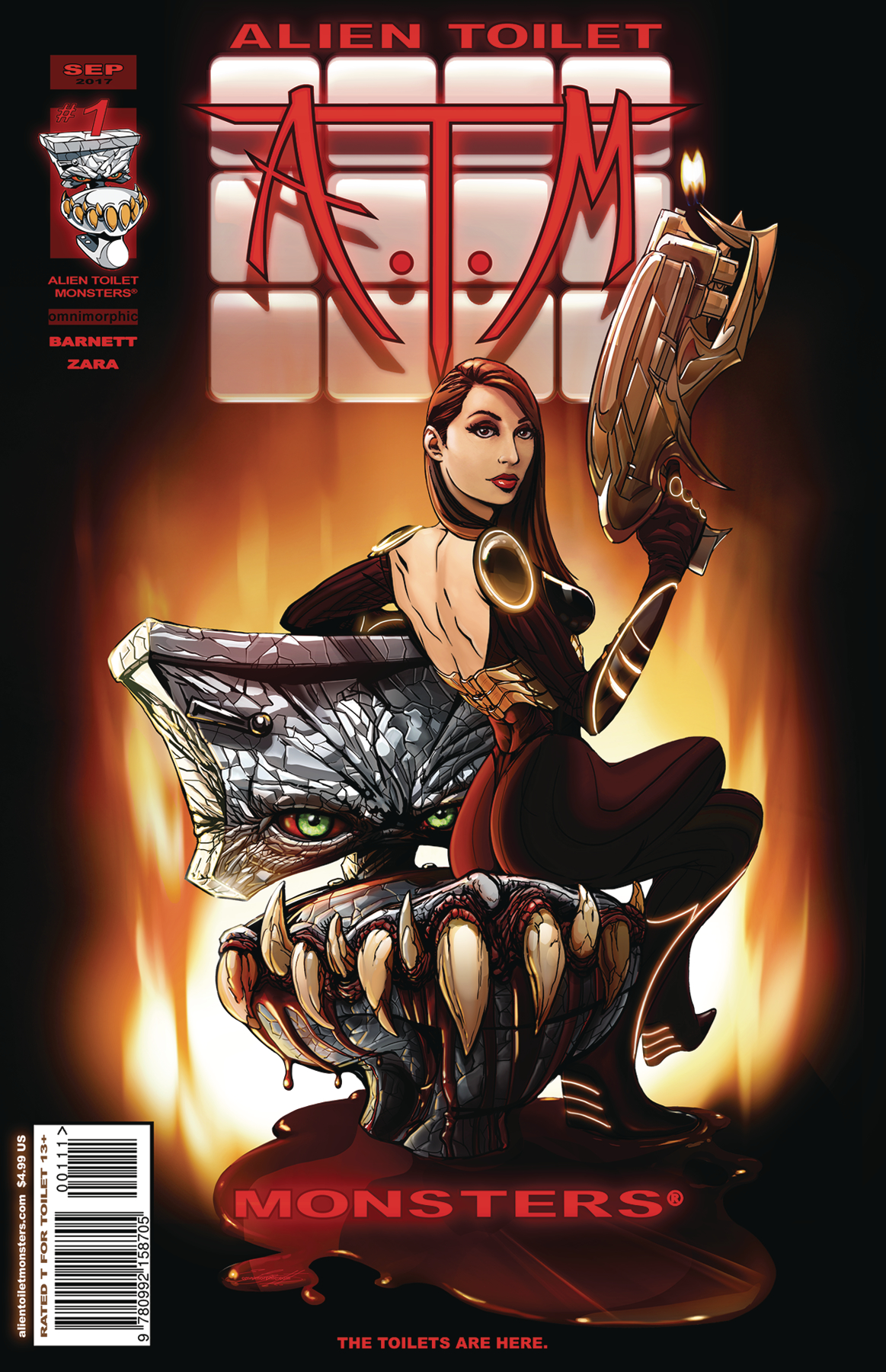 Ray:  It outsells the excellent Sleepless (#369, 2.7K) and Scales and Scoundrels (#371, 2.6K) from Image. Booooooooooo.
At #383 we have another new launch from Black Mask that sort of breaks the mold. We Are Danger, written and drawn by Fabian Lelay, is a teen-oriented comic about the underground music scene, and it eschews the company's usual hard-edged political themes for a more accessible tone and diverse main characters. It only sells 2.5K, though, which makes me think Black Mask's sales issues aren't going anywhere.
2.4K in reorders for Isola #1 at #388 (it actually outsells the fourth issue of Justin Jordan and Donal DeLay's Death of Love four spots below). This seems to be a genuine hit for Image, and much deserved for the creative team.
Apparently Executive Assistant Iris is a long-standing franchise for Aspen, because volume 5 arrives this month with sales of just under 2.4K at #391. Clearly this is a niche book at a niche company, and the sales show it.
The best-selling True Believers issue of all time shows up again, selling an additional 2.2K for Venom vs. Spider-Man at #396.
Glenn:  No wonder we're only at issue 3 of the new Venom and Spidey is showing up.
Ray:  The return of Aardvark-Vanaheim to the comic book charts has been one of the oddest subplots of recent years, and Dave Sim's indie creation shows up twice this month. Undateable Cerebus is right above Love & Aardvarks at #398 and #399, both selling 2.1K.
There's quite a few Image reorders right about here, with the first issues of smash hit Gideon Falls (for its third month) at #415, followed by more modest hit Skyward at #416 in its second and Kirkman's latest hit Oblivion Song in its third at #420, all picking up another 1.8K in sales. Always good to see quality books picking up steam. Gideon Falls #2 shows up again as well, with 1.5K in sales at #435.
The latest seasonal Boom Garfield special, Vacation Time Blues, sells 1.6K at #430. Boom's sort of transitioned this series to mini OGNs, so the comics aren't usually big sellers in the direct market. There's a more hyped Garfield miniseries titled Garfield: Homecoming next month. Let's hope he's eating his lasagna to get strong to battle his way up the charts!
Glenn:  We can but dream.
Ray:  Based on the work of Edgar Rice Burroughs, Pellucidar: At Earth's Core sells 1.5K at #434 for American Mythology. The cover makes it look like a vaguely more respectable Boundless Comics "sexy cave lady" book, so that still has its audience, I guess.
Speaking of American Mythology, Pink Panther 55th Anniversary Special sells just under 1.4K at #446. I think this is the cat, not Inspector Clouseau. I wonder, have they ever crossed over with each other?
Glenn:  I think the cat was in the movies in some aspect.  Now I have the Pink Panther theme in my head…
Ray:  Tis the time for really low-selling indie comics from small companies to show up. These include barbarian adventure Ruin of Thieves: Brigands (1.3K, #450) from Action Lab, and surreal musical-horror-crime book Jazz Legend (1.2K, #459) from Scout. There was just an article about what they called a glut of mid-level comics, with many startups competing for space in a shrinking market and many falling by the wayside. These two seem like they fell prey to that.
American Mythology is giving us a lot of odd books this month, including Three Stooges Slaptastic Special, selling 1.1K at #461. "Old properties that have not been relevant for decades" is an odd brand for a comic book company, but everyone's got a theme, I guess!
There are apparently exactly 1,033 fans out there for Gingerdead Man Meets Evil Bong #2 at #474. And God bless 'em, everyone.
Glenn:  If this comic can make it, I can keep my dream of a successful comic career alive.
Ray:  Cavewoman: Lycan Run sells 964 copies for Amryl Entertainment at #481. I think that averages out to about 7 copies per cover? Another Cavewoman series, Return to Labyrinth, is 58 copies below at #489.
The mostly black and white haunted town thriller Long Lost has been getting among the most buzz of any release from Scout Comics, and creators Matthew Erman and Lisa Sterle have been raising its profile a lot on Twitter, so I'm a bit surprised to see it down here at #493 selling 841 copies. The upcoming trade will likely give it a big boost.
Rounding out the top five hundred is three reprints – the final issue of Tomasi and Gleason's Superman run, the penultimate issue of Batman: White Knight, and at #500 is 769 more copies of one of the Thanos True Believers one-shots, Thanos the First (not related to Sofia the First). What's most notable about the end of the charts this month for me is the complete absence of any of the seven Catalyst Prime series that make up the bulk of Lion Forge's line right now. To have a full line of books and none of them cracking 800 copies nationwide is odd.
Glenn:  Now I want Marvel to convince Disney to let them do a comic where Sofia the First gets the Infinity Gauntlet.  YOU'D ALL READ IT, DON'T LIE!
Ray:  Looking ahead to June, it's another big month for DC. We're getting the launch of Scott Snyder's Justice League, which is a strong contender to win the month with over 250K in sales, per the latest reports. We're also seeing the rest of the prelude issues for the Batman/Catwoman wedding plus the return of Joker in Batman, and debuts for Hawkman, Plastic Man, and Steve Orlando's The Unexpected.
Dan Slott may be battling himself for the top Marvel book of the month, as he drops the final issue on Amazing Spider-Man the same day as the launch of his first new book, Tony Stark: Iron Man. There'll also be big debuts for Doctor Strange, Ant-Man and the Wasp, and Immortal Hulk. Not to mention a little guy named Deadpool, and a certain Norse God. Plus, we'll see if the power of Jeff Lemire carries on to one of Marvel's most mocked characters, The Sentry.
The indie headliner of the month will undoubtedly be the debut of The Magic Order from Image/Netflix by Mark Millar and Oliver Coipel, which may jump into the top ten. There's quite a few interesting indie debuts, including Michael Fiffe's Bloodstrike, Kelly Thompson and Jenn St. Onge's Nancy Drew, and Mags Visaggio's Vagrant Queen from Vault.
What will rise? What will fall? Will Ray throw a chair when his favorite indies don't make the top 300? Find out next month on By the Numbers!
Glenn:  Where Glenn will no doubt, get a chair to the face.  Or he might melt first.
Like what you read?  Have any questions, comments or suggestions?  Let us know here or on Twitter @glenn_matchett and @raygoldfield